20 things in pop culture and technology that are turning 20 years old in 2018
Image: mashable composite
Every product here is independently selected by Mashable journalists. If you buy something featured, we may earn an affiliate commission which helps support our work.
2018 is nearly here. And while we wait to see what fresh joys and horrors it will bring, let's take a minute to rewind and see how far we've come.
From Google to Harry Potter, the most popular hits, movies and innovations are turning the big 2-0 in 2018. Here are some of the things that started way back in 1998, and how they've changed the way we live today.
1. Google says goodbye to their teenage years.
Google will finally become an adult in 2018. The search engine was launched on Sept. 4, 1998. That means Google is just another young millennial like the rest of us.
2. The iMac was born.
The desktop computer made its debut in Aug. 1998 and has since been remade with new colors, new styles, and hefty new price tags.
3. Saving Private Ryan was released.
The war drama starring Tom Hanks, Edward Burns, and Matt Damon premiered on July 24, 1998. Fun fact: it was the last film edited on a non-digital editing system and won the Academy Award for editing. Take that, technology.
4. "Doo Wop (That Thing)" by Lauryn Hill was played over and over again.
The debut song off her Miseducation of Lauryn Hill album in Nov. 14 earned the artist two Grammy awards for the song (three more for the album), a Top 100 Billboard hit, and the anthem for so many of her fans.
5. Everyone tuned into Dawson's Creek.
The teen drama first aired on Jan. 20, 1998 on The WB (which is now the CW by the way) and it was way before The OC, Gossip Girl or even One Tree Hill was even a thing.
6. Seinfeld came to an end.
The final episode aired on May 14, 1998 and according to IMDb, cable channel TV Land honored the show by not airing any programming in their time slot.
7. Harry Potter and the Sorcerer's Stone was released in the United States.
After a year of watching the UK enjoy Harry Potter and Philosopher Stone, Scholastic finally released it to the American wizards in 1998. Harry Potter and the Chamber of Secrets was published in the UK this year as well.
8. Everyone's favorite toy Furby was created.
The robotic owl monster that unexpectedly made noise for many of us was created in 1998 and was the most popular toy that year. 20 years later, the toy is still haunting children and adults everywhere.
9. Disney's Animal Kingdom made its debut.
The theme park opened to the public on April 22, 1998 and became the fourth installment at Disney World. Also it's one of the best. You just can't go wrong with The Lion King or Avatar.
10. "Baby One More Time" by Britney Spears became our favorite karaoke song.
This song defined a whole generation of people. The single made its debut on Oct. 23, 1998 and Britney was also 16 years old (just put it into perspective how old we really are).
11. There's Something About Mary made everyone laugh out loud.
This romantic comedy with stars Ben Stiller and Cameron Diaz had us rolling in the aisles. The Golden Globe nominee was one of the highest-grossing comedies of that year.
12. Total Request Live aired on MTV for the first time.
Ignoring the reboot of TRL, Total Request Live first aired on Sept. 14, 1998 with host Carson Daly and we were gifted with guest stars like Britney Spears, NSYNC, and the Backstreet Boys.
13. Armageddon became a blockbuster hit.
What do you get when you mix NASA, Bruce Willis, Ben Affleck, and a hit song by Aerosmith? The science fiction action film of 1998.
14. That '70s Show graced our television with laughter.
On Aug. 23,1998, six teenagers from Wisconsin brought us comedy and scenes to dive into what it could've been like in the '70s. Also, we can't forget singing along to the theme song every time.
15. Holes brought readers into a new world.
No, not the movie starring Shia Lebouf. The book written by Louis Sachar is the young adult novel we grew to love and appreciate how one person's name can also be their last name. Trippy right?
16. Sex and the City introduced us to, well, sex and the city.
The HBO hit show followed four women in New York City that celebrated women empowerment and friendship. Let's be serious, we all wanted to be Carrie Bradshaw at one point in our lives.
17. Cranium helped us learn to use our brain for once.
In 1998, creators Whit and Richard were tired of playing games with no thinking involved, so they created a board game for players to essentially use their whole brain. 20 years later and the game still tears families apart and gets your mind turning.
18. Game Boy Color made gaming so much more colorful.
The Game Boy might've been revolutionary in 1989, but the game boy color changed the way we played.
19. Baby Bottle Pop sweeten the candy deal.
One of the weirdest, but greatest candy idea of 1998. Although it's only pure sugar in a bottle, nobody can compete with the catchy jingle and sweet flavors.
20. "The Boy Is Mine" by Brandy and Monica had us shook.
This R&B hit had a duet between Brandy and Monica, solidifying the two powerhouse singers. Also, fun fact, according to the Herald Sun, the song was inspired by Michael Jackson and Paul McCartney's "The Girl Is Mine" song.
Read more: http://mashable.com/2017/12/28/20-things-20-years-old-2018/
Stephen Hawking made his mark on pop culture, as well as science
Stephen Hawking in 'The Simpsons.'
Image: fox
Stephen Hawking got plenty right about the universe, and that even extended to his thoughts on pop culture.
"The Simpsons is the best thing on American television," the late astrophysicist said on BBC's The Culture Show, reflecting on his appearance on the hit animated series back in 1999.
The cameo was so prolific that it led to people thinking he was merely a character on the TV show, rather than recognising him for his work in science.
In 1999, Hawking appeared at the end of Season 10, in the episode "They Saved Lisa's Brain," saving the day when Springfield's utopian meritocracy crumbled.
"I was depicted as a somewhat surreal character with enormous powers," Hawking said, noting the show's writers definitely used a bit of artistic license.
"Among the equipment they used for my cartoon image, I don't like pizza, and I hope I wouldn't use a boxing glove. Though sometimes I'm sorely tempted," he added.
Hawking would go on to make three more appearances in The Simpsons, including an cameo where he MCs with the Flight of the Conchords. He also appeared several times as himself in Futurama.
Hawking wasn't just an animated character. He appeared several times in The Big Bang Theory, the idea he spent much of his life working on.
"You made an arithmetic mistake on page two. It was quite a boner," Hawking tells Sheldon after reviewing a paper on the Higgs boson in a 2012 episode.
Hawking also played himself in a 1993 episode of Star Trek: The Next Generation, playing a poker game with the greatest minds in physics, including Einstein, Isaac Newton and Data.
"The uncertainty principle will not help you now Stephen," Einstein tells Hawking. "All the quantum fluctuations in the world will not change the cards in your hand."
There were also appearances on late night talk shows, like the time he kept making phone calls to Jim Carrey on the set of Late Night with Conan O'Brien back in 2007, and his recent bit with John Oliver on Last Week Tonight's "People Who Think Good" series.
"You've stated there could be an infinite number of parallel universes. Does that mean that there is a universe out there where I am smarter than you?" Oliver asked.
"Yes," Hawking replied. "And also a universe where you're funny."
While Hawking kept busy making cameos on a host of television shows, he was played by other actors including Benedict Cumberbatch in 2004's Hawking, and by Eddie Redmayne in 2014's Theory of Everything. 
Redmayne, who won the Best Actor Oscar for his performance, dedicated the win to people with ALS, and the Hawking family. Hawking allowed the use of his speech synthesiser in the film.
Hawking's influence also extended to music, where he voiced part of Pink Floyd's 1994 track "Keep Talking" and 2014's "Talkin' Hawkin'," both sampled from a BT commercial.
Although theories on relativity and black holes established him as a genius, his prevalence in pop culture made him a modern star, the likes science hadn't seen before.
Read more: https://mashable.com/2018/03/14/stephen-hawking-pop-culture/
The Shape of Water's Oscars win is the triumph of a real artist and immersive cinema | Peter Bradshaw
Guillermo del Toro has created a richly sensual and dreamlike film that, in the end, seduced the Academy without being too threatening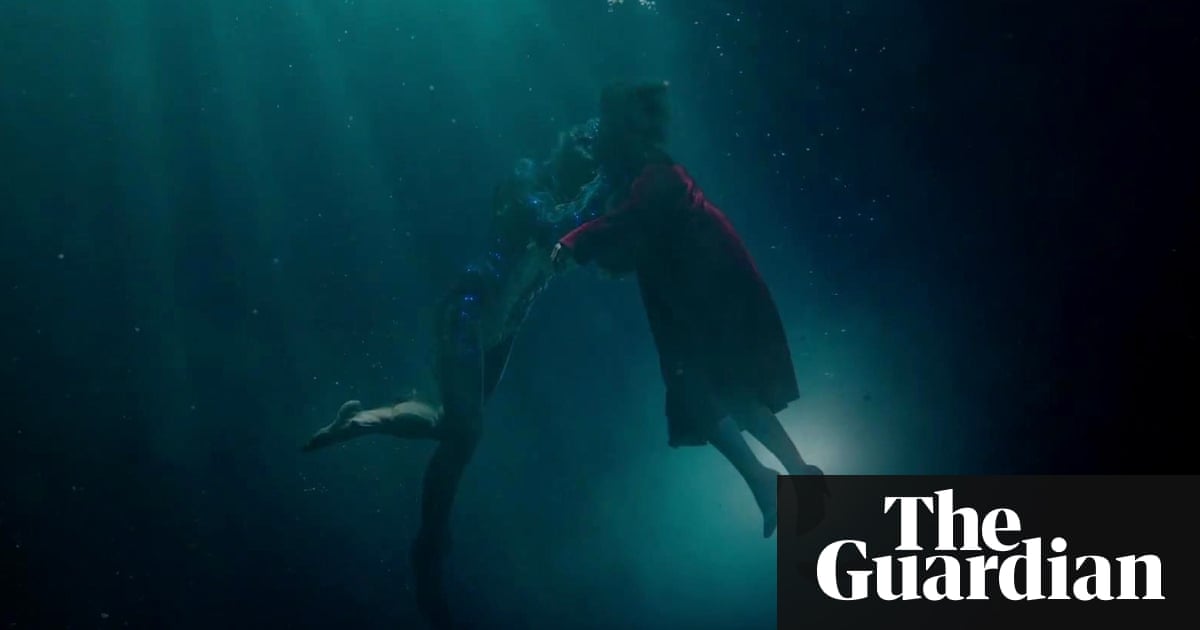 At the end of a somewhat predictable evening, we were all longing for Warren Beatty and Faye Dunaway to work their anarchic magic, and start handing out the awards to the films that werent in the envelope. Perhaps for the sheer devilment, they could have given something to, say, Kathryn Bigelows powerful race drama Detroit, a highly plausible Oscar-worthy film, which the Academy hive mind mysteriously decided was worth precisely zilch and became utterly forgotten about. In the end, many deserving films got what they deserved, others didnt, the internal economy of awards season dictating, as it so often does, that the rich become richer. And it was hardly obvious that this was the year of radical change in Hollywoods sexual politics. As my colleague Benjamin Lee notes in his blog this years Academy Awards in fact garnered the fewest female winners for six years.
Guillermo del Toros escapist fantasy-romance The Shape of Water was the biggest winner, the story of a young womans love for a captured sea creature with best picture and best director, setting the official seal of approval on what is, by any measure, a beautifully made movie to which audiences have responded with distinctively sensual delight. It is a lovely piece of work, with a terrific performance from Sally Hawkins: you can get to the end of it, not quite believing that she doesnt say a word in the entire film, so commanding and eloquent is her presence. And yet in the end I couldnt quite swoon as much as everyone else and though this is a film which pays tribute to people who are different, it does so in the reassuring rhetoric of fabular unreality. There is something a little bit frictionless and unscary about The Shape of Water; though in progress, it has the eerie force of a dream. The Academy has gratefully submitted to its current and swirl.
From the acting awards, for me, easily the most satisfying is Allison Janneys barnstorming turn as LaVona Golden in I, Tonya: the dragon matriarch or icerink showbiz mom in I, Tonya, whose daughter Tonya Harding became an skating star and was then disgraced because of her ex-husbands assault on her rival Nancy Kerrigan. Like Frances McDormand in Three Billboards Outside Ebbing, Missouri, Janney plays an angry and unrepentant mother, and maybe the prevalence of mothers has been an under-recognised part of this years awards seasons, especially as Sam Rockwells racist cop in Three Billboards actually lives with his mother. (There is also Darren Aronofskys brilliant black comic provocation, Mother! overlooked, I am sorry to say, by the middlebrows and the sensible-shoe wearers of awards season, except of course to be mocked.) Janneys LaVona is a brilliantly nasty, funny creation, who is spared any spurious redemptive journey.
Frances McDormand and Sam Rockwell got the best actress and best supporting actor Oscars for Martin McDonaghs jagged, angular, tonally unpredictable and for some objectionable black comedy Three Billboards Outside Ebbing, Missouri. The success of this film and the specific successes of these two stars in these two roles perhaps raises the thorny issue of intersectionality. McDormand radiated star quality in the part of the woman looking for justice for her raped and murdered daughter. What also radiated was her characters radioactive loathing of the police and of the men who didnt and dont care about women. She is a resoundingly satisfying and powerful winner in the era of #TimesUp. But Sam Rockwells racist cop is permitted a disputed moral comeback, and it sometimes looked as if his racism was allowed into the film as set-dressing, to offset a drama of forgiveness to which race was essentially irrelevant.
The movies admirers have been in a kind of Mexican standoff with this objection ever since it has been aired on social media, although I accept the good faith in which McDonagh created this character. Perhaps the least successful part of the film is that which is most easily forgotten: the sad, slightly whimsically uxorious tale of Woody Harrelson and his wife, played by Abbie Cornish. I personally would have preferred the best actress award to go to Saoirse Ronan for that excellent film Lady Bird, which came away from Oscar night empty-handed. And best supporting actor should really have gone to Willem Dafoe for his outstanding performance in The Florida Project: a performance which had a subtlety, resonance and genuine depth.
Of these three aforegoing adjectives, I think I can only really assign resonance to Gary Oldmans impersonation of Winston Churchill in Joe Wrights watchable wartime drama Darkest Hour, which won him his widely predicted best actor Oscar. He was roisteringly entertaining and charismatic, and the latex mask within which he was working interestingly different from the real, lived-in faces of other Churchill performances over the years gave his face precisely that babyish, cherubic expression that reportedly made him a seductive figure in real life. It was a highly watchable entertainment: comfort-food wartime entertainment, perhaps, but with a terrific storytelling zing. What actually made it different was not Oldman, in fact, but the emphasis on Halifax, an excellent performance from Stephen Dillane.
The screenplay Oscars (and the foreign language Oscar) made sure that the really great movies were not overlooked. James Ivory was a thoroughly deserving winner of the best adapted screenplay Oscar for his excellent work on Luca Guadagninos masterly love story Call Me By Your Name. It is highly satisfying to see Ivory, a veteran of cinema, get an Academy award which is not a lifetime achievement gong (though he surely deserves one of those as well) but something to recognise his continuingly vivid, urgently passionate work right now.
Get Out was the film that I had been hoping against hope might actually win best picture. Well, it won Jordan Peele the Oscar for best original screenplay, which is excellent news. Get Out is a brilliant satire on race and the gruesome twist ending of post-Obama America which functions also as a scary movie, black comedy and an acting masterclass from its four leads.
Very often, the foreign language Oscar is an embarrassing misstep for the Academy. Not last night it wasnt. I was tipping Ildik Enyedis strange love story On Body and Soul for this, while saying that Andrei Zvyagintsevs searing Russian drama Loveless would have been the worthy winner. In the end, I was wrong both ways but fair enough. The Oscar went to Sebastian Lelios glorious A Fantastic Woman, the story of a trans woman whose grief at the death of her partner is compounded by the cruelty and indifference of society. It is a wonderful film.
Elsewhere, there were other solid choices: Coco was the only possible choice as best animation, and this arguably could and should have been a best picture contender although it is hardly in the league of Pixar movies like The Incredibles or the Toy Stories. Roger Deakins rightly won best cinematographer for his superb work on Denis Villeneuves Blade Runner 2049, although this award, justified as it is, perhaps doesnt reflect quite how extraordinary a big-screen experience this film is.
Mark Bridges was also justly rewarded for his costume design on Phantom Thread but for me this is another point of niggling exasperation with this years awards. Paul Thomas Anderson created another brilliant film here: a really masterly piece of work with a performance by Daniel Day-Lewis which was a jewel of this years awards season. And yet it has been overlooked in favour of less interesting work.
Well, there we are. To return to The Shape of Water: however conflicted I feel about its triumph, it is certainly the work of a real artist, and someone who believes in immersive cinema, total cinema, cinema that enfolds you in a complete created world.
Read more: https://www.theguardian.com/film/filmblog/2018/mar/05/the-shape-of-water-oscar-win-artist-guillermo-del-toro-peter-bradshaw
Science friction: can Netflix figure out its blockbuster problem?
Costly sci-fi films have received poor reviews but the streaming giant still has an eager audience in its vast subscriber base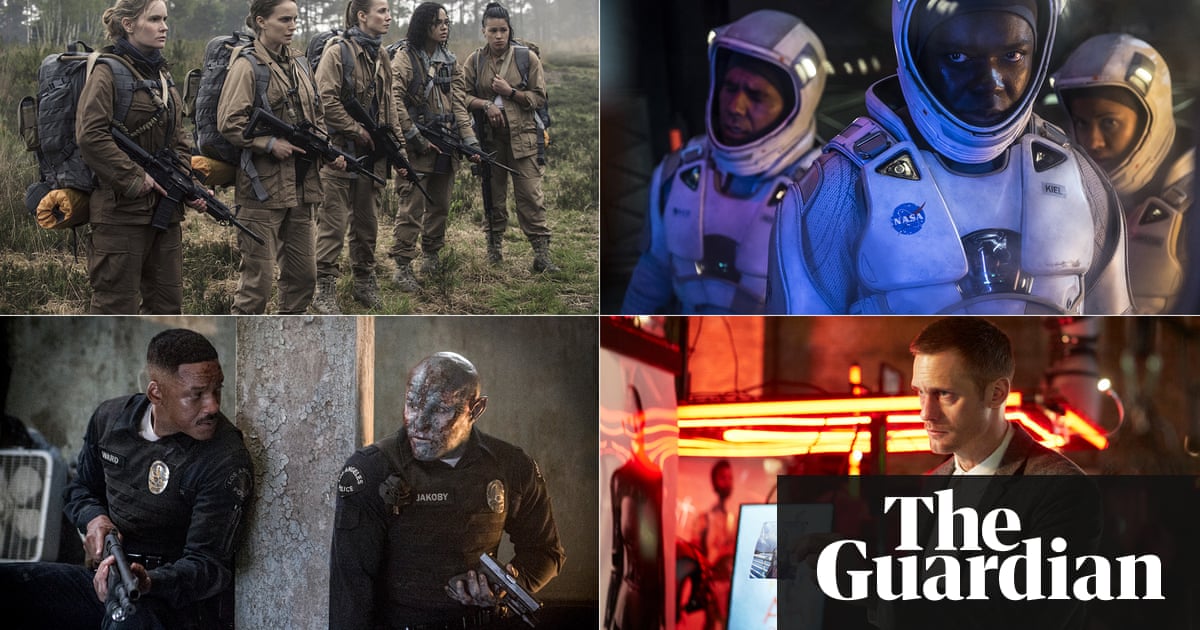 The future hasnt been kind to Netflix. In the last two months, its launched three science fiction blockbusters Will Smiths orc cop adventure Bright, the shock assault The Cloverfield Paradox, and the bizarre Berlin-set Blade Runner-riff Mute each of which critics reacted to as though a cockroach crawled out of their TV (not one film managed to score over 27% on Rotten Tomatoes). A fourth attempt, Alex Garlands Annihilation, about five female explorers in a technicolor hellscape, received better reviews but Netflix still couldnt win. It scooped up theinternational distribution rights from Paramount, who lost confidence in the Natalie Portman cerebral chiller and decided to release it theatrically only in the United States, Canada and China. Netflix rescued the film for foreign audiences … who grumbled that theyd be forced to squint at Garlands giant, surrealist visuals at home on Netflix.
If Netflix could see into its own future, would it green-light each film again? Probably. Its already given the go-ahead to Bright 2, and just awarded a first look deal to the heavyweight producer of Transformers and World War Z and snatched another major studio film from the trash bin when Universal dumped the planet invasion thriller Extinction. Plus, last Friday as Mute tested wary audiences already primed to ridicule Paul Rudds handlebar mustache, Netflix announced it had won an expensive nine-way bidding war to produce another costly sci-fi flick, Life Sentence, in which convicts have their brains wiped to prevent them from repeating their crimes. Directed by War for the Planet of the Apes Matt Reeves, Life Sentence repeats the same high-concept, name-brand fantasia thats made Netflix duck tomatoes. And yet, the timing of the news feels pointed: Netflix knows exactly what its doing.
Beamed Reeves, Netflix is at the forefront of a new age in how storytellers are reaching an audience. Frankly, Netflix knows more than anyone about how people watch movies. However, the industry still doesnt know much about it. Before Netflix, a films success or failure was gauged by three numbers: its budget, its opening weekend and its total global haul. But when Netflix launched its streaming service a decade ago, it began to horde more sophisticated information. Who exactly wants to watch a movie about an orc not just which broad demographic, but which specific people sitting on their couch on a Tuesday? What are the viewing patterns even subscribers dont recognize? The key words they search, the films that make them watch other films, the scenes that make them turn a movie off?
We know what people like to watch, said Netflixs chief communications officer Jonathan Friedland when the company began to produce its own original content in 2011. It wasnt an empty boast. Netflix knew that there was an audience for their first show, House of Cards, because it had studied the overlap between David Fincher fans who also liked British miniseries. Plus, it didnt have to spend a fortune blanketing the country with ads. It could directly reach specific viewers with ten different online promos tailored to whether the target was more likely to click play for a story about a powerful woman, or for Finchers camerawork.
Since that first triumph, Netflixs subscriptions have quadrupled. Today, more Americans pay for Netflix than for cable television, and after an intensive international push, over half of Netflixs users live abroad. Its rightly been called a disruptive force in entertainment, as though founder Reid Hastings legendary annoyance at being charged a $40 late rental fee for Apollo 13 had mutated into a vengeance to destroy not just video stores, but traditional Hollywood itself. Meanwhile, though we know that Apollo 13s opening weekend box office was $25.3m, Netflix rarely trumpets financial data about its releases. Doomsaying reports claim that only 5m viewers watched Cloverfield Paradox in its first week. But crunch the numbers, and thats actually about as many people who bought a ticket to Apollo 13.
Read more: https://www.theguardian.com/film/2018/feb/27/netflix-films-original-science-fiction-mute-blockbuster-problem