A salute to 2017's wonder women of entertainment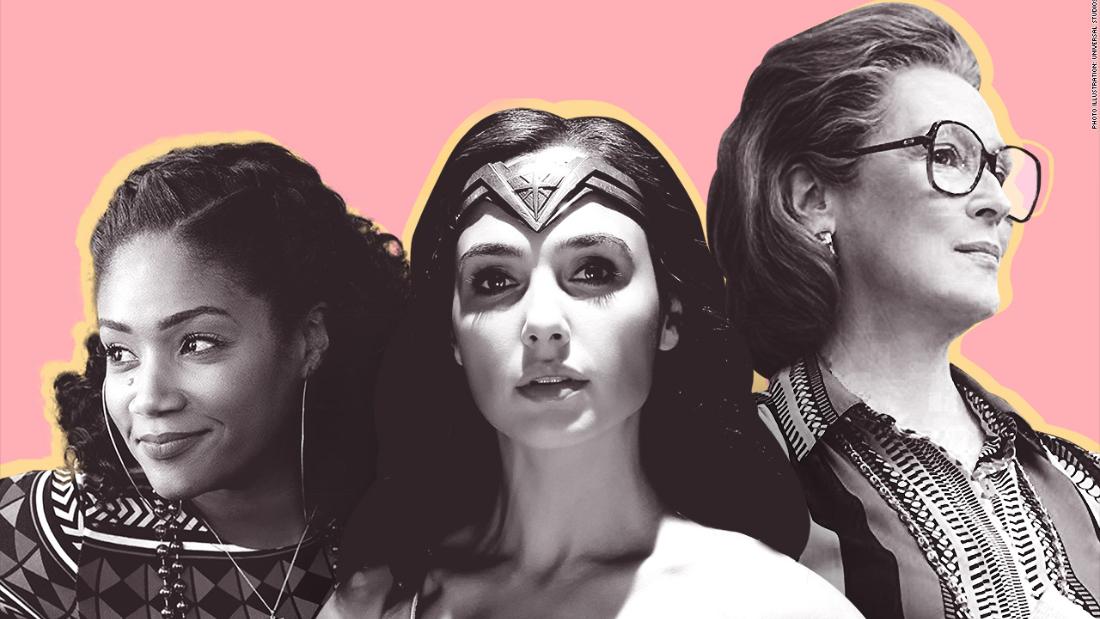 (CNN)Just eight days into the New Year, Meryl Streep took the stage at the Golden Globe Awards and started 2017 off with a defiant bang.
"When the powerful use their position to bully others, we all lose," she said.
More than she or anyone else could have known at the time, those words would seem eerily prescient by the end of the year.
Led by the bravery of the so-called "
Silence Breakers
," the entertainment industry stands in a new era — one where women feel empowered to share their stories of sexual harassment and assault
,
some after many years of believing they were alone with their experiences.
It could be called fitting that this reckoning is taking place when storytelling about and by women is not only of higher quality than ever, but is also being consumed and valued more than before.
From a bulletproof warrior, to a cunning handmaid, to a group of women who brought friendship and laughs to the big screen, 2017 has been a historic year for female characters and creators — a year that many hope is the start of more to come.
'Niche' no more
Since coming out of film school in 2010, Tracy Oliver knew the kind of stories she wanted to tell.
She had been long inspired by the storytelling of Nora Ephron and the characters brought to life in movies starring Julia Roberts and Sandra Bullock. But "I never saw women of color in them," she told CNN.
Oliver set out to change that.
"Girls Trip" debuted in July. The comedy is about a group of women who rekindle their friendship during a wild and emotionally loaded trip to New Orleans. It stars Regina Hall, Queen Latifah, Jada Pinkett Smith and breakout star Tiffany Haddish.
Oliver, who co-wrote the script with "Black-ish" creator Kenya Barris, hoped "Girls Trip" would prove that a film starring women of color could capture the same spirit as the movies she grew up loving, and appeal to a mass audience despite being labeled by some as "niche."
The film has made over $115 million at the U.S. box office to date, domestically out-grossing comedies like "Baywatch," "Daddy's Home 2," "Bad Mom's Christmas" and "Rough Night."
"People were able to look beyond color and whatever cultural differences that separate us and distill it down to its core, which is a love story between women," she said.
"Girls Trip" was not the only female-led film to get audiences to theaters in droves this year.
"Beauty and the Beast," starring Emma Watson, was the highest grossing film of 2017, earning nearly $1.3 billion worldwide.
The second-highest grossing film was "Wonder Woman," from director Patty Jenkins.
With a gross of $821.8 million worldwide, the film also made a record-setting $103.1 million during its opening weekend. It is the biggest opening ever for a female director.
For Jenkins, the main shock about any of her achievements is that it they are achievements at all.
"I thought I was in the middle of a story," she told CNN recently, referring to the "incredible" female filmmakers who've come before her. "I didn't think I was in any early place in line."
For Elizabeth Hannah, co-writer of the award season frontrunner "The Post," the underlying message in all these successes is how betting on female storytellers and stories is simply good business.
"What I've seen this year, what we've all seen this year, is these movies make money," Hannah told CNN. "A lot of people I know went to go see 'Lady Bird.' A lot of people I know went to go see 'I, Tonya.' People are going to see these films, and I think it's about busting through this preconceived notion."
A year of firsts
All told, it was a big year for firsts across television and film.
Joi McMillon was the first black woman to earn an Oscar nomination in film editing for her work in "Moonlight."
With her best supporting actress win at the Academy Awards, Viola Davis became first black actress to win an Emmy, Oscar and Tony.
Lena Waithe became first black woman to win a comedy writing Emmy for her much-hailed episode of "Master of None."
Julia Louis-Dreyfus earned her sixth straight win for "Veep," and in the process became the record holder for the most Emmys won for the same role in the same series.
Also in television: The top honors in all three overall categories at the Emmys — limited series, drama and comedy — went to the female-led series "Big Little Lies," "Handmaid's Tale" and, for the third time in a row, "Veep."
Even the titular Doctor on "Doctor Who" will soon lose a "Y" chromosome during the character's next regeneration. Jodie Whittaker will become the first female to lead the iconic series in 2018.
In a year that has seen great successes for women in entertainment, Hannah, the co-writer of "The Post," said she's feeling positive about what will come next.
"I think it all starts with the people behind the scenes and the more women we can have in roles of authority and roles of ownership, the more you will see female voices out in the world," she said.
Oliver hopes those voices come from all walks of life. If her movie "Girls Trip" doesn't in some way make it easier for female writers or young writers of color to be seen, heard and hired, she said, "then we haven't done enough."
That may seem like a lot of pressure to put on a single project, or even a big responsibility for a single person to take on. But like Wonder Woman showed when she single-handedly took on roundsgunfire in No Man's Land — and as any of the women who stood up and out in 2017 proved, for that matter — when something seems impossible, it's probably because it's a job for a woman.
Read more: http://www.cnn.com/2017/12/18/entertainment/wonder-women-2017/index.html
Apple and Oprah sign a multi-year partnership on original content
Apple announced today a multi-year content partnership with Oprah Winfrey to produce programs for the tech company's upcoming video-streaming service. Apple didn't provide any specific details as to what sort of projects Winfrey would be involved in, but there will be more than one it seems.
Apple shared the news of its deal with Winfrey in a brief statement on its website, which read:
Apple today announced a unique, multi-year content partnership with Oprah Winfrey, the esteemed producer, actress, talk show host, philanthropist and CEO of OWN.

Together, Winfrey and Apple will create original programs that embrace her incomparable ability to connect with audiences around the world.

Winfrey's projects will be released as part of a lineup of original content from Apple.
The deal is a significant high-profile win for Apple, which has been busy filing out its lineup with an array of talent in recent months.
The streaming service also will include a reboot of Steven Spielberg's Amazing Stories, a Reese Witherspoon- and Jennifer Aniston-starring series set in the world of morning TV, an adaptation of Isaac Asimov's Foundation books, a thriller starring Octavia Spencer, a Kristen Wiig-led comedy, a Kevin Durant-inspired scripted basketball show, a series from "La La Land's" director and several other shows.
Winfrey, however, is not just another showrunner or producer. She's a media giant who has worked across film, network and cable TV, print and more as an actress, talk show host, creator and producer.
She's also a notable philanthropist, having contributed more than $100 million to provide education to academically gifted girls from disadvantaged backgrounds, and is continually discussed as a potential presidential candidate, though she said that's not for her.
On television, Winfrey's Harpo Productions developed daytime TV shows like "Dr. Phil," "The Dr. Oz Show" and "Rachael Ray." Harpo Films produced several Academy Award-winning movies, including "Selma," which featured Winfrey in a starring role. She's also acted in a variety of productions over the years, like "The Color Purple," which scored her an Oscar nom, "Lee Daniels' The Butler," "The Immortal Life of Henrietta Lacks" and Disney's "A Wrinkle in Time."
Winfrey also founded the cable network OWN in 2011 in partnership with Discovery Communications, and has exec produced series including "Queen Sugar," "Oprah's Master Class" and the Emmy-winning "Super Soul Sunday."
The latter has a connection with Apple as it debuted as a podcast called "Oprah's SuperSoul Conversations" and became a No. 1 program on Apple Podcasts.
Winfrey recently extended her contract with OWN through 2025, so it's unclear how much time she'll devote specifically toward her Apple projects.
Apple also didn't say if Winfrey will star or guest in any of the programs themselves, but that's always an option on the table with a deal like this. CNN, however, is reporting that Winfrey "is expected to have an on-screen role as a host and interviewer."
Read more: https://techcrunch.com/2018/06/15/apple-and-oprah-sign-a-multi-year-partnership-on-original-content/
Tom Cruise Day #1 Set of Top Gun 2
(CNN) "It wasn't "Top Gun" Day, but Tom Cruise still managed to thrill fans.
The star posted a photo that appears to celebrate the planned sequel to "Top Gun."
The picture shows Cruise in character as Navy pilot Pete "Maverick" Mitchell looking at his aircraft with the words "Feel The Need" superimposed over the image.
The caption reads "#Day1."
The following year, the original film's producer, Jerry Bruckheimer, raised the stakes when he tweeted a picture with Cruise captioned: "Just got back from a weekend in New Orleans to see my old friend @TomCruise and discuss a little Top Gun 2."
Last May, Cruise's co-star Val Kilmer shared his excitement for the forthcoming sequel on social media.
friends said it's official – #TOPGUN2 was announced today. I'm ready Tom- still got my top gun plaque! Still got the moves! Still got it!
"Friends said it's official – #TOPGUN2 was announced today," Kilmer wrote in the caption of a photo he posted on Instagram that showed him wearing a t-shirt with a drawing of his Iceman character on it. "I'm ready Tom — still got my top gun plaque! Still got the moves! Still got it!"
"Back then, they hadn't been in any war for 15 or 20 years at that point," he said. "The tone of that movie and what those guys were doing was very different. Now, here in 2017, the Navy's been at war for 20 years. It's just a different world now, so you can't remake the first movie."
According to Kosinski, the sequel has to "adapt."
"That being said, I certainly want to recreate the experience of that movie, which gives you a front-seat into the world of Naval aviation and what it's like to be in a fighter jet," he said. "The approach is going to be appropriate for the times we live in.
For the record,
"Top Gun" Day is May 13
— the unofficial holiday when fans of film are encouraged to celebrate it…"
Read more: https://www.cnn.com/2018/05/31/entertainment/tom-cruise-top-gun-sequel/index.html
Roseanne cancelled: ABC scraps sitcom after star's 'abhorrent' tweets
"Roseanne Barrs revived sitcom has been cancelled after she posted a racist and Islamophobic tweet that attacked former Obama White House adviser Valerie Jarrett.
The sitcom star falsely alleged that Jarrett, who was born in Iran to American parents, has connections to the Muslim Brotherhood, and compared her to an ape. Barr wrote Muslim brotherhood & planet of the apes had a baby=vj, using Jarretts initials.
ABC swiftly announced the shows cancellation. The network said in a statement: Roseannes Twitter statement is abhorrent, repugnant and inconsistent with our values, and we have decided to cancel her show.
Bob Iger, the chief executive of Disney, which owns ABC, supported the decision. Iger wrote on Twitter: There was only one thing to do here, and that was the right thing…."
Read more: https://www.theguardian.com/culture/2018/may/29/roseanne-barr-tweet-valerie-jarrett-ape