Black Panther Just Sent a $242 Million Message to Hollywood. Will It Finally Listen?
Black Panther is the rare film that doesnt just live up to the hype. It exceeds it.
The first-screening social media takes were breathless. The ensuing reviews were glowing to the point they may have blinded you. Pre-sale numbers hinted at a ravenous appetite for the film, and box office soothsayers predicted that the final tallies, when all was said and done after Presidents Day weekend, could be historic.
They wereand then some. Which is just how so many people who packed theaters across the globe over the weekend felt about Black Panther: It was all that we had hoped, but more than we could have dreamt.
Black Panther sent a $242 million message to Hollywood this past weekend. The question now is whether it will listen.
The latest Marvel film wasnt just the first to center around the story of a black superhero, it featured an almost entirely black cast. Chadwick Boseman plays the titular character, called TChalla out of his bionic spandex, the king of the East African nation of Wakanda. Orbiting around him are characters played by Lupita Nyongo, Michael B. Jordan, Angela Bassett, Danai Gurira, Letitia Wright, Daniel Kaluuya, Forest Whitaker, and Winston Duke.
That this cast and this film is this historic reflects the intrinsic fallacy of the industry: that films starring black actors and telling black stories dont sell.
Those lingering assumptions that black casts cant open films, that black films dont play globally, that mass audiences wont respond to a culturally specific story? Black Panther just hurled a grenade at all of them.
But whats even more significant is that Black Panther didnt just put a black actor in a superhero suit, it, with the guidance of director Ryan Coogler, soaked the film in blackness, in African culture, in that authentic wardrobe and culture and spirit. In response, audiences didnt just turn out. The film became an event.
The receipts were staggering. With a four-day holiday weekend tally estimated at $242 million, Black Panther was the second-best opening in that frame ever, behind only Star Wars: The Force Awakens. Its global haul of $404 million is monstrous in its own right.
It was the fifth-best opening of all time. It was the biggest opening ever for a black director, the first superhero film to feature a nearly all-black cast, and, perhaps in response to its ensemble of female ass-kickers (has any blockbuster ever crushed the Bechdel test this hard?), boasted ticket sales that were 45 percent women. Typically, that number is in the 35 percent range for superhero movies.
That idea that superhero films need to pander to fanboys to be a hit? Ha.
Oh, and by the way, it was really good. With a Rotten Tomatoes score of 97 percent fresh and a Kevin Fallon post-screening astonished whisper of, Wow it is the best-reviewed superhero movie ever. As always happens after a critical and commercial hit like this, pundits are all having the big OOscar!and for once it doesnt seem like ludicrous, premature hyberbole.
Those lingering assumptions that black casts cant open films, that black films dont play globally, that mass audiences wont respond to a culturally specific story? Black Panther just hurled a grenade at all of them.
Its both beautiful and frustrating to witness the fawning over the uniqueness of this phenomenon. Its beautiful because its so deserved. Its frustrating because each time we paint a success like this as unique, we are perpetuating that myth.
In fact, recent history has proven that this success shouldnt be considered surprising at all. Yet well continue to treat it as such.
Lets take a brief walk through box office history.
As Wired editor Peter Rubin pointed out on Twitter, Straight Outta Compton had a $60 million opening weekend on its way to a $161 million domestic total. Get Out earned $176 million. Just last summer, Girls Trip earned $115 millionan R-rated comedy starring four black women, with that kind of haul.
But its not just those films. Hidden Figures made $170 million domestically last year, ending up the highest-grossing of all the 2017 Best Picture nominees. Creed, which was also directed by Ryan Coogler, took in $109 million stateside on just a $35 million budget. The Butler, Selma, Think Like a Man Too, Best Man Holiday: they were all box office and critical smashes.
Its when you really look at what these films were that the message is driven home. You have a biopic, a horror film, a raunchy comedy, a family-friendly historical drama, a boxing movie, race dramas, and rom-coms. These movies cross all genres, all demographics, and all genders. Diversity so clearly sells. Yet because of Hollywoods institutionalized myopia and racial biases, were still astonished each time it does, and wonder if things will change when it comes to seeing the value of racein other words, of humanityin Hollywood.
The remarkable thing about Black Panther is that this was not a movie about black oppression, e.g. a slave movie. It features a black cast and all the big-budget production value of any other Marvel popcorn flick, without sacrificing the specificity of that black story in exchange for those expensive costumes and special effects. The message is that Hollywood responds to quality, especially when that quality reflects back a world that we know, but rarely see on screen.
Michelle Obama said as much on Twitter this weekend: Congrats to the entire Black Panther team! Because of you, young people will finally see superheroes that look like them on the big screen. I loved this movie and I know it will inspire people of all backgrounds to dig deep and find the courage to be heroes of their own stories.
How many major box office bombs featuring formulaic storytelling and whitewashed casts do we forgive as a casualty of the industrys risk-taking, all the while refusing to read the receipts when it comes to the bankability of diversity in film? Black film successes are ignored at the same rate that white film failures are.
Will that change going forward after Black Panther?
Fans are clamoring for sequels and spinoffs, and Marvel would be insane not to consider them. (According to Vulture, a spinoff centered on the films prodigious female ensemble is already enticing the suits at Marvel HQ.) But what about outside of the spandex?
Disney is releasing A Wrinkle in Time next month, which promises to be another major hit for an African American director (this time Ava Duvernay, who happened to edit her film in the office next to Cooglers while he was prepping Black Panther). Steve McQueens Widows, starring Viola Davis and Cythia Erivo, comes this fall. Next summer will see the remake of The Lion King from Disney. We foresee huge numbers for all three, while at the same time recognize that three is a paltry number to be able to point to.
At the end of March, one of Hollywoods most reliably bankable black directors will release a psychological thriller called Acrimony, starring Taraji P. Henson. While we cant speak to the quality of the movieit hasnt screened yetit will be a fascinating test case at this post-Black Panther crossroads in the industry.
Henson recently opened the film Proud Mary, a movie that was hardly good, but saw its commercial potential torpedoed by a studio that ultimately decided to bury it, skimp on promotion, and deny it the support that could have elevated it to an action-movie success, one that put up the kind of box office number that social media buzz suggested it could attain.
[Studios] never expect [black films] to do well overseas, Henson said while promoting Proud Mary. Meanwhile, you go overseas and what do you see? People trying to look like African Americans with Afros and dressing in hip-hop fashions. To say that black culture doesnt sell well overseas, thats a lie. Somebody just doesnt want to do their job and promote the film overseas. Do you not have people streaming my Christmas specials in Australia? Come on, yall! I dont understand the thinking. Send me over there, and if it fails, then we dont do it again, but why not try? If I knew this movie was gonna make money domestically, I would try to get more money overseas. Its business!
Its business, and for so long Hollywood has been bafflingly bad at it. Maybe it took a superhero to finally make the lesson hit home.
Read more: https://www.thedailybeast.com/black-panther-just-sent-a-dollar242-million-message-to-hollywood-will-it-finally-listen
Taraji P Henson: 'Hollywood didn't grasp my talent'
Harvey Weinstein obstructed her rise now, with her new film What Men Want, she is calling the shots. But what does she make of her Empire co-star Jussie Smolletts hate-crime controversy?
"On a December morning in Los Angeles, the sun blazes down on a large and abundantly decorated Christmas tree in the parking lot at Paramount Pictures. It is upstaged, though, by the actor Taraji P Henson, who swans past wearing an ensemble that calls to mind the futuristic fashion of the 1970s: steampunk sunglasses, a black tracksuit under a puffy gilet and chunky grey, orange and lime sci-fi pumps, possibly with rocket boosters in the soles. Her hair is arranged in tight braids, some piled on her head, others swishing around her shoulders.
As we take our seats in a brightly lit office upstairs, she removes from her flowery backpack a tub of beige mush. What is that, mashed banana? Nuh-uh, she says between mouthfuls. Its an oatmeal alkaline thing. Its got quinoa in it. I gotta be careful because I dont digest a heavy grain. She takes a sniff and laughs. It smells like dirt, it really does. She went vegan last year after a doctor told her it could reduce the chances of getting stomach cancer. You can do it if you have a good chef, she says encouragingly. I make a mental note to have a chat with mine………………………………………………………………………."
Read more: https://www.theguardian.com/film/2019/mar/08/taraji-p-henson-hollywood-didnt-grasp-my-talent-what-men-want
Netflix vs. Steven Spielberg is a battle over the future of the movie experience
"New York (CNN Business)Netflix wants to change how you watch movies. Steven Spielberg wants to preserve the theatrical experience. Those two points of view are clashing, with Netflix pushing back against a plan that Spielberg reportedly has to create rules that could block the streaming giant from future Oscars contention.
Netflix on Sunday night responded to Spielberg's reported plans by tweeting from its film unit's
Twitter account
, "We love cinema."
The company said in its tweet that it "also loves…Access for people who can't always afford, or live in towns without, theaters; letting everyone, everywhere enjoy releases at the same time; giving filmmakers more ways to share art."
"These things are not mutually exclusive," Netflix Film tweeted.
Netflix did not mention Spielberg by name, but the tweet came after Hollywood trade publication
IndieWire
reported last week that the Oscar-winning director was "devoted to ensuring that the race never sees another 'Roma' — a Netflix film backed by massive sums, that didn't play by the same rules as its analog-studio competitors."
It's not clear what rule changes Spielberg might be planning to propose at the Academy's annual board of governors post-Oscar meeting. But a spokesperson for Spielberg's production company, Amblin, told IndieWire that "Steven feels strongly about the difference between the streaming and theatrical situation." A spokesperson for Amblin declined CNN Business' request for comment…………………………………………………."
Read more: https://www.cnn.com/2019/03/04/media/netflix-steven-spielberg/index.html
Luke Perry: forever the thrillingly cool teen pinup
Perry never quite escaped the shadow of Beverly Hills, 90210. But this was not a failing it was proof of how seminal the show, and Perrys handsome rebel Dylan McKay, was to a generation
"Teen pinups who free themselves of their TV origins can be counted on one hand with fingers to spare: Ron Howard. Michael J Fox. Zac Efron.
Luke Perry never quite made it to those ranks, but thats no discredit to him. Despite working pretty regularly until the day he died which is more than a lot of teen stars can say he always knew his obituaries would read Dylan McKay has died, referring to the bad(ish) boy he played in the original series of Beverly Hills, 90210 from 1990-1995, and then again in 1998-2000 when he gamely, if through somewhat gritted teeth, revived the character. And so it has proved to be the case.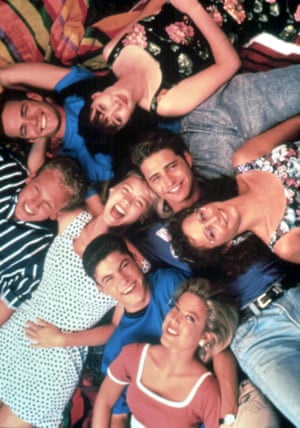 Read more: https://www.theguardian.com/tv-and-radio/2019/mar/04/luke-perry-beverly-hills-90210-dylan-mckay-forever-the-thrillingly-cool-teen-pinup