Black Panther Just Sent a $242 Million Message to Hollywood. Will It Finally Listen?
Black Panther is the rare film that doesnt just live up to the hype. It exceeds it.
The first-screening social media takes were breathless. The ensuing reviews were glowing to the point they may have blinded you. Pre-sale numbers hinted at a ravenous appetite for the film, and box office soothsayers predicted that the final tallies, when all was said and done after Presidents Day weekend, could be historic.
They wereand then some. Which is just how so many people who packed theaters across the globe over the weekend felt about Black Panther: It was all that we had hoped, but more than we could have dreamt.
Black Panther sent a $242 million message to Hollywood this past weekend. The question now is whether it will listen.
The latest Marvel film wasnt just the first to center around the story of a black superhero, it featured an almost entirely black cast. Chadwick Boseman plays the titular character, called TChalla out of his bionic spandex, the king of the East African nation of Wakanda. Orbiting around him are characters played by Lupita Nyongo, Michael B. Jordan, Angela Bassett, Danai Gurira, Letitia Wright, Daniel Kaluuya, Forest Whitaker, and Winston Duke.
That this cast and this film is this historic reflects the intrinsic fallacy of the industry: that films starring black actors and telling black stories dont sell.
Those lingering assumptions that black casts cant open films, that black films dont play globally, that mass audiences wont respond to a culturally specific story? Black Panther just hurled a grenade at all of them.
But whats even more significant is that Black Panther didnt just put a black actor in a superhero suit, it, with the guidance of director Ryan Coogler, soaked the film in blackness, in African culture, in that authentic wardrobe and culture and spirit. In response, audiences didnt just turn out. The film became an event.
The receipts were staggering. With a four-day holiday weekend tally estimated at $242 million, Black Panther was the second-best opening in that frame ever, behind only Star Wars: The Force Awakens. Its global haul of $404 million is monstrous in its own right.
It was the fifth-best opening of all time. It was the biggest opening ever for a black director, the first superhero film to feature a nearly all-black cast, and, perhaps in response to its ensemble of female ass-kickers (has any blockbuster ever crushed the Bechdel test this hard?), boasted ticket sales that were 45 percent women. Typically, that number is in the 35 percent range for superhero movies.
That idea that superhero films need to pander to fanboys to be a hit? Ha.
Oh, and by the way, it was really good. With a Rotten Tomatoes score of 97 percent fresh and a Kevin Fallon post-screening astonished whisper of, Wow it is the best-reviewed superhero movie ever. As always happens after a critical and commercial hit like this, pundits are all having the big OOscar!and for once it doesnt seem like ludicrous, premature hyberbole.
Those lingering assumptions that black casts cant open films, that black films dont play globally, that mass audiences wont respond to a culturally specific story? Black Panther just hurled a grenade at all of them.
Its both beautiful and frustrating to witness the fawning over the uniqueness of this phenomenon. Its beautiful because its so deserved. Its frustrating because each time we paint a success like this as unique, we are perpetuating that myth.
In fact, recent history has proven that this success shouldnt be considered surprising at all. Yet well continue to treat it as such.
Lets take a brief walk through box office history.
As Wired editor Peter Rubin pointed out on Twitter, Straight Outta Compton had a $60 million opening weekend on its way to a $161 million domestic total. Get Out earned $176 million. Just last summer, Girls Trip earned $115 millionan R-rated comedy starring four black women, with that kind of haul.
But its not just those films. Hidden Figures made $170 million domestically last year, ending up the highest-grossing of all the 2017 Best Picture nominees. Creed, which was also directed by Ryan Coogler, took in $109 million stateside on just a $35 million budget. The Butler, Selma, Think Like a Man Too, Best Man Holiday: they were all box office and critical smashes.
Its when you really look at what these films were that the message is driven home. You have a biopic, a horror film, a raunchy comedy, a family-friendly historical drama, a boxing movie, race dramas, and rom-coms. These movies cross all genres, all demographics, and all genders. Diversity so clearly sells. Yet because of Hollywoods institutionalized myopia and racial biases, were still astonished each time it does, and wonder if things will change when it comes to seeing the value of racein other words, of humanityin Hollywood.
The remarkable thing about Black Panther is that this was not a movie about black oppression, e.g. a slave movie. It features a black cast and all the big-budget production value of any other Marvel popcorn flick, without sacrificing the specificity of that black story in exchange for those expensive costumes and special effects. The message is that Hollywood responds to quality, especially when that quality reflects back a world that we know, but rarely see on screen.
Michelle Obama said as much on Twitter this weekend: Congrats to the entire Black Panther team! Because of you, young people will finally see superheroes that look like them on the big screen. I loved this movie and I know it will inspire people of all backgrounds to dig deep and find the courage to be heroes of their own stories.
How many major box office bombs featuring formulaic storytelling and whitewashed casts do we forgive as a casualty of the industrys risk-taking, all the while refusing to read the receipts when it comes to the bankability of diversity in film? Black film successes are ignored at the same rate that white film failures are.
Will that change going forward after Black Panther?
Fans are clamoring for sequels and spinoffs, and Marvel would be insane not to consider them. (According to Vulture, a spinoff centered on the films prodigious female ensemble is already enticing the suits at Marvel HQ.) But what about outside of the spandex?
Disney is releasing A Wrinkle in Time next month, which promises to be another major hit for an African American director (this time Ava Duvernay, who happened to edit her film in the office next to Cooglers while he was prepping Black Panther). Steve McQueens Widows, starring Viola Davis and Cythia Erivo, comes this fall. Next summer will see the remake of The Lion King from Disney. We foresee huge numbers for all three, while at the same time recognize that three is a paltry number to be able to point to.
At the end of March, one of Hollywoods most reliably bankable black directors will release a psychological thriller called Acrimony, starring Taraji P. Henson. While we cant speak to the quality of the movieit hasnt screened yetit will be a fascinating test case at this post-Black Panther crossroads in the industry.
Henson recently opened the film Proud Mary, a movie that was hardly good, but saw its commercial potential torpedoed by a studio that ultimately decided to bury it, skimp on promotion, and deny it the support that could have elevated it to an action-movie success, one that put up the kind of box office number that social media buzz suggested it could attain.
[Studios] never expect [black films] to do well overseas, Henson said while promoting Proud Mary. Meanwhile, you go overseas and what do you see? People trying to look like African Americans with Afros and dressing in hip-hop fashions. To say that black culture doesnt sell well overseas, thats a lie. Somebody just doesnt want to do their job and promote the film overseas. Do you not have people streaming my Christmas specials in Australia? Come on, yall! I dont understand the thinking. Send me over there, and if it fails, then we dont do it again, but why not try? If I knew this movie was gonna make money domestically, I would try to get more money overseas. Its business!
Its business, and for so long Hollywood has been bafflingly bad at it. Maybe it took a superhero to finally make the lesson hit home.
Read more: https://www.thedailybeast.com/black-panther-just-sent-a-dollar242-million-message-to-hollywood-will-it-finally-listen
John Travolta keeps Brooklyn stayin' alive at event honoring actor
Hundreds of fans gathered outside pizzeria featured in Saturday Night Fever 41 years ago to catch glimpse of and dress like the actor
"Forty-one years after strutting down a Brooklyn street, merrily swinging a paint can to the sound of the Bee Gees Stayin Alive, an older, less lithe John Travolta returned on Tuesday, to be honored for his services to the now-trendy New York City borough.
Hundreds of people gathered outside Lennys Pizza in Bensonhurst, south Brooklyn, to glimpse Travolta, who brought the neighborhood to national and international consciousness in Saturday Night Fever.
The 1977 film saw his character Tony Manero disco dance, conduct troubling relationships with women and occasionally engage in punch-ups. In the opening scene, Travolta orders two slices of pizza at Lennys before combining them in a double decker-type situation. The pizzeria claims Saturday Night Fever fans regularly order the same.
This is a great day, New York state senator Martin Golden who represents the Bensonhurst neighborhood and has submitted a 1,070-word legislative resolution commending Travolta for putting Brooklyn both on the map and in Americas hearts told the crowd.
A great day for John Travolta, a great day for his family, and a great day for Brooklyn.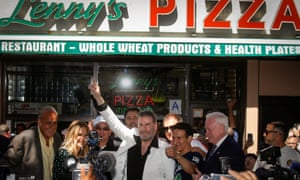 Watch these movies after you see 'Ocean's 8'
Image: mashable composite/universal/paramount
"After months of building anticipation, Ocean's 8finally hit theaters Friday. Yes, it featured the stunning, talented, female-led cast you've heard so much about. Glad you noticed.
But Ocean's 8 is more than the token "female remake" it has been boiled down to. Like many audience members this past weekend, I showed up for the all-star actresses, but stayed for the crime, glamor, comedy, celeb cameos, and general badassery.
So to get you through those days where you can't make it to the theater for a rewatch, here are fourteen films that show off groups of ladies getting together to kick ass — literally or metaphorically.
Chicago (2002)
Headed up by Catherine Zeta-Jones and Renee Zellweger, this jailhouse musical took home six Academy Awards, including Best Picture. It's tough to make Richard Gere look like a third wheel, but somehow the murderesses of Cook County Jail pull it off.
Where to watch: HBO
Thelma & Louise (1991)
This road trip classic follows two women as they attempt to outrun their darks pasts by any means necessary. While neither Susan Sarandon nor Geena Davis won Best Actress for their performances, the leads' double nomination cemented Thelma & Louise as a feminist classic.
Where to watch: Starz
Heathers (1988)
Plaid skirts, football players, and drain cleaner? Color me stoked. A dark high school comedy laced with visceral teen murders, this cult classic is the adolescent destruction fantasy you didn't know you needed. Starring Winona Ryder and the titular "Heathers."
Where to watch: Netflix
Mamma Mia! (2008)
Meryl Streep shines amongst a cast of notoriously fabulous character actors in this romantic comedy with a pop twist. The costumes, musical numbers, and female stars glisten in an ABBA-made universe. Stay tuned for the sequel hitting theaters July 20th.
Where to watch: Netflix
Beauty Shop (2005)
Nothing feels better than a comedy that celebrates inner and outer beauty equally. Queen Latifah and the rest of her salon crew (featuring Alicia Silverstone and Andie MacDowell among others) gave us one of the most styling girl-power movies to date in this Barbershop spin-off.
Where to watch: Vudu
First Wives Club (1996)
Goldie Hawn, Bette Midler, and Diane Keaton team up in this instant classic, reuniting as long lost friends and taking down the men who have wronged them – all while donning stunning coordinated power…."
Read more: https://mashable.com/2018/06/11/14-female-led-movies-oceans-8/
John Cusack likes what you have to say about 'Say Anything'
Image: Mills Entertainment
"If you liked Say Anything…, the 1989 coming-of-age film about a nervous-talking high school graduate winning over his crush in the summer before college, feel free to tell star John Cusack if you see him.
Cusack appreciates it when fans of the movie give him kudos for it, partly because they tend not to quote the film or, say, mime holding up an imaginary boombox in some sad attempt to replicate the movie's most memorable scene. They mostly just say how much they liked it.
"They seem to be very warm about it, that it means something to them, so that's nice," Cusack told Mashable in a phone interview to promote his upcoming Q&A about Say Anything… at the New Jersey Performing Arts Center. "For some movies, they'll have a line that they'll repeat to you a lot of times, but that one is more just a vibe. People seem to really still dig it."
That's kind of an understatement. Say Anything… didn't set box office records, but to many Gen Xers like myself, the movie perfectly captured the ennui that often follows high school graduation. And Cusack hit the bull's-eye in his portrayal of the quirky Lloyd Dobler, simultaneously giving him a coolness and vulnerability that appealed to both male and female audiences alike.
Cusack already had movies like Better Off Dead…, Sixteen Candles, and Eight Men Out under his belt when he made Say Anything…, but the film…"
Read more: https://mashable.com/2018/06/04/john-cusack-say-anything/