Celebrities express horror and send love to Las Vegas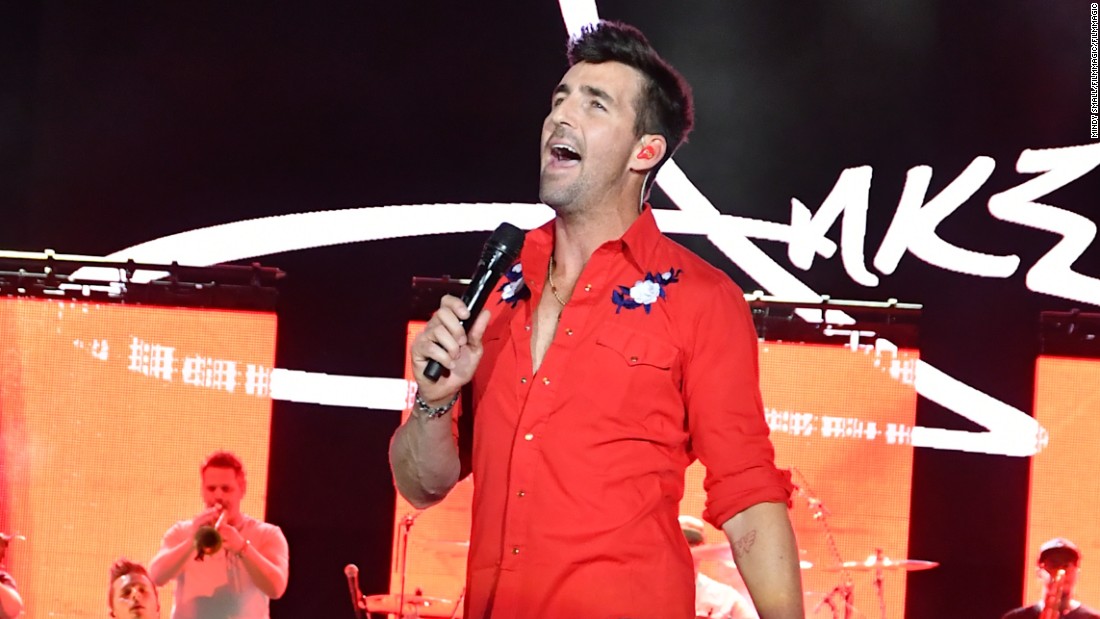 (CNN)Celebrities offered sympathy and support for Las Vegas after the massacre that left at least 50 people dead.
A gunman opened fire from the 32nd floor of the Mandalay Bay hotel into a country music festival on the ground, authorities said. At least 200 people were injured.
Country singer Jason Aldean, who was performing on stage at the time, expressed sorrow on Instagram and asked that his fans "Pray for Las Vegas."
"Tonight has been beyond horrific," he wrote. "I still don't know what to say but wanted to let everyone know that Me and my Crew are safe. My Thoughts and prayers go out to everyone involved tonight."
Tonight has been beyond horrific. I still dont know what to say but wanted to let everyone know that Me and my Crew are safe. My Thoughts and prayers go out to everyone involved tonight. It hurts my heart that this would happen to anyone who was just coming out to enjoy what should have been a fun night. #heartbroken #stopthehate
Other singers who performed at the weekend festival, including the duo Big & Rich, Chris Young and Jake Owen, also tweeted about the attack. They wanted to let fans know they were safe and to express their horror.
"I'm not gonna say anything else other than I'm lucky to be alive," Young wrote on Twitter. "As are many others… and so many people are gone… this is heartbreaking."
Of course, Las Vegas is a haven not just for gambling for but shows featuring major stars. Celine Dion, Britney Spears and Jennifer Lopez have had popular residencies there in recent years.
Reality TV star and socialite Paris Hilton, who has hosted and DJed parties and other events on the Las Vegas Strip, posted a message of support for the city.
"I can't believe what just happened in Las Vegas! What is our world coming to," she wrote. "My prayers go out to the victims & their families."
Several other stars offered condolences and support.
R&B singer Trey Songz tweeted that he was in the city when the attack happened.
"Don't even know what to say," he tweeted. "To be in Vegas while this is happening, brings a pain to my heart."
Superstar Taylor Swift, who got her start in country music, also tweeted on Monday.
"There are no words to express the helplessness and sorrow my broken heart feels for the victims in Vegas and their families," Swift wrote.
Read more: http://www.cnn.com/2017/10/02/entertainment/las-vegas-attack-celebrity-reaction/index.html
John Travolta has got the moves to 'Grease' 40 years on
That belt loop hip shake from 1978's Grease has surely been replicated countless times in schools, dances, and in front of mirrors.
Wednesday marked 40 years since the film premiered in New York City, and John Travolta just so happened to be on The Tonight Show with Jimmy Fallon, although to promote his upcoming film Gotti.
The shake, which Travolta calls the "four corners," was introduced when Grease's choreographer needed a step at the end of "You're The One That I Want."
Turns out Travolta still has some of those moves, by the way.
Read more: https://mashable.com/2018/06/14/john-travolta-grease-moves/
Alicia Silverstone explains why she has Donald Trump's number in her phone
"Alicia Silverstone and Donald Trump exchanged numbers about 10 years ago. But, before you jump to conclusions, you need to hear the full account of what happened.
On The Late Show With Stephen Colbert, the Clueless star said that she and Trump had a "date to talk about solar panels" and that his name and number are still in her phone to this very day.
So, what exactly happened? "I was on one of the other talk shows in the daytime talking about solar panels and silk milk… and he [Trump] said he was really interested and we exchanged numbers so that we could continue this conversation about solar panels," she said. "So I met with him."
Silverstone said…."
Read more: https://mashable.com/2018/06/12/alicia-silverstone-donald-trump/
Serena Williams 'Wakanda-inspired Catsuit' that makes her feel like a superhero
100% superhero.
Image: Aurelien Meunier/Getty Images
Serena Williams is already a superhero to each and every one of us. But, as it turns out, she also has a Black Panther-inspired catsuit which makes her feel like a "warrior princess".
After Williams beat Kristya Pliskova at the French open at Stade Roland Garros, Paris on Tuesday, she spoke about the meaning behind her black bodysuit.
"It feels like this suit represents all the women that have been through a lot mentally, physically, with their body to come back and have confidence and to believe in themselves," she said following her victory on Tuesday, per the Guardian.
Williams just made her return to the sport nine months after the birth of her daughter. She suffered complications at the time of the birth due to a pulmonary embolism.
In addition to being a symbol of confidence and empowerment, the suit also reminds Williams of Black Panther.
"I call it, like, my Wakanda-inspired catsuit," Williams said. "We designed it way before the movie, but still, it kind of reminds me of that."
Not only that, Williams says when she dons her black bodysuit, she feels "like a warrior princess."
"I always wanted to be a superhero and it's kind of my way of being a superhero," she said.
Wakanda forever.