Celebrities express horror and send love to Las Vegas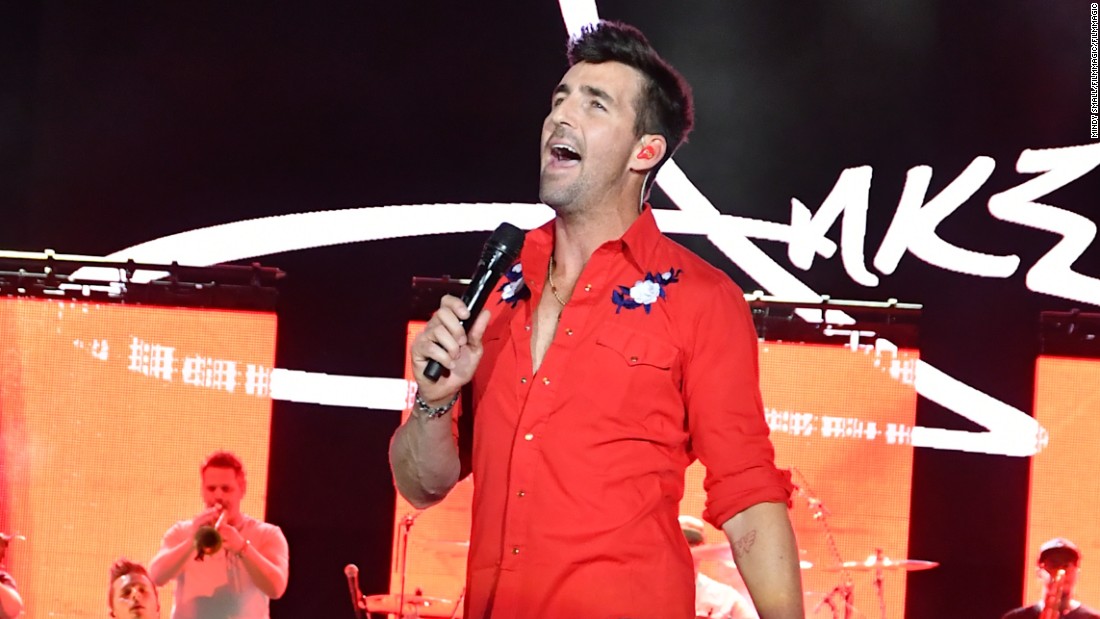 (CNN)Celebrities offered sympathy and support for Las Vegas after the massacre that left at least 50 people dead.
A gunman opened fire from the 32nd floor of the Mandalay Bay hotel into a country music festival on the ground, authorities said. At least 200 people were injured.
Country singer Jason Aldean, who was performing on stage at the time, expressed sorrow on Instagram and asked that his fans "Pray for Las Vegas."
"Tonight has been beyond horrific," he wrote. "I still don't know what to say but wanted to let everyone know that Me and my Crew are safe. My Thoughts and prayers go out to everyone involved tonight."
Tonight has been beyond horrific. I still dont know what to say but wanted to let everyone know that Me and my Crew are safe. My Thoughts and prayers go out to everyone involved tonight. It hurts my heart that this would happen to anyone who was just coming out to enjoy what should have been a fun night. #heartbroken #stopthehate
Other singers who performed at the weekend festival, including the duo Big & Rich, Chris Young and Jake Owen, also tweeted about the attack. They wanted to let fans know they were safe and to express their horror.
"I'm not gonna say anything else other than I'm lucky to be alive," Young wrote on Twitter. "As are many others… and so many people are gone… this is heartbreaking."
Of course, Las Vegas is a haven not just for gambling for but shows featuring major stars. Celine Dion, Britney Spears and Jennifer Lopez have had popular residencies there in recent years.
Reality TV star and socialite Paris Hilton, who has hosted and DJed parties and other events on the Las Vegas Strip, posted a message of support for the city.
"I can't believe what just happened in Las Vegas! What is our world coming to," she wrote. "My prayers go out to the victims & their families."
Several other stars offered condolences and support.
R&B singer Trey Songz tweeted that he was in the city when the attack happened.
"Don't even know what to say," he tweeted. "To be in Vegas while this is happening, brings a pain to my heart."
Superstar Taylor Swift, who got her start in country music, also tweeted on Monday.
"There are no words to express the helplessness and sorrow my broken heart feels for the victims in Vegas and their families," Swift wrote.
Read more: http://www.cnn.com/2017/10/02/entertainment/las-vegas-attack-celebrity-reaction/index.html
Ariana Grande's 'thank u, next' video is a perfect parody of all your favorite teen movies
Ariana Grande's "thank u, next" already cemented itself as a 2018 banger, and the official video is a party of its own. Full of classic teen movie tropes and references to Mean Girls, Bring It On, Legally Blonde, and more.
The movie references are fun on their own, all teased by Grande on social media leading up to the video's release, but the cameos make "thank u, next."
From Mean Girls' original Aaron Samuels (Jonathan Bennett) to Kris Jenner as a cool mom, everyone in the video is having a blast – perhaps none more so than Jennifer Coolidge recreating an entire scene of Legally Blonde with Grande as Elle Woods.
The song talks about Grande's exes, but the second part is all about self-discovery ("But this one gon' last / 'Cause her name is Ari). The movie references are strategic – though they all contain central love stories, they remain iconic because they are stories of female empowerment and a protagonist finding her voice amid all the noise.
And that shit's amazing."
Read more: https://mashable.com/video/ariana-grande-thank-u-next/
Michael B. Jordan demonstrates just how fast his hands are
"Having starred in two Creed movies and probably endured some pretty rigorous physical training, Michael B. Jordan is pretty quick on his feet — and fast with his hands.
On The Late Late Show, Jordan demonstrated to host James Corden just how quick he can actually move them.
In a game of good old try-to-slap-my-hand-before-I-move-it-away, Jordan beat a shrieking James Corden pretty convincingly.
Oh, Michael. Your hands are faster than the speed of our love for you."
Read more: https://mashable.com/video/michael-b-jordan-james-corden-fast-hands/
Idris Elba is People's 'Sexiest Man Alive' for 2018
(CNN)He's still not James Bond, but for now this honor will do.
He is the 33rd man to hold the title and appears this week on the magazine's cover.
Elba
told the publication
, "I was like, 'Come on, no way. Really?' " when he first learned he had been selected.
"Looked in the mirror, I checked myself out. I was like, 'Yeah, you are kind of sexy today,' " the "Thor" star joked. "But to be honest, it was just a nice feeling. It was a nice surprise — an ego boost for sure."
"Elba first became famous in the States for his portrayal of drug kingpin Russell "Stringer" Bell on HBO's hit series "The Wire" (HBO is owned by CNN's parent company) and since then has branched out to the big screen.
His early days were far from sexy, Elba said, growing up "tall and skinny" at an all-boys school in London, where he played football, basketball, cricket, hockey and rugby.
Now considered one of Hollywood's sex symbols, Elba said he definitely had an awkward stage as a youth.
"And my name was Idrissa Akuna Elba, OK?," he said. "I got picked on a little bit. But as soon as I could grow a mustache, I was the coolest kid on the block. Grew a mustache, had some muscles, bonkers."
Bonkers indeed."
Read more: https://www.cnn.com/2018/11/06/entertainment/idris-elba-sexiest-man-alive/index.html