Celebrities You Never Knew Attended the Same School
"Most of us dread the thought of our high school days. For me, it's awkward memories filled with braces and embarrassing stories. I have trouble remembering a large portion of my classmates, but if I had celebrity classmates, you can bet your bottom dollar I would remember them. What I gather from reading celebrity blind items is that Hollywood is a weird incestuous place where everybody knows each other. And often times, celebrities knew each other before they become famous. Like, a bunch of them even went to the same high schools. So random. Here is a list of the most famous celebrity classmates.
Back when Lady Gaga was just Stephani, she and Nicky Hilton attended Convent of the Sacred Heart, an all-girls private Catholic school in NYC. Although Paris also went to the same school, Gaga didn't see much of her since she was older. This duo just goes to show you that even though two girls started at the same school, they ended up in the public eye in very different ways.
The two attended Long Beach Polytechnic High school in California. Back in the day, Snoop was known as Calvin Broadus, but according to Diaz, he looked very similar. She has said, "He was a year older than me… I remember him, he was very tall and skinny. He wore lots of ponytails." She is also "pretty sure" she bought weed from him. Some things never change.
Not only did these two successful actors go to high school together, but they have remained friends. The two attended North Sydney Girls' High School, an all girl's high school in Sydney's north shore.
The two men attended Eton, an all-boys boarding school in England. This school is considered to be rather pretentious prestigious, costing about $46,780.80 per year. Wow. But hey, the next king and an Oscar winner deserve nothing but the best, right?
There is clearly something in the water at this high school. These four men attended Santa Monica High School in the 1980s. Although Penn and Lowe were the only two of the four to graduate, you can't deny that this school fostered some well-known names. For those wondering, Downey Jr. dropped out and Sheen was kicked out just a few weeks prior to graduation. Neither of those facts surprise me.
The three attended Crossroads High School in Santa Monica. As children of celebrities, Tyler and Hudson had a lot in common and became friends growing up. Deschanel and Hudson acted in the school's production of Don Quixote. Who would have thought the two would then go on to star in Almost Famous together? (Yes, Zooey was in it, IMDB it if you don't believe me.) Hmm. The more you know………………………………………………."
Click Here to See the Rest of the List: https://betches.com/?p=39759
Selena Gomez Sheds Tears Eating Hot Wings & Teases New Music On 'The Tonight Show' — Watch!
Selena Gomez loves herself some spicy food, but not even her palate could handle the heat of the Hot Ones wing challenge!
The actress stopped by The Tonight Show on Tuesday night to promote her upcoming horror-comedy flick, The Dead Don't Die. Sadly, the starlet almost had a near-death experience herself in one segment that featured her eating spicy AF wings with Jimmy Fallon.
The two put their taste buds to the test as Jimmy enlisted Hot Ones host Sean Evans to give them the treatment of his hit YouTube series, which shows him interviewing celebs as they chow down on hot wings. It's a cruel, sadistic series that has grown in popularity over the past few years. Gomez had never heard about it, so she didn't know what type of fresh hell she was in for.
Related: Selena Gets Candid About Self-Love, Therapy, & Spending Time Alone
Interestingly enough, the 26-year-old didn't seem bothered by the first few rounds of sauces. She remained stoically poised while Jimmy immediately felt the heat and was reduced to barking like a dog.
But each round got progressively hotter over the course of the interview — and, eventually, Selena felt the heat, too.
It all went downhill after the pair sampled the sauce aptly called "Da Bomb," which made the singer tear up as she exclaimed things like:
"This is horrible!"
"Why do you do this to people!?"
"I hate it!"
LOLz! Yikes!
Thankfully, with some encouragement from the audience (and the help of a milk fountain), the duo were able to complete the challenge. Watch them squirm (below)!
During cooler segments of her appearance, Selena sat down with Jimmy to discuss her new film, and reveal what Bill Murray kept whispering in her ear when they promoted it at the Cannes Film Festival last month.
The Bad Liar artist also teased her upcoming album, which she confirmed was "finished"!
Watch the rest of her Tonight Show interview (below)!
Keanu Reeves: Grief and loss, those things dont ever go away
From Bill & Teds excellent dude to assassin John Wick, the actor has carved out a stellar career. But it hasnt come without personal tragedy
"Hey, Im Keanu, he introduces himself unnecessarily, of course, and yet very Keanu-ishly. Despite being so famous his surname has long been superfluous, Keanu Reeves has always given the impression of being utterly unaffected by his own celebrity. He is regularly described by his co-stars as kind (Winona Ryder) and humble (Laurence Fishburne) and it is easier to imagine him walking on the moon than knocking back champagne with other celebrities on a yacht in St Barts. After all, the most famous paparazzi photo ever taken of Reeves was of him sitting alone on a bench, eating a sandwich out of a plastic bag. Hard to imagine Leonardo DiCaprio doing that.
Ill sit anywhere you want me to. This OK? he says, taking a chair and offering me the sofa in the London hotel room where we meet. At just over 6ft, he is taller than I expected also unusual for an actor and dressed in a very Keanu outfit of dark shirt and trousers with sturdy boots. Despite being recently announced as the new face of the high fashion label Saint Laurent, Reeves has long been the patron saint of normcore, decades before it became a fashion statement. And I know this all too well because, from 199199, I had at least five posters of him on my bedroom walls modelling said look.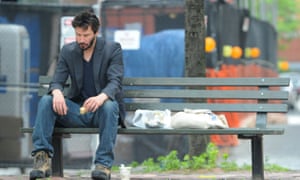 Read more: https://www.theguardian.com/film/2019/may/18/keanu-reeves-grief-loss–bill-ted-john-wick-actor-tragedy
George Clooney is done with 'dumbf**kery' in this PSA
"In light of the UN's dire warning about the Earth's accelerating extinction rate, George Clooney has stepped up for a PSA against people and their "dumbfuckery."
"Dumbfuckery is highly contagious, affecting the minds of even the most stable geniuses," the actor joked on Jimmy Kimmel Live! on Tuesday night.
Focusing his attention on climate change, vaccinations, and the dinosaurs, it's the kind of reminder that we shouldn't need — but unfortunately do."
Read more: https://mashable.com/video/george-clooney-psa-kimmel/