Emma Stone became 'addicted to strength' filming 'Battle of the Sexes'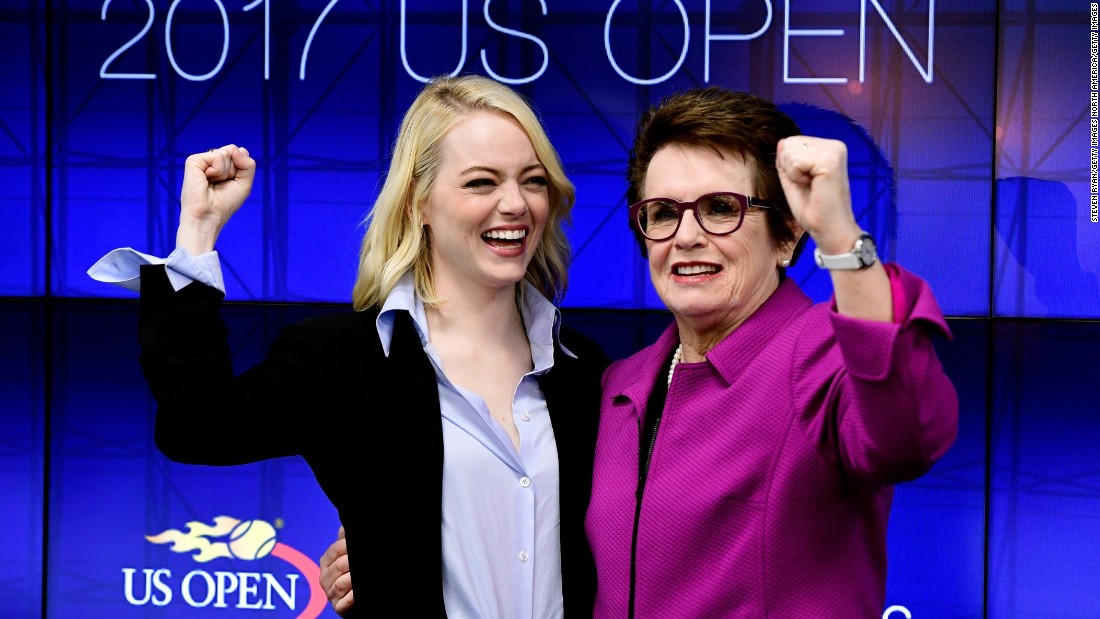 (CNN)For Emma Stone, living up to the legacy of the indomitable Billie Jean King in "Battle of the Sexes," about the infamous tennis match of the same name, was a big task to take on.
"It was the first time that I focused so, so much on the physicality of someone," Stone told CNN. "Playing an athlete, that is how she was able to make change in the world…that was her avenue to this voice that she had. So, that made physicality incredibly important."
Stone said the role called for her to get and look "stronger" — something she found empowering.
"It was the first time I'd ever felt like, 'Oh my god, I can lift a lot of weight.' And I understand how mentally, that can make you feel so strong," she said. "It can make you feel like, 'If I can throw this thing across the room, what else can I do?' You feel like the Hulk, a little bit."
In fact, she said, her newfound physical power was a little intoxicating.
"It was actually very cool. I did not know that I'd like it as much as I did," she said. "At by end it was like, 'Well, I'm addicted to strength. This is awesome.'"
It all ended up being worth it on screen too, says the real-life King.
"She's so much like me in this," she told CNN. "I mean, she gets my voice, my tempo, she gets my mannerisms. It's pretty scary to see."
Surreal as it was, King felt that she couldn't have picked a better actress to portray one of the most important moments of her life.
"I'm lucky, I got the best one to play me," she said. "I got the top of the heap."
"Battle of the Sexes" is in theaters now.
Read more: http://www.cnn.com/2017/09/22/entertainment/battle-of-the-sexes-emma-stone/index.html
Mariah Carey opened up about bipolar diagnoses for the first time, and people are so grateful
Image: FilmMagic
Now more than ever, celebrities have been opening up about their experiences with mental health issues — and Mariah Carey now joins the ranks of the stars who hope to shatter stigma surrounding various disorders.
The singer, who is typically very private, got incredibly candid with Peoplein a new interview, revealing for the first time in her storied career that 17 years ago she was diagnosed with bipolar II disorder, which is marked by bouts of depression and mania, as well as sleeplessness and irritability.
Seth Meyers' wife had their son in their apartment building lobby
On Monday's Late Night, host Seth Meyers shared the incredible story behind the birth of his son on Sunday.
Over the course of 11 extremely charming minutes, Meyers reveals that his wife Alexi Ashe, a human rights lawyer, gave birth to their son Axel on the floor of their apartment building lobby.
"This is how fast it happened," he told the audience. "I called 911 and over the course of a minute conversation, I basically said, 'We're about to have a baby. We're having a baby. We had a baby.'"
The rest of the story involves a massive group of firefighters, compassionate neighbors, and a few photos from the scene.
Naturally, Meyers choked up talking about his wife's bravery on Sunday: "That kid's gonna be fine forever because of her."
Congratulations to Meyers and Ashe on the birth of their second child, andon having the greatest icebreaker story of all time.
Read more: https://mashable.com/2018/04/10/seth-meyers-wife-gives-birth-to-son-lobby/
Christina Aguilera Beautiful & Barely Recognizable
Hot off her appearance on the season premiere of "RuPaul's Drag Race" last week, Christina Aguilera debuted a jaw-dropping new look Monday.
Fans can rest assured, however, that the pop provocateur who appeared nude on the cover of Rolling Stone, wore assless chaps and smooched Madonna at the 2003 MTV Video Music Awards hasn't completely gone demure.
"I've always been someone that obviously loves to experiment, loves theatrics, loves to create a storyline and play a character in a video or through stage," Aguilera told the magazine. "I'm a performer, that's who I am by nature. But I'm at the place, even musically, where it's a liberating feeling to be able to strip it all back and appreciate who you are and your raw beauty."
Aguilera's new, toned-down look seems timed to coincide with a forthcoming album. In January, she posted a cheeky message to fans in an Instagram story hinting at new music.
Though she's kept details of any upcoming projects under wraps, there have been suggestions of possible collaborations with Demi Lovato and Pink.
Aguilera didn't divulge any additional information in the Paper interview, but discussed her decision to leave "The Voice" after six seasons.
"I can't stay in a stagnant place for too long, which is why I think the position I was in with television just became very stifling," she said. "I need movement, I need to go explore, be an artist, create and transform."
Check out Christina Aguilera's full interview with Paper here.