Golden Globes Snubs and Surprises: No Female Directors? Wheres Wonder Woman?
The Golden Globes are known for being random, for both clarifying in some respects the awards race by being the first major show (though the voting body has little overlap with those who vote for the Oscars) and for throwing a total wrench into it. Those Globes choices are supposed to be as unpredictable and silly as the boozed-up show itself! At least, historically speaking.
So its alternately surprising and refreshing that theres little to rage about Monday morning with the ultimate slate of nominees, which were led on the film side by The Shape of Water (7 nods), The Post (6), and Three Billboards Outside Ebbing, Missouri (6), and on the TV end by Big Little Lies (6 nods) and Feud: Bette and Joan (4).
Oh, theres still enough to be huffy about. But hardly on the level of Burlesque or The Tourist being a Best Picture nominee, and barely a Who? showing up in the TV races. (Those merit a reaction more like interesting instead.)
There are certainly reasons to harrumph. In a year when the female-led Beauty and the Beast and Wonder Woman are the highest-grossing films of the year and Lady Bird is the best-reviewed, its certainly disheartening and arguably tone-deaf to see a Best Director category lacking any female contenders. (Justice for Patty Jenkins and Greta Gerwig, though the latter did have a good morning when it comes to Lady Bird nominations.)
The Big Sick
Best Comedy or Musical is always the wildest Globes category. Usually thats for what they choose to include, not for who they snub completely. The Big Sick was thought to be a deserved shoo-in in the comedy categories, but instead got shut out in favor of nominations for the Globes-friendly circus musical The Greatest Showman (which we are barred from officially talking about yet) and, perhaps more confusingly, a scene-chewing supporting performance from Steve Carell in Battle of the Sexes where lead actor Kumail Nanjiani deserved to be.
All the Money in the World
Is the Hollywood Foreign Press just bragging that it's seen Ridley Scotts 11th hour heroism by handing out major nominations to All the Money in the World? This is infamously the J. Paul Getty thriller that was rushed into reshoots following allegations of sexual misconduct against former star Kevin Spacey, with the cast reuniting to re-film the disgraced actors scenes with Christopher Plummer in the role instead over the Thanksgiving holiday. Though critics have yet to weigh in on the film, the HFPA is rewarding that nobility with nominations for Scott in the competitive Best Director race, Plummer in Best Supporting Actor, and, most surprisingly, Michelle Williams in Best Actress in a Drama.
Jordan Peele – Get Out
Ridley Scott and All the Money in the World, perhaps because of its last-minute finessing, has yet to become a major part of the awards conversation. Someone who has, however, is Jordan Peele, whose Get Out contends for major awards including Best Comedy and Best Comedy Actor (Daniel Kaluuya) but is confusingly absent from the Best Director and Best Screenplay categories. Peele is exactly the type of rising star celebrity filmmaker that the Globes tend to toss trophies out to (and he deserves it, to boot), making his exclusion this morning in favor of more traditional nomineesthat Best Director category is an establishment snoozea little out of character for the wild card Globes.
Greta Gerwig – Lady Bird
Its not that Lady Bird had a poor showing. Far from it, with the film nabbing four big nominations: Best Comedy, Best Actress (Saoirse Ronan), Best Supporting Actress (Laurie Metcalf), and a Best Screenplay nod for Gerwig herself. But Gerwig has been racking up nods for directing the popular film at most critics awards, and has been pegged as the best chance at a rare female director nomination at this years Oscars. There hasnt been one since Kathryn Bigelow won in 2009. With Gerwig, Wonder Womans Patty Jenkins, Mudbounds Dee Rees, and First They Killed My Fathers Angelina Jolie all in contention this year, we wouldve thought that the Globes could found room in their otherwise stuffy Best Director category (Guillermo Del Toro, Ridley Scott, Steven Spielberg, Christopher Nolan, and Martin McDonagh … groundbreaking) for a female voice.
Ansel Elgort – Baby Driver
The fun of the Golden Globes is typically the inclusion of left-field contenders who, because they star in comedies, havent been part of the more staid awards conversation. In the movie categories, at least, the Globes seem to be toeing the party line, with the exception of Ansel Elgorts surprise Best Actor in a Comedy or Musical nod for Baby Driver.
Luca Guadagnino and James Ivory – Call Me By Your Name
Guadagninos succulent Italy-set romance Call Me By Your Name certainly did well at the Globes this morning, with nominations for Best Drama and stars Timothe Chalamet and Armie Hammer. But the films helmer, Guadagnino, is thought to be a major contender for the Best Director Oscar (which had seemingly little room for outside the box nominees this year) and even more so in the Best Adapted Screenplay category for James Ivorys script. This could be a silly case where both the eventual Best Original Screenplay (Peeles Get Out) and Best Adapted Screenplay (Ivorys Call Me By Your Name) Oscar winners arent even nominated by the Globes.
Mariah Carey and Nick Jonas
The HFPAs reputation for being wooed by big stars seems remarkably restrained in the acting categories this year, but returns guns-a-blazing in Best Original Song, where tunes from Mariah Carey and Nick Jonas appear (for The Star and Ferdinand, respectively) at the expense of tracks from Sufjan Stevens (Call Me By Your Name), Andra Day and Common (Marshall), and even the seemingly Globes-friendly Beauty and the Beast. Speaking of
Beauty of the Beast and Wonder Woman
Did the reviews for Disneys massive live-action adaptation of its popular animated musical really merit major Globe nods? Certainly not. But its status as the highest-grossing film of the year wouldve excused an inclusion in Best Comedy or Musical, or even a crazy nod for Emma Watsons leading performance. Honestly, between Beauty and the Beast and Wonder Woman, which barely trails behind the musical in the year-end haul, it might have been nice for box-office girl power to be reflected at the Globes.
Twin Peaks
Was it all that grumbling over the fact that it kept showing up (fairly ridiculously) on so many best movies of the year lists that kept the Showtime Twin Peaks revival from where it belonged, on the Best Limited Series shortlist at the Globes? At least star Kyle MacLachlan snuck in.
Jessica Biel – The Sinner
Then again, Limited Series is where the HFPA really embraced its fast-and-loose reputation this year and nominated Jessica Biel and her USA thriller in the major categories. Listen, her show is great and fun! Its not a bad nomination per se. Its just that these are two of the most competitive categories, and its a tad jarring to see Biels name alongside the likes of Jessica Lange, Susan Sarandon, Nicole Kidman, and Reese Witherspoon instead of, say, Oprah Winfrey, Carrie Coon, or Felicity Huffman.
Veep
Despite its three-year reign as the Emmys Best Comedy and Julia Louis-Dreyfuss record six wins as Best Actress, Veep has never won a Golden Globe in any category. And this year, its not even nominated.
Curb Your Enthusiasm
Neither is Larry Davids return to Curb Your Enthusiasm, which returned after six years with the kind of fanfare that the Globes typically salivate over, but was rewarded with bupkus Monday morning. And Curb actually won the Best Comedy award in 2003…
Will & Grace
Which is more than Will & Grace can say. Its been nominated 29 times for a Golden Globe, seven times for Best Comedy, and has never won once. It contends this year again in Best Comedy for its celebrated revival season, but, strangely, Eric McCormack is the only cast member of the critically beloved quartet of stars with a corresponding acting nomination.
Freddie Highmore – The Good Doctor
The Globes love to throw nominations at hot new shows and actors, which this year weirdly means rewarding the star of ABCs Doogie Howser-esque medical drama, The Good Doctors Freddie Highmore. The shows rampant popularity hasnt ceased to stun critics, so maybe Highmores Globes nod shouldnt be surprising either, even though his inclusion came at the expense of more traditional contenders Matthew Rhys (The Americans), Rami Malek (Mr. Robot), and even Globes favorite James Franco (The Deuce).
Katherine Langford – 13 Reasons Why
Weve been wondering if and when the massive popularity of the obsessively bingedand obsessively debated13 Reasons Why would reflect in awards season, and a Globes nomination for its buzzy star seems perfectly appropriate. The Globes love to crown an ingenue, which means Langfords nomination left Winona Ryder (Stranger Things), Keri Russell (The Americans), and Viola Davis (How to Get Away With Murder) out in the cold.
SMILF
The Globes love to embrace new shows, and this year one show in particular reaped the benefits of its unpredictable fondness for new blood: SMILF, and its star Frankie Shaw. The scrappy, if uneven, Showtime series joins The Marvelous Mrs. Maisel and its star Rachel Brosnahan as this years shiny new things at the Globes.
Kevin Bacon – I Love Dick
I loved I Love Dick. But I wouldve thought any awards attention for the hyper-feminist Amazon series would go to its exhaustless female star, Kathryn Hahn. Or is Kevin Bacons inclusion in Best Comedy Actor filling the slot typically reserved for Transparent star Jeffrey Tambor? Both shows were created by Jill Soloway, and Tambor has won this category before. But given the turmoil over sexual misconduct allegations against him, its hardly a surprise that he was skipped over this year.
The Leftovers and The Good Place
After all our dissection of the nominations, wed be remiss if we didnt point out that 2017s actual best drama series and actual best comedy series left with zero nominations.
Read more: https://www.thedailybeast.com/golden-globes-snubs-and-surprises-no-female-directors-wheres-wonder-woman
Madonna to direct movie based on life of ballerina Michaela DePrince
MGM announces the singer will direct Taking Flight, the story of DePrinces journey from war orphan in Sierra Leone to world-class ballerina
Madonna is to return to the movies after a seven-year absence to direct Taking Flight, a feature film based on the life of Michaela DePrince, a war orphan from Sierra Leone who became a leading ballerina.
According to Deadline, Hollywood studio MGM has been developing the project since 2015 when it acquired the rights to DePrinces memoir, co-written with her adoptive mother, Elaine.
Michaelas journey resonated with me deeply as both an artist and an activist who understands adversity, Madonna said. We have a unique opportunity to shed light on Sierra Leone, and let Michaela be the voice for all the orphaned children she grew up beside. I am honoured to bring her story to life.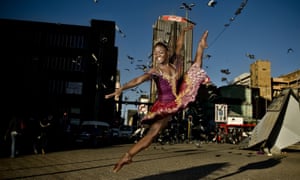 Read more: https://www.theguardian.com/film/2018/mar/14/madonna-to-direct-movie-based-on-life-of-ballerina-michaela-deprince
'Black Panther' Hits $1 Billion Mark In Worldwide Box Office Numbers
"Black Panther" has surpassed $1 billion at the worldwide box office, challenging industry norms about films with black casts.
The international success of "Black Panther" has challenged the myth that films with predominately black casts don't sell and it helps unravel "unwritten Hollywood rules," Jeff Bock, a senior analyst at entertainment research firm Exhibitor Relations, told The New York Times.
"I think about it like a wall crumbling," Bock said. "In terms of 'Black Panther,' no studio can say again, 'Oh, black movies don't travel, overseas interest will be minimal.'"
Stars of the film, including Chadwick Boseman, Lupita Nyong'o and Danai Gurira, have spoken out about the importance of representation in the movie. "Black Panther," which is set in the fictional country of Wakanda, shows the possibilities of an African society untouched by colonialism and gender inequity.
"I think there's a thirst for these images," Boseman told NBC. "There's a real thirst for black superheroes."
Marvel Studios President Kevin Feige confirmed this week that a "Black Panther" sequel is in the works. Feige told Entertainment Weekly that there was "nothing specific to reveal" about the next movie but added that "we absolutely will do that."
Read more: http://www.huffingtonpost.com/entry/black-panther-billion-dollars-top-domestic_us_5a9ef739e4b002df2c5e6fd7
Keegan-Michael Key's reaction to Jordan Peele's Oscar win will make you emotional
Find yourself a friend who loves you this much.
Jordan Peele had a historic moment last night when he won the Academy Award for Best Original Screenplay for his debut solo film, Get Out.
He became the first African-American screenwriter to win this category—and no one was prouder of him than his old Key and Peele partner, Keegan-Michael Key.
Key and Peele were the creators of the aptly titled sketch comedy series that ran on Comedy Central for five seasons, from 2012 to 2015.
Key was absolutely thrilled to see his "partner in laughs" snag his first Oscar.
Just look at that ecstatic jump!
Look how happy Keegan-Michael Key was when Jordan Peele won! #Oscars

(