High Life Robert Pattinson Movie Review
An astronaut on an odyssey to a distant black hole faces the challenges of parenting and existential panic in Claire Denis mysterious drama
"Claire Deniss deep-space trauma High Life is an Old Testament parable catapulted forward into the 23rd century, a primal scene in a pressurised cabin of sci-fi pessimism, suppressed horror and denied panic. As if in a recurring dream, Denis brings us repeatedly to the image of a cream-panelled spaceship corridor that curves sharply around to the right; the area is at first pristine and then, as the years go by, shabby and derelict, stained with what may be body fluids. And what is around that corner?
This is a bizarre new creationist myth for those of us who ever wondered in childhood, and then forgot to wonder, about the taboo-breaking involved in propagating a race from just two people in the Garden of Eden, or two species representatives in the ark. It is also a tale of imperial expansion and sexual beings under pressure, just as in earlier Denis movies such as Beau Travail (1999) or White Material (2009); this is written by Denis with Jean-Pol Fargeau, Geoff Cox and Nick Laird, shot with luminous mystery by cinematographer Yorick Le Saux, with an eerie musical score by Stuart Staples of the band Tindersticks.
At its centre is Monte, played by Robert Pattinson, who is evidently all alone on a spaceship that exterior shots reveal to be shaped entirely without the elegant streamlined curves of a craft designed for purposeful travel. It is huge and rectangular, suspended in space like a clunking great container unit full of rubbish. Actually, Monte isnt entirely alone. He has a tiny infant with him called Willow, whom he tends to and talks to conscientiously but unsmilingly.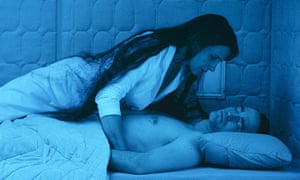 Read more: https://www.theguardian.com/film/2019/may/08/high-life-review-robert-pattinson-claire-denis-juliette-binoche
Stranger Things Season 3 receives Rave Reviews from Critics
Midsommar Review – 5 Stars!
Florence Pugh is plunged into a terrifying pagan bacchanal in a magnificent folk-horror tale from Hereditary director Ari Aster
"There's nothing cosy about these midsummer murders, and Midsommar could turn out to be folk-horror for the Fyre festival age. Ari Aster is the film-maker who made his feature debut just last year with the chiller Hereditary, and now presents us with this fantastically sinister and self-aware Euro-bacchanal, clearly inspired by the 1973 classic The Wicker Man. And that is not the only riff. When Hereditary came out, I guessed (correctly, as it turned out) that the director was thinking about Bergman's Cries and Whispers. I'm now going to bet 20p that before shooting Midsommar, Aster took another look at Tarkovsky's The Sacrifice.
Midsommar is an outrageous black-comic carnival of agony, starring charismatic Florence Pugh in a comely robe and floral headdress. It features funny-tasting pies and chorally assisted ritual sex, with pagan celebrants gazing into the middle distance and warbling as solemnly as the young dudes in the Coca-Cola TV ad about teaching the world to sing. It's all set in an eerily beautiful sunlit plain, bounded by forests and lakes. This is supposed to be somewhere in northern Sweden, but was filmed in Hungary, and Aster, cinematographer Pawel Pogorzelski and production designer Henrik Svensson have collaborated on what are surely digitally assisted images: the sky and fields becoming a bouquet of vivid and beautiful blues and greens. The music from British composer Bobby Krlic (AKA the Haxan Cloak) is sensually creepy………………………"
What's My Name: Muhammad Ali review – from prodigy to legend
Part one of Antoine Fuqua's film shows the transformation within a decade from 12-year-old boxing novice Cassius Clay into the heavyweight champion of the world
"I asked my mother when I went to church on Sunday: 'Why is everything white? What happened to all the black angels?'"
So Muhammad Ali told an interviewer, before giving a knowing look and – boom! – the punchline. "Black angels are in the kitchen preparing milk and honey."