How 'Jumanji' succeeds where most video game movies stumble
Jack Black, Nick Jonas, Karen Gillan, Dwayne Johnson, and Kevin Hart in Jumanji: Welcome to the Jungle.
Image: Sony
It's a truism that Hollywood has a terrible track record when it comes to video game movies. But it's not entirely accurate. There are lots of great video game movies out there – they're just not based on actual video games.
This month, Jumanji: Welcome to the Jungle, joins films like Edge of Tomorrow and Scott Pilgrim vs. The World on the list of excellent films inspired by video games but not directly adapted from one. This one is a loose sequel to 1995's Jumanji, which reimagines the dangerous board game as a '90s-era video game.
The game catches the attention of four bored modern-day teenagers stuck in detention. As soon as the kids press play, however, they're pulled into the world of the game, in the bodies of the avatars they've chosen.
It's a novel premise for a video game movie – and one that lets Jumanji avoid many of the pitfalls that have trapped so many video game adaptations.
Jumanji breathes personality into archetypal characters
The first and possibly most important thing that Jumanji adds to the video game movie template are complicated, three-dimensional characters. In games, the heroes are left somewhat blank by design. They might have backstories, stats, and some pre-determined quirks, but it's up to the players to bring them to life, by injecting their own personas and choices into those avatars.
Jumanji presents four archetypal avatars – the brawny hero (Dwayne Johnson), the faithful sidekick (Kevin Hart), the kickass hottie (Karen Gillan), and the nerdy professor (Jack Black). But it then rounds them out with the personalities of the four players – a nerd, a jock, an overachiever, and a queen bee, respectively.
This approach fixes one issue common to video game adaptations – the sense that you're just watching someone else play a game when you'd rather just play it yourself.
Since Jumanji invites you to identify with the players, who then pour themselves into their game counterparts, you're not left struggling to relate to two-dimensional avatars who were never meant to be three-dimensional people. With the players serving as a go-between, you connect to the characters in a way that works for a movie, not a video game.
Jumanji embraces the uncanny unreality of video games
That tension we just talked about, between the player and the avatar? Jumanji lives in the friction between those two halves. There are lots of jokes about the bizarreness of becoming someone else, including an uproariously funny scene in which the queen-bee player gets acquainted with her new male anatomy.
Jumanji additionally takes good-natured jabs at NPCs (their confusing familiarity, their stilted patter), character stats (like seemingly random weaknesses), and cutscenes (what the hell are these out-of-nowhere infodumps?). It pokes fun at the female avatar's hellaciously impractical costume, and mines surprising pathos from the way time never really seems to move forward in a game.
The film understands what's so uncanny about video games and embraces those qualities rather than running from them. There, Jumanji has an advantage over most video game adaptations: It's a comedy, which means it gets plenty of leeway to make fun of itself.
Jumanji gets to build its world (almost) from scratch
Then there's the fact that Jumanji, though it pays homage to video games, isn't actually beholden to any particular game. There's no devoted fanbase that might get upset if you overhaul the characters, no intricate mythology that needs to be untangled for general audiences. In that sense, Jumanji functions almost like an original movie, in that it gets to build most of its world from scratch.
With that freedom, Jumanji makes the wise choice to keep the mythos simple. There's some stuff about an archnemesis, and a prophecy, and a magical MacGuffin that could save the world or destroy it – but the film only tells the audience as much as we need to know to "play" the game (i.e., follow the plot of the movie).
For viewers like me, who struggle to keep up with films that require you to catch up on centuries of fictional history before digging into the main plot, that's a blessing. (Yes, Warcraft, I was talking about you.) It lowers the barrier of entry. And it means that everyone – know-it-all gamers and clueless newbies alike – get to discover the rules and experience the plot twists together, making for a more inclusive cinematic experience.
Jumanji knows when to ditch the video-game conceit
That's important, because for all its video game trappings, Jumanji is a movie first and foremost, and it never forgets that. It may enjoy playing around with game conventions, but it has no problem ditching the ones that don't work.
The film largely ditches the cutesy video game gags as it goes on, trusting that we're more interested in the narrative at that point. It doesn't mind cheating a bit by including scenes of the villain plotting away, even if they don't really make sense within a video game framework. (They're not cutscenes, because the film establishes early on that the players can see cutscenes, whereas they cannot see what the villain is up to.)
In fact, the whole film is structured less like a game than a movie. It unfolds logically and linearly, and doesn't meander or repeat itself the way a session of gameplay might. But there, too, Jumanji finds a way to have it both ways, presenting the gradually rising stakes as a nod to the progressively harder "levels" in video games.
Jumanji understands the appeal of video games
In other words, Jumanji knows that movies and games appeal to audiences in different ways. And yet the reason it's so successful as a video game movie, specifically, is that it understands why people love games.
Once the characters get past their initial alarm, they start to have some fun with the experience. They delight in accomplishing things they could never dream of IRL, like handling dangerous beasts or punching out baddies or dangling out of helicopters. They experience the thrill of being someone else – someone cooler, smarter, sexier, braver – for a little while.
While Jumanji isn't interactive in the way of actual video games, it does its best to simulate that feeling by getting you on the same page with the players at every turn. So when, say, the overlooked nerd starts to relish his new identity as a beefy badass who looks like the Rock, the part of you that identifies with that overlooked nerd enjoys it too.
And when, at one point, a character expresses a desire to stay in the game forever, it's all too easy to understand what they mean. It's a childish sentiment, but one that should feel relatable to anyone who's ever disappeared into a fantasy game world and felt a lurch of disappointment at being pulled back into the real one.
Read more: http://mashable.com/2017/12/08/jumanji-video-game-movie-review/
Ready Player One review Spielberg's shiny VR caper isn't worth playing
Flashy adaptation of the book is full of pop culture references and striking visuals but a thin plot and shallow characters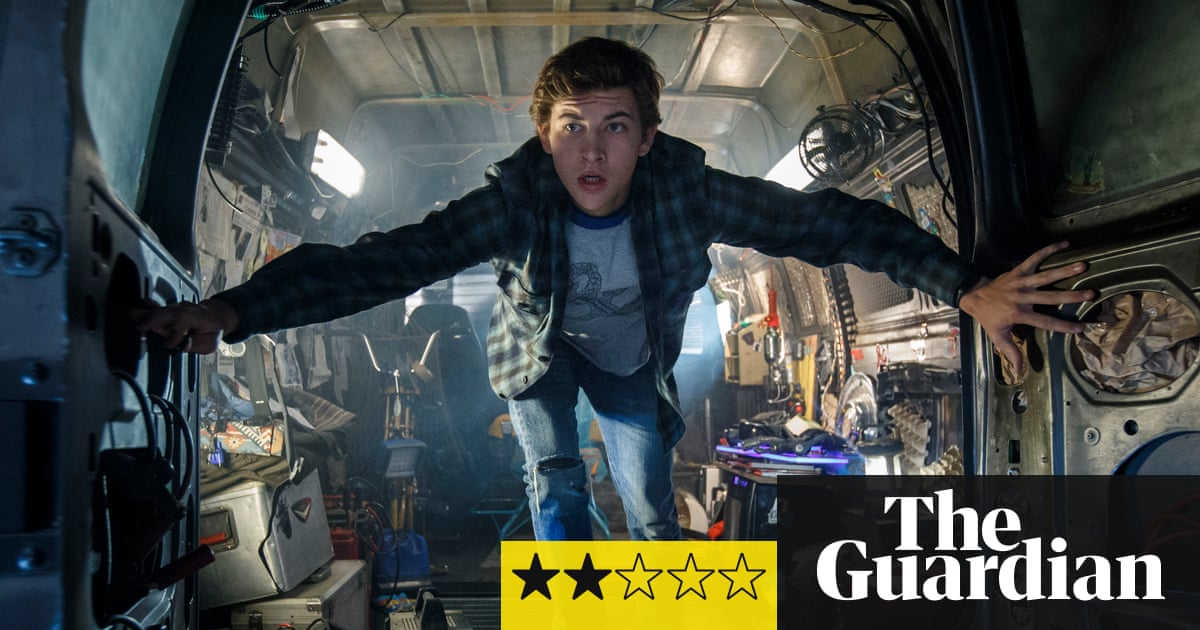 With the help of Van Halens Jump, Steven Spielbergs Ready Player One launches its video game adventure story at full speed. The year is 2045; the place is Columbus, Ohio. Our hero, Wade Watts (Tye Sheridan), fills in the details while climbing past his grungy homes of his town, the stacks, where trailer parks are piled on top of each other sky-high. Things are so miserable in Wades world, everyone escapes to play in an immersive virtual reality game known as the Oasis. Its Steve Jobs-like founder, James Halliday (Mark Rylance) is worshipped like a god until his death some years before. However, before he left the mortal world, the benevolent creator left behind a series of games that would reward the winner with the Willie Wonka-like prize of the keys to his virtual kingdom.
Thats a lot of story to race through in two hours and 20 minutes, but Spielberg paces his movie to fly past the films explanations of events as quickly as possible. The conflict is straightforward and simple: our hero and his friends must outplay the corporate bad guys led by Nolan Sorrento (Ben Mendelsohn) and beat him to the three keys that would control the game. Some scenes are just too bloated with with trivia to have any real weight. The information isnt given in a casual, conversational way, but in a pretentious manner, as if theyre trying to impress you with minutiae.
The Ernest Cline novel on which its based on is perhaps best known for its many pop culture references. The film follows suit with a soundtrack filled with an upbeat selection of greatest hits from the 80s, with a few interlopers from the 70s. The deepest cut is perhaps Princes I Wanna Be Your Lover, but the rest are songs you likely know the lyrics to. Its tragic that all history of pop culture post-1989 seems to have been lost, but anyone who remembers the 80s may feel nostalgic spotting artifacts from their past. A DeLorean! Theres Batman! Thats the … Holy Hand Grenade? Theres even a few nods to Spielbergs movies, like when a T-Rex chases a car in Jurassic Park. Its easy to get distracted by these cameos on the edge of the story.
The film mimics video games weightless camera, creating a floating point of view around fight scenes and chase scenes. While thrilling to watch, its a style that left me queasy from motion sickness. The spinning is sometimes so fast, its tough to figure out which player is winning or who is fighting who. With too much movement, momentum is lost. The audience has to regain its footing in the story before running off towards the finish line.
While the movie is visually whimsical with its design and neon colors, the weakness of the source material still pokes out. Plot holes remain, despite screenwriter Zak Penn and Spielbergs efforts to liven up the visuals and punch up the dialogue. Im not sure I have a great understanding of how the game mechanics are supposed to work. If movement is required to move an avatar in the game, how do people play in the Oasis while standing in their living rooms?
For a movie about the heros journey, theres no arc for any of the characters. Theyre all already heroes, the big bad is evil from start to finish. Sheridan isnt given enough to act on. Wade and his teammates are almost interchangeable, save for a few differences in height and race. The grown-ups seem to enjoy their roles a bit more than the very serious group of young gamers. Mendelsohn has some fun playing a slippery villain, and Rylance is reliably childish as the Wonka/Jobs hybrid.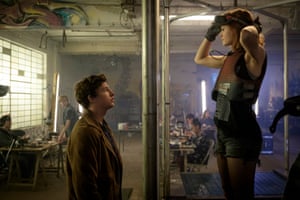 Read more: https://www.theguardian.com/film/2018/mar/12/ready-player-one-review-spielbergs-shiny-vr-caper-isnt-worth-playing
John Krasinski's 'A Quiet Place' will make you scream, and then turn your own screams against you
Real-life couple John Krasinski and Emily Blunt make for a stellar onscreen couple as well.
Image: Paramount Pictures
It's not easy to make an entire room full of movie fans scream in terror. But John Krasinski's A Quiet Place did just that Friday, thrilling the SXSW crowd with impeccably crafted scares, surprisingly effective drama, and one hell of a satisfying ending.
By the time the credits rolled, my hands hurt from clenching them so tightly. I let out a long breath I didn't know I'd been holding. And then I felt compelled to applaud, loudly, at what I'd just seen. Judging by the dazed looks on the faces of the critics around me, I wasn't the only one. This is that kind of movie.
For the most part, A Quiet Place lives up to its title. Krasinski and Emily Blunt play the parents of a family living out their days in near-silent isolation, lest the slightest noise attract the monsters that have already demolished most of the rest of the human population.
The film's genius is in the way it weaponizes that absence of sound. The quiet of A Quiet Place has nuances and textures – there's a difference in the silence a father hears as his family tiptoes around an abandoned store, versus the silence his deaf daughter (Wonderstruck's Millicent Simmonds) hears when she's in the same scenario.
When sound does intrude, it's horribly jarring. My tension spiked with each crash or yell. When those noises attracted the monsters – which are so brutally efficient that they leave little more than a blood smear behind – that's when the audience would start to scream.
Even more harmless, mundane noises take on an outsized significance. The roar of a waterfall starts to sound like comfort and liberation, because it's loud enough that the monsters can't hear over it. A song played on an iPod feels downright decadent, and almost unbearably loud. Dialogue starts to seem strange to our ears, after so many conversations executed via sign language. (The same applies, unfortunately, to the score, which feels unnecessary at best and overbearing at worst.)
All this tension puts us in the same mindset as the characters: They can never let their guard down, so we can't either. Krasinski and his brilliant sound team even manage to turn our own bodies against us – I was acutely aware of my own gasps and signs, and frequently found myself covering my mouth so I wouldn't yelp in shock.
Still, none of this would really matter if we weren't at least a little invested in these characters' fates, and here this cast does some of its most elegant work.
A Quiet Place doesn't spend a whole lot of time dwelling on who these people are (if any of them have names, I don't know what they are) but the actors capably convey their characters' personalities in a few deftly sketched strokes. Blunt in particular shines, building an entire emotional arc out of an unguarded smile, a weary frown, a squaring of the shoulders.
In essence, A Quiet Place is a feature-length version of that scene in every horror movie where the protagonist creeps down a dark hallway toward an unknown threat, and we grit our teeth with a mixture of eagerness and dread.
Half the time, the payoff, when it comes, hardly seems worth the fuss. A Quiet Place is the all-too-rare movie where it does. This may not be the deepest or most ambitious horror movie in recent memory – there's not much here beyond that brilliantly simple core concept. But as a delivery vehicle for sheer, visceral terror, it's one of the most brutally effective.
Read more: https://mashable.com/2018/03/10/a-quiet-place-movie-review/
Critics are into 'Annihilation' even though it's not perfect
If you were disappointed by the promised sci-fi thrill and star power of something like Cloverfield Paradox, you might be in luck with Alex Garland's Annihilation, due in theaters on Friday. The Ex Machina director returns to the genre, this time with a winsome cast of women (and his constant, Oscar Isaac) to adapt Jeff VanderMeer's 2014 novel.
Early reviews of the film are positive, particularly in regard to how Garland builds suspense and uses his cast. For more on what critics thought of Annihilation, read on.
An unconventional adaptation
The annihilation of the film's title is the self-directed kind, and it's working on a molecular level, even when the Hollywood narrative trappings of the film let it down. The film is drastically different from VanderMeer's book, but it's also about something that can't be uttered, and, accordingly, Garland goes silent for the film's stunning finale. Something at the intersection of the end of 2001: A Space Odyssey and modern dance, it left me breathless with its unforgiving depiction of the relentless weight of depression; the impulse to self-destruct.
To call "Annihilation" an "adaptation" doesn't really do either the book or the film justice. Written before the sequels even existed, Garland's script seizes on key ideas from VanderMeer's novel, but spins them in entirely new directions, using the source as a kind of leaping-off point (even the opening meteor detail is a bit of a departure, albeit one with rich other-worldly implications) from which five tough women have a chance to make first contact with this alien presence, and perhaps save the human race in the process.
While reportedly taking giant left turns from its source material, there's still something admirably uncompromising about Annihilation. The well-trodden formula of a group of experts/soldiers/horny teens being picked off by a malevolent force is structurally present but it's not presented in the same generic package we've grown tired with. Garland has far more on his mind than how to creatively dispatch a list of ciphers and his film is wonderfully unknowable, a crackling tension underpinning the unpredictable narrative. There's an unnerving chill about the horror that lies ahead because we're never really sure what form it will take.
The killer cast of ladies
Todd McCarthy, The Hollywood Reporter:
All the characters get a chance to make a strong impression. Leigh, last prominently seen on the big screen spewing obscenities and blood in The Hateful Eight, could scarcely be more different here as the tough, watchful, oddly edgy group commander, while Thompson gets a few good verbal licks in.
But Portman remains the chief among relative equals, both because she's the star and because her character has the connection to the only known survivor of the Shimmer to date. The actress may not be the physical equal of some of the others, but she compellingly conveys Lena's fierce determination to both figure out what happened to her husband and solve the mystery of this colorful but terrifying unknown force of nature.
Portman is a strident, fiercely compelling presence, investing us in both her mission and her interlinked marriage (flashbacks to her relationship with Isaac are surprisingly sweet, witty and sexy), providing an emotional center without the need for sentimentality. As the secretive psychologist of the group, Leigh proves perfectly cast, hypnotically hard to read, a performance so well-measured and tantalizingly restrained that it's criminal we don't see her on screen more often. There's also great work from their other crew members played by Gina Rodriguez, so charming in Jane the Virgin and so striking here, Tessa Thompson, quietly affecting and deserving of her Bafta-nominated rising star status and Swedish actor Tuva Nuvotny who makes a piercing impression in a small role.
The cast is solid, especially the core group of actresses — Rodriguez, especially, is noteworthy as a complicated butt-kicker who's a welcome departure from her good-girl Jane the Virgin role. The women…are all broken in some way, and their quest is a therapy session of sorts that unveils emotional and physical wounds. The talent provide the needed emotional center in this scientifically bonkers scenario, and while the movie doesn't make a big deal of it, a band of very capable scientists who happen to be women is a welcome sight in the mostly male-dominated sci-fi genre.
The end result
It's a smart approach that rewards the audience's intelligence, rather than overwhelming them with conventional exposition, and keeps viewers leaning forward in their seats, searching for clues as to what the Shimmer represents — when in fact, its effectiveness will vary wildly according to how different individuals choose to interpret it…by leaving things open-ended, Garland raises questions beyond those of VanderMeer's novel, shifting the focus away from hard science toward the psychology of his characters, and introduces a compelling dilemma, à la "Arrival," that gives the film a welcome philosophical depth.
Todd McCarthy, The Hollywood Reporter:
In the much-anticipated follow-up to his auspicious debut feature Ex Machina four years ago, writer-director Alex Garland shows an unerring hand in building a sense of unease about what evil lurks in a forest that's been taken over by some kind of "other," and then making it pay off. Fright fans as well as connoisseurs of seriously good filmmaking should turn this finely tuned thriller into a much-needed hit for Paramount and, as the remaining two entries in Jeff VanderMeer's Southern Reach Trilogy have already been published, the studio should get the next film installment rolling post haste.
Garland's plot is relentless with its terror and deep immersion in a familiar world that's been tweaked into something else altogether. There's almost no levity, other than some happier times spent with Lena and Kane during the film's non-linear narrative. Things also get a little muddled heading into Annihilation's climax, but it's forgivable in a story so admirably confident in its outrageousness.
Annihilation hits theaters Feb. 23.
Read more: https://mashable.com/2018/02/21/annihilation-review-roundup/