How Michael Pea Finally Broke Through
One of the few visible Latinx actors working in big-budget blockbusters, the star of Netflixs splashy new sci-fi thriller Extinction talks about his time in Hollywood
"Michael Pea is right at the career juncture where a character actor breaks into full-fledged movie stardom, where an oh-its-that-guy graduates to household-name status.
The actor has logged over two decades of uniformly serviceable work in films of wildly varying quality, from straight-faced ensemble appearances in Oscar contenders like Crash, American Hustle, and The Martian to comedic turns in other peoples star vehicles, such as Tower Heist and 30 Minutes or Less. Recently, however, hes moved to the fore as a nonchalant everyman type easily cast in projects with a broader reach. He was the secret weapon of Ant-Man and returned to steal even more scenes in the recently released sequel, but this week brought him the official signpost of mainstream success in the film industry: a leading role in a big-budget, effects-heavy sci-fi epic. He stars in Netflixs Extinction as a man haunted by recurring nightmares of an alien attack, until one day, his visions become a violent reality. (Lets just say that not all is as it seems, and leave it at that.)
Perhaps the secret to Peas success is that his easygoing-dude schtick is no act; he likes hanging out with his son more than hobnobbing with A-list elites and seems entirely comfortable busting out a Bob Dylan quote at a moments notice. Across a far-reaching phone call, the ascendant actor offered his thoughts on pirate dreams, molding a character around a big twist, and the trials he faced as a Latino actor looking to gain a foothold in the biz.
Do you believe in extraterrestrial life, out there among the stars?
Aw, I dont know, dude! Its hard to see anything that youre not a part of. Maybe there is. What do you think?
I think if there are aliens, theyre not gonna be invaders. Theyll be nice, like ET or David Bowie in The Man Who Fell to Earth.
Its like this: as big of a universe we have, are we not the aliens? Our galaxy is huge enough that there must be life forces, whatever you want to call them, somewhere out there.
Your character cant shake this nightmare of an alien invasion do you have any weird recurring dreams?
Yeah, you know what: for ages, I had this dream that I was on a pirate ship, and Id get cut in half. I had no idea why that kept popping up. In the dream, getting cut in half never hurts, Id keep on fighting. Theres nothing in there based on the reality of what scares me, but it kept coming back.
They say these sorts of things are symbolic, right?
The only thought I have is that its about searching for treasure, that I might be looking for something. But I dont know what thatd be.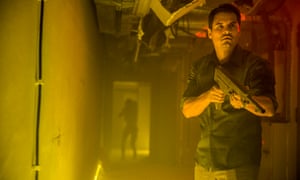 Read more: https://www.theguardian.com/film/2018/jul/26/michael-pena-netflix-extinction
Emily Blunt on the pressure of playing Mary Poppins
Mary Poppins is a woman with a talent for putting things back together again.
"Which is why it's rather apt that after 50 years, she's returning to our screens at a time when the world is arguably most in need of being put back together.
And, Emily Blunt — who plays Mary Poppins in the upcoming sequel Mary Poppins Returns — is well aware of the impact her character has already had on the lives of those who watched the 1964 movie starring Julie Andrews.
Standing in full Edwardian get-up inside Shepperton Studios, Blunt told Mashable that she has fond memories of watching the film as a child. "The film, for me, and I think for most people, is one of those films that is seared into people's memory, an emblem of their nostalgia in many ways," says Blunt…………………………………………………"
Read more: https://mashable.com/article/emily-blunt-interview-mary-poppins-returns/
How Willem Dafoe Learned to Paint like Van Gogh
Midway through artist-director Julian Schnabel's new film At Eternity's Gate, we see Vincent van Gogh, portrayed by actor Willem Dafoe, entirely consumed by the compulsion to paint. In the scene, the Dutch artist opens the door to his yellow-walled apartment in Arles, France, to find his friend, fellow artist Paul Guguin, sketching Madame Ginoux, a local café owner. Instantly compelled by what he sees, Van Gogh lunges into action, assembling his easel and grasping several paintbrushes in his left hand, while using his right to commit bold, feverish brushstrokes to canvas. His passion is enthralling—so much so, we forget that Dafoe is not a real painter at all.
At Eternity's Gate envisions the final years of Van Gogh's life, through a series of vignettes that straddle truth and fiction (much, though not all, is based on the trove of letters the artist left behind). We see his plight as an artist in Paris, his infatuation with the light and landscapes of Arles, and his declining mental health—including when he famously cut off his ear. But it's not a straightforward account. "This isn't a biopic, it doesn't explain his life," Dafoe recently explained at the New York Film Festival. "It's really about painting." Indeed, it is, first and foremost, the story of a painter as told by a painter: Schnabel, who is known for an idiosyncratic painting practice ranging from canvases covered in shattered plates to inkjet prints painted with purple-hued goats……………………………."
Read the rest of the article here: https://www.artsy.net/article/artsy-editorial-willem-dafoe-learned-paint-van-gogh
'Love Actually' turns 15: Fun facts about the movie
Fun facts about 'Love Actually'
"Often imitated, but never duplicated, 'Love Actually' and its star-filled cast have tugged at movie lovers' heartstrings for well over a decade.
As we celebrate the 15th anniversary of the release of the film, take a look back at some of the fun stories, trivia tidbits and other notes about the film and its stars.
1. It was Richard Curtis' directorial debut
The prolific screenwriter went on to direct 'Pirate Radio,' 'About Time' and the reunion short.
The film had a limited opening in the United States on November 7th, 2003 and went into full distribution the following week.  The film actually first screened at the Toronto Film Festival in September of the year and had its British release on November 21st………………………………………….."