How Michael Pea Finally Broke Through
One of the few visible Latinx actors working in big-budget blockbusters, the star of Netflixs splashy new sci-fi thriller Extinction talks about his time in Hollywood
"Michael Pea is right at the career juncture where a character actor breaks into full-fledged movie stardom, where an oh-its-that-guy graduates to household-name status.
The actor has logged over two decades of uniformly serviceable work in films of wildly varying quality, from straight-faced ensemble appearances in Oscar contenders like Crash, American Hustle, and The Martian to comedic turns in other peoples star vehicles, such as Tower Heist and 30 Minutes or Less. Recently, however, hes moved to the fore as a nonchalant everyman type easily cast in projects with a broader reach. He was the secret weapon of Ant-Man and returned to steal even more scenes in the recently released sequel, but this week brought him the official signpost of mainstream success in the film industry: a leading role in a big-budget, effects-heavy sci-fi epic. He stars in Netflixs Extinction as a man haunted by recurring nightmares of an alien attack, until one day, his visions become a violent reality. (Lets just say that not all is as it seems, and leave it at that.)
Perhaps the secret to Peas success is that his easygoing-dude schtick is no act; he likes hanging out with his son more than hobnobbing with A-list elites and seems entirely comfortable busting out a Bob Dylan quote at a moments notice. Across a far-reaching phone call, the ascendant actor offered his thoughts on pirate dreams, molding a character around a big twist, and the trials he faced as a Latino actor looking to gain a foothold in the biz.
Do you believe in extraterrestrial life, out there among the stars?
Aw, I dont know, dude! Its hard to see anything that youre not a part of. Maybe there is. What do you think?
I think if there are aliens, theyre not gonna be invaders. Theyll be nice, like ET or David Bowie in The Man Who Fell to Earth.
Its like this: as big of a universe we have, are we not the aliens? Our galaxy is huge enough that there must be life forces, whatever you want to call them, somewhere out there.
Your character cant shake this nightmare of an alien invasion do you have any weird recurring dreams?
Yeah, you know what: for ages, I had this dream that I was on a pirate ship, and Id get cut in half. I had no idea why that kept popping up. In the dream, getting cut in half never hurts, Id keep on fighting. Theres nothing in there based on the reality of what scares me, but it kept coming back.
They say these sorts of things are symbolic, right?
The only thought I have is that its about searching for treasure, that I might be looking for something. But I dont know what thatd be.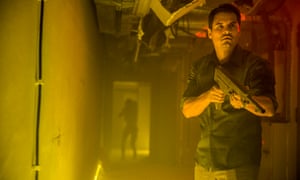 Read more: https://www.theguardian.com/film/2018/jul/26/michael-pena-netflix-extinction
'A Star is Born,' 'First Man' And 'Widows' Are This Year's Early Oscar Front-Runners
The Coen Brothers Films Ranked!
"With the 20th anniversary re-release of The Big Lebowski, we rank the duos films (directing only), from their 1984 debut Blood Simple to this years The Ballad of Buster Spruggs
What on earth was this about? A remake of the Ealing crime-caper classic (with Tom Hanks in Alec Guinnesss crackpot mastermind role) at least proves, if proof were needed, that the Coens have excellent cinephile taste. But this was pointless and baffling. A case of No Coen Do.
What a dogs brunch of a film: a strained and unfunny black comic gang-show of big names, with one or two good gags and an admittedly intriguing turn from Brad Pitt as a dopey fitness freak.
16. The Hudsucker Proxy (1994)
This period Capraesque comedy about an ordinary guy a rather uncharismatic Tim Robbins who is elevated to corporate greatness as part of a share-price scam is an example of how the Coens comedy can sometimes lack focus: too quirky and spongy.
The Coens love of Preston Sturges resurfaced in this film that whimsically takes upon itself the title of the desperately serious social-realist movie being planned in Sturges 1941 Sullivans Travels. It is an appealing, likable film about three runaway chaingang convicts in depression America who pass themselves off as a bluegrass trio, their record somehow becoming a hit. Silly, amiable stuff that has faded with time.
More golden age Hollywood nostalgia with this cantering comedy about tinseltown: the boozers, the fixers, the divas, the hoofers, the scribblers. It features George Clooney as a none-too-bright ageing star in a cheesy toga-wearing Roman epic. The movie reminded the world what a great dancer Channing Tatum is.
Unprecedented commercial success was what the Coens found with this handsome remake of the 1969 John Wayne classic; or rather a new adaptation of the original novel by Charles Portis. Jeff Bridges was probably the only possible casting as the no-account Rooster Cogburn, with Hailee Steinfeld as his employer, the 14-year-old Mattie Ross. It is a good-natured, well-made movie, but perhaps without the strong taste of the original, or the Coens other films.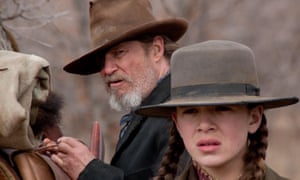 Burt Reynolds: the Easygoing Cannonball of Old-School Hollywood Manliness | Peter Bradshaw
In his heyday in movies like Smokey and the Bandit, Reynolds became a hugely popular star who embodied the twinkly-eyed mans man with a touch of the rebel
"At his peak, Burt Reynolds had the kind of face, the kind of body, the kind of masculinity and appeared in the kind of movie that hasnt been fashionable in Hollywood for decades. From 1978 to 1982, Burt Reynolds in all his easygoing ruggedness was the undisputed king: the industrys top grossing star every year in that time for increasingly unfashionable but lucrative pictures. It was a short but legendary reign, after which his awful career moves, calamitous personal investments and matrimonial woes put his star into the descendant. But, like Travolta, he enjoyed a hip and postmodern comeback in the 1990s as the porn movie mogul in Paul Thomas Andersons Boogie Nights (1997), a role with a streak of darkness which reconnected to him to the disturbing John Boorman picture that made his name in 1972, Deliverance, the story of four white salarymen who go on a trip to the Georgia wilderness, unwisely patronise the locals and encounter a situation which unlocks ruthless violence in Reynoldss character.
But Deliverance however sensational it was was a slightly atypical role for Reynolds. In his glorious, sunlit heyday, Burt Reynolds was an easygoing figure. He had a wide, handsome and very intelligent face: sometimes accessorised with a big moustache, he appeared in an outdoors-guy leather, denim, sometimes in lawmans uniform or sports kit the kind of rangy look that was later co-opted by the gay community. Reynolds had a fine singing voice and appeared opposite Dolly Parton in the musical The Best Little Whorehouse In Texas, and in 1973 released a country album called Ask Me What I Am………………….."
Read more: https://www.theguardian.com/film/2018/sep/07/burt-reynolds-the-easygoing-cannonball-of-old-school-hollywood-manliness