Idris Elba Introduces Girlfriend To Prince Charles
British actor Idris Elba, who has ascended to movie royalty, introduced girlfriend Sabrina Dhowre to real royalty Thursday night.
The dashing "Molly's Game" star and his companion made small talk with the prince at the One Million Young Lives Dinner at Buckingham Palace, a video clip released by the palace shows (watch below).
Elba can be heard telling the 69-year-old heir to the throne, "pretty much my whole career," but little else can be made out.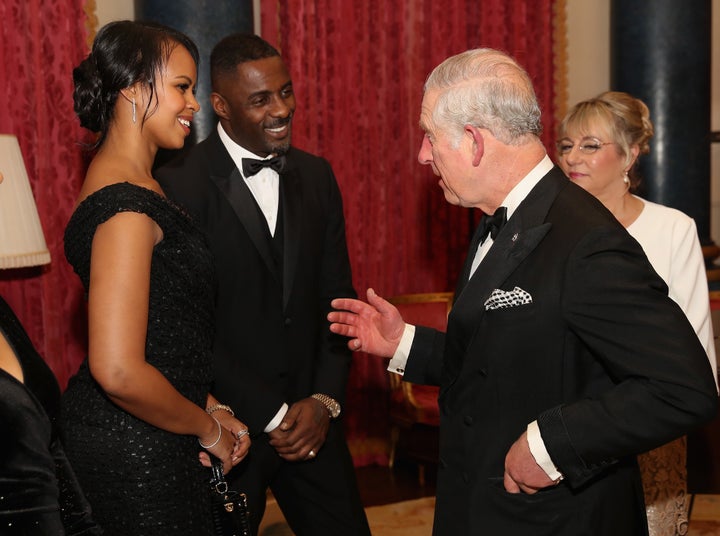 Dhowre, a 29-year-old former Miss Vancouver, has been spotted with the 45-year-old British hunk for several months. Elba and Dhowre reportedly met while the actor was filming "The Mountain Between Us" with Kate Winslet in Canada. In September, Elba told People magazine, "Falling in love while making a movie about falling in love is pretty special."
Those words might be a dagger in the heart for some fans of Elba, whom Twitter unofficially declared "The Sexiest Man Alive" recently.
Before the palace dinner, Elba gave the thumbs-up to Meghan Markle, who's engaged to Prince Charles' son, Prince Harry. Much as been made of Markle being biracial.
"Meghan Markle, as a person, regardless of her color, is a role model," Elba said, according to reports. "As a strong woman marrying into our royal family, she's going to be a role model for any woman — black, white."
Read more: http://www.huffingtonpost.com/entry/idris-elba-girlfriend-prince-charles_us_5a33b3d6e4b0ff955ad1ee4a
John Travolta has got the moves to 'Grease' 40 years on
That belt loop hip shake from 1978's Grease has surely been replicated countless times in schools, dances, and in front of mirrors.
Wednesday marked 40 years since the film premiered in New York City, and John Travolta just so happened to be on The Tonight Show with Jimmy Fallon, although to promote his upcoming film Gotti.
The shake, which Travolta calls the "four corners," was introduced when Grease's choreographer needed a step at the end of "You're The One That I Want."
Turns out Travolta still has some of those moves, by the way.
Read more: https://mashable.com/2018/06/14/john-travolta-grease-moves/
Alicia Silverstone explains why she has Donald Trump's number in her phone
"Alicia Silverstone and Donald Trump exchanged numbers about 10 years ago. But, before you jump to conclusions, you need to hear the full account of what happened.
On The Late Show With Stephen Colbert, the Clueless star said that she and Trump had a "date to talk about solar panels" and that his name and number are still in her phone to this very day.
So, what exactly happened? "I was on one of the other talk shows in the daytime talking about solar panels and silk milk… and he [Trump] said he was really interested and we exchanged numbers so that we could continue this conversation about solar panels," she said. "So I met with him."
Silverstone said…."
Read more: https://mashable.com/2018/06/12/alicia-silverstone-donald-trump/
Serena Williams 'Wakanda-inspired Catsuit' that makes her feel like a superhero
100% superhero.
Image: Aurelien Meunier/Getty Images
Serena Williams is already a superhero to each and every one of us. But, as it turns out, she also has a Black Panther-inspired catsuit which makes her feel like a "warrior princess".
After Williams beat Kristya Pliskova at the French open at Stade Roland Garros, Paris on Tuesday, she spoke about the meaning behind her black bodysuit.
"It feels like this suit represents all the women that have been through a lot mentally, physically, with their body to come back and have confidence and to believe in themselves," she said following her victory on Tuesday, per the Guardian.
Williams just made her return to the sport nine months after the birth of her daughter. She suffered complications at the time of the birth due to a pulmonary embolism.
In addition to being a symbol of confidence and empowerment, the suit also reminds Williams of Black Panther.
"I call it, like, my Wakanda-inspired catsuit," Williams said. "We designed it way before the movie, but still, it kind of reminds me of that."
Not only that, Williams says when she dons her black bodysuit, she feels "like a warrior princess."
"I always wanted to be a superhero and it's kind of my way of being a superhero," she said.
Wakanda forever.