Idris Elba is People's 'Sexiest Man Alive' for 2018
(CNN)He's still not James Bond, but for now this honor will do.
He is the 33rd man to hold the title and appears this week on the magazine's cover.
Elba
told the publication
, "I was like, 'Come on, no way. Really?' " when he first learned he had been selected.
"Looked in the mirror, I checked myself out. I was like, 'Yeah, you are kind of sexy today,' " the "Thor" star joked. "But to be honest, it was just a nice feeling. It was a nice surprise — an ego boost for sure."
"Elba first became famous in the States for his portrayal of drug kingpin Russell "Stringer" Bell on HBO's hit series "The Wire" (HBO is owned by CNN's parent company) and since then has branched out to the big screen.
His early days were far from sexy, Elba said, growing up "tall and skinny" at an all-boys school in London, where he played football, basketball, cricket, hockey and rugby.
Now considered one of Hollywood's sex symbols, Elba said he definitely had an awkward stage as a youth.
"And my name was Idrissa Akuna Elba, OK?," he said. "I got picked on a little bit. But as soon as I could grow a mustache, I was the coolest kid on the block. Grew a mustache, had some muscles, bonkers."
Bonkers indeed."
Read more: https://www.cnn.com/2018/11/06/entertainment/idris-elba-sexiest-man-alive/index.html
Selena Gomez Sheds Tears Eating Hot Wings & Teases New Music On 'The Tonight Show' — Watch!
Selena Gomez loves herself some spicy food, but not even her palate could handle the heat of the Hot Ones wing challenge!
The actress stopped by The Tonight Show on Tuesday night to promote her upcoming horror-comedy flick, The Dead Don't Die. Sadly, the starlet almost had a near-death experience herself in one segment that featured her eating spicy AF wings with Jimmy Fallon.
The two put their taste buds to the test as Jimmy enlisted Hot Ones host Sean Evans to give them the treatment of his hit YouTube series, which shows him interviewing celebs as they chow down on hot wings. It's a cruel, sadistic series that has grown in popularity over the past few years. Gomez had never heard about it, so she didn't know what type of fresh hell she was in for.
Related: Selena Gets Candid About Self-Love, Therapy, & Spending Time Alone
Interestingly enough, the 26-year-old didn't seem bothered by the first few rounds of sauces. She remained stoically poised while Jimmy immediately felt the heat and was reduced to barking like a dog.
But each round got progressively hotter over the course of the interview — and, eventually, Selena felt the heat, too.
It all went downhill after the pair sampled the sauce aptly called "Da Bomb," which made the singer tear up as she exclaimed things like:
"This is horrible!"
"Why do you do this to people!?"
"I hate it!"
LOLz! Yikes!
Thankfully, with some encouragement from the audience (and the help of a milk fountain), the duo were able to complete the challenge. Watch them squirm (below)!
During cooler segments of her appearance, Selena sat down with Jimmy to discuss her new film, and reveal what Bill Murray kept whispering in her ear when they promoted it at the Cannes Film Festival last month.
The Bad Liar artist also teased her upcoming album, which she confirmed was "finished"!
Watch the rest of her Tonight Show interview (below)!
Keanu Reeves: Grief and loss, those things dont ever go away
From Bill & Teds excellent dude to assassin John Wick, the actor has carved out a stellar career. But it hasnt come without personal tragedy
"Hey, Im Keanu, he introduces himself unnecessarily, of course, and yet very Keanu-ishly. Despite being so famous his surname has long been superfluous, Keanu Reeves has always given the impression of being utterly unaffected by his own celebrity. He is regularly described by his co-stars as kind (Winona Ryder) and humble (Laurence Fishburne) and it is easier to imagine him walking on the moon than knocking back champagne with other celebrities on a yacht in St Barts. After all, the most famous paparazzi photo ever taken of Reeves was of him sitting alone on a bench, eating a sandwich out of a plastic bag. Hard to imagine Leonardo DiCaprio doing that.
Ill sit anywhere you want me to. This OK? he says, taking a chair and offering me the sofa in the London hotel room where we meet. At just over 6ft, he is taller than I expected also unusual for an actor and dressed in a very Keanu outfit of dark shirt and trousers with sturdy boots. Despite being recently announced as the new face of the high fashion label Saint Laurent, Reeves has long been the patron saint of normcore, decades before it became a fashion statement. And I know this all too well because, from 199199, I had at least five posters of him on my bedroom walls modelling said look.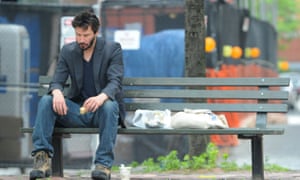 Read more: https://www.theguardian.com/film/2019/may/18/keanu-reeves-grief-loss–bill-ted-john-wick-actor-tragedy
George Clooney is done with 'dumbf**kery' in this PSA
"In light of the UN's dire warning about the Earth's accelerating extinction rate, George Clooney has stepped up for a PSA against people and their "dumbfuckery."
"Dumbfuckery is highly contagious, affecting the minds of even the most stable geniuses," the actor joked on Jimmy Kimmel Live! on Tuesday night.
Focusing his attention on climate change, vaccinations, and the dinosaurs, it's the kind of reminder that we shouldn't need — but unfortunately do."
Read more: https://mashable.com/video/george-clooney-psa-kimmel/