Idris Elba, Kate Winslet lift 'Mountain Between Us'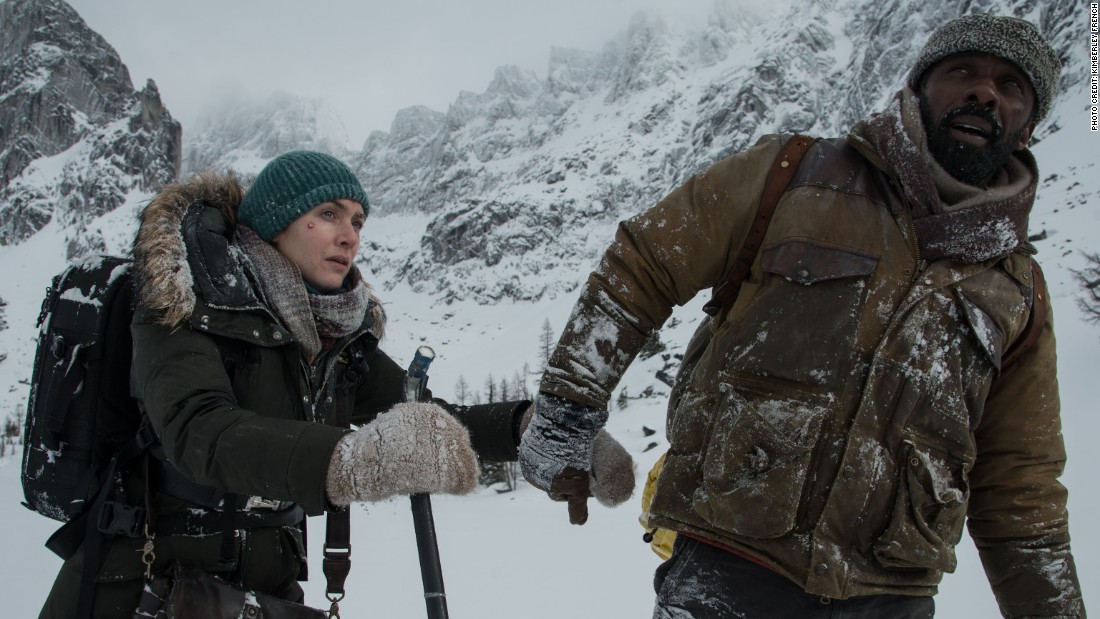 (CNN)Ask people with whom they'd like to be stranded in the wilderness, and Idris Elba and Kate Winslet would likely rate pretty high on the list. That's the main lure for "The Mountain Between Us," an old-fashioned star vehicle that seeks to thaw frozen hearts with only fitful success.
Faced with grounded flights due to a storm, Winslet's Alex, desperate to make it home from Idaho to New York in time for her wedding, hatches the idea of commissioning a small plane to ferry her to Denver to catch a red-eye. She invites Ben (Elba) — a surgeon who has his own important date with performing a potentially life-saving operation — to join her.
What goes up, however, comes down quite abruptly, leaving the two — joined by the pilot's Labrador retriever, who really is a good boy — with limited food, injuries and little hope that anyone will be able to find them. Ben's medical skills come in handy, but they eventually realize that they have to brave the treacherous journey down the mountain to have any chance of surviving.
Along the way, the pair alternately bicker and bond, with Alex offering an open book into her life, and Ben shrouding his in secrecy.
Director Hany Abu-Assad (a Palestinian filmmaker, twice Oscar nominated for best foreign-language film) does what he can to sustain the suspense, striking a reasonable balance between prolonging and heightening their ordeal and finding quieter moments that allow Alex and Ben to get better acquainted — and the audience, in turn, to learn more about them.
To the marginal extent that it works, credit Elba and Winslet, who manage not only to convey determination, fear and bouts of resignation but also possess the sort of innate appeal that makes some of the thinner plot points more palatable.
Again, this has a genuine throwback feel to it, recalling the days when there were plenty of mid-sized studio movies that relied on star power, as opposed to today's stark divide between comic-book blockbusters and art-house-oriented award bait.
If "The Mountain Between Us" can navigate that precipitous chasm, there won't be any mystery as to which two people it will have to thank.
"The Mountain Between Us" premieres Oct. 6 in the U.S. It's rated PG-13.
Read more: http://www.cnn.com/2017/10/05/entertainment/the-mountain-between-us-review/index.html
Robert De Niro Says 'The Irishman' Set for the Big Screen
"The Irishman is set for the big screen next year when it is released by Netflix, star Robert De Niro said Sunday while speaking at the Marrakech Film Festival.
The pic is the actor's latest collaboration with Goodfellas director Martin Scorsese, which also stars Al Pacino, Joe Pesci and Harvey Keitel, and is set in the crime world.
"We've talked about it with Netflix. They are going to do a presentation of our film the way it should be, in a theater, in certain venues, the best theatrical venues there can be," De Niro said, hinting that there have been ongoing discussions with the streaming platform surrounding the release.
"How they resolve it is, in the beginning, they will show it on the big screen — we're talking about big venues where it would play, where it should play — and what happens after that, I'm not sure," he said, guessing that it would be released online at a later date.
It marks the second big film Netflix will release, following in the footsteps of Alfonso Curaon's Oscar contender Roma in a limited theatrical run for awards season. Netflix has also taken on Guillermo del Toro's dark Pinocchio, which is another potential awards contender and the next project after his Oscar wins for The Shape of Water………………………………………….."
Read More Here: https://www.hollywoodreporter.com/news/marrakech-robert-de-niro-says-irishman-set-big-screen-1165651
Golden Globe nominations to kick off Hollywood's award season
(CNN)
"Nominations for the Hollywood Foreign Press Association's annual ceremony, which honors achievement in film and television, were announced Thursday. Big film hits "Black Panther," "Bohemian Rhapsody" and "A Star Is Born" will compete for best drama against the critically acclaimed "BlacKkKlansman" and "If Beale Street Could Talk," directed by Spike Lee and Barry Jenkins, respectively, who directed the Oscar-winning "Moonlight."
Below is the full list of nominees.
Movies
Best Motion Picture – Drama
"Black Panther"
"BlackKklansman"
"Bohemian Rhapsody"
"If Beale Street Could Talk"
"A Star Is Born"
Best Motion Picture – Musical or Comedy
"Crazy Rich Asians"
"The Favourite"
"Green Book"
"Mary Poppins Returns"
"Vice"
Best Performance by an Actress in a Motion Picture – Drama
Glenn Close ("The Wife")
Lady Gaga ("A Star Is Born")
Nicole Kidman ("Destroyer")
Melissa McCarthy ("Can You Ever Forgive Me?")
Rosamund Pike ("A Private War")
Best Performance by an Actor in a Motion Picture – Drama
Bradley Cooper ("A Star Is Born")
Willem Dafoe ("At Eternity's Gate")
Lucas Hedges ("Boy Erased")
Rami Malek ("Bohemian Rhapsody")
John David Washington ("BlackKklansman")………………………………………………"
See the rest of the nominations here: https://www.cnn.com/2018/12/06/entertainment/golden-globe-nominations/index.html
Who will host the Oscars now that Kevin Hart has stepped down?
"Now Kevin Hart has stepped down from hosting the Oscars, one question remains: who will replace him?
The 39-year-old comedian was confirmed as the Academy Awards host for 2019 just three days ago.
However, he found himself in deep water this week when fans started sharing unearthed tweets from 2010 which show him using the word 'gay' as a slur. as well as labelling people 'f**s'.
Hart announced his decision to step down as host of the Oscars on Thursday night. Hosting the Oscars is one of the biggest gigs a presenter can land and it's got to go to the right person. So WHO will the Academy ask to replace Kevin?
Ellen DeGeneres is the bookies' runaway favourite to host February's awards show, with Betfair offering odds of 6/4. If the bookies are correct, it will be the third time she's hosted the prestigious awards, having done so in 2007 and 2014. Her 2014 run saw her taking the infamous Oscars selfie, featuring the likes of Bradley Cooper………………………………………."
Read more: https://metro.co.uk/2018/12/07/will-host-oscars-now-kevin-hart-stepped-ellen-degeneres-jimmy-kimmell-among-favourites-8218916/
Twitter: https://twitter.com/MetroUK | Facebook: https://www.facebook.com/MetroUK/