Idris Elba, Kate Winslet lift 'Mountain Between Us'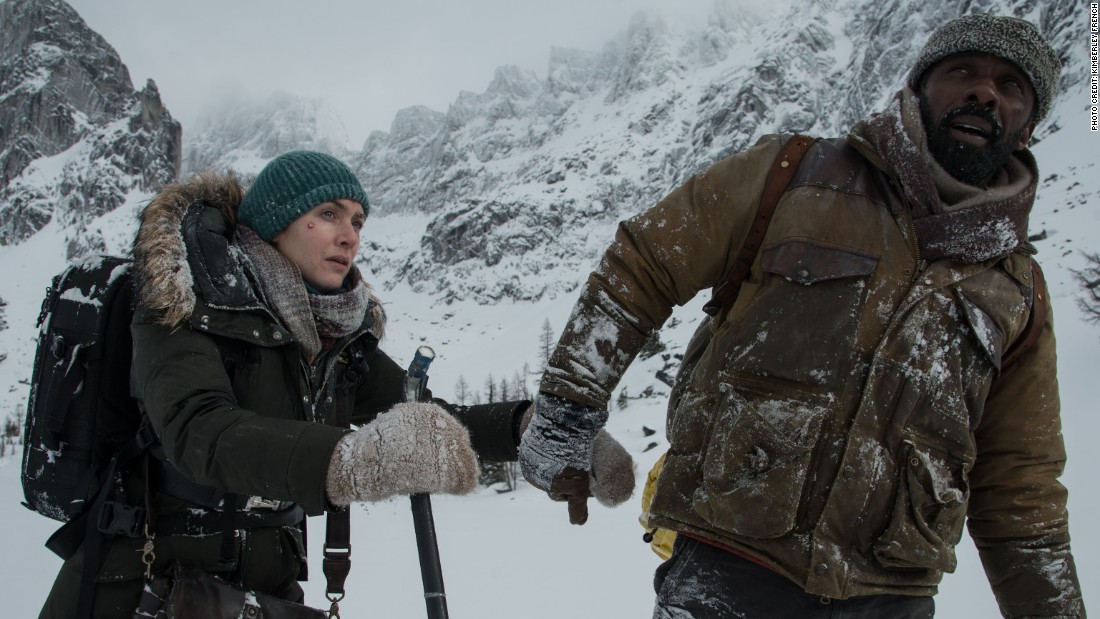 (CNN)Ask people with whom they'd like to be stranded in the wilderness, and Idris Elba and Kate Winslet would likely rate pretty high on the list. That's the main lure for "The Mountain Between Us," an old-fashioned star vehicle that seeks to thaw frozen hearts with only fitful success.
Faced with grounded flights due to a storm, Winslet's Alex, desperate to make it home from Idaho to New York in time for her wedding, hatches the idea of commissioning a small plane to ferry her to Denver to catch a red-eye. She invites Ben (Elba) — a surgeon who has his own important date with performing a potentially life-saving operation — to join her.
What goes up, however, comes down quite abruptly, leaving the two — joined by the pilot's Labrador retriever, who really is a good boy — with limited food, injuries and little hope that anyone will be able to find them. Ben's medical skills come in handy, but they eventually realize that they have to brave the treacherous journey down the mountain to have any chance of surviving.
Along the way, the pair alternately bicker and bond, with Alex offering an open book into her life, and Ben shrouding his in secrecy.
Director Hany Abu-Assad (a Palestinian filmmaker, twice Oscar nominated for best foreign-language film) does what he can to sustain the suspense, striking a reasonable balance between prolonging and heightening their ordeal and finding quieter moments that allow Alex and Ben to get better acquainted — and the audience, in turn, to learn more about them.
To the marginal extent that it works, credit Elba and Winslet, who manage not only to convey determination, fear and bouts of resignation but also possess the sort of innate appeal that makes some of the thinner plot points more palatable.
Again, this has a genuine throwback feel to it, recalling the days when there were plenty of mid-sized studio movies that relied on star power, as opposed to today's stark divide between comic-book blockbusters and art-house-oriented award bait.
If "The Mountain Between Us" can navigate that precipitous chasm, there won't be any mystery as to which two people it will have to thank.
"The Mountain Between Us" premieres Oct. 6 in the U.S. It's rated PG-13.
Read more: http://www.cnn.com/2017/10/05/entertainment/the-mountain-between-us-review/index.html
'Too Much, Too Fast': Disney to scale back production of Star Wars movies
After the disappointing box office performance of Solo: A Star Wars Story, Disney CEO Bob Iger says fans can expect some slowdown
"After months of rumor and speculation, Disney CEO Bob Iger has confirmed that its production and release of Star Wars movies will be scaled back.
Iger admitted that he had made a mistake, and that there had been too much, too fast in an interview with the Hollywood Reporter, after it put him at the top of its list of the most powerful people in the entertainment industry.
He added: You can expect some slowdown were going to be a little bit more careful about volume and timing.
Disney had received considerable criticism after the disappointing box-office performance of Solo: A Star Wars Story, the second of the anthology spinoffs designed to run alongside the core main Episode narratives and to alternate with them in the release schedules. Solo had a troubled production history, during which the directors Phil Lord and Christopher Miller were replaced by Ron Howard, and was released in May 2018, only six months after Star Wars: The Last Jedi. Solos box office figures were considerably poorer than those of Rogue One, the previous Star Wars anthology spinoff from 2016, and is on course to become the first film in the franchise to lose money. The suggestion is that Disney failed to anticipate franchise fatigue.
Iger did not elaborate on the future of the two spinoffs believed to be in development a Boba Fett film to be directed by James Mangold and an Obi-Wan Kenobi film with Stephen Daldry rumoured to direct but did confirm that Game of Thrones creators David Benioff and DB Weiss are developing [Star Wars] sagas of their own.
However, Igers comments appear to back up the supposition that Disney and Lucasfilm will be concentrating on the main episodes, and he confirmed that JJ Abrams is busy making [Episode] IX. Abrams as yet untitled film is due for release in December 2019……………."
Read more: https://www.theguardian.com/film/2018/sep/21/star-wars-disney-to-scale-back-production-solo
Peter Dinklage gets yet another Emmy for his role as Tyrion Lannister
Peter Dinklage wins yet another Emmy for his role in 'Game of Thrones.'
Image: hbo
Peter Dinklage won his third Emmy for most outstanding supporting actor in a drama series at the Emmys on Monday.
Dinklage, who plays the iconic Tyrion Lannister in HBO's Game of Thrones, was nominated alongside fellow Game of Thrones actor Nikolaj Coster-Waldau, who plays his brother Jaime Lannister.
For his work as Tyrion, Dinklage has been nominated in the category seven times, winning in 2011, 2015, and now 2018.
In his acceptance speech, Dinklage thanked Coster-Waldau, who earned his first Emmy nomination for his work on Game of Thrones this year.
Hopefully both actors survive the final season of Game of Thrones coming in 2019, or at least get one more nomination next year if they do meet their demise.
'Green Book' Wins Toronto Film Festival's People's Choice Award
Peter Farrelly's "Green Book" has won the Grolsch People's Choice Award at the 2018 Toronto International Film Festival, TIFF announced at an awards ceremony on Sunday.
The film, which tells the true story of an Italian-American nightclub bouncer (Viggo Mortensen) who serves as the chauffeur for a black pianist (Mahershala Ali) on a tour through the Deep South in the early 1960s, opened at the festival on Tuesday and was an instant hit with audiences and critics, although Bradley Cooper's "A Star Is Born" had been considered the likely winner of the People's Choice Award.
Runners-up for the award were Barry Jenkins' lyrical James Baldwin adaptation "If Beale Street Could Talk" and Alfonso Cuaron's moving memory piece "Roma."
In the past, Toronto audience members voted by depositing their ticket stubs in a box at the theater, or by using the TIFF app — festival organizers took into account the size of the theaters in which each film screened — with the films that received votes from the largest percentage of their audience winning the prizes…………………"
Read More Here: https://www.thewrap.com/green-book-wins-toronto-film-festivals-peoples-choice-award/