Idris Elba, Kate Winslet lift 'Mountain Between Us'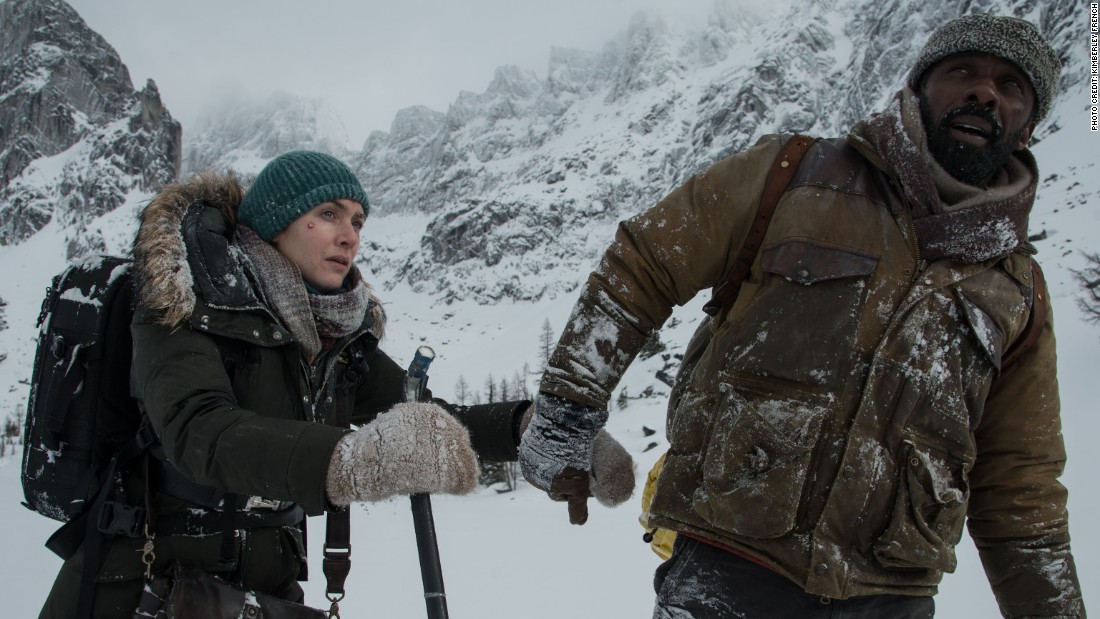 (CNN)Ask people with whom they'd like to be stranded in the wilderness, and Idris Elba and Kate Winslet would likely rate pretty high on the list. That's the main lure for "The Mountain Between Us," an old-fashioned star vehicle that seeks to thaw frozen hearts with only fitful success.
Faced with grounded flights due to a storm, Winslet's Alex, desperate to make it home from Idaho to New York in time for her wedding, hatches the idea of commissioning a small plane to ferry her to Denver to catch a red-eye. She invites Ben (Elba) — a surgeon who has his own important date with performing a potentially life-saving operation — to join her.
What goes up, however, comes down quite abruptly, leaving the two — joined by the pilot's Labrador retriever, who really is a good boy — with limited food, injuries and little hope that anyone will be able to find them. Ben's medical skills come in handy, but they eventually realize that they have to brave the treacherous journey down the mountain to have any chance of surviving.
Along the way, the pair alternately bicker and bond, with Alex offering an open book into her life, and Ben shrouding his in secrecy.
Director Hany Abu-Assad (a Palestinian filmmaker, twice Oscar nominated for best foreign-language film) does what he can to sustain the suspense, striking a reasonable balance between prolonging and heightening their ordeal and finding quieter moments that allow Alex and Ben to get better acquainted — and the audience, in turn, to learn more about them.
To the marginal extent that it works, credit Elba and Winslet, who manage not only to convey determination, fear and bouts of resignation but also possess the sort of innate appeal that makes some of the thinner plot points more palatable.
Again, this has a genuine throwback feel to it, recalling the days when there were plenty of mid-sized studio movies that relied on star power, as opposed to today's stark divide between comic-book blockbusters and art-house-oriented award bait.
If "The Mountain Between Us" can navigate that precipitous chasm, there won't be any mystery as to which two people it will have to thank.
"The Mountain Between Us" premieres Oct. 6 in the U.S. It's rated PG-13.
Read more: http://www.cnn.com/2017/10/05/entertainment/the-mountain-between-us-review/index.html
Keira Knightley to star in forgotten story of Iraq war whistleblower
Actress will take role of Katharine Gun, who leaked an email to the Observer about US spying plans, in new film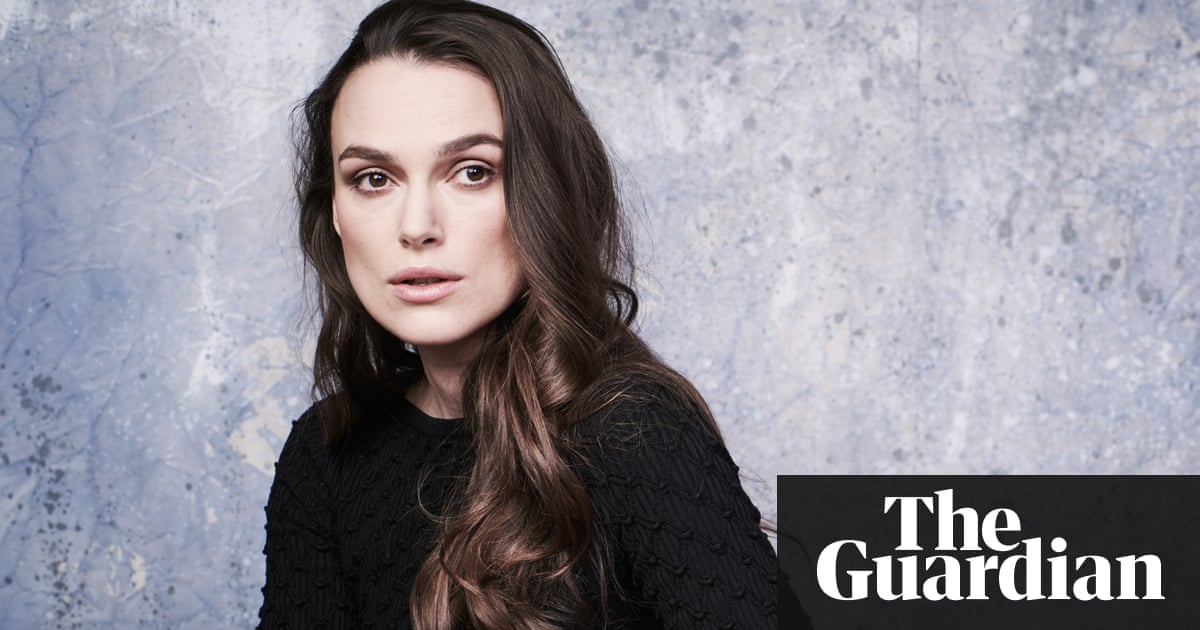 Keira Knightley to star in forgotten story of Iraq war whistleblower
Actress will take role of Katharine Gun, who leaked an email to the Observer about US spying plans, in new film
Read more: https://www.theguardian.com/film/2018/feb/18/keira-knightley-role-katharine-gun-gchq-official-secrets-film
Feast your hungry eyes on Chadwick Boseman's Rolling Stone cover
Just look at that smile.
Image: Leon Bennett/Getty Images
It's now been a week since Black Panther blasted its way onto our screens, and thirst levels are officially off the charts.
Winston Duke, the jaw-droppingly chiselled actor who plays M'Baku in the film, has already had his fair share of Twitter attention — and now it's Chadwick Boseman's turn.
On Sunday, Boseman tweeted out his new Rolling Stone front cover. Brace yourselves…
'Black Panther' posts a record-setting box office opening for Marvel
Image: disney
Excited for Black Panther? So are we. Which is why we're rolling out obsessive coverage with Black Panther Week.
We knew Black Panther would be a hit. And now, the box office figures are here to prove it.
The latest chapter in the Marvel Cinematic Universe opened with an estimated $218 million earned over the weekend, including Monday's holiday. That's enough to give King T'Challa's adventures in Wakanda a second-place finish among all other MCU movie openings.
Black Panther's Friday-Saturday-Sunday opening accounts for an estimated $192 million. That's just enough to secure an all time top-five finish among Friday-Saturday-Sunday opening weekends, behind Star Wars: The Force Awakens ($248 million), Star Wars: The Last Jedi ($220 million), Jurassic World ($208.8 million), and The Avengers ($207.4 million).
At least part of the sensational box office success is due to the fact that the movie dropped in February. The early months of the year are typically quiet ones for Hollywood, though risk-averse studios have more recently taken advantage of the period's empty release calendar to showcase unproven blockbusters.
In 2016, that was Deadpool. The R-rated superhero movie was in many ways a first for the genre, proving that an adults-only audience could carry a comic book adaptation to box office success. Until Black Panther came along, Deadpool's $132.4 million opening weekend made it the all time winner for February releases.
Black Panther was considered "risky" — from a studio exec's perspective, to be clear — for a different, and arguably more controversial, reason. Its predominantly black cast of stars and politicized themes fall outside the typical recipe of a successful Hollywood blockbuster, which tends to center around white male leads.
What's more, the Black Panther character is among Marvel's lesser-known heroes on the world stage. Any fan of Marvel comics would call foul on that, but stand, say, Spider-Man, or Wolverine, or Captain America up against Black Panther and there's really no contest: One is a household name, the other isn't.
This movie changes that. Buzz around Black Panther had been building for months. As the Feb. 16 release drew closer, all the usual background buzz about box office predictions grew on a weekly basis. At one point, Black Panther was on the road to a $150 million opening. Barely a day later, that number had climbed to $165 million.
To anyone paying attention, it was clear from not just the buzz but also the cultural movement building around the movie that it was going to be something special. Then, it screened for critics and reviews came out. That made things internet-official: Black Panther was a hit.
The numbers don't lie. An estimated $192 million in three days. $218 million in four. Another $169 million from releases in countries outside the U.S., with many first-place weekend finishes among them. Black Panther is fully owning its moment.
Read more: https://mashable.com/2018/02/18/black-panther-box-office-opening-weekend/