James Franco accuser elaborates on awkward nude scenes
Image: Michael Tran/FilmMagic
Two of the five women accusing actor James Franco of sexual misconduct spoke to Good Morning America Tuesday about their experiences with him. Sarah Tither-Kaplan recalled specifics of Franco allegedly abusing his position of power as an instructor and blurring lines with sex scenes.
"A lot of the times they seemed gratuitous or exploitative," she said.
Additionally, Violet Paley had a message for the Disaster Artist director: "Please just apologize," she said.
When the women first shared their stories with the Los Angeles Times, Tither-Kaplan noted that Franco had reached out to her in October to apologize for making her uncomfortable with the aforementioned nude scenes.
"James is absolutely not a Harvey Weinstein, he is not an unfeeling monster who has no sense of reality," she told GMA. "He created exploitative environments for non-celebrity women on his sets. I also think James is a very talented and valuable person. It's a pyramid, and at the top is rape and sexual violence and at the bottom are the other abuses of power…that continue to build and build and build and create a culture that allows the most heinous examples of sexual violence and misogyny and discrimination to happen. So if we allow any of them, we're allowing all of them."
To that end, she clarified the power imbalance between Franco, an established actor, and his students in a classroom environment or on a film set.
"James abused his power by exploiting the non-celebrity women that he worked with under the guise of giving them opportunities," Tither-Kaplan told GMA. "Being an actor and a filmmaker and working in the industry has been my dream since I was like maybe five or six and I knew that by coming forward I was risking my career."
"I'm regretful, I was young, he was a celebrity I looked up to," Paley said.
Franco himself responded to the allegations in late night appearances. Though he denies the extent of his accusers' allegations, he said that he does not wish to silence any victims (his sister-in-law Alison Brie said the same).
Read more: http://mashable.com/2018/01/23/james-franco-accusers-gma/
'A Star is Born,' 'First Man' And 'Widows' Are This Year's Early Oscar Front-Runners
The Coen Brothers Films Ranked!
"With the 20th anniversary re-release of The Big Lebowski, we rank the duos films (directing only), from their 1984 debut Blood Simple to this years The Ballad of Buster Spruggs
What on earth was this about? A remake of the Ealing crime-caper classic (with Tom Hanks in Alec Guinnesss crackpot mastermind role) at least proves, if proof were needed, that the Coens have excellent cinephile taste. But this was pointless and baffling. A case of No Coen Do.
What a dogs brunch of a film: a strained and unfunny black comic gang-show of big names, with one or two good gags and an admittedly intriguing turn from Brad Pitt as a dopey fitness freak.
16. The Hudsucker Proxy (1994)
This period Capraesque comedy about an ordinary guy a rather uncharismatic Tim Robbins who is elevated to corporate greatness as part of a share-price scam is an example of how the Coens comedy can sometimes lack focus: too quirky and spongy.
The Coens love of Preston Sturges resurfaced in this film that whimsically takes upon itself the title of the desperately serious social-realist movie being planned in Sturges 1941 Sullivans Travels. It is an appealing, likable film about three runaway chaingang convicts in depression America who pass themselves off as a bluegrass trio, their record somehow becoming a hit. Silly, amiable stuff that has faded with time.
More golden age Hollywood nostalgia with this cantering comedy about tinseltown: the boozers, the fixers, the divas, the hoofers, the scribblers. It features George Clooney as a none-too-bright ageing star in a cheesy toga-wearing Roman epic. The movie reminded the world what a great dancer Channing Tatum is.
Unprecedented commercial success was what the Coens found with this handsome remake of the 1969 John Wayne classic; or rather a new adaptation of the original novel by Charles Portis. Jeff Bridges was probably the only possible casting as the no-account Rooster Cogburn, with Hailee Steinfeld as his employer, the 14-year-old Mattie Ross. It is a good-natured, well-made movie, but perhaps without the strong taste of the original, or the Coens other films.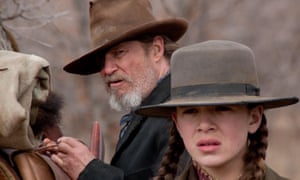 Burt Reynolds: the Easygoing Cannonball of Old-School Hollywood Manliness | Peter Bradshaw
In his heyday in movies like Smokey and the Bandit, Reynolds became a hugely popular star who embodied the twinkly-eyed mans man with a touch of the rebel
"At his peak, Burt Reynolds had the kind of face, the kind of body, the kind of masculinity and appeared in the kind of movie that hasnt been fashionable in Hollywood for decades. From 1978 to 1982, Burt Reynolds in all his easygoing ruggedness was the undisputed king: the industrys top grossing star every year in that time for increasingly unfashionable but lucrative pictures. It was a short but legendary reign, after which his awful career moves, calamitous personal investments and matrimonial woes put his star into the descendant. But, like Travolta, he enjoyed a hip and postmodern comeback in the 1990s as the porn movie mogul in Paul Thomas Andersons Boogie Nights (1997), a role with a streak of darkness which reconnected to him to the disturbing John Boorman picture that made his name in 1972, Deliverance, the story of four white salarymen who go on a trip to the Georgia wilderness, unwisely patronise the locals and encounter a situation which unlocks ruthless violence in Reynoldss character.
But Deliverance however sensational it was was a slightly atypical role for Reynolds. In his glorious, sunlit heyday, Burt Reynolds was an easygoing figure. He had a wide, handsome and very intelligent face: sometimes accessorised with a big moustache, he appeared in an outdoors-guy leather, denim, sometimes in lawmans uniform or sports kit the kind of rangy look that was later co-opted by the gay community. Reynolds had a fine singing voice and appeared opposite Dolly Parton in the musical The Best Little Whorehouse In Texas, and in 1973 released a country album called Ask Me What I Am………………….."
Read more: https://www.theguardian.com/film/2018/sep/07/burt-reynolds-the-easygoing-cannonball-of-old-school-hollywood-manliness