Jimmy Kimmel sums up America's gun problems in a powerful, teary monologue.
Holding back tears throughout his entire 10-minute monologue, a frustrated, emotional Jimmy Kimmel reacted to Sunday night's events in Las Vegas — one of the deadliest mass shootings in modern U.S. history. To Kimmel, who grew up there, the atrocity was especially personal.
"This morning, we have children without parents and fathers without sons, mothers without daughters; we lost two police officers, we lost a nurse from Tennessee, a special-ed teacher from a local school here in Manhattan Beach," the shaken Kimmel noted. "It's the kind of thing that it makes you want to throw up or give up. It's too much to even process."
Here are five hard truths Kimmel laid out last night:
1. The way we react to international terrorism vs. domestic terrorism doesn't make sense.
The shooter, 64-year-old Stephen Paddock, wasn't known to be affiliated with any global terrorism network. That doesn't mean he's not a terrorist.
"When someone with a beard attacks us, we tap phones, we invoke travel bans, we build walls, we take every possible precaution to make sure it doesn't happen again. But when an American buys a gun and kills other Americans, then there's nothing we can do about that."
2. The fact that it's perfectly legal for civilians to buy guns solely aimed at killing people doesn't make sense.
Everyday Americans can purchase semi-automatic rifles in America. But why?
"Our forefathers wanted us to have AK-47s is the argument [from 2nd amendment proponents], I assume. Orlando, Newtown, Aurora, San Bernardino — every one of these shootings, the murderer used automatic or semi-automatic rifles, which are not weapons you use for self-defense. They're weapons designed to kill large numbers of people in the shortest possible amount of time."
3. The argument that it's "too soon to make this political" doesn't make sense.
Not making the Vegas shooting political means we're accepting this nightmare reality in which going to a concert, or to school, or to work, or to a movie means risking death.
"Last night, the White House press secretary, Sarah Sanders, said this is not the time — or actually, it was today, this morning — she said it was not the time for political debate. I don't know. We have 59 innocent people dead, it wasn't their time either. So I think now is the time for political debate."
4. The amount of power the NRA has in this country doesn't make sense.
As Kimmel noted, the gun lobby is using too many of our leaders as puppets.
"President Trump is visiting Las Vegas on Wednesday. He spoke this morning; he said he's praying for those who lost their lives. You know, in February, he also signed a bill to make it easier for people with severe mental illness to buy guns legally. Senate Majority Leader Mitch McConnell, Speaker of the House Paul Ryan, a number of other lawmakers who won't do anything about this because the NRA has their balls in a money clip also sent their thoughts and their prayers today — which is good, they should be praying. They should be praying for God to forgive them for letting the gun lobby run this country."
5. The disconnect between what Americans want and what their representatives fight for doesn't make sense.
Americans overwhelmingly back common sense gun control to keep weapons out of the hands of dangerous people. But many congresspeople care less about that than getting elected next year.
"90% of Democrats … and 77% of Republicans support background checks at gun shows. 89% of Republicans and Democrats are in favor of restricting gun ownership for the mentally ill. But not this gang [indicating a group of senators]. They voted against both of those things. So, with all due respect, your thoughts and your prayers are insufficient."
"Tell your congresspeople to do something," Kimmel said. "It's not enough to send your love and prayers."
Tell your representatives to fight for better gun laws.
See the full clip of Kimmel's monologue below:
Read more: http://www.upworthy.com/jimmy-kimmel-sums-up-americas-gun-problems-in-a-powerful-teary-monologue
Pamela Anderson Thought She Had A 'Special Power To Kill People' As A Child After Her Death Wish Came True
Pamela Anderson exudes magic every time she runs down the beach in slo-mo — but did you know she has real "special powers"?
At least she thought she did after an allegedly predatory babysitter was killed in a car accident one day after wishing her dead.
Related: Pamela Anderson Refuses To Apologize For Weinstein Comments
The Baywatch star made the admission on Piers Morgan's Life Stories that aired Saturday night on ITV. She remembered:
"I had a babysitter, and she molested me for I think a year. I was between the ages of 4 and 8, somewhere in there. I remember wishing her dead, and she ended up dying the next day in her graduation in a car accident."
Holy karma!
Naturally, young Pam thought she was behind the freak fatality and, if she wasn't careful, might cause another. She continued:
"I thought, 'Okay, now I've killed her. I'm magic. I can't tell my parents about this and I've killed her,' so I started believing that I had this special power to kill people."
The future actress was so terrified to oust herself as a magical being, she didn't tell her parents about the scary coincidence until "years later."
Of course, by that time, she realized she had magical abilities every time she squeezed into a red swimsuit.
[Image via Media Punch.]
Read more: http://perezhilton.com/2018-03-05-pamela-anderson-molestor-special-abilities-kill-people
Will Smith geeks out over the success of 'Black Panther' and its cast
Image: Jerod Harris/Getty Images
Excited for Black Panther? So are we. Which is why we're rolling out obsessive coverage with Black Panther Week.
Will Smith just showed the world that he's one of the biggest Black Panther fans around.
After the tremendous success of Black Panther's opening weekend, Will Smith took to Instagram to share an inspiring message he himself heard from Nelson Mandela along with a video of himself geeking out about Black Panther and praising everyone who worked on Marvel's latest film.
"What you have done is spectacular," Smith said in the video. "I watched the film a couple of days ago, and damn near got brought to tears. You guys have challenged and potentially even shattered a lot of long-time, long-held false Hollywood beliefs and paradigms. I just want to say congratulations to you, I'm proud and I'm excited, damn-near giddy. Congrats y'all, go get it."
He then crossed his arms over his chest — the Wakandan salute.
Along with the video, Smith quoted Mandela in his Instagram post, sharing a message everyone who worked on the film that spoke to what people can do with their fame and how they can reach out and inspire others.
"Go into the streets… Touch them… Let them know that you are real!" Smith wrote.
Black Panther has been heralded not only for its unmistakable quality but also its achievements in representation, not only with its predominantly black cast but also its range of diversity behind the scenes.
Read more: https://mashable.com/2018/02/21/will-smith-black-panther/
Amy Schumer Marries Boyfriend Chris Fischer After A Few Months Of Dating
Amy Schumer married chef Chris Fischer in a secret ceremony on Tuesday after just a few months of dating, People and Us Weekly reported.
The two were married at a house in Malibu, California, in front of 80 friends, including stars Larry David, Jennifer Aniston, Jennifer Lawrence, David Spade and Jake Gyllenhaal, according to the reports.
Schumer, 36, and her chef boyfriend made their relationship public (as in Instagram-official) this week after attending Ellen DeGeneres' star-studded birthday party. The two reportedly started dating around November after they were spotted having an intimate dinner in New York City.
They later attended a taping of "Saturday Night Live" together, though Schumer's rep wouldn't comment on the relationship.
Fisher once worked at Mario Batali's New York City restaurant, Babbo, after being introduced by his friend, Jake Gyllenhaal.
The chef later returned to Martha's Vineyard, Massachusetts, where he grew up, to work at the Beach Plum Inn (a favorite of the Obamas) and The Covington Restaurant.
Fisher  who penned the James Beard Award-winning cookbook, Beetlebung Farm Cookbook  recently opened Beetlebung Farm Market on Martha's Vineyard, and plans to turn part of it into a restaurant.
"After years of working for other people, my intuition is, 'I'm doing this on my own terms,'" Fisher told Boston magazine in July. "You can create a destination restaurant anywhere."
Prior to meeting Fischer, Schumer dated furniture designer Ben Hanisch. The two met on a dating app in 2015 and were together for a little over a year.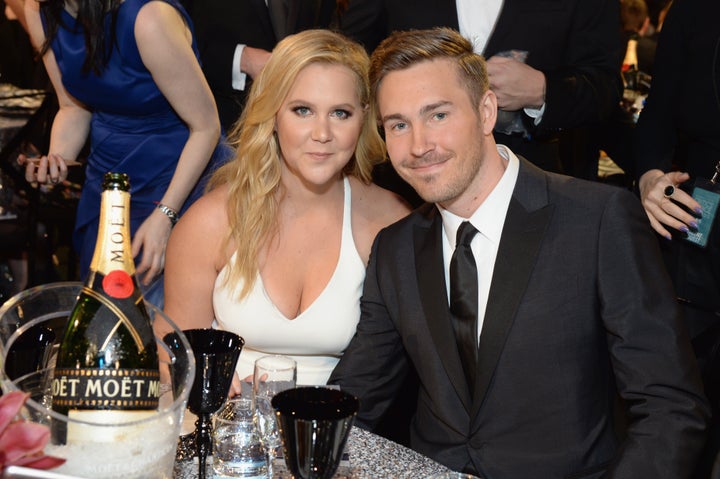 "I feel like Ben is the first guy who's really been my boyfriend," the "I Feel Pretty" actress and author told Marie Claire in July 2016. "There are guys who, if they heard me say that, would want to punch me in the face, but yeah, it's the truth."
A rep for Schumer confirmed that she and Hanisch split in 2017, but said the two remained friends. It certainly seems like things are amicable, as the comedian thanked her ex for some furniture he'd built for her in September.
Read more: http://www.huffingtonpost.com/entry/amy-schumer-marries-boyfriend-chris-fischer-after-a-few-months-of-dating_us_5a85a801e4b0774f31d2fe8d