Jodie Foster: I make movies to figure out who I am
Directing a new Black Mirror film gives Jodie Foster the chance to look back at her own upbringing. The Hollywood titan talks to Tim Adams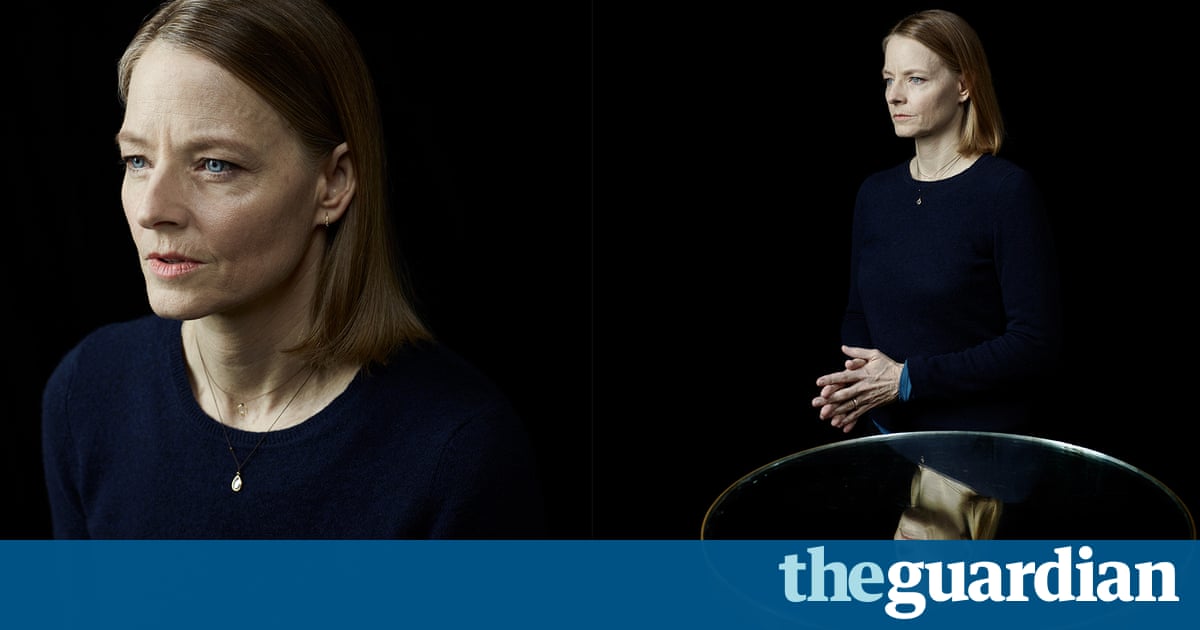 Last week Charlie Brooker was recalling for me the moment he learned Jodie Foster would direct an episode of Black Mirror, his inspired series of one-off dramas about the ways our gadgets are colonising the idea of human. Brooker had written a script for the new series in which a neurotic single mother uses technology to spy on her young daughter and keep her safe from the world. The Netflix people suggested they tried the script out on the two-time Oscar-winning actor.
Brooker has had considerable global success with Black Mirror but still, the thought of working with Foster, an actual icon, made him come over, he says, all British and starstruck. He turned to his co-showrunner for the series, Annabel Jones. We were like: Youre kidding, right? You are going to try Jodie bloody Foster? Yeah right, of course you are.
The script was given to Jodie bloody Foster, though, and she came back immediately and said she wanted to do it. Brooker had a Skype chat with her in which it became clear that as a mother and a daughter, and as someone steeped in issues around privacy, she had a strong feel for all the scripts themes. And then also, Brooker suggests, on a practical level the film involved dealing with child actors, which I guess Jodie Foster probably knows more about than anyone alive.
Through the course of the film-making the shoot was in Toronto, the editing in London Brooker says Foster could not have been more engaged or engaging. And for his own part, he says, as long as he repressed the thoughts that went: Christ, she was in Taxi Driver, she was in The Accused, she was in The Silence of the Lambs he was fine. Otherwise, obviously: You got a bit of vertigo.
I met Foster to talk about her film earlier this year when she was over in London working with Brooker on the edit of Arkangel [her episode of Black Mirror], and experienced just a bit of that vertigo. It would be fair to say that the actor, now 55, is not the most enthusiastic of interviewees. Having been first put in front of cameras aged three, and subsequently having suffered well-documented traumas with stalkers, Foster has long been wary of talking about herself beyond her work. She is determinedly friendly, but radiates the same intense and guarded intelligence you know from her most famous roles, as well as a profound awareness of being quoted out of context.
Read more: https://www.theguardian.com/film/2017/dec/10/jodie-foster-i-make-movies-to-figure-out-who-i-am
Peter Dinklage gets yet another Emmy for his role as Tyrion Lannister
Peter Dinklage wins yet another Emmy for his role in 'Game of Thrones.'
Image: hbo
Peter Dinklage won his third Emmy for most outstanding supporting actor in a drama series at the Emmys on Monday.
Dinklage, who plays the iconic Tyrion Lannister in HBO's Game of Thrones, was nominated alongside fellow Game of Thrones actor Nikolaj Coster-Waldau, who plays his brother Jaime Lannister.
For his work as Tyrion, Dinklage has been nominated in the category seven times, winning in 2011, 2015, and now 2018.
In his acceptance speech, Dinklage thanked Coster-Waldau, who earned his first Emmy nomination for his work on Game of Thrones this year.
Hopefully both actors survive the final season of Game of Thrones coming in 2019, or at least get one more nomination next year if they do meet their demise.
'Green Book' Wins Toronto Film Festival's People's Choice Award
Peter Farrelly's "Green Book" has won the Grolsch People's Choice Award at the 2018 Toronto International Film Festival, TIFF announced at an awards ceremony on Sunday.
The film, which tells the true story of an Italian-American nightclub bouncer (Viggo Mortensen) who serves as the chauffeur for a black pianist (Mahershala Ali) on a tour through the Deep South in the early 1960s, opened at the festival on Tuesday and was an instant hit with audiences and critics, although Bradley Cooper's "A Star Is Born" had been considered the likely winner of the People's Choice Award.
Runners-up for the award were Barry Jenkins' lyrical James Baldwin adaptation "If Beale Street Could Talk" and Alfonso Cuaron's moving memory piece "Roma."
In the past, Toronto audience members voted by depositing their ticket stubs in a box at the theater, or by using the TIFF app — festival organizers took into account the size of the theaters in which each film screened — with the films that received votes from the largest percentage of their audience winning the prizes…………………"
Read More Here: https://www.thewrap.com/green-book-wins-toronto-film-festivals-peoples-choice-award/
Henry Cavill Out As Superman!
Image: VCG via Getty Images
"It's not Kryptonite that will end Henry Cavill's run as Warner Bros.' grimdark Superman; it's a studio pivot.
Cavill is reportedly finished as the Man of Steel, with unnamed studio insiders telling The Hollywood Reporter that he won't be donning the signature DC Comics superhero's cape and tights again. It's said to be part of a larger move aimed at fixing WB's flagging DC Extended Universe (DCEU).
The rumored exit apparently started with a much smaller disagreement: The studio wanted Cavill for a cameo in the upcoming Shazam!, out April 5, 2019. But talks between WB and the actor's reps didn't go anywhere.
Beyond that, the studio also understands that bigger changes are needed. To date, the only universally successful DC-pegged release was 2017's Wonder Woman, which landed both with critics and at the box office.
As one insider said, "There's a recognition that some parts of the previous movies didn't work." (LOL at that understatement.) So now, WB is trying to hit "reset" (per another source) on the whole endeavor.
That reset reportedly includes a shift in focus from Superman to Supergirl. That movie would serve as an origin story, starring a teenage hero…………………."
Read more: https://mashable.com/article/superman-henry-cavill-is-out/