John Travolta's 'Gotti' Movie Pulled Just Days Before Its Release
That "Gotti" biopic with John Travolta you were planning to see next week? Fuhgettaboutit.
Lionsgate has sold the mafia movie back to the production company Emmett/Furla/Oasis, killing the film's Dec. 15 domestic release, according to reports on Tuesday.
The film, in which Travolta plays infamous Gambino crime boss John Gotti, also features Travolta's wife, Kelly Preston, as Victoria Gotti. The movie, directed by "Entourage" star Kevin Connolly, was shot mostly in Cincinnati in the summer of 2016.
HuffPost has reached out to a Travolta rep and Lionsgate for further details but didn't immediately hear back.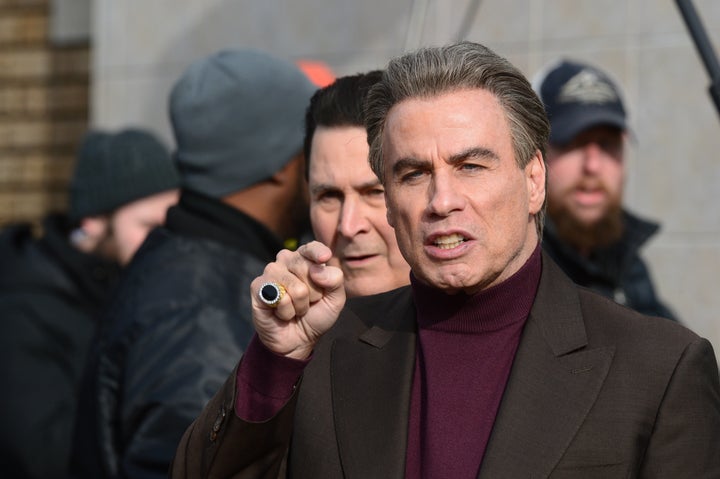 Read more: http://www.huffingtonpost.com/entry/john-travoltas-gotti-movie-pulled-just-days-before-its-release_us_5a27c99ce4b0c2117626eb93
Robert Zemeckis Returns To Science Fiction With 'Project Blue Book' & 'Bios'
This story is by Geoff Boucher published in Deadline.
"Now this has a familiar ring to it: Robert Zemeckis is revisiting the 1950s to rewrite history with one new project and then he's going back to the future to prove the power of love with a second project.
No, Zemeckis isn't revving up the DeLorean for more Marty McFly sequels — however, the director of the Back to the Future trilogy (1985-1990) and Contact(1997) is making a relatively rare return to science fiction with the two projects. This time around, however, his foray into the genre is in a producing role. On Monday, Zemeckis talked about the two projects: Bios, the upcoming feature film; and Project Blue Book, a television series that premieres in January on History.
Bios, scheduled to start filming early next year, reunites Zemeckis with one of his most celebrated collaborators. "We're producing a really magnificent science fiction project called Bios with Tom Hanks," Zemeckis said. "It's a really cool science-fiction story. It's set in a post-apocalytptic world and Tom Hanks may or may not be the last human survivor on the planet."
Steven Spielberg's Amblin Entertainment picked Bios up in October. The script is by Craig Luck (Solo: A Star Wars Movie) and Ivor Powell (Blade Runner).
Spielberg described the movie in an October statement as "an original, emotionally stirring tale that at its core is very much an Amblin movie" and added that he could think of "no one more perfect to embody this story about the meaning of being human than Tom Hanks."
Hanks will portray Finch, the last man on earth, who………………………………………"
Click here to read the rest of the article: https://deadline.com/2018/11/robert-zemeckis-returns-to-science-fiction-with-project-blue-book-bios-1202501178/
James Cameron Says the 'Avatar' Sequels Have Wrapped Production
This just in from Pandora: James Cameron says the Avatar sequels have reached a major milestone with the completion of all principal photography involving main cast members.
In a video message, the director of the two highest-grossing films of all time (Avatarand Titanic) praised the ensemble of actors who have been filming Avatar 2 and Avatar 3 since September 2017.
James Cameron took a (very rare) break from filming on the performance capture stage to record a message to Avatar fans!

Watch for a progress update on the sequels and a brand new trailer for his long-time passion project, Alita: Battle Angel. #AvatarFamily @AlitaMovie pic.twitter.com/Vz6bqp73DA

— Avatar (@officialavatar) November 13, 2018
Upcoming 'Willy Wonka' Movie Is a Prequel
"The untold origin story behind one of the most iconic fictional characters in history is due to be revealed. We learned earlier this year that Warner Bros. was developing aWilly Wonka movie with Paddington and Paddington 2 director Paul King in talks to take the helm. At the time, plot details were unclear but we did know that Simon Rich (Man Seeking Woman) was writing the script and David Heyman (Harry Potterand Fantastic Beasts franchises) was producing.
A further curiosity arrived this summer when Collider broke the news that actors like Donald Glover and Ryan Gosling were on the studio's shortlist to play Willy Wonka in………………………………………."
Read More: http://collider.com/willy-wonka-movie-prequel/#images