Katie Holmes And Jamie Foxx Look Adorably Happy At Pre-Grammy Gala
Katie Holmes and Jamie Foxx were spotted together Saturday night at the Clive Davis and The Recording Academy's Pre-Grammy Gala in New York City.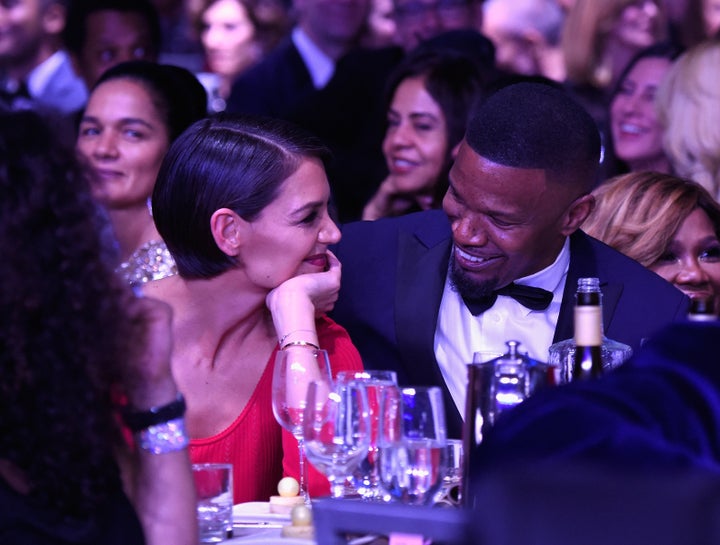 The extremely private duo, who have been rumored to be dating for a while now, were called out by Davis. Though they initially sat together at the same table, Holmes briefly walked out of the room a few moments before the gala host and music producer announced Foxx's presence.
That prompted Davis to say, "This lady left the room right when I was going to introduce her. She was sitting at that table right with Jamie Foxx and everyone else."
With Holmes by then sitting at another table, he added, "If you're going to sit together, what better night than tonight?"
Foxx found the commentary hilarious, while Holmes looked more than a little uncomfortable to be "caught."
Despite the mild awkwardness, Holmes, 39, and Foxx, 50, appeared to be happy and enjoying their time together in many of the shots captured at the event.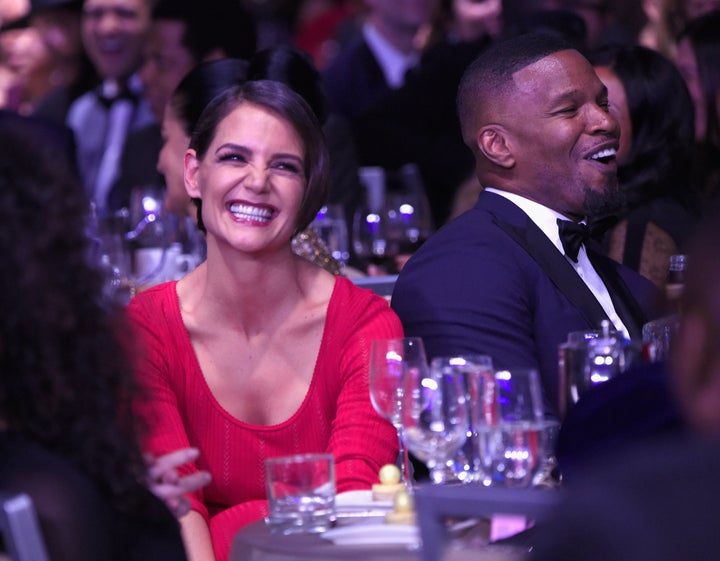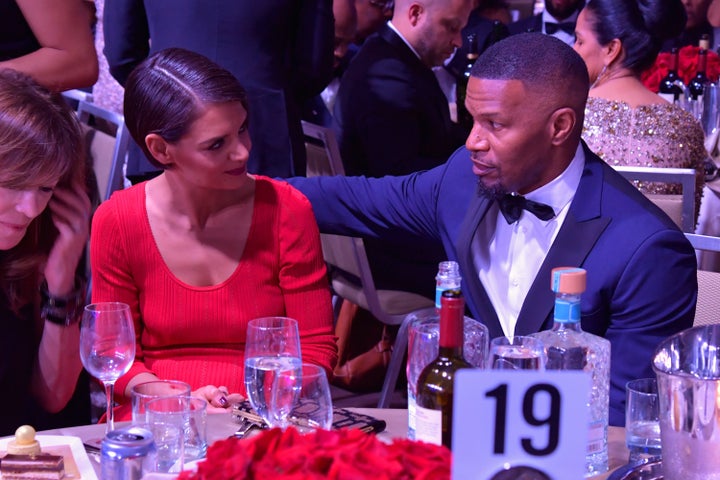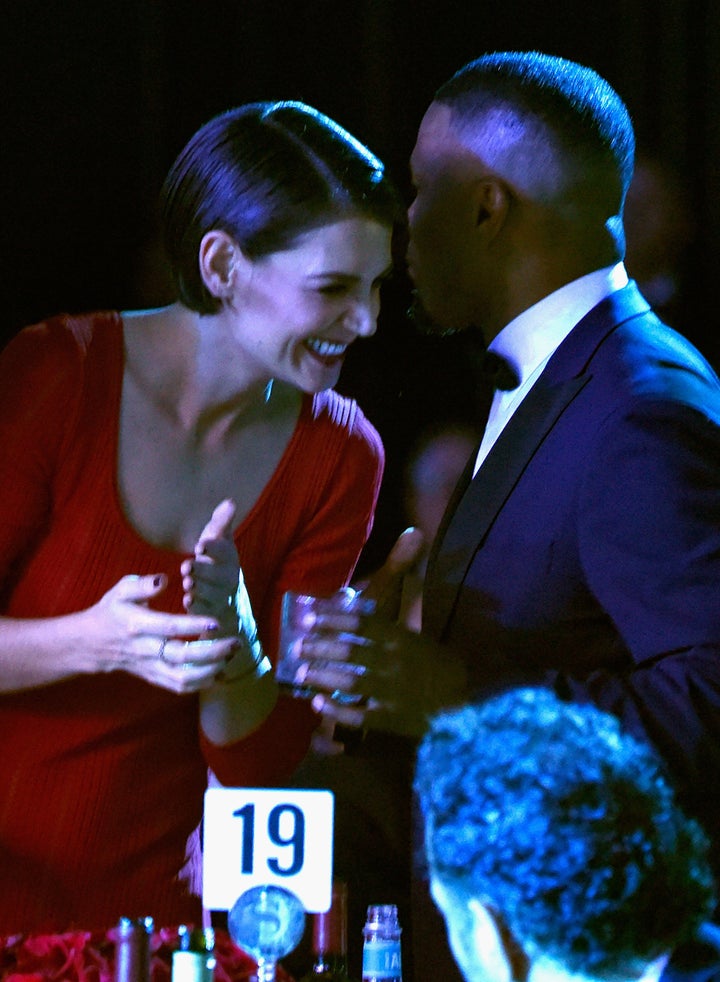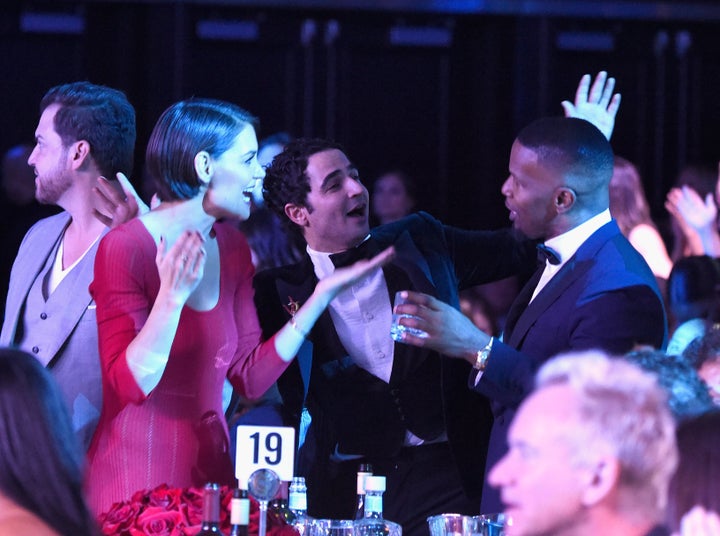 In addition to that time last September they were seen holding hands, the two have been spotted together on and off since 2013. They have not confirmed to the public that they're in a relationship.
Whatever their status, they do look pretty damn good together.
Read more: http://www.huffingtonpost.com/entry/katie-holmes-jamie-foxx-pre-grammy-gala_us_5a6e4176e4b0ddb658c774f2
John Travolta has got the moves to 'Grease' 40 years on
That belt loop hip shake from 1978's Grease has surely been replicated countless times in schools, dances, and in front of mirrors.
Wednesday marked 40 years since the film premiered in New York City, and John Travolta just so happened to be on The Tonight Show with Jimmy Fallon, although to promote his upcoming film Gotti.
The shake, which Travolta calls the "four corners," was introduced when Grease's choreographer needed a step at the end of "You're The One That I Want."
Turns out Travolta still has some of those moves, by the way.
Read more: https://mashable.com/2018/06/14/john-travolta-grease-moves/
Alicia Silverstone explains why she has Donald Trump's number in her phone
"Alicia Silverstone and Donald Trump exchanged numbers about 10 years ago. But, before you jump to conclusions, you need to hear the full account of what happened.
On The Late Show With Stephen Colbert, the Clueless star said that she and Trump had a "date to talk about solar panels" and that his name and number are still in her phone to this very day.
So, what exactly happened? "I was on one of the other talk shows in the daytime talking about solar panels and silk milk… and he [Trump] said he was really interested and we exchanged numbers so that we could continue this conversation about solar panels," she said. "So I met with him."
Silverstone said…."
Read more: https://mashable.com/2018/06/12/alicia-silverstone-donald-trump/
Serena Williams 'Wakanda-inspired Catsuit' that makes her feel like a superhero
100% superhero.
Image: Aurelien Meunier/Getty Images
Serena Williams is already a superhero to each and every one of us. But, as it turns out, she also has a Black Panther-inspired catsuit which makes her feel like a "warrior princess".
After Williams beat Kristya Pliskova at the French open at Stade Roland Garros, Paris on Tuesday, she spoke about the meaning behind her black bodysuit.
"It feels like this suit represents all the women that have been through a lot mentally, physically, with their body to come back and have confidence and to believe in themselves," she said following her victory on Tuesday, per the Guardian.
Williams just made her return to the sport nine months after the birth of her daughter. She suffered complications at the time of the birth due to a pulmonary embolism.
In addition to being a symbol of confidence and empowerment, the suit also reminds Williams of Black Panther.
"I call it, like, my Wakanda-inspired catsuit," Williams said. "We designed it way before the movie, but still, it kind of reminds me of that."
Not only that, Williams says when she dons her black bodysuit, she feels "like a warrior princess."
"I always wanted to be a superhero and it's kind of my way of being a superhero," she said.
Wakanda forever.