Last Jedi Makes a Stand as Top-Grossing Domestic Movie of 2017
"The Last Jedi" is giving movie-theater chains a new hope for 2018.
Walt Disney Co.'s latest chapter in the Star Wars saga became the year's No. 1-grossing movie after generating an estimated $68.4 million in U.S. and Canadian sales over the four-day holiday weekend, researcher ComScore Inc. estimated on Monday. The film's domestic total of $533.1 million for 2017 topped the $504 million tallied by the previous No. 1, Disney's "Beauty and the Beast." Worldwide, it's pulled in at least $1.04 billion.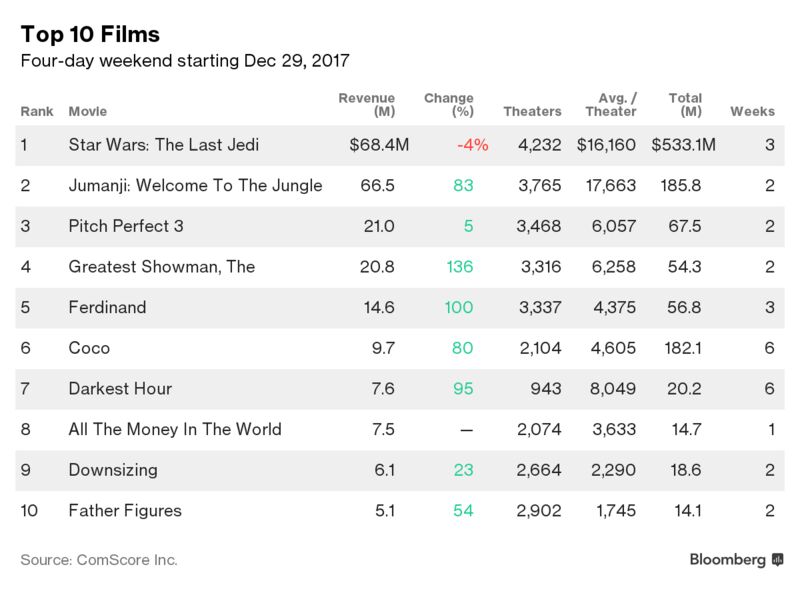 The success of "Jedi," combined with a surprisingly strong two-week run from Sony Corp.'s "Jumanji: Welcome to the Jungle," is encouraging for Hollywood, which has been through a brutal year of big-budget bombs and competitive threats. The box office in the U.S., the world's biggest movie market, finished the year down 2.4 percent to $11.2 billion, but the latest hits prove it's possible to lure viewers away from their Netflix accounts.
"The Last Jedi" cemented Disney's place as the top movie studio by market share for the second year in a row, and the company's slate for 2018 makes a three peat look probable. A spinoff Star Wars movie in May will tell the backstory of Han Solo. Three Marvel superhero films — "Black Panther," "Avengers: Infinity War," and "Ant-Man and the Wasp" — will be released in the next seven months. Childhood favorites "Mary Poppins," "Wreck-It Ralph" and "The Incredibles" get new installments.
Competitors will try to bounce back from a year of disappointments with a barrage of sequels and reboots. Warner Bros. has more DC Comics and "Fantastic Beasts" films lined up; Universal Pictures revisits to "Jurassic World;" 20th Century Fox brings back mutant superhero Deadpool; Sony rolls out two Spider-Man-related movies; and Paramount Pictures produces a new edition of "Mission: Impossible" and a Transformers spinoff based on the Bumblebee character.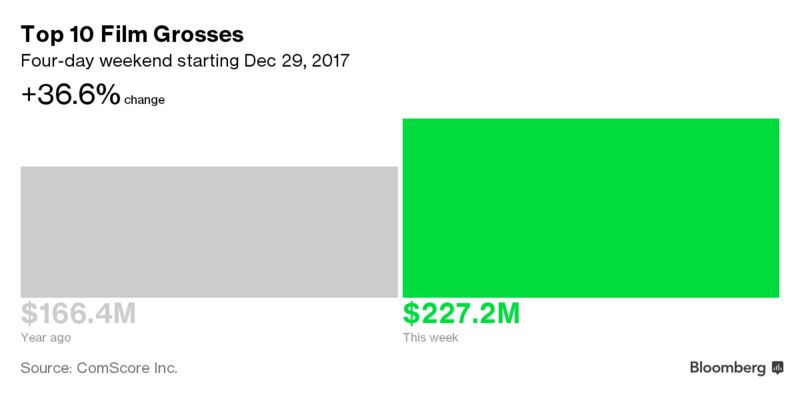 It will be difficult for any of those contenders to unseat Burbank, California-based Disney, which dominated the box office for the last two months of the year with its films holding the top spot for all but one weekend. The film's worldwide totals will get a boost this week when it opens in China, where box office sales rose 13.5 percent to 55.9 yuan ($8.6 billion) in 2017, with urban theaters drawing 18 percent more patrons — some 1.62 billion in all.
After a stronger than expected opening weekend, the Star Wars film fell a bit short over the New Year's break. BoxOfficePro.com had projected $79 million in sales.
Theater chains are rooting for Disney's competitors to put up a better fight than in 2017, when weak offerings such as Warner Bros.' "King Arthur: Legend of the Sword" and Paramount's "Baywatch" failed to capture the imagination and contributed to a slump in the shares of chains such as AMC Entertainment Holdings Inc. and Cinemark Holdings Inc.
Sony has shown some moxie with "Jumanji," a remake of the 1995 Robin Williams fantasy. In its second weekend in theaters, where "The Last Jedi" is playing on multiple screens in many locations, the action-comedy starring Dwayne "The Rock" Johnson generated $66.5 million over the four-day holiday break, according to ComScore. It was the second straight weekend the movie exceeded estimates; it had been expected to bring in $60 million for the four days, according to BoxOfficePro.com.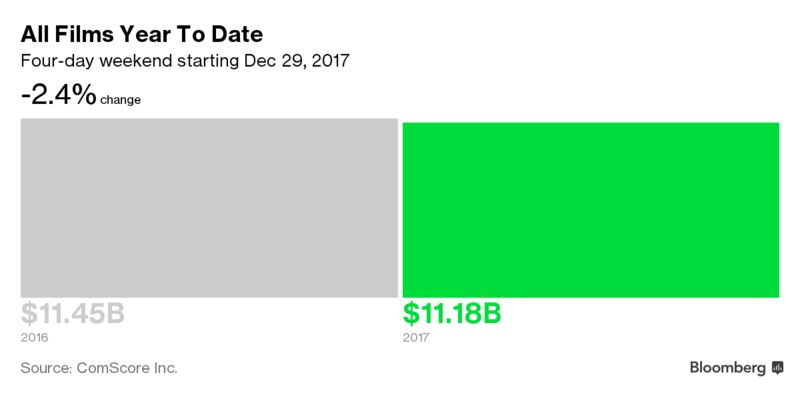 Audiences have so many other options for entertainment, from Netflix to Snapchat, that the movie industry is having to fight harder than ever to compete for attention. Some companies have begun looking for merger partners to cut costs and gain scale. Cineworld Group Plc, based in the U.K., agreed in December to acquire Regal Entertainment Group for about $3.6 billion, and Disney struck a $52.4 billion deal to buy the Fox studio and other assets from 21st Century Fox Inc.
Hollywood executives famously copy any formula that works, so get ready for more merger mania in 2018.
Read more: https://www.bloomberg.com/news/articles/2018-01-01/-last-jedi-makes-a-stand-as-top-grossing-domestic-movie-of-2017
Peter Dinklage gets yet another Emmy for his role as Tyrion Lannister
Peter Dinklage wins yet another Emmy for his role in 'Game of Thrones.'
Image: hbo
Peter Dinklage won his third Emmy for most outstanding supporting actor in a drama series at the Emmys on Monday.
Dinklage, who plays the iconic Tyrion Lannister in HBO's Game of Thrones, was nominated alongside fellow Game of Thrones actor Nikolaj Coster-Waldau, who plays his brother Jaime Lannister.
For his work as Tyrion, Dinklage has been nominated in the category seven times, winning in 2011, 2015, and now 2018.
In his acceptance speech, Dinklage thanked Coster-Waldau, who earned his first Emmy nomination for his work on Game of Thrones this year.
Hopefully both actors survive the final season of Game of Thrones coming in 2019, or at least get one more nomination next year if they do meet their demise.
'Green Book' Wins Toronto Film Festival's People's Choice Award
Peter Farrelly's "Green Book" has won the Grolsch People's Choice Award at the 2018 Toronto International Film Festival, TIFF announced at an awards ceremony on Sunday.
The film, which tells the true story of an Italian-American nightclub bouncer (Viggo Mortensen) who serves as the chauffeur for a black pianist (Mahershala Ali) on a tour through the Deep South in the early 1960s, opened at the festival on Tuesday and was an instant hit with audiences and critics, although Bradley Cooper's "A Star Is Born" had been considered the likely winner of the People's Choice Award.
Runners-up for the award were Barry Jenkins' lyrical James Baldwin adaptation "If Beale Street Could Talk" and Alfonso Cuaron's moving memory piece "Roma."
In the past, Toronto audience members voted by depositing their ticket stubs in a box at the theater, or by using the TIFF app — festival organizers took into account the size of the theaters in which each film screened — with the films that received votes from the largest percentage of their audience winning the prizes…………………"
Read More Here: https://www.thewrap.com/green-book-wins-toronto-film-festivals-peoples-choice-award/
Henry Cavill Out As Superman!
Image: VCG via Getty Images
"It's not Kryptonite that will end Henry Cavill's run as Warner Bros.' grimdark Superman; it's a studio pivot.
Cavill is reportedly finished as the Man of Steel, with unnamed studio insiders telling The Hollywood Reporter that he won't be donning the signature DC Comics superhero's cape and tights again. It's said to be part of a larger move aimed at fixing WB's flagging DC Extended Universe (DCEU).
The rumored exit apparently started with a much smaller disagreement: The studio wanted Cavill for a cameo in the upcoming Shazam!, out April 5, 2019. But talks between WB and the actor's reps didn't go anywhere.
Beyond that, the studio also understands that bigger changes are needed. To date, the only universally successful DC-pegged release was 2017's Wonder Woman, which landed both with critics and at the box office.
As one insider said, "There's a recognition that some parts of the previous movies didn't work." (LOL at that understatement.) So now, WB is trying to hit "reset" (per another source) on the whole endeavor.
That reset reportedly includes a shift in focus from Superman to Supergirl. That movie would serve as an origin story, starring a teenage hero…………………."
Read more: https://mashable.com/article/superman-henry-cavill-is-out/