Last Jedi Makes a Stand as Top-Grossing Domestic Movie of 2017
"The Last Jedi" is giving movie-theater chains a new hope for 2018.
Walt Disney Co.'s latest chapter in the Star Wars saga became the year's No. 1-grossing movie after generating an estimated $68.4 million in U.S. and Canadian sales over the four-day holiday weekend, researcher ComScore Inc. estimated on Monday. The film's domestic total of $533.1 million for 2017 topped the $504 million tallied by the previous No. 1, Disney's "Beauty and the Beast." Worldwide, it's pulled in at least $1.04 billion.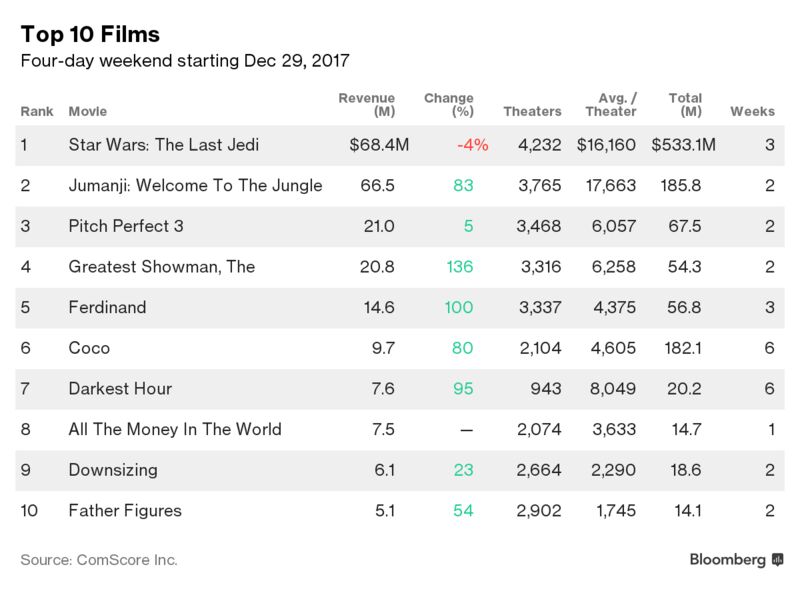 The success of "Jedi," combined with a surprisingly strong two-week run from Sony Corp.'s "Jumanji: Welcome to the Jungle," is encouraging for Hollywood, which has been through a brutal year of big-budget bombs and competitive threats. The box office in the U.S., the world's biggest movie market, finished the year down 2.4 percent to $11.2 billion, but the latest hits prove it's possible to lure viewers away from their Netflix accounts.
"The Last Jedi" cemented Disney's place as the top movie studio by market share for the second year in a row, and the company's slate for 2018 makes a three peat look probable. A spinoff Star Wars movie in May will tell the backstory of Han Solo. Three Marvel superhero films — "Black Panther," "Avengers: Infinity War," and "Ant-Man and the Wasp" — will be released in the next seven months. Childhood favorites "Mary Poppins," "Wreck-It Ralph" and "The Incredibles" get new installments.
Competitors will try to bounce back from a year of disappointments with a barrage of sequels and reboots. Warner Bros. has more DC Comics and "Fantastic Beasts" films lined up; Universal Pictures revisits to "Jurassic World;" 20th Century Fox brings back mutant superhero Deadpool; Sony rolls out two Spider-Man-related movies; and Paramount Pictures produces a new edition of "Mission: Impossible" and a Transformers spinoff based on the Bumblebee character.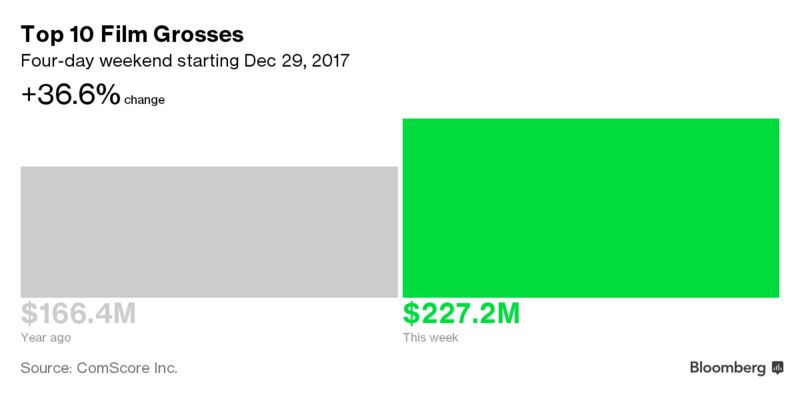 It will be difficult for any of those contenders to unseat Burbank, California-based Disney, which dominated the box office for the last two months of the year with its films holding the top spot for all but one weekend. The film's worldwide totals will get a boost this week when it opens in China, where box office sales rose 13.5 percent to 55.9 yuan ($8.6 billion) in 2017, with urban theaters drawing 18 percent more patrons — some 1.62 billion in all.
After a stronger than expected opening weekend, the Star Wars film fell a bit short over the New Year's break. BoxOfficePro.com had projected $79 million in sales.
Theater chains are rooting for Disney's competitors to put up a better fight than in 2017, when weak offerings such as Warner Bros.' "King Arthur: Legend of the Sword" and Paramount's "Baywatch" failed to capture the imagination and contributed to a slump in the shares of chains such as AMC Entertainment Holdings Inc. and Cinemark Holdings Inc.
Sony has shown some moxie with "Jumanji," a remake of the 1995 Robin Williams fantasy. In its second weekend in theaters, where "The Last Jedi" is playing on multiple screens in many locations, the action-comedy starring Dwayne "The Rock" Johnson generated $66.5 million over the four-day holiday break, according to ComScore. It was the second straight weekend the movie exceeded estimates; it had been expected to bring in $60 million for the four days, according to BoxOfficePro.com.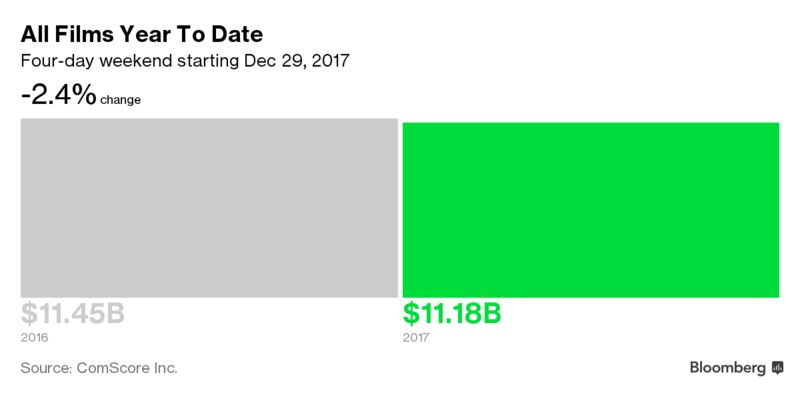 Audiences have so many other options for entertainment, from Netflix to Snapchat, that the movie industry is having to fight harder than ever to compete for attention. Some companies have begun looking for merger partners to cut costs and gain scale. Cineworld Group Plc, based in the U.K., agreed in December to acquire Regal Entertainment Group for about $3.6 billion, and Disney struck a $52.4 billion deal to buy the Fox studio and other assets from 21st Century Fox Inc.
Hollywood executives famously copy any formula that works, so get ready for more merger mania in 2018.
Read more: https://www.bloomberg.com/news/articles/2018-01-01/-last-jedi-makes-a-stand-as-top-grossing-domestic-movie-of-2017
Brad Pitt's Sci-Fi Epic 'Ad Astra' Gets Bumped to May 2019
"Quentin Tarantino's "Once Upon a Time in Hollywood" is the upcoming Brad Pitt release everyone can't stop talking about right now, but the actor has another project set to open before "Hollywood" that ought to be on everyone's radar. At least, that is if it actually opens in 2019 at all. Pitt is the lead in James Gray's science-fiction epic "Ad Astra," and the director recently cast doubt on meeting the film's deadline while speaking with The Film Stage.
"It's exciting, but it's far from finished," Gray said when asked for "Ad Astra" updates. "I'm here [at the Marrakech Film Festival], a little bit on vacation. I'm really tired because the previous movie ["The Lost City of Z"] was physically very difficult. It was both Europe and the jungle and this one I thought would be easier. Not easier like an easy movie to make but, like, physically easier and it was not. So I needed to come here. I have to go home. I have over 600 shots to review."
"Ad Astra" stars Pitt as an Army Corps engineer who decides to go on an ambitious space mission to find out what happened to his father, an astronaut who never returned from a one-way mission to Neptune looking for signs of extra-terrestrial intelligence. The supporting cast includes Tommy Lee Jones, Ruth Negga, Donald Sutherland, and Jamie Kennedy.
20th Century Fox is behind "Ad Astra" and had originally set a January 11, 2019 opening date. The date had some thinking…………………………………….."
Read More Here: https://www.indiewire.com/2018/12/brad-pitt-ad-astra-release-2019-far-from-finished-1202026702/
Robert De Niro Says 'The Irishman' Set for the Big Screen
"The Irishman is set for the big screen next year when it is released by Netflix, star Robert De Niro said Sunday while speaking at the Marrakech Film Festival.
The pic is the actor's latest collaboration with Goodfellas director Martin Scorsese, which also stars Al Pacino, Joe Pesci and Harvey Keitel, and is set in the crime world.
"We've talked about it with Netflix. They are going to do a presentation of our film the way it should be, in a theater, in certain venues, the best theatrical venues there can be," De Niro said, hinting that there have been ongoing discussions with the streaming platform surrounding the release.
"How they resolve it is, in the beginning, they will show it on the big screen — we're talking about big venues where it would play, where it should play — and what happens after that, I'm not sure," he said, guessing that it would be released online at a later date.
It marks the second big film Netflix will release, following in the footsteps of Alfonso Curaon's Oscar contender Roma in a limited theatrical run for awards season. Netflix has also taken on Guillermo del Toro's dark Pinocchio, which is another potential awards contender and the next project after his Oscar wins for The Shape of Water………………………………………….."
Read More Here: https://www.hollywoodreporter.com/news/marrakech-robert-de-niro-says-irishman-set-big-screen-1165651
Golden Globe nominations to kick off Hollywood's award season
(CNN)
"Nominations for the Hollywood Foreign Press Association's annual ceremony, which honors achievement in film and television, were announced Thursday. Big film hits "Black Panther," "Bohemian Rhapsody" and "A Star Is Born" will compete for best drama against the critically acclaimed "BlacKkKlansman" and "If Beale Street Could Talk," directed by Spike Lee and Barry Jenkins, respectively, who directed the Oscar-winning "Moonlight."
Below is the full list of nominees.
Movies
Best Motion Picture – Drama
"Black Panther"
"BlackKklansman"
"Bohemian Rhapsody"
"If Beale Street Could Talk"
"A Star Is Born"
Best Motion Picture – Musical or Comedy
"Crazy Rich Asians"
"The Favourite"
"Green Book"
"Mary Poppins Returns"
"Vice"
Best Performance by an Actress in a Motion Picture – Drama
Glenn Close ("The Wife")
Lady Gaga ("A Star Is Born")
Nicole Kidman ("Destroyer")
Melissa McCarthy ("Can You Ever Forgive Me?")
Rosamund Pike ("A Private War")
Best Performance by an Actor in a Motion Picture – Drama
Bradley Cooper ("A Star Is Born")
Willem Dafoe ("At Eternity's Gate")
Lucas Hedges ("Boy Erased")
Rami Malek ("Bohemian Rhapsody")
John David Washington ("BlackKklansman")………………………………………………"
See the rest of the nominations here: https://www.cnn.com/2018/12/06/entertainment/golden-globe-nominations/index.html