Last Jedi Makes a Stand as Top-Grossing Domestic Movie of 2017
"The Last Jedi" is giving movie-theater chains a new hope for 2018.
Walt Disney Co.'s latest chapter in the Star Wars saga became the year's No. 1-grossing movie after generating an estimated $68.4 million in U.S. and Canadian sales over the four-day holiday weekend, researcher ComScore Inc. estimated on Monday. The film's domestic total of $533.1 million for 2017 topped the $504 million tallied by the previous No. 1, Disney's "Beauty and the Beast." Worldwide, it's pulled in at least $1.04 billion.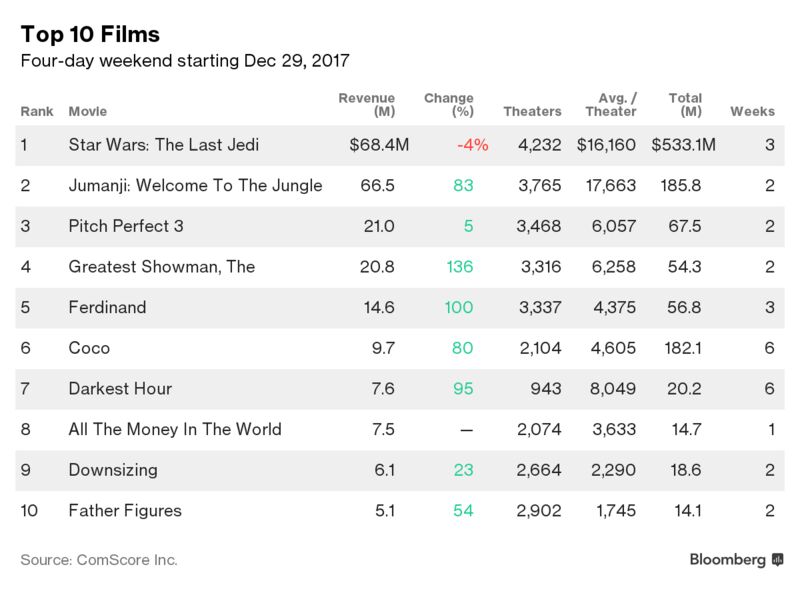 The success of "Jedi," combined with a surprisingly strong two-week run from Sony Corp.'s "Jumanji: Welcome to the Jungle," is encouraging for Hollywood, which has been through a brutal year of big-budget bombs and competitive threats. The box office in the U.S., the world's biggest movie market, finished the year down 2.4 percent to $11.2 billion, but the latest hits prove it's possible to lure viewers away from their Netflix accounts.
"The Last Jedi" cemented Disney's place as the top movie studio by market share for the second year in a row, and the company's slate for 2018 makes a three peat look probable. A spinoff Star Wars movie in May will tell the backstory of Han Solo. Three Marvel superhero films — "Black Panther," "Avengers: Infinity War," and "Ant-Man and the Wasp" — will be released in the next seven months. Childhood favorites "Mary Poppins," "Wreck-It Ralph" and "The Incredibles" get new installments.
Competitors will try to bounce back from a year of disappointments with a barrage of sequels and reboots. Warner Bros. has more DC Comics and "Fantastic Beasts" films lined up; Universal Pictures revisits to "Jurassic World;" 20th Century Fox brings back mutant superhero Deadpool; Sony rolls out two Spider-Man-related movies; and Paramount Pictures produces a new edition of "Mission: Impossible" and a Transformers spinoff based on the Bumblebee character.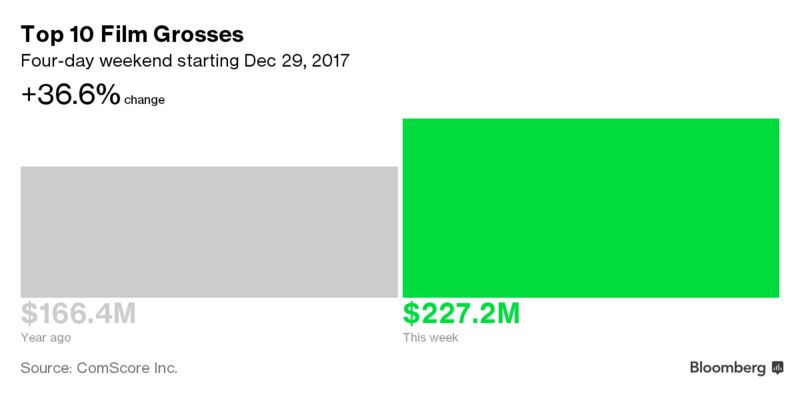 It will be difficult for any of those contenders to unseat Burbank, California-based Disney, which dominated the box office for the last two months of the year with its films holding the top spot for all but one weekend. The film's worldwide totals will get a boost this week when it opens in China, where box office sales rose 13.5 percent to 55.9 yuan ($8.6 billion) in 2017, with urban theaters drawing 18 percent more patrons — some 1.62 billion in all.
After a stronger than expected opening weekend, the Star Wars film fell a bit short over the New Year's break. BoxOfficePro.com had projected $79 million in sales.
Theater chains are rooting for Disney's competitors to put up a better fight than in 2017, when weak offerings such as Warner Bros.' "King Arthur: Legend of the Sword" and Paramount's "Baywatch" failed to capture the imagination and contributed to a slump in the shares of chains such as AMC Entertainment Holdings Inc. and Cinemark Holdings Inc.
Sony has shown some moxie with "Jumanji," a remake of the 1995 Robin Williams fantasy. In its second weekend in theaters, where "The Last Jedi" is playing on multiple screens in many locations, the action-comedy starring Dwayne "The Rock" Johnson generated $66.5 million over the four-day holiday break, according to ComScore. It was the second straight weekend the movie exceeded estimates; it had been expected to bring in $60 million for the four days, according to BoxOfficePro.com.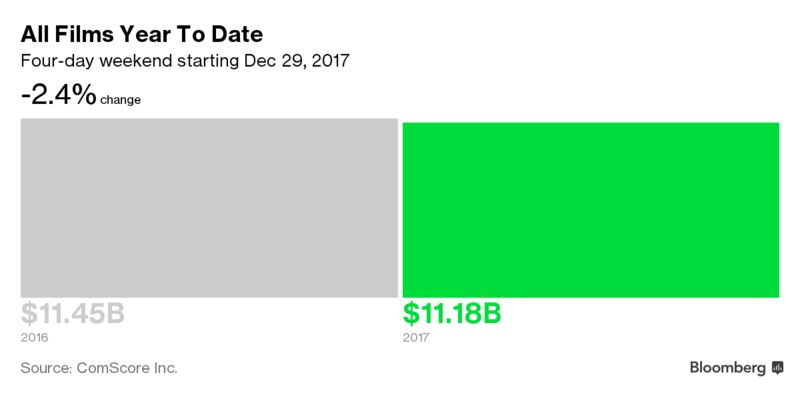 Audiences have so many other options for entertainment, from Netflix to Snapchat, that the movie industry is having to fight harder than ever to compete for attention. Some companies have begun looking for merger partners to cut costs and gain scale. Cineworld Group Plc, based in the U.K., agreed in December to acquire Regal Entertainment Group for about $3.6 billion, and Disney struck a $52.4 billion deal to buy the Fox studio and other assets from 21st Century Fox Inc.
Hollywood executives famously copy any formula that works, so get ready for more merger mania in 2018.
Read more: https://www.bloomberg.com/news/articles/2018-01-01/-last-jedi-makes-a-stand-as-top-grossing-domestic-movie-of-2017
Madonna to direct movie based on life of ballerina Michaela DePrince
MGM announces the singer will direct Taking Flight, the story of DePrinces journey from war orphan in Sierra Leone to world-class ballerina
Madonna is to return to the movies after a seven-year absence to direct Taking Flight, a feature film based on the life of Michaela DePrince, a war orphan from Sierra Leone who became a leading ballerina.
According to Deadline, Hollywood studio MGM has been developing the project since 2015 when it acquired the rights to DePrinces memoir, co-written with her adoptive mother, Elaine.
Michaelas journey resonated with me deeply as both an artist and an activist who understands adversity, Madonna said. We have a unique opportunity to shed light on Sierra Leone, and let Michaela be the voice for all the orphaned children she grew up beside. I am honoured to bring her story to life.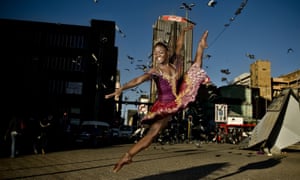 Read more: https://www.theguardian.com/film/2018/mar/14/madonna-to-direct-movie-based-on-life-of-ballerina-michaela-deprince
'Black Panther' Hits $1 Billion Mark In Worldwide Box Office Numbers
"Black Panther" has surpassed $1 billion at the worldwide box office, challenging industry norms about films with black casts.
The international success of "Black Panther" has challenged the myth that films with predominately black casts don't sell and it helps unravel "unwritten Hollywood rules," Jeff Bock, a senior analyst at entertainment research firm Exhibitor Relations, told The New York Times.
"I think about it like a wall crumbling," Bock said. "In terms of 'Black Panther,' no studio can say again, 'Oh, black movies don't travel, overseas interest will be minimal.'"
Stars of the film, including Chadwick Boseman, Lupita Nyong'o and Danai Gurira, have spoken out about the importance of representation in the movie. "Black Panther," which is set in the fictional country of Wakanda, shows the possibilities of an African society untouched by colonialism and gender inequity.
"I think there's a thirst for these images," Boseman told NBC. "There's a real thirst for black superheroes."
Marvel Studios President Kevin Feige confirmed this week that a "Black Panther" sequel is in the works. Feige told Entertainment Weekly that there was "nothing specific to reveal" about the next movie but added that "we absolutely will do that."
Read more: http://www.huffingtonpost.com/entry/black-panther-billion-dollars-top-domestic_us_5a9ef739e4b002df2c5e6fd7
Keegan-Michael Key's reaction to Jordan Peele's Oscar win will make you emotional
Find yourself a friend who loves you this much.
Jordan Peele had a historic moment last night when he won the Academy Award for Best Original Screenplay for his debut solo film, Get Out.
He became the first African-American screenwriter to win this category—and no one was prouder of him than his old Key and Peele partner, Keegan-Michael Key.
Key and Peele were the creators of the aptly titled sketch comedy series that ran on Comedy Central for five seasons, from 2012 to 2015.
Key was absolutely thrilled to see his "partner in laughs" snag his first Oscar.
Just look at that ecstatic jump!
Look how happy Keegan-Michael Key was when Jordan Peele won! #Oscars

(