Madonna to direct movie based on life of ballerina Michaela DePrince
MGM announces the singer will direct Taking Flight, the story of DePrinces journey from war orphan in Sierra Leone to world-class ballerina
Madonna is to return to the movies after a seven-year absence to direct Taking Flight, a feature film based on the life of Michaela DePrince, a war orphan from Sierra Leone who became a leading ballerina.
According to Deadline, Hollywood studio MGM has been developing the project since 2015 when it acquired the rights to DePrinces memoir, co-written with her adoptive mother, Elaine.
Michaelas journey resonated with me deeply as both an artist and an activist who understands adversity, Madonna said. We have a unique opportunity to shed light on Sierra Leone, and let Michaela be the voice for all the orphaned children she grew up beside. I am honoured to bring her story to life.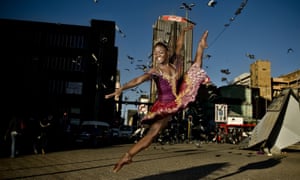 Read more: https://www.theguardian.com/film/2018/mar/14/madonna-to-direct-movie-based-on-life-of-ballerina-michaela-deprince
Saudi Arabia's first cinema in over 35 years opens with Black Panther
Private screening of blockbuster follows lifting of cinema ban in ongoing modernisation drive by reformist crown prince
"Saudi Arabia has unveiled its first cinema in over 35 years with a private screening of the blockbuster Black Panther.
The invitation-only gala event in a converted Riyadh concert hall on Wednesday was the first in a series of test screenings after a ban on cinemas was lifted last year. US giant AMC has been granted the first licence to operate movie theatres.
The AMC chief executive, Adam Aron, said ticket sales will start on Thursday for the first public shows on Friday, but local authorities indicated the test screenings could last for days. Officials earlier said movie theatres are expected to open to the public in May."
Read more: https://www.theguardian.com/world/2018/apr/20/saudi-arabias-first-cinema-in-over-35-years-opens-with-black-panther
People are already very excited about the third 'How to Train your Dragon' film
Hiccup and Toothless will be back in March 2019.
Image: paramount pictures
Let's face it, people love training adorable dragons.
Dreamworks announced the name of the third 'How to Train your Dragon' film on Tuesday.
The news brought all the How to Train your Dragon fans out to play.
Hot take: I love the How To Train Your Dragon movies.

— Paul Shirey (@arcticninjapaul) April 17, 2018
Five summer movies to get your adrenaline pumping
Chewie and Han speeding along to a theater near you.
Image: Jonathan Olley / Lucasfilm Ltd.
"Welcome to our 2018 summer movie preview. With so many films coming over the next few months, no one's got time to catch 'em all – so we're here to tell you about the ones you need to know. Today, a rundown of this season's biggest and baddest action adventures.
After a long, cold winter, warmer temperatures are finally here.
Which, naturally, means we're running off to seek refuge in our air-conditioned local cinema at the earliest opportunity.
There'll be no shortage of stuff to watch over the next few months. Whether you love laughing, swooning, crying, or screaming, Hollywood's gonna have you covered.
With that in mind, then, we think it just makes sense to hit the ground running. So today we're kicking off our summer movie preview series with a list of films to watch if you're ready for some action…
… with a side of cheeky comedy: Deadpool 2 (May 18)
Deadpool 2 is being directed by David Leitch of Atomic Blonde and John Wick fame, so you know you can expect some deadly action…"
Read more: https://mashable.com/2018/04/16/summer-movie-preview-2018-action/