Meet the 14-Year-Old Toast of Sundance
PARK CITY, UtahOn Thursday, 14-year-old high-school freshman Elsie Fisher was capping off a week and a half of marathon studying and finishing her last final. She had to take all her tests a little early because she would be skipping school Friday. She had somewhere to be. The teachers note, though, was an unusual one: Eighth Grade, the film she stars in almost every single frame of, was premiering that afternoon at the Sundance Film Festival.
Days later, when we sit downalong with Eighth Grade writer-director Bo Burnhamat a chalet-styled lounge off Main Street, the film is generating enough word-of-mouth heat to melt the foot of snow blanketing Park City. And at the tip of everyones tongue is the revelatory performance by its breakout teenage star.
She blushes a bit, shrinking in the bashful way kids do when they get compliments, when I suggest that, ever since the rapturously received premiere, all of Park City must want to just hug her. Its been crazy, she says, simultaneously giggling and talking at the same time, that reflexive thing we all do when were young yet somehow lose the ability to when we get older. I just saw Terry Crews! Like, what!? That was weird
Eighth Grade, in broad strokes, is a coming-of-age story set in the age of Snapchat. Gossiping goes down in Instagram DMs instead of behind school lockers. Idle time is spent staring at screens instead of loitering in strip-mall parking lots. But the angst of trying to figure out just who you are and how you might fit inin school, at home, and in an increasingly stressful worldis the same timeless torture.
Fisher plays Kayla, who is just trying to make it through eighth grade alive. If shes being ambitious, then maybe with a little dignityand, if were shooting for the stars, some friends?too.
Shes so real, and Fishers portrayal so authentic and unmannered, that your heart bleeds for her, your feet soaked in a pool of red by the films gut-wrenching finale.
At school, she was voted Quietest in the end-of-year eighth grade superlatives, a crushing blow to a 13-year-old who thinks her social capital might come from hosting a series of bubbly, earnest, affirmational YouTube videos. Example topics: How to Be Yourself, How to Put Yourself Out There, or How to Be Confident. Who, if anyone, watches these videos is unknown, but it couldnt be more clear that, subconsciously, Kayla isnt so much coaching whoever is on the other side of that camera as much as she is herself.
Kayla isnt bullied, per se, but she is lonely. She has the same interests as everyone else. She talks in the same stuttering machine-gun speech of likes and ums, with that teenage enthusiasm that the tongue sometimes struggles to catch up to. But shes not as thin, her skin not as clear, her confidence not as effortless.
Shes not some sad sack, or the sweetest girl in the world. Like any girl her age, shes moody and kind of snotty to her doting dad (Josh Hamilton). Shes so real, and Fishers portrayal so authentic and unmannered, that your heart bleeds for her, your feet soaked in a pool of red by the films gut-wrenching finale. Middle school is a hormonal whirlpool of Big Feelings, and, watching Eighth Grade, they all hit you like a tsunami all over again.
The film was responsible for Sundances first communal cry. At a festival in which the likes of Keira Knightley, Hilary Swank, Kathryn Hahn, and Maggie Gyllenhaal are delivering stellar leading turns, its Fishers performance that people cant stop talking about.
In extreme you-cant-script-it-better fashion, Fisher, whose biggest previous credit was voicing Agnes, the youngest daughter of Gru, in the Despicable Me movies, graduated eighth grade one week before the film started shooting. One week after production wrapped, she started high school.
The giggle comes back. It was weird filming the movie, and then, like no one cares, she says. Like, even friends, like, close friends I have and told, they were like, Thats cool! OK, back to Twitter.
Tell the best story ever, Burnham goads her, a devious, excited smile on his face.
At the suggestion of Burnham and the films crew, Fisher explains that she joined theater as her first high school elective. It was fun and cool or whatever, she says. Then auditions for the school play came around, and I didnt get a part.
There were like 90 parts, and she didnt get one! Burnham reiterates, had you not grasped the lunacy the first time of the actress who is the toast of Sundance not getting cast in her local Thousand Oaks, California, high school play. Throughout the audition, the teacher was going, like, Louder! Burnham continues, taking over the story from Fisher. She told me this story and I was like, Im really sorry for you, but this is perfect.
Burnham isnt exactly the person youd expect to craft such an affecting and astute portrait of a young girls middle school experience. The 27-year-old, hitherto best known for his stand-up comedy, has no kids of his own. And, like, you know, is a dude
He had been wanting to write something about the internet and the way it makes people feel, and he wanted to make it about young people because young people experience the internet purely. His stresses his anxieties are, at the end of the day, peripheral, because I have a job and I have taxes to pay, he says. But for a kid, its everything.
Over his career as a YouTuber and in preparation for this project, he watched hundreds of videos of kids online: In general, the boys tended to talk about XBox and the girls tended to talk about their souls.
The film pulls off a sort of magic trick of empathy. I wasnt like Kayla in middle school. You probably werent either. And, if you were, you certainly werent like Kayla in middle school at this time. Yet each successive frame executes an emotional sleight of hand, with intensifying heartbreaks replacing astonished gasps each time a cruelty Kayla weathers, a self-esteem setback she suffers, or a tiny act of social bravery backfires.
This is an awkward-stage pubescent girl for whom Instagram likes and YouTube subscribers are matters of life-and-death importance, all in the desperate pursuit of a satisfying social life. Yet she is so very, well… you.
I see myself in her personally now, Burnham says. And I hope other people do as well. For me, at the premiere I was in the green room on the verge of a panic attack, just like her in the bathroom about to go out to the pool party. Someone walking into a room, putting their hand up, and deciding to go do something I dont know, I connect to her as a person being brave and putting herself out there.
Fisher, with an adorable sigh of relief, reassures me that her eighth grade experience, though still fraught in its own right, was nothing like Kaylas.
Eighth grade was a year she says, laughing at her own melodrama. Its a weird one. Thats a given. Definitely not exactly like Kaylas. I think Kaylas experience is a reflective amalgamation of a lot of things. (Those SAT words!) My eighth grade wasnt the same. Id gotten better dealing with my own personal anxieties in seventh grade-ish, so I was more confident as a person, which is nice.
The more we talk, the more we try to home in on what it is about Kayla that makes audiences feel so much. And not just feel for her but also reflect on themselves.
I just think, for me, its like, theres obviously a very sexist narrative to art that the only stories about the human condition have to be about male comedians being sad in New York City, Burnham says. You know what I mean?
I think shes as valid a conduit for that as anybody, he continues. The real violence and fragility of the moment were in right now, and just the kind of landscape that weve built in the culture and the people who are out there, everyones nervous, everyones scared. Shes just a pure version of something. Not pure as uncomplicated, but distilled. She feels very intensely.
As someone who is 14 right now in that very world, how does Fisher handle all of this?
Right now Im just trying to survive, she says, myself and Burnham nodding in us-too agreement. Im really just trying to survive right now, and not die in high school. I think thats what everyone is doing. Its hard for me to pinpoint. Youre making me get all existentialist!
By the time this article is published, Fisher will already be back home and at school. She says shes unsure how she will explain the whirlwind of her Sundance experience to her friends and classmates.
If Im being honest. I havent even told any of my teachers or anything that this happened, she says. Most of the kids at my school know me as Agnes from Despicable Me. Theyre like, whatever, old news.
We have a feeling thats about to change.
Read more: https://www.thedailybeast.com/meet-the-14-year-old-toast-of-sundance
John Travolta keeps Brooklyn stayin' alive at event honoring actor
Hundreds of fans gathered outside pizzeria featured in Saturday Night Fever 41 years ago to catch glimpse of and dress like the actor
"Forty-one years after strutting down a Brooklyn street, merrily swinging a paint can to the sound of the Bee Gees Stayin Alive, an older, less lithe John Travolta returned on Tuesday, to be honored for his services to the now-trendy New York City borough.
Hundreds of people gathered outside Lennys Pizza in Bensonhurst, south Brooklyn, to glimpse Travolta, who brought the neighborhood to national and international consciousness in Saturday Night Fever.
The 1977 film saw his character Tony Manero disco dance, conduct troubling relationships with women and occasionally engage in punch-ups. In the opening scene, Travolta orders two slices of pizza at Lennys before combining them in a double decker-type situation. The pizzeria claims Saturday Night Fever fans regularly order the same.
This is a great day, New York state senator Martin Golden who represents the Bensonhurst neighborhood and has submitted a 1,070-word legislative resolution commending Travolta for putting Brooklyn both on the map and in Americas hearts told the crowd.
A great day for John Travolta, a great day for his family, and a great day for Brooklyn.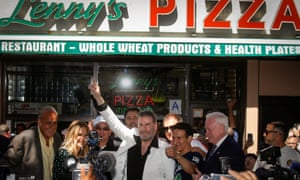 Watch these movies after you see 'Ocean's 8'
Image: mashable composite/universal/paramount
"After months of building anticipation, Ocean's 8finally hit theaters Friday. Yes, it featured the stunning, talented, female-led cast you've heard so much about. Glad you noticed.
But Ocean's 8 is more than the token "female remake" it has been boiled down to. Like many audience members this past weekend, I showed up for the all-star actresses, but stayed for the crime, glamor, comedy, celeb cameos, and general badassery.
So to get you through those days where you can't make it to the theater for a rewatch, here are fourteen films that show off groups of ladies getting together to kick ass — literally or metaphorically.
Chicago (2002)
Headed up by Catherine Zeta-Jones and Renee Zellweger, this jailhouse musical took home six Academy Awards, including Best Picture. It's tough to make Richard Gere look like a third wheel, but somehow the murderesses of Cook County Jail pull it off.
Where to watch: HBO
Thelma & Louise (1991)
This road trip classic follows two women as they attempt to outrun their darks pasts by any means necessary. While neither Susan Sarandon nor Geena Davis won Best Actress for their performances, the leads' double nomination cemented Thelma & Louise as a feminist classic.
Where to watch: Starz
Heathers (1988)
Plaid skirts, football players, and drain cleaner? Color me stoked. A dark high school comedy laced with visceral teen murders, this cult classic is the adolescent destruction fantasy you didn't know you needed. Starring Winona Ryder and the titular "Heathers."
Where to watch: Netflix
Mamma Mia! (2008)
Meryl Streep shines amongst a cast of notoriously fabulous character actors in this romantic comedy with a pop twist. The costumes, musical numbers, and female stars glisten in an ABBA-made universe. Stay tuned for the sequel hitting theaters July 20th.
Where to watch: Netflix
Beauty Shop (2005)
Nothing feels better than a comedy that celebrates inner and outer beauty equally. Queen Latifah and the rest of her salon crew (featuring Alicia Silverstone and Andie MacDowell among others) gave us one of the most styling girl-power movies to date in this Barbershop spin-off.
Where to watch: Vudu
First Wives Club (1996)
Goldie Hawn, Bette Midler, and Diane Keaton team up in this instant classic, reuniting as long lost friends and taking down the men who have wronged them – all while donning stunning coordinated power…."
Read more: https://mashable.com/2018/06/11/14-female-led-movies-oceans-8/
John Cusack likes what you have to say about 'Say Anything'
Image: Mills Entertainment
"If you liked Say Anything…, the 1989 coming-of-age film about a nervous-talking high school graduate winning over his crush in the summer before college, feel free to tell star John Cusack if you see him.
Cusack appreciates it when fans of the movie give him kudos for it, partly because they tend not to quote the film or, say, mime holding up an imaginary boombox in some sad attempt to replicate the movie's most memorable scene. They mostly just say how much they liked it.
"They seem to be very warm about it, that it means something to them, so that's nice," Cusack told Mashable in a phone interview to promote his upcoming Q&A about Say Anything… at the New Jersey Performing Arts Center. "For some movies, they'll have a line that they'll repeat to you a lot of times, but that one is more just a vibe. People seem to really still dig it."
That's kind of an understatement. Say Anything… didn't set box office records, but to many Gen Xers like myself, the movie perfectly captured the ennui that often follows high school graduation. And Cusack hit the bull's-eye in his portrayal of the quirky Lloyd Dobler, simultaneously giving him a coolness and vulnerability that appealed to both male and female audiences alike.
Cusack already had movies like Better Off Dead…, Sixteen Candles, and Eight Men Out under his belt when he made Say Anything…, but the film…"
Read more: https://mashable.com/2018/06/04/john-cusack-say-anything/