Mission: Impossible Fallout Is the Most Spectacular Action Film in Years
"Tom Cruise takes the title of his Mission: Impossible franchise as a literal challenge. With each successive installment, Cruise attempts to demonstrate that no classic set piece cant be topped and that, no matter his advancing age (56), he can keep ignoring (if not outright fighting) Father Time to pull off ever-greater acts of stuntman insanity, at crazy risk to his personal safety. Thats never more true than with Fallout, his sixth outing as covert agent Ethan Hunt, which reconfirms that his inspired-by-TV endeavor is still the greatest blockbuster saga around, and that hes Hollywoods premiere action-adventure Peter Pan, an actor whoregardless of his spottier track record as of lateis right at home in this world of spies, masks and self-destructing messages. Determined to perpetually raise the bar for both the series and himself, Cruise again proves, with his latest, that both of those seemingly impossible feats is possible.
Fallout is the best action film since Mad Max: Fury Road, and its unique in the big-screen history of Mission: Impossible, in that its the first episode to be helmed by a return directorChristopher McQuarrie, who spearheaded 2015s stellar Rogue Nation. For an undertaking once defined by its shifting personalitythanks to each entry being a stand-alone effort from a distinctive auteur (Brian De Palma, John Woo, J.J. Abrams, Brad Bird)the decision to reenlist McQuarrie signifies that Cruise has settled on a signature voice for his series. Not only does McQuarrie deliver the same style of grand, vigorous mayhem that he did before, but working as sole screenwriter, he also turns Fallout into a legitimate sequel to its immediate predecessor, continuing the story he began three years agowhile additionally, in one key respect, referencing Abrams Mission: Impossible III.
The decision to go back to McQuarrie does negate the thrill of discovering a new aesthetic and tone, which up until now has been a Mission: Impossible hallmark. Nonetheless, whats gained is far greatera refinement of McQuarries superb action form. Fallout features more astounding set pieces than can be found in the rest of 2018s summer crop combined, all of which escalate with such mounting electricity that its hard to catch ones breath. The directors stunning widescreen visuals (even more impressive in IMAX, whose outsized format is repeatedly exploited) enhance the magnificence of his scripting and staging, in which initially straightforward scenarios become complicated by a raft of unforeseen events, until the tension is almost too much to bear. In terms of providing a pure adrenalized rush, almost no contemporaries are in its league.
That Cruises Hunt routinely responds to surprising situations with Ill figure it out only amplifies the anxious anticipation of……."
Read more: https://www.thedailybeast.com/mission-impossible-fallout-is-the-most-spectacular-action-film-in-years
Amazing Grace review – Soul-shaking gospel from Aretha Franklin
A spellbinding performance by the singer is captured in Sydney Pollacks 1972 film
"The 1970s may have been the heyday of the rock concert film, but the genre was frequently marred by questionable performances and legal squabbles. Whether its Led Zeppelin going off the boil in the wrangle-ridden The Song Remains the Same or the Rolling Stones finding themselves stars of an unfolding horror movie in the Maysless Gimme Shelter, these movies are fraught with strife. Its significant that the most celebrated concert film of all, Martin Scorseses The Last Waltz, captured the Band as they were splitting up, cementing the genres long-standing funereal affiliations and serving as inspiration for Rob Reiners nail-in-the-coffin mockumentary This Is Spinal Tap.
The story of Amazing Grace, centring on Aretha Franklins two-night performance in 1972 which led to the biggest selling live gospel album of all time, is no less troubled. Apparently inspired by the financial success of Mike Wadleighs festival behemoth Woodstock, and with an eye on increasingly synergistic film/music/TV markets, Warners enlisted Oscar winner Sydney Pollack to direct multi-camera 16mm footage of the 29-year-old Franklin recording her next album at the New Temple Missionary Baptist church in Los Angeles.
Unfortunately, with his background in drama rather than music docs, Pollack failed to use clapperboards or markers, making it virtually impossible to synch the resulting picture with the recorded sound. Not even lip readers, who were reportedly enlisted to sift through hours of silent film, could solve the problem.
Instead, the footage languished in…………………………………………………………"
Read more: https://www.theguardian.com/film/2019/may/12/amazing-grace-film-review-aretha-franklin-sydney-pollack
High Life Robert Pattinson Movie Review
An astronaut on an odyssey to a distant black hole faces the challenges of parenting and existential panic in Claire Denis mysterious drama
"Claire Deniss deep-space trauma High Life is an Old Testament parable catapulted forward into the 23rd century, a primal scene in a pressurised cabin of sci-fi pessimism, suppressed horror and denied panic. As if in a recurring dream, Denis brings us repeatedly to the image of a cream-panelled spaceship corridor that curves sharply around to the right; the area is at first pristine and then, as the years go by, shabby and derelict, stained with what may be body fluids. And what is around that corner?
This is a bizarre new creationist myth for those of us who ever wondered in childhood, and then forgot to wonder, about the taboo-breaking involved in propagating a race from just two people in the Garden of Eden, or two species representatives in the ark. It is also a tale of imperial expansion and sexual beings under pressure, just as in earlier Denis movies such as Beau Travail (1999) or White Material (2009); this is written by Denis with Jean-Pol Fargeau, Geoff Cox and Nick Laird, shot with luminous mystery by cinematographer Yorick Le Saux, with an eerie musical score by Stuart Staples of the band Tindersticks.
At its centre is Monte, played by Robert Pattinson, who is evidently all alone on a spaceship that exterior shots reveal to be shaped entirely without the elegant streamlined curves of a craft designed for purposeful travel. It is huge and rectangular, suspended in space like a clunking great container unit full of rubbish. Actually, Monte isnt entirely alone. He has a tiny infant with him called Willow, whom he tends to and talks to conscientiously but unsmilingly.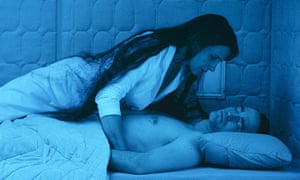 Read more: https://www.theguardian.com/film/2019/may/08/high-life-review-robert-pattinson-claire-denis-juliette-binoche
Netflix's 'Someone Great' is a coming-of-age rom-com for twenty-somethings
"When Rolling Stone calls, aspiring music journalist Jenny (Gina Rodriguez) knows you have to answer even if it means moving across the country to San Francisco and jeopardizing her relationship with Nate (Lakeith Stanfield), her boyfriend of nine years.
In Netflix original Someone Great, Jenny is left heartbroken when Nate decides they should end the relationship. In hopes of leaving New York City with better final memories, Jenny gets together with her two best friends Erin (DeWanda Wise) and Blair (Brittany Snow)to have one last hurrah at the exclusive Neon Classic concert.
Someone Great
RELEASE DATE:
4/19/2019
DIRECTOR:
Jennifer Kaytin Robinson
STREAMING:
Netflix
The coming-of-age film explores turning 30 and saying goodbye to people and places that no longer belong in your life.
Someone Great tells a tale about life transitions and the growing pains that come with getting older. Its a coming-of-age story for twenty-somethings; its about turning 30, transitioning out of your twenties, and saying goodbye to people and places that no longer belong in your life. Someone Great is heart-wrenching because its relatable and challenges viewers with the concept that sometimes the best decision for yourself is the hardest one to make………………………………………………………….."
Read more: https://www.dailydot.com/upstream/someone-great-netflix-review/