Morena Baccarin's Freedom From Ex Husband Austin Chick Cost Her $406K & A House!
Morena Baccarin's ex husband Austin Chick cleaned up nicely in their divorce.
It appears the Deadpool actress' singledom didn't come without strings attached, as it's said her former flame has walked away with quite a bit of money AND a house. Man, oh man.
Related: Bethenny Frankel Comments On Luann's Legal Drama
According to TMZ, Morena has allowed the filmmaker to keep their NYC residence. (Although, don't be too concerned for Baccarin, especially since she's kept the homes in Brazil and El Lay.) The 38-year-old also promised to cut the 46-year-old director a BIG check, due to the fact that she made significantly more than him during their marriage.
Reportedly, Morena makes around $90,000 a month and Austin only pulls in about $1,375 per month. The brunette stunner's massive income is all thanks to projects like Homeland, Deadpool, and her stint on Gotham – plus their residuals. Since this cash was fair game during divorce proceedings, the twosome agreed that SOME of the residuals will be split.
Not to mention, once everything is truly settled, Morena is slated to write Austin a check for $406,0000. Now THAT's a divorce settlement. Damn.
As for custody of their 4-year-old Julius, Baccarin and Chick have settled that the youngster will live with his mother in NYC. Originally Austin tried to block the Big Apple move, but now that he has a house there, he's become more accommodating. The co-parents' settlement also stated that they promise to not bad mouth the other in front of Julius.
Previous reports also claimed that Ben McKenzie's bride had been paying her first baby daddy $3,500 a month in child support AND an additional $5,000 a month in spousal support for a year. We don't know if this financial agreement is in addition to the one stated (above).
Regardless, Austin is walking away from this a pretty wealthy man. At least, Morena got to keep the 2001 Lexus…
[Image via Hudson/WENN.]
Read more: http://perezhilton.com/2018-01-10-morena-baccarin-austin-chick-divorce-settlement-details-custody-property-money-report
Amy Schumer Marries Boyfriend Chris Fischer After A Few Months Of Dating
Amy Schumer married chef Chris Fischer in a secret ceremony on Tuesday after just a few months of dating, People and Us Weekly reported.
The two were married at a house in Malibu, California, in front of 80 friends, including stars Larry David, Jennifer Aniston, Jennifer Lawrence, David Spade and Jake Gyllenhaal, according to the reports.
Schumer, 36, and her chef boyfriend made their relationship public (as in Instagram-official) this week after attending Ellen DeGeneres' star-studded birthday party. The two reportedly started dating around November after they were spotted having an intimate dinner in New York City.
They later attended a taping of "Saturday Night Live" together, though Schumer's rep wouldn't comment on the relationship.
Fisher once worked at Mario Batali's New York City restaurant, Babbo, after being introduced by his friend, Jake Gyllenhaal.
The chef later returned to Martha's Vineyard, Massachusetts, where he grew up, to work at the Beach Plum Inn (a favorite of the Obamas) and The Covington Restaurant.
Fisher  who penned the James Beard Award-winning cookbook, Beetlebung Farm Cookbook  recently opened Beetlebung Farm Market on Martha's Vineyard, and plans to turn part of it into a restaurant.
"After years of working for other people, my intuition is, 'I'm doing this on my own terms,'" Fisher told Boston magazine in July. "You can create a destination restaurant anywhere."
Prior to meeting Fischer, Schumer dated furniture designer Ben Hanisch. The two met on a dating app in 2015 and were together for a little over a year.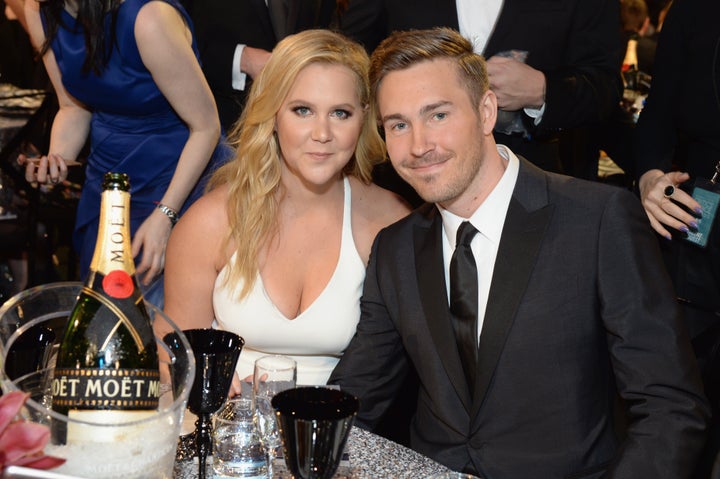 "I feel like Ben is the first guy who's really been my boyfriend," the "I Feel Pretty" actress and author told Marie Claire in July 2016. "There are guys who, if they heard me say that, would want to punch me in the face, but yeah, it's the truth."
A rep for Schumer confirmed that she and Hanisch split in 2017, but said the two remained friends. It certainly seems like things are amicable, as the comedian thanked her ex for some furniture he'd built for her in September.
Read more: http://www.huffingtonpost.com/entry/amy-schumer-marries-boyfriend-chris-fischer-after-a-few-months-of-dating_us_5a85a801e4b0774f31d2fe8d
Idris Elba Proposes To Girlfriend Sabrina Dhowre In Front Of Cheering Crowd
Video shows the "Luther" star getting down on one knee and proposed to girlfriend Sabrina Dhowre during a screening of "Yardie" — the first film Elba has directed — in Dalston, London.
Neither Elba nor Dhowre have publicly confirmed the engagement, and reps for Elba didn't immediately reply to a request for comment. But screening attendee David Marsden-Sainou posted a clip of the sweet moment on Twitter Saturday.
Rio Cinema, where the screening took place, also posted about the proposal.
"Still 5 days to Valentines Day but @idriselba went down on one knee and proposed to his girlfriend live on stage this morning," read a tweet from the theater.
The British actor met Dhowre in Canada while he was filming 2017′s "The Mountain Between Us."
Read more: http://www.huffingtonpost.com/entry/idris-elba-engaged-sabrina-dhowre_us_5a7f1a16e4b08dfc9304909a
Kim Cattrall Accuses Sarah Jessica Parker Of Exploiting Brother's Death
"Dearest Kim, my love and condolences to you and yours and Godspeed to your beloved brother. Xx," Parker wrote.
But Cattrall made it clear she had no time for any kind words from her former "Sex and the City" costar.
"Your continuous reaching out is a painful reminder of how cruel you really were then and now," Cattrall wrote. "Let me make this VERY clear. (If I haven't already) You are not my family. You are not my friend. So I'm writing to tell you one last time to stop exploiting our tragedy in order to restore your 'nice girl' persona."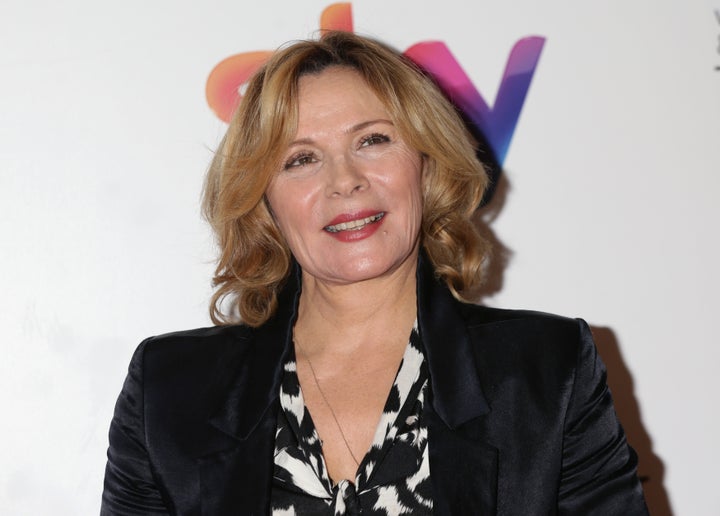 Representatives for Parker didn't immediately respond to a request for comment on Cattrall's Instagram post. But Parker has said previously that she found Cattrall's comments "upsetting."
Read more: http://www.huffingtonpost.com/entry/kim-cattrall-sarah-jessica-parker-brother-death_us_5a7f103ae4b0c6726e13d2c7