(CNN) "Bruce Lee was training a friend one day when he did something unexpected.
But Lee ended the training session at his home on this particular day with a different type of flourish. He lit a joint and started puffing away. It came from a box of marijuana cigarettes he kept in his garage. Lee would later move on to hashish, carrying it around in little bags and nibbling on it like edibles.
"It raises the consciousness level," Lee explained when another martial artist asked him why he got high.
That's not the type of story one typically hears about Lee. Since he died at age 32, his legend has grown to such mythological levels that one martial artist calls him "kung fu Jesus." A new biography, though, debunks some of the most popular myths about the man.
"Bruce Lee: A Life" by Matthew Polly is the first in-depth account of Lee's journey from a street-brawling teenager to a global icon. The book, which comes on the 45th anniversary of Lee's death, features interviews from everyone from his childhood classmates to friends who saw him smoke up to the woman who last saw him alive. Lee's charisma, ambition and relentless appetite for combat leap off the pages. You can practically hear his catlike shrieks in some of the most vivid sections.
If you think you know Lee, this book may shock you.
Among its surprises:
– Lee was a "kinetic genius" who could quickly master any martial arts fighting style. But he never learned to ride a bike and was declared medically unfit for the draft after failing his physical.
– He has been portrayed as an impoverished immigrant who came to America to make it big, but he actually grew up in an affluent Hong Kong family with its own chauffer and two live-in maids.
– He is seen as a Chinese superhero with a statue in Hong Kong, but he was also part Jewish.
Polly, who interviewed at least 100 of Lee's friends and family members, says people often forget that Lee was virtually unknown in the United States when he died. His breakthrough movie, "Enter the Dragon," was released less than a month after his mysterious death in Hong Kong in July 1973.
Lee is the only major Western icon whose fame is entirely posthumous, says Polly, who, as a skinny, bullied kid, was inspired by Lee's films to later move to China and study kung fu at a Shaolin temple.
Lee wasn't just an entertainer; he was an evangelist. Millions took up martial arts because of him, Polly says.
"No other celebrity changed people's lives in that way," Polly says. "Nobody watched a Steve McQueen movie and took up something. People study martial arts because of Lee, and it changed their lives for the better. Bruce Lee has a place in a lot of fans' hearts as a demigod, or what I call a patron saint of kung fu. He had a missionary effect. "
He never apologized for being Asian
He also changed the way many Westerners regarded Asians, Polly's book shows.
Lee was the "the first Asian American actor to embody the classic Hollywood definition of a star," Polly wrote. "Men wanted to be him and women wanted to be with him."
Lee's pride in his heritage was contagious.
"More than anything else, what I liked most about Bruce was that he never apologized for being Oriental," says one of Lee's college girlfriends, a Japanese-American, in the book. "In a time when so many Asians were trying to convince themselves they were white, Bruce was so proud to be Chinese he was busting with it."
Asian men were not traditionally depicted as sexual beings in Western films. Even Lee had only one brief love scene in the three movies he made. Away from the screen, though, Lee was a ladies' man.
Lee was married with two kids but was caught up in the "Swinging Sixties free love ethos" and had extramarital affairs, Polly writes. There's one passage in the book where a former mistress of Lee's raves about how "knowledgeable" he was about a woman's body.
The book also offers a peek into the Hollywood culture of the late 1960s and early '70s, with intimate accounts of Lee's friendships with stars like McQueen and James Coburn and the writer Stirling Silliphant. There's a wonderful scene where Lee uses a martial arts lesson with Silliphant to unlock the writer's repressed feelings about his father.
It turns out Lee was a bit of a hippie, too. At one time, he wore his hair long, sported love beads and donned dashikis. And he got high, which surprised some of the martial artists who trained with him. One judo expert quoted in the book stopped training with Lee at his home because he was sick of all the pot smoke swirling around.
Polly says he wasn't trying to be salacious. He wanted to show another side of Lee beyond the "patron saint of kung fu" image. He interviewed Lee's widow and daughter for the book but hasn't heard from them since it published last month. Neither responded to CNN's request for comment.
"I hope one day that they will see it as it is," Polly says. "It was written from a place of love."
Davis Miller, author of "The Tao of Bruce Lee," says "fan-boys" won't love Polly's book.
"Those guys need to believe in kung fu Jesus," says Miller, whom Polly consulted for his bio. "And they're not getting that. They're getting a guy who is human."
Taking out Sammy Davis Jr.'s bodyguard
Lee, indeed, seemed superhuman in his film's fight scenes. But how good was he when the cameras weren't rolling? People still debate that question.
'A Star is Born,' 'First Man' And 'Widows' Are This Year's Early Oscar Front-Runners
The Coen Brothers Films Ranked!
"With the 20th anniversary re-release of The Big Lebowski, we rank the duos films (directing only), from their 1984 debut Blood Simple to this years The Ballad of Buster Spruggs
What on earth was this about? A remake of the Ealing crime-caper classic (with Tom Hanks in Alec Guinnesss crackpot mastermind role) at least proves, if proof were needed, that the Coens have excellent cinephile taste. But this was pointless and baffling. A case of No Coen Do.
What a dogs brunch of a film: a strained and unfunny black comic gang-show of big names, with one or two good gags and an admittedly intriguing turn from Brad Pitt as a dopey fitness freak.
16. The Hudsucker Proxy (1994)
This period Capraesque comedy about an ordinary guy a rather uncharismatic Tim Robbins who is elevated to corporate greatness as part of a share-price scam is an example of how the Coens comedy can sometimes lack focus: too quirky and spongy.
The Coens love of Preston Sturges resurfaced in this film that whimsically takes upon itself the title of the desperately serious social-realist movie being planned in Sturges 1941 Sullivans Travels. It is an appealing, likable film about three runaway chaingang convicts in depression America who pass themselves off as a bluegrass trio, their record somehow becoming a hit. Silly, amiable stuff that has faded with time.
More golden age Hollywood nostalgia with this cantering comedy about tinseltown: the boozers, the fixers, the divas, the hoofers, the scribblers. It features George Clooney as a none-too-bright ageing star in a cheesy toga-wearing Roman epic. The movie reminded the world what a great dancer Channing Tatum is.
Unprecedented commercial success was what the Coens found with this handsome remake of the 1969 John Wayne classic; or rather a new adaptation of the original novel by Charles Portis. Jeff Bridges was probably the only possible casting as the no-account Rooster Cogburn, with Hailee Steinfeld as his employer, the 14-year-old Mattie Ross. It is a good-natured, well-made movie, but perhaps without the strong taste of the original, or the Coens other films.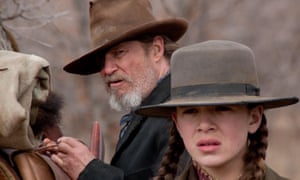 Burt Reynolds: the Easygoing Cannonball of Old-School Hollywood Manliness | Peter Bradshaw
In his heyday in movies like Smokey and the Bandit, Reynolds became a hugely popular star who embodied the twinkly-eyed mans man with a touch of the rebel
"At his peak, Burt Reynolds had the kind of face, the kind of body, the kind of masculinity and appeared in the kind of movie that hasnt been fashionable in Hollywood for decades. From 1978 to 1982, Burt Reynolds in all his easygoing ruggedness was the undisputed king: the industrys top grossing star every year in that time for increasingly unfashionable but lucrative pictures. It was a short but legendary reign, after which his awful career moves, calamitous personal investments and matrimonial woes put his star into the descendant. But, like Travolta, he enjoyed a hip and postmodern comeback in the 1990s as the porn movie mogul in Paul Thomas Andersons Boogie Nights (1997), a role with a streak of darkness which reconnected to him to the disturbing John Boorman picture that made his name in 1972, Deliverance, the story of four white salarymen who go on a trip to the Georgia wilderness, unwisely patronise the locals and encounter a situation which unlocks ruthless violence in Reynoldss character.
But Deliverance however sensational it was was a slightly atypical role for Reynolds. In his glorious, sunlit heyday, Burt Reynolds was an easygoing figure. He had a wide, handsome and very intelligent face: sometimes accessorised with a big moustache, he appeared in an outdoors-guy leather, denim, sometimes in lawmans uniform or sports kit the kind of rangy look that was later co-opted by the gay community. Reynolds had a fine singing voice and appeared opposite Dolly Parton in the musical The Best Little Whorehouse In Texas, and in 1973 released a country album called Ask Me What I Am………………….."
Read more: https://www.theguardian.com/film/2018/sep/07/burt-reynolds-the-easygoing-cannonball-of-old-school-hollywood-manliness