Nicolas Cage as The Joker could be a masterstroke or a major mistake
The very good, or very bad actor, depending on your tastes, has said that he would like to play Batmans nemesis. Will the studios take the bait?
If there were ever a Marmite actor, dividing opinion equally between those who believe he is a maverick genius and those who see him as a giant ham, it is Nicolas Cage. When the part is right, as it was for Cages Oscar-winning role as a suicidal alcoholic in Mike Figgiss Leaving Las Vegas, or as an unhinged cop in Werner Herzogs mesmeric Bad Lieutenant: Port of Call New Orleans, he is one of the most watchable actors on the planet. When Cage goes too far out on a limb one need hardly mention his infamous The bees! scene in Neil LaButes horrendous 2006 remake of The Wicker Man it can feel as if he is not only appearing in a completely different movie from those around him, but perhaps inhabiting a parallel acting reality.
At least Cage tries things his decision to channel Adam West as vigilante Big Daddy in the comic book flick Kick-Ass was inspired, and helped mark that movie out from the crowd. The problem is thatthe things Cage tries are as likely to go wrong as right, and once they have done so there seems to be no off switch. That should perhaps lead us to view with caution the actors suggestion this week that he might make a decent Joker in an upcoming Batman movie.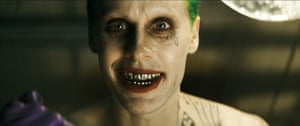 Read more: https://www.theguardian.com/film/2018/apr/11/nicolas-cage-joker-batman-gotham
Aquaman Trailer – Jason Momoa
Synopsis: Arthur Curry learns that he is the heir to the underwater kingdom of Atlantis, and must step forward to lead his people and to be a hero to the world.
Starring: Jason Momoa, Amber Heard, Nicole Kidman Directed By: James Wan
US Release Date: December 21, 2018
'Titans' trailer is here to kick off DC Universe
Our first look at the live-action Titans TV series is here, and it looks like dark times are ahead for our heroes.
Based on the DC comics, the show stars Brenton Thwaites as Dick Grayson, Anna Diop as Starfire, Teagan Croft as Raven, and Ryan Potter as Beast Boy.
Titans will be the first show to premiere exclusively on DC Universe, the new streaming service that'll bring together all your favorite DC comics(!), films, and shows.
But it won't be the last. Titans will be followed by other DC Universe series including Doom Patrol and Swamp Thing. Because you didn't have enough superhero shows to keep up with already.
Read more: https://mashable.com/2018/07/19/titans-dc-universe-trailer/
Aquaman looks like a true fish lord in first movie poster
Image: warner bros.
If anyone was worried that the upcoming Aquaman movie wouldn't have a bunch of scary fish in it, worry no longer.
The very first Aquaman poster was revealed Monday and really puts the "aqua" in Aquaman, featuring Jason Momoa as Aquaman with his signature trident surrounded by a whole bunch of scary, deadly fish (and a few mammals and reptiles too).
The poster, of course, features an underwater scene and appears to give us a glimpse at the kingdom of Atlantis, which Aquaman is the rightful king of. Aside from that, this first poster doesn't really give us any clues we didn't already know or expect about the movie.
What is he doing with all those fish? How does his hair stay like that underwater? Why is there a bright light above Aquaman's head? Hopefully we find out soon.
The tweet that accompanied the poster teases a trailer, which will be dropping to the public on Saturday after it airs exclusively at Comic-Con this week.
Before the poster was revealed, Aquaman director James Wan gave fans a little teaser of the upcoming trailer, showing a frame with what appears to be Aquaman commanding a whale.