Nicolas Cage as The Joker could be a masterstroke or a major mistake
The very good, or very bad actor, depending on your tastes, has said that he would like to play Batmans nemesis. Will the studios take the bait?
If there were ever a Marmite actor, dividing opinion equally between those who believe he is a maverick genius and those who see him as a giant ham, it is Nicolas Cage. When the part is right, as it was for Cages Oscar-winning role as a suicidal alcoholic in Mike Figgiss Leaving Las Vegas, or as an unhinged cop in Werner Herzogs mesmeric Bad Lieutenant: Port of Call New Orleans, he is one of the most watchable actors on the planet. When Cage goes too far out on a limb one need hardly mention his infamous The bees! scene in Neil LaButes horrendous 2006 remake of The Wicker Man it can feel as if he is not only appearing in a completely different movie from those around him, but perhaps inhabiting a parallel acting reality.
At least Cage tries things his decision to channel Adam West as vigilante Big Daddy in the comic book flick Kick-Ass was inspired, and helped mark that movie out from the crowd. The problem is thatthe things Cage tries are as likely to go wrong as right, and once they have done so there seems to be no off switch. That should perhaps lead us to view with caution the actors suggestion this week that he might make a decent Joker in an upcoming Batman movie.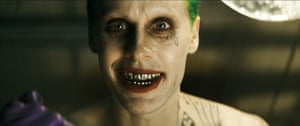 Read more: https://www.theguardian.com/film/2018/apr/11/nicolas-cage-joker-batman-gotham
So many people get hurt in the bloody 'Punisher' Season 2 Trailer
"Frank Castle is back for another round of morally gray murder in Season 2 of Netflix's The Punisher, and based on the above trailer, not much has changed.
Castle, played by Jon Bernthal, is loaded up with a whole bunch of guns and guilt in the trailer as he goes after a gang of masked villains the only way he knows how: bullets and a low, gruff voice.
"I'm not the one who dies, kid," he grumbles, "I'm the one who does the killing." It's reminiscent of Arnold Schwarzenegger's greatest '80s action movies.
The Punisher Season 2 bursts onto Netflix on Jan. 18."
Read more: https://mashable.com/video/the-punisher-season-2-trailer/
Electrifying 'Captain Marvel' Final Trailer
Captain Marvel, the first female-led MCU film, is edging ever closer to release.
A new trailer for the film dropped during the college football National Championship game on Monday, revealing a little more on what we can expect from Brie Larson's Carol Danvers.
There's a glimpse and an explanation of who the shapeshifting Skrull are, plenty of power punches and photon blasts to boot, plus an amusing ribbing of the S.H.I.E.L.D. logo with Nick Fury, played by Samuel L. Jackson.
It's the film's third trailer, following on from the electrifying first and second trailers released in the last few months.
Captain Marvel is out in theaters Mar. 8, 2019.
Read more: https://mashable.com/video/captain-marvel-new-trailer/
The Punisher Season 2 Trailer
Jon Bernthal is back as The Punisher, Season 2 airs on Netflix on January 18, 2019