Only the Brave review Jeff Bridges firefighter drama only just heats up
The tragic true story of the Granite Mountain Hotshots gets a starry and often powerful treatment but suffers from flashes of overly sentimental cliche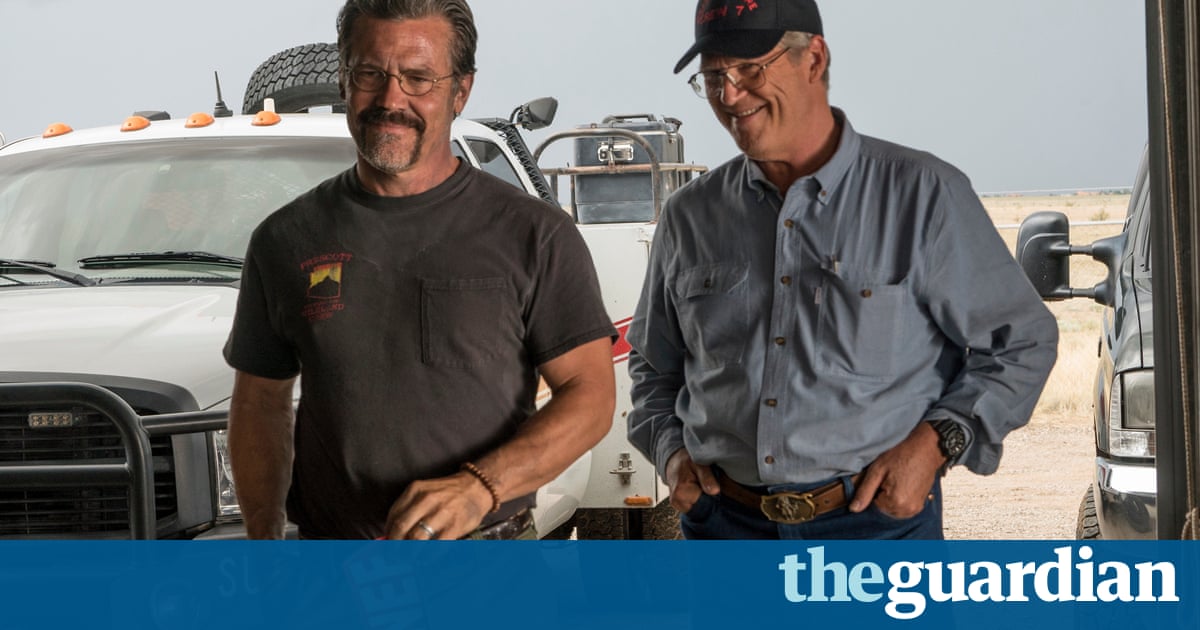 Only the Brave is the latest from Joseph Kosinski, the architect turned director behind such emotionally closed yet visually stunning films as Tron: Legacy and Oblivion. Its about firefighters in the American south-west, and this may lead you to think this will be a movie with flat characters but loads of thrilling special effects. Its actually a bit of the reverse.
This isnt to imply the sequences of mighty conflagrations arent heart-pounding, its just that there are fewer than you might expect. Furthermore, the hangin out sequences with the Granite Mountain Hotshots dont exactly feel cut from a Richard Linklater film, but its in a similar ballpark. This unpredictable quality to Only the Brave ends up being its greatest strength.
A point of comparison would be the 1970 film Airport, which, thanks to its many sequels, suggest wall-to-wall disaster tension to those who havent seen it. Its really more of a procedural film Whats it like to work at an airport? with political dealings, romantic woes, a comic side plot and finally some explosives thrown in at the end. Only the Brave follows the same pattern (Whats it like to be an elite wildfire squad?) and only if you know that its based on a true story do you realise it isnt going to end so well.
Much of the movie is as blunt as the title suggests, and Kosinski leans into it in the third act. But when youve got as keen an eye as he does, plus a cache of tough guy performers facing impossible odds, it is extremely effective. Jeff Bridges plays an Arizona emergency services supervisor (exact position is a little vague) and godfather figure to Eric Marsh (Josh Brolin) and his guardians of the range, the Granite Mountain Hotshots. Theres a moment in this film in which Bridges cracks under duress for just an instant and emits a groan that is so heartbreaking, so true and yet so underrepresented in movies that it all but washes away much of the boilerplate machismo of the films first half.
Hotshot isnt just a nickname, its a term to describe a type of wildfire suppression expert. Theyre the marines, basically. The regular army are Type 2s, or Deucers, and when we first meet Brolin and his gang theyve been stuck as Deucers for too long. For they are the best! And everyone knows it! But politics and regulations and, I dunno, taxes get in the way. Its a little bit fascinating to watch the machinations of how they step up to hotshots, but also a little bit ridiculous. Theres an awful lot of alpha male posturing, to the point that Marshs wife, horse trainer Amanda (Jennifer Connelly), accuses him of doing a John Wayne thing when he stares off into the distance instead of enjoying some time in the tub.
The rise of the Hotshots mirrors the redemption of Brendan McDonough AKA Donut (Miles Teller), a local drug abuser who gets his girlfriend pregnant and decides hes got to change his life. Marsh gives him a chance, which means hazing from his new comrades plus a lot of pushups and personal responsibility. As Donut intermingles with the others theres plenty of locker room talk and general dick-swinging, which one can either interpret as accuracy in film-making or perpetuating a culture that encourages patriarchal thinking. Either way, prepare yourself for plenty of scenes cut to the music of AC/DC.
Remarkably, though, the film does transition to a deeper understanding. I wont go so far as to say youll fall in love with these characters other than Brolin and Teller I couldnt tell any of them apart but there is a sincere effort to get beneath the facade of what an extremely fit twentysomething firefighters life is like. Theres even a possibility that the films first act is intentionally distancing so that the later scenes will have a bigger payoff.
The firefighting sequences evoke classic war films, as do the moments when the team returns home from the line. Marsh and Amanda have a blow-out that you can see coming from the first scene, but the specifics of it are detailed enough that you cant just shrug it off. It is undeniably corny to see Josh Brolin gaze out at a cloud of smoke and mumble what are you up to? and his big speech to new recruits that all this is fuel is a bit much, too. But when the speeches end and the non-verbal acting begins, Only The Brave leaves a mark.
Only the Brave is released in US cinemas on 20 October and in the UK on 10 November
Read more: https://www.theguardian.com/film/2017/oct/11/only-the-brave-review-jeff-bridges-josh-brolin
'Incredibles' is back after 14 years, and it hasn't missed a step
Elastigirl is the badass star of Incredibles 2.
Image: Disney / Pixar
"In the 14 years since The Incredibles came out, superhero movies have exploded. Circa 2004, we got maybe two a year; in 2018, Incredibles 2 is the third such film within the past two months.
In that context, it's easy to imagine Incredibles 2 getting swallowed up by the wave, buried under the meta jokes of Deadpool and the ambitious world-building of Marvel. Instead, however, Incredibles 2 rises above it. Here's how.
The action is, well, incredible
Incredibles 2 opens with a city-destroying battle of good versus evil that's become a staple of the genre. But Pixar pulls it off with such style and finesse that it retroactively makes the competition look sloppy.
The choreography is sharp and dynamic, playing with each character's specific strengths and weaknesses. Elastigirl's bendiness contrasts and complements Mr. Incredible's brute force, while Dash's super-speed combines nicely with Violet's force fields.
Meanwhile, the camerawork and dialogue keep our focus on the characters, not just the spectacle. It serves as quick reintroduction to the leads, their personalities, and their relationships, in case your memory's grown fuzzy after a decade and a half, and underlines why this particular fight is important to them.
It's like the best of the Avenger-on-Avenger bits from Captain America: Civil War or Avengers: Infinity War – only better, because…."
Read more: https://mashable.com/2018/06/11/incredibles-2-movie-review/
'Ocean's 8' is a fizzy good time, and not much more
Round up the gang this one's a good group hang.
Image: Warner Bros.
"Ocean's 8 is the LaCroix of movies: It's sparkly, it's fizzy, it goes down easy, and there's not really any there there.
It's not totally dumb, but nor is it particularly clever. It's nice enough to look at, thanks to all its glamorous stars and their glitzy costumes, but not especially stylish.
But just as flavored water can really hit the spot on a hot summer day, so can Ocean's 8. It's fun enough to serve as an excuse to chill with some friends, or while away an afternoon in movie theater air-conditioning.
And for all its shortcomings, it does deliver in some key areas. Here are five reasons to check it out.
5. The girl-power message, I guess
The basic premise of Ocean's 8 is that it's Ocean's 11, only with eight women instead of eleven men, and with the Met Gala instead of Las Vegas. In this era of shared universes, of course there's a narrative link to the earlier films – the ringleader in 8 is Sandra Bullock's Debbie Ocean, sister of George Clooney's character from the Steven Soderbergh movies.
The act of recasting what was once a "male" property with female leads still feels like a statement in this day and age – even if it all it's saying are "women are people, too." Ocean's 8 occasionally nods in the direction of feminist messaging, having one leading lady point out to another that women get ignored (a plus, when you're trying to pull off a heist) and another execute a stunt involving the country's "Founding Mothers."
For the most part, though, Ocean's 8 lets those themes recede into the background. It doesn't want to tell you how powerful it can be when women band together in a man's world – it just wants to show you how fun it'd be to round up a girl gang and steal some jewels. In its own way, that's kind of empowering, too.
4. The vivid personalities – and fanfic-worthy pairings
Like any good ensemble caper, Ocean's 8 establishes a cast of colorful personalities, and spends some time sitting back to see what happens when they mix.
There are a few scenes that seem tailor made to inspire fan fiction.
This particular crew does happen to be starrier than usual. In addition to Bullock, there's Cate Blanchett as…."
Reviews are in for 'Jurassic World: Fallen Kingdom'
"The latest installment of the Jurassic Park series sounds like a palatable film for fans of the series but doesn't offer up a completely enrapturing experience the whole way through.
Reviewers have weighed in on the upcoming Jurassic World: Fallen Kingdom, the sequel to Jurassic World, and it isn't getting the most thrilling praise so far. In this movie, a volcano at the Jurassic World theme park has erupted, sending the human protagonists and a handful of dinosaurs away from the island and into normal society which is fine for the humans but not so great for the dinosaurs.
Read on to see what the critics thought of Jurassic World: Fallen Kingdom
The visuals don't disappoint
Matt Chapman, DigitalSpy:
Claire Dearing (Bryce Dallas Howard) guilts Owen Grady (Chris Pratt) into returning to the island to rescue his beloved raptor Blue, before an out of control volcano kills every living thing. What follows is some of the most beautiful destruction you'll ever see onscreen, with a few heart-in-mouth moments for our intrepid dino wranglers and their support staff, Daniella Pineda's spunky scientist Zia and Justice Smith's jumpy tech guru Franklin.
Gav Murphy, IGN:
If you thought there was going to be too much CGI in Fallen Kingdom, you're wrong. There's a surprising amount of practical effects on display – in fact, it's the first time I've felt genuinely disgusted by these creatures. From the flies buzzing around Rexy's stinking sleeping body to the mucus and phlegm we see, there's an impressive blend of both CGI and practical effects in use that helps bring us closer to the dinosaurs. This closeness helps us either feel more afraid or in the case of Blue, a dramatic medical treatment scene really highlights the bond that Owen has with her. Practical effects and CGI are merged seamlessly here and we end up with a touching sequence that also draws in video flashbacks of Owen raising Blue which are obscenely cute.
Dinosaurs aren't the main event
Owen Gleiberman, Variety:
The film provides plenty of encounters with our stomping, gnashing primeval beastly friends — yet for much of Fallen Kingdom, they are caged, shackled, sedated, wounded, and otherwise subdued. They're right up there on screen, but too often they don't feel like the main event…."