Only the Brave review Jeff Bridges firefighter drama only just heats up
The tragic true story of the Granite Mountain Hotshots gets a starry and often powerful treatment but suffers from flashes of overly sentimental cliche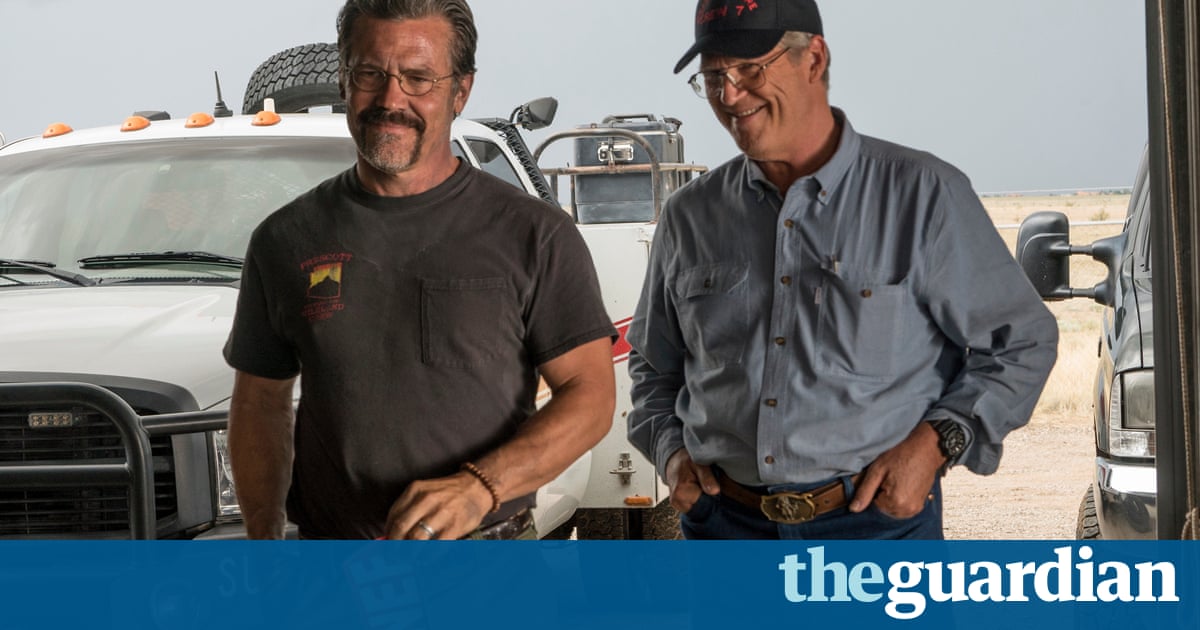 Only the Brave is the latest from Joseph Kosinski, the architect turned director behind such emotionally closed yet visually stunning films as Tron: Legacy and Oblivion. Its about firefighters in the American south-west, and this may lead you to think this will be a movie with flat characters but loads of thrilling special effects. Its actually a bit of the reverse.
This isnt to imply the sequences of mighty conflagrations arent heart-pounding, its just that there are fewer than you might expect. Furthermore, the hangin out sequences with the Granite Mountain Hotshots dont exactly feel cut from a Richard Linklater film, but its in a similar ballpark. This unpredictable quality to Only the Brave ends up being its greatest strength.
A point of comparison would be the 1970 film Airport, which, thanks to its many sequels, suggest wall-to-wall disaster tension to those who havent seen it. Its really more of a procedural film Whats it like to work at an airport? with political dealings, romantic woes, a comic side plot and finally some explosives thrown in at the end. Only the Brave follows the same pattern (Whats it like to be an elite wildfire squad?) and only if you know that its based on a true story do you realise it isnt going to end so well.
Much of the movie is as blunt as the title suggests, and Kosinski leans into it in the third act. But when youve got as keen an eye as he does, plus a cache of tough guy performers facing impossible odds, it is extremely effective. Jeff Bridges plays an Arizona emergency services supervisor (exact position is a little vague) and godfather figure to Eric Marsh (Josh Brolin) and his guardians of the range, the Granite Mountain Hotshots. Theres a moment in this film in which Bridges cracks under duress for just an instant and emits a groan that is so heartbreaking, so true and yet so underrepresented in movies that it all but washes away much of the boilerplate machismo of the films first half.
Hotshot isnt just a nickname, its a term to describe a type of wildfire suppression expert. Theyre the marines, basically. The regular army are Type 2s, or Deucers, and when we first meet Brolin and his gang theyve been stuck as Deucers for too long. For they are the best! And everyone knows it! But politics and regulations and, I dunno, taxes get in the way. Its a little bit fascinating to watch the machinations of how they step up to hotshots, but also a little bit ridiculous. Theres an awful lot of alpha male posturing, to the point that Marshs wife, horse trainer Amanda (Jennifer Connelly), accuses him of doing a John Wayne thing when he stares off into the distance instead of enjoying some time in the tub.
The rise of the Hotshots mirrors the redemption of Brendan McDonough AKA Donut (Miles Teller), a local drug abuser who gets his girlfriend pregnant and decides hes got to change his life. Marsh gives him a chance, which means hazing from his new comrades plus a lot of pushups and personal responsibility. As Donut intermingles with the others theres plenty of locker room talk and general dick-swinging, which one can either interpret as accuracy in film-making or perpetuating a culture that encourages patriarchal thinking. Either way, prepare yourself for plenty of scenes cut to the music of AC/DC.
Remarkably, though, the film does transition to a deeper understanding. I wont go so far as to say youll fall in love with these characters other than Brolin and Teller I couldnt tell any of them apart but there is a sincere effort to get beneath the facade of what an extremely fit twentysomething firefighters life is like. Theres even a possibility that the films first act is intentionally distancing so that the later scenes will have a bigger payoff.
The firefighting sequences evoke classic war films, as do the moments when the team returns home from the line. Marsh and Amanda have a blow-out that you can see coming from the first scene, but the specifics of it are detailed enough that you cant just shrug it off. It is undeniably corny to see Josh Brolin gaze out at a cloud of smoke and mumble what are you up to? and his big speech to new recruits that all this is fuel is a bit much, too. But when the speeches end and the non-verbal acting begins, Only The Brave leaves a mark.
Only the Brave is released in US cinemas on 20 October and in the UK on 10 November
Read more: https://www.theguardian.com/film/2017/oct/11/only-the-brave-review-jeff-bridges-josh-brolin
Ryan Gosling's 'First Man' is an Awe-inspiring Space Spectacle
Ryan Gosling, Corey Stoll, and Lukas Haas in Damien Chazelle's First Man.
Image: Warner Bros.
"First Man is a big film about the small things that went into an enormous event.
It's no spoiler that the climax here is Neil Armstrong's 1969 walk on the moon. For the first 90 minutes, though, First Man holds back on the inherent drama of that premise.
It follows Neil (Ryan Gosling) as he makes his way through the NASA ranks, and at home as he mourns the death of his young daughter. It spends time on a bunch of promising missions that go nowhere, and on complex questions the engineers will have to solve. There's some action sprinkled in there, and a few precious moments of euphoria. Mostly, it's sweating the small stuff.
That choice is puzzling at first, even frustrating: We know the guy gets to the moon, so let's get on with it already! Why are we wasting time with all this minutiae?
But those tedious concerns and disappointing dead ends are exactly the point. First Man is about work, and more specifically about the enormous amount of work (and luck) that goes into an achievement as momentous as the moon landing. It demands patience, but it gave back what I put into it several times over.
Director Damien Chazelle keeps his eye on the unromantic details that usually get glossed over in retellings of historical events. Literally: Much of this movie is composed of shots of dials, switches, and the top half of Gosling's face…………………….."
Read more: https://mashable.com/article/first-man-movie-review/
David Gordon Green's 'Halloween' is a satisfying treat
Laurie Strode and Michael Myers face off once more in the new Halloween.
Image: TIFF
Like most long-running horror franchises, the Halloween series has seen its share of ups and downs over the decades.
But those skeptical of the newest incarnation, directed by David Gordon Green, can put their fears to rest. This one's good. Really good.
Faced with the challenge of sorting out the messy mythology of the sequels, Green (along with his co-writers, Danny McBride and Jeff Fradley) doesn't even try. Although there are references to the others, only the original Halloween is completely canon here, and all of its relevant plot points are recapped in the new Halloween.
That said, it's still a good idea to (re)watch the 1978 film before going into the 2018 one, because it'll make the latter all the more satisfying. Green has fun recreating or subverting specific images and sequences from the first film – maybe too much fun, if you were hoping for something more surprising.
The premise is this: 40 years have passed since the first Halloween, and Michael Myers has spent all that time in prison. But he manages to escape just in time for his favorite holiday, and naturally he goes after Laurie Strode, the girl who survived his last killing spree. She, in turn, has spent the past 40 years waiting and preparing for just this occasion.
In that time, Michael's notoriety has only grown. People are fascinated by this silent enigma, for all sorts of foolish reasons. Is he capable of rehabilitation, or is he an incorrigible force of pure evil? What might he say if he ever spoke? What's going on in his head? What's it like to be in his head?
Read more: https://mashable.com/article/halloween-movie-review/
A Star is Born Review: It Makes a Movie Star out of Lady Gaga and a Star Director out of Bradley Cooper
Bradley Cooper and Lady Gaga in A Star is Born.
Image: Neal Preston / Warner Bros.
"It's the same story told over and over. All the artist can offer the world is how they see those 12 notes."
The character who utters this line in A Star is Born is talking about music, but he may as well be talking about the movie he's in. This is the third remake of an 81-year-old movie, one whose beats are so familiar that you'll recognize them even if you've never laid eyes on any of the other versions.
There's the sad celebrity self-medicating with booze and drugs, the talented ingenue who becomes an overnight sensation, the whirlwind romance threatened by the cold, hard light of day. You can see where all of it is headed from two miles away.
But that doesn't matter, not when Bradley Cooper is executing the formula so well. From the view at TIFF, A Star is Born looks to be a commercial and critical success that'll have people buzzing all fall, and maybe even into this winter's awards season. Here's what you need to know.
1. Lady Gaga is a movie star, baby
That Gaga had pipes worthy of a movie musical was never in doubt. But A Star is Born proves she's a hell of an actor, too. Her Ally has the more dramatic arc of the movie, evolving from bright-eyed nobody to glamorous pop star, and Gaga's performance rings true every step of the way. For large swaths of the movie, I forgot that I was watching at one of the most famous musicians in the world – she was just Ally.
2. Bradley Cooper has a bright future as a director
A Star is Born is Bradley Cooper's debut as a director, but you'd never know it by watching. This film has the surefootedness of someone who's done this a dozen times before, and made me curious to see what he might get up to next.
Oh, and another of Cooper's gifts as a director? He's very good at directing one Bradley Cooper. Jackson Maine is one of Cooper's most riveting performances – Cooper knows exactly how to bring out the nuances playing across Jack's face in the many scenes he spends gazing at Ally.
3. The chemistry between Cooper and Gaga is
When Jack and Ally meet for the first time, it's not immediately apparent just how hot this connection is going to run. Cooper gives his characters time to warm up to each other, letting them goof around and reveal their personalities before they fall for each other – so that when they do finally connect, it feels like watching a house catch fire.
4. The music might give you chills
The best moment in A Star is Born is also the best moment from the A Star is Born trailer: The absolute wail that comes from Gaga's throat during the song "Shallow," the first time Jack and Ally perform together onstage………………………….."
Check Out the Rest of the Article Here: https://mashable.com/article/a-star-is-born-movie-review/