People Are Outraged By Piers Morgan's Bizarre Mariah Carey Interview About The Las Vegas Shooting
America is becoming all too familiar with mass shootings. The wide availability of guns has caused many to question the legality of their existence in light of such tragedies, especially outside of the US, but President Trump is entirely in favor of their existence.
In April of this year, the president even signed a bill revoking a law Obama had introduced about making it harder for those with mental illnesses to purchase firearms. However, this is a decision which is more than likely to get questioned in the coming days.
Last night, a devastating mass shooting took place on the Las Vegas strip at a music festival. A gunman opened fire on the crowd of revellers from the 32nd floor of Mandalay Bay hotel, killing over 50 people and injuring more than 100. The suspect was shot dead by a SWAT team who infiltrated his hotel room. The Las Vegas resident who caused the devastation is believed to have been a lone attacker, however, reports are now emerging that he had a female accomplice named Marilou Danley.
The gunman was recently named as 64-year-old Stephen Paddock from Mesquite, Nevada. He was known to law enforcement. Paddock's female accomplice is believed to have been his roommate. As the shock news of the mass shooting broke around the world, people were quick to express their condolences for all involved. However, it led to extremely bizarre scenes on the British talkshow Good Morning Britain where Mariah Carey had been scheduled to be interviewed.
Instead of talking about Mariah's upcoming shows in Europe as planned, the show's controversial host Piers Morgan asked the star about her opinion on the breaking news, which resulted in a strange interview that had Twitter furious…
Mariah Carey, a celebrated diva, appeared on the TV show via a live feed from her Beverly Hills home. She was stretched across a lounge chair wearing a red dress as Piers Morgan asked her what she thought about the attack, despite her knowing very little about what had happened. "You've played in Vegas many times," Morgan said, "You know that at this time of night that it would be a massively busy. What is your reaction just on a human level to concert goers being targeted in this way?"
Mariah looked shellshocked at what she was being asked, but answered Morgan's question regardless:
"I mean it is what everyone's gut reaction is… I pray for the victims, have they caught the shooter?

"Wow, that's awful. Again I pray for the victims and hope all these can stop as soon as possible. You know I have spent a lot of time in Vegas and this type of thing anywhere happening anywhere is a huge tragedy.

"I continue to pray for the victims. I hope we have an end to this as soon as possible."
Whilst there's no denying that Mariah's reaction to the tragedy was sincere, viewers of Good Morning Britain took to Twitter to express their outrage that she had even been asked about the incident. It appeared that she was hearing about the shooting for the first time from Piers Morgan. Mariah's appearance in such a relaxed position with a Christmas tree in the background was deemed wildly inappropriate.
Whilst police have confirmed that only one gunman was involved in the incident, witnesses are convinced that the volume of bullets being fired upon the crowd was too great for it to have only been one shooter. One witness explained: "We were at the furthest stages away from Mandalay Bay, and they [the bullets] were ricocheting everywhere where we were so … they were firing from somewhere high, and they were unloading clip after clip after clip after clip."
"Multiple shooters," he said, "It has to be. There were obviously people hit." As details of this shocking incident continue to emerge, we wish all the best to those affected.
Read more: http://www.viralthread.com/twitter-is-outraged-by-piers-morgans-bizarre-mariah-carey-interview-about-the-las-vegas-shooting/?all
Pamela Anderson Thought She Had A 'Special Power To Kill People' As A Child After Her Death Wish Came True
Pamela Anderson exudes magic every time she runs down the beach in slo-mo — but did you know she has real "special powers"?
At least she thought she did after an allegedly predatory babysitter was killed in a car accident one day after wishing her dead.
Related: Pamela Anderson Refuses To Apologize For Weinstein Comments
The Baywatch star made the admission on Piers Morgan's Life Stories that aired Saturday night on ITV. She remembered:
"I had a babysitter, and she molested me for I think a year. I was between the ages of 4 and 8, somewhere in there. I remember wishing her dead, and she ended up dying the next day in her graduation in a car accident."
Holy karma!
Naturally, young Pam thought she was behind the freak fatality and, if she wasn't careful, might cause another. She continued:
"I thought, 'Okay, now I've killed her. I'm magic. I can't tell my parents about this and I've killed her,' so I started believing that I had this special power to kill people."
The future actress was so terrified to oust herself as a magical being, she didn't tell her parents about the scary coincidence until "years later."
Of course, by that time, she realized she had magical abilities every time she squeezed into a red swimsuit.
[Image via Media Punch.]
Read more: http://perezhilton.com/2018-03-05-pamela-anderson-molestor-special-abilities-kill-people
Will Smith geeks out over the success of 'Black Panther' and its cast
Image: Jerod Harris/Getty Images
Excited for Black Panther? So are we. Which is why we're rolling out obsessive coverage with Black Panther Week.
Will Smith just showed the world that he's one of the biggest Black Panther fans around.
After the tremendous success of Black Panther's opening weekend, Will Smith took to Instagram to share an inspiring message he himself heard from Nelson Mandela along with a video of himself geeking out about Black Panther and praising everyone who worked on Marvel's latest film.
"What you have done is spectacular," Smith said in the video. "I watched the film a couple of days ago, and damn near got brought to tears. You guys have challenged and potentially even shattered a lot of long-time, long-held false Hollywood beliefs and paradigms. I just want to say congratulations to you, I'm proud and I'm excited, damn-near giddy. Congrats y'all, go get it."
He then crossed his arms over his chest — the Wakandan salute.
Along with the video, Smith quoted Mandela in his Instagram post, sharing a message everyone who worked on the film that spoke to what people can do with their fame and how they can reach out and inspire others.
"Go into the streets… Touch them… Let them know that you are real!" Smith wrote.
Black Panther has been heralded not only for its unmistakable quality but also its achievements in representation, not only with its predominantly black cast but also its range of diversity behind the scenes.
Read more: https://mashable.com/2018/02/21/will-smith-black-panther/
Amy Schumer Marries Boyfriend Chris Fischer After A Few Months Of Dating
Amy Schumer married chef Chris Fischer in a secret ceremony on Tuesday after just a few months of dating, People and Us Weekly reported.
The two were married at a house in Malibu, California, in front of 80 friends, including stars Larry David, Jennifer Aniston, Jennifer Lawrence, David Spade and Jake Gyllenhaal, according to the reports.
Schumer, 36, and her chef boyfriend made their relationship public (as in Instagram-official) this week after attending Ellen DeGeneres' star-studded birthday party. The two reportedly started dating around November after they were spotted having an intimate dinner in New York City.
They later attended a taping of "Saturday Night Live" together, though Schumer's rep wouldn't comment on the relationship.
Fisher once worked at Mario Batali's New York City restaurant, Babbo, after being introduced by his friend, Jake Gyllenhaal.
The chef later returned to Martha's Vineyard, Massachusetts, where he grew up, to work at the Beach Plum Inn (a favorite of the Obamas) and The Covington Restaurant.
Fisher  who penned the James Beard Award-winning cookbook, Beetlebung Farm Cookbook  recently opened Beetlebung Farm Market on Martha's Vineyard, and plans to turn part of it into a restaurant.
"After years of working for other people, my intuition is, 'I'm doing this on my own terms,'" Fisher told Boston magazine in July. "You can create a destination restaurant anywhere."
Prior to meeting Fischer, Schumer dated furniture designer Ben Hanisch. The two met on a dating app in 2015 and were together for a little over a year.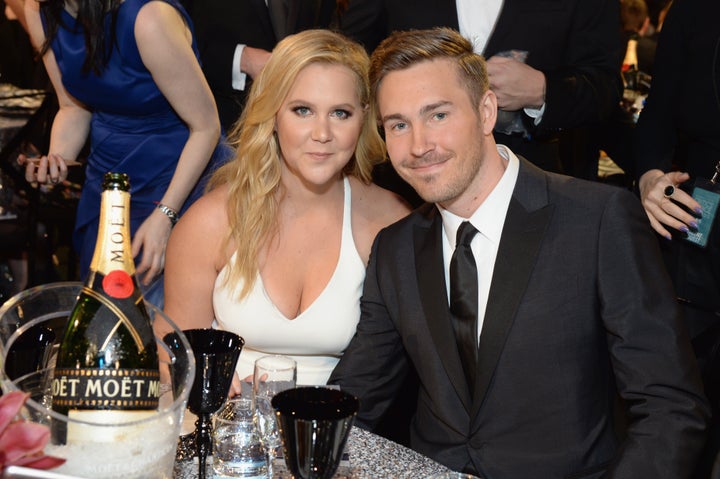 "I feel like Ben is the first guy who's really been my boyfriend," the "I Feel Pretty" actress and author told Marie Claire in July 2016. "There are guys who, if they heard me say that, would want to punch me in the face, but yeah, it's the truth."
A rep for Schumer confirmed that she and Hanisch split in 2017, but said the two remained friends. It certainly seems like things are amicable, as the comedian thanked her ex for some furniture he'd built for her in September.
Read more: http://www.huffingtonpost.com/entry/amy-schumer-marries-boyfriend-chris-fischer-after-a-few-months-of-dating_us_5a85a801e4b0774f31d2fe8d