People Are Outraged By Piers Morgan's Bizarre Mariah Carey Interview About The Las Vegas Shooting
America is becoming all too familiar with mass shootings. The wide availability of guns has caused many to question the legality of their existence in light of such tragedies, especially outside of the US, but President Trump is entirely in favor of their existence.
In April of this year, the president even signed a bill revoking a law Obama had introduced about making it harder for those with mental illnesses to purchase firearms. However, this is a decision which is more than likely to get questioned in the coming days.
Last night, a devastating mass shooting took place on the Las Vegas strip at a music festival. A gunman opened fire on the crowd of revellers from the 32nd floor of Mandalay Bay hotel, killing over 50 people and injuring more than 100. The suspect was shot dead by a SWAT team who infiltrated his hotel room. The Las Vegas resident who caused the devastation is believed to have been a lone attacker, however, reports are now emerging that he had a female accomplice named Marilou Danley.
The gunman was recently named as 64-year-old Stephen Paddock from Mesquite, Nevada. He was known to law enforcement. Paddock's female accomplice is believed to have been his roommate. As the shock news of the mass shooting broke around the world, people were quick to express their condolences for all involved. However, it led to extremely bizarre scenes on the British talkshow Good Morning Britain where Mariah Carey had been scheduled to be interviewed.
Instead of talking about Mariah's upcoming shows in Europe as planned, the show's controversial host Piers Morgan asked the star about her opinion on the breaking news, which resulted in a strange interview that had Twitter furious…
Mariah Carey, a celebrated diva, appeared on the TV show via a live feed from her Beverly Hills home. She was stretched across a lounge chair wearing a red dress as Piers Morgan asked her what she thought about the attack, despite her knowing very little about what had happened. "You've played in Vegas many times," Morgan said, "You know that at this time of night that it would be a massively busy. What is your reaction just on a human level to concert goers being targeted in this way?"
Mariah looked shellshocked at what she was being asked, but answered Morgan's question regardless:
"I mean it is what everyone's gut reaction is… I pray for the victims, have they caught the shooter?

"Wow, that's awful. Again I pray for the victims and hope all these can stop as soon as possible. You know I have spent a lot of time in Vegas and this type of thing anywhere happening anywhere is a huge tragedy.

"I continue to pray for the victims. I hope we have an end to this as soon as possible."
Whilst there's no denying that Mariah's reaction to the tragedy was sincere, viewers of Good Morning Britain took to Twitter to express their outrage that she had even been asked about the incident. It appeared that she was hearing about the shooting for the first time from Piers Morgan. Mariah's appearance in such a relaxed position with a Christmas tree in the background was deemed wildly inappropriate.
Whilst police have confirmed that only one gunman was involved in the incident, witnesses are convinced that the volume of bullets being fired upon the crowd was too great for it to have only been one shooter. One witness explained: "We were at the furthest stages away from Mandalay Bay, and they [the bullets] were ricocheting everywhere where we were so … they were firing from somewhere high, and they were unloading clip after clip after clip after clip."
"Multiple shooters," he said, "It has to be. There were obviously people hit." As details of this shocking incident continue to emerge, we wish all the best to those affected.
Read more: http://www.viralthread.com/twitter-is-outraged-by-piers-morgans-bizarre-mariah-carey-interview-about-the-las-vegas-shooting/?all
Selena Gomez Sheds Tears Eating Hot Wings & Teases New Music On 'The Tonight Show' — Watch!
Selena Gomez loves herself some spicy food, but not even her palate could handle the heat of the Hot Ones wing challenge!
The actress stopped by The Tonight Show on Tuesday night to promote her upcoming horror-comedy flick, The Dead Don't Die. Sadly, the starlet almost had a near-death experience herself in one segment that featured her eating spicy AF wings with Jimmy Fallon.
The two put their taste buds to the test as Jimmy enlisted Hot Ones host Sean Evans to give them the treatment of his hit YouTube series, which shows him interviewing celebs as they chow down on hot wings. It's a cruel, sadistic series that has grown in popularity over the past few years. Gomez had never heard about it, so she didn't know what type of fresh hell she was in for.
Related: Selena Gets Candid About Self-Love, Therapy, & Spending Time Alone
Interestingly enough, the 26-year-old didn't seem bothered by the first few rounds of sauces. She remained stoically poised while Jimmy immediately felt the heat and was reduced to barking like a dog.
But each round got progressively hotter over the course of the interview — and, eventually, Selena felt the heat, too.
It all went downhill after the pair sampled the sauce aptly called "Da Bomb," which made the singer tear up as she exclaimed things like:
"This is horrible!"
"Why do you do this to people!?"
"I hate it!"
LOLz! Yikes!
Thankfully, with some encouragement from the audience (and the help of a milk fountain), the duo were able to complete the challenge. Watch them squirm (below)!
During cooler segments of her appearance, Selena sat down with Jimmy to discuss her new film, and reveal what Bill Murray kept whispering in her ear when they promoted it at the Cannes Film Festival last month.
The Bad Liar artist also teased her upcoming album, which she confirmed was "finished"!
Watch the rest of her Tonight Show interview (below)!
Keanu Reeves: Grief and loss, those things dont ever go away
From Bill & Teds excellent dude to assassin John Wick, the actor has carved out a stellar career. But it hasnt come without personal tragedy
"Hey, Im Keanu, he introduces himself unnecessarily, of course, and yet very Keanu-ishly. Despite being so famous his surname has long been superfluous, Keanu Reeves has always given the impression of being utterly unaffected by his own celebrity. He is regularly described by his co-stars as kind (Winona Ryder) and humble (Laurence Fishburne) and it is easier to imagine him walking on the moon than knocking back champagne with other celebrities on a yacht in St Barts. After all, the most famous paparazzi photo ever taken of Reeves was of him sitting alone on a bench, eating a sandwich out of a plastic bag. Hard to imagine Leonardo DiCaprio doing that.
Ill sit anywhere you want me to. This OK? he says, taking a chair and offering me the sofa in the London hotel room where we meet. At just over 6ft, he is taller than I expected also unusual for an actor and dressed in a very Keanu outfit of dark shirt and trousers with sturdy boots. Despite being recently announced as the new face of the high fashion label Saint Laurent, Reeves has long been the patron saint of normcore, decades before it became a fashion statement. And I know this all too well because, from 199199, I had at least five posters of him on my bedroom walls modelling said look.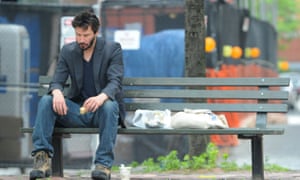 Read more: https://www.theguardian.com/film/2019/may/18/keanu-reeves-grief-loss–bill-ted-john-wick-actor-tragedy
George Clooney is done with 'dumbf**kery' in this PSA
"In light of the UN's dire warning about the Earth's accelerating extinction rate, George Clooney has stepped up for a PSA against people and their "dumbfuckery."
"Dumbfuckery is highly contagious, affecting the minds of even the most stable geniuses," the actor joked on Jimmy Kimmel Live! on Tuesday night.
Focusing his attention on climate change, vaccinations, and the dinosaurs, it's the kind of reminder that we shouldn't need — but unfortunately do."
Read more: https://mashable.com/video/george-clooney-psa-kimmel/