People Are Shocked At Just How Good Macaulay Culkin Is Looking These Days
Christmas is right around the corner, and that means everybody can start to get excited by all the traditions that come with the festive holiday. For some people, this could be walking around the neighborhood and looking at all the over-the-top Christmas decorations. For others, it could mean driving down to the grandparent's home to spend the holiday season with the family. But for everyone, it means watching Home Alone.
The 1990 movie has become a Christmas classic, which sees a misbehaving and misunderstood eight-year-old boy accidentally left home alone (get it?) by his family, as they jet off to Paris for the holidays. At the time, Home Alone became an instant blockbuster, and at the end of it's run in theatres, became the third-highest-grossing film of all time worldwide.
Such success instantly made a star out of the movie's adorable lead actor, the then 10-year-old Macaulay Culkin, who played the cunning Kevin McCallister. Culkin was described as the most successful child star since Shirley Temple and has been fondly remembered as one of the most successful and beloved child stars of all time. However, like we've seen countless times before, it seemed as if Culkin was never going to be able to replicate the success he found as a child star, and the actor soon started hitting headlines for all the wrong reasons.
On September 17, 2004, the fun-loving actor we'd all loved in movies like Home Alone, Richie Rich and Home Alone 2: Lost In New York was arrested in Oklahoma City for the possession of marijuana and two controlled substances. He pleaded guilty to the possession and the world watched as the actor's life started to spin out of control. For the next 10 years, images like the ones below repeatedly hit the press, as many people questioned the health and mental well-being of the once admired star.
By 2002 Culkin was already divorced after a brief marriage to Rachel Miner, and then the public witnessed the breakdowns of his relationships with Mila Kunis and Jordan Lane Price.
But at least he had his acting career, right? Well, no. Culkin started appearing in cheap and embarrassing cameos as himself in both film and television, and any "real" acting roles were met with harsh criticism. (If you ever get a chance to see Sex & Breakfast, don't. It's awful.)
Then there was his band, The Pizza Underground. The comedy five-piece were active between 2012 and 2016, and covered popular songs, but replaced certain words with like "pizza", "cheese" and "slice". It was awful, and they were once famously booed off stage in Nottingham, England, as the crowd through full pints of beer at them. But, recent pictures give all of us who still believe in Culkin hope. It's always a shame seeing people fall from grace, especially when it's a person who made you laugh so much as a child. That's why Culkin's most recent outing has left his life-long fans with smiles on their faces.
And fans were excited and a little relieved to see the former child star looking so… normal!
Stepping out with his current girlfriend Brenda Song, whom he met on the set of their upcoming 2018 movie, Changeland, the pair enjoyed a meal with friends, including his goddaughter, Paris Jackson.
The group dined at some of the Paris' (the city) most critically acclaimed restaurants, including the Joël Robuchon restaurant L'Atelier, which has two Michelin stars.
Paris Jackson and Macaulay have been close for many years now, after Culkin became friends with her father, the "King of Pop" Michael Jackson, following his appearance in his music video for 'Black or White'. In fact, the pair even have matching tattoos:
Macaulay and Brenda began their relationship earlier this year when they were introduced to one another while shooting Family Guy star Seth Green's directorial debut, Changeland, in Thailand.
The 29-year-old actress said previously"
"It's been incredible. We spent five weeks in Thailand shooting this.

Seth directed and wrote and starred in it, and this has been in the making for the last seven years, so he made it happen, it was incredible – it was like, Changeland for me."
Seeing Culkin so happy, relaxed and healthy is amazing. No doubt, within the next few weeks a new generation of children will be introduced to the Home Alone series, and it'll be great if their parents could tell them that young Kevin McCallister is doing just fine these days.
Read more: http://www.viralthread.com/people-shocked-just-good-macaulay-culkin-looking-days/?all
Pamela Anderson Thought She Had A 'Special Power To Kill People' As A Child After Her Death Wish Came True
Pamela Anderson exudes magic every time she runs down the beach in slo-mo — but did you know she has real "special powers"?
At least she thought she did after an allegedly predatory babysitter was killed in a car accident one day after wishing her dead.
Related: Pamela Anderson Refuses To Apologize For Weinstein Comments
The Baywatch star made the admission on Piers Morgan's Life Stories that aired Saturday night on ITV. She remembered:
"I had a babysitter, and she molested me for I think a year. I was between the ages of 4 and 8, somewhere in there. I remember wishing her dead, and she ended up dying the next day in her graduation in a car accident."
Holy karma!
Naturally, young Pam thought she was behind the freak fatality and, if she wasn't careful, might cause another. She continued:
"I thought, 'Okay, now I've killed her. I'm magic. I can't tell my parents about this and I've killed her,' so I started believing that I had this special power to kill people."
The future actress was so terrified to oust herself as a magical being, she didn't tell her parents about the scary coincidence until "years later."
Of course, by that time, she realized she had magical abilities every time she squeezed into a red swimsuit.
[Image via Media Punch.]
Read more: http://perezhilton.com/2018-03-05-pamela-anderson-molestor-special-abilities-kill-people
Will Smith geeks out over the success of 'Black Panther' and its cast
Image: Jerod Harris/Getty Images
Excited for Black Panther? So are we. Which is why we're rolling out obsessive coverage with Black Panther Week.
Will Smith just showed the world that he's one of the biggest Black Panther fans around.
After the tremendous success of Black Panther's opening weekend, Will Smith took to Instagram to share an inspiring message he himself heard from Nelson Mandela along with a video of himself geeking out about Black Panther and praising everyone who worked on Marvel's latest film.
"What you have done is spectacular," Smith said in the video. "I watched the film a couple of days ago, and damn near got brought to tears. You guys have challenged and potentially even shattered a lot of long-time, long-held false Hollywood beliefs and paradigms. I just want to say congratulations to you, I'm proud and I'm excited, damn-near giddy. Congrats y'all, go get it."
He then crossed his arms over his chest — the Wakandan salute.
Along with the video, Smith quoted Mandela in his Instagram post, sharing a message everyone who worked on the film that spoke to what people can do with their fame and how they can reach out and inspire others.
"Go into the streets… Touch them… Let them know that you are real!" Smith wrote.
Black Panther has been heralded not only for its unmistakable quality but also its achievements in representation, not only with its predominantly black cast but also its range of diversity behind the scenes.
Read more: https://mashable.com/2018/02/21/will-smith-black-panther/
Amy Schumer Marries Boyfriend Chris Fischer After A Few Months Of Dating
Amy Schumer married chef Chris Fischer in a secret ceremony on Tuesday after just a few months of dating, People and Us Weekly reported.
The two were married at a house in Malibu, California, in front of 80 friends, including stars Larry David, Jennifer Aniston, Jennifer Lawrence, David Spade and Jake Gyllenhaal, according to the reports.
Schumer, 36, and her chef boyfriend made their relationship public (as in Instagram-official) this week after attending Ellen DeGeneres' star-studded birthday party. The two reportedly started dating around November after they were spotted having an intimate dinner in New York City.
They later attended a taping of "Saturday Night Live" together, though Schumer's rep wouldn't comment on the relationship.
Fisher once worked at Mario Batali's New York City restaurant, Babbo, after being introduced by his friend, Jake Gyllenhaal.
The chef later returned to Martha's Vineyard, Massachusetts, where he grew up, to work at the Beach Plum Inn (a favorite of the Obamas) and The Covington Restaurant.
Fisher  who penned the James Beard Award-winning cookbook, Beetlebung Farm Cookbook  recently opened Beetlebung Farm Market on Martha's Vineyard, and plans to turn part of it into a restaurant.
"After years of working for other people, my intuition is, 'I'm doing this on my own terms,'" Fisher told Boston magazine in July. "You can create a destination restaurant anywhere."
Prior to meeting Fischer, Schumer dated furniture designer Ben Hanisch. The two met on a dating app in 2015 and were together for a little over a year.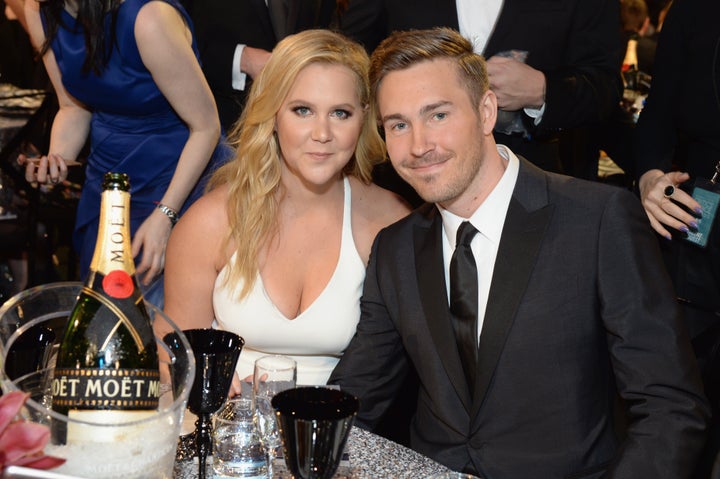 "I feel like Ben is the first guy who's really been my boyfriend," the "I Feel Pretty" actress and author told Marie Claire in July 2016. "There are guys who, if they heard me say that, would want to punch me in the face, but yeah, it's the truth."
A rep for Schumer confirmed that she and Hanisch split in 2017, but said the two remained friends. It certainly seems like things are amicable, as the comedian thanked her ex for some furniture he'd built for her in September.
Read more: http://www.huffingtonpost.com/entry/amy-schumer-marries-boyfriend-chris-fischer-after-a-few-months-of-dating_us_5a85a801e4b0774f31d2fe8d