Quentin Tarantino's Charles Manson movie has a lead: Leonardo DiCaprio
Image: Jeff Holmes/REX/Shutterstock
Leonardo DiCaprio's next big role will reportedly be in a Quentin Tarantino film taking place around Charles Manson's cult and the murders they committed in Los Angeles in the late 1960s.
The upcoming film, Tarantino's ninth, is set to release on Aug. 9, 2019, Deadline reported Friday, exactly 50 years after members of the Manson Family cult murdered actress Sharon Tate and four other guests at her house. DiCaprio previously played a villain in Tarantino's 2012 movie Django Unchained.
According to Deadline, the Manson movie will be an ensemble movie (Tarantino's specialty) similar to his hit film Pulp Fiction.
DiCaprio's exact role isn't known yet, aside from the detail that he'll play an aging actor, according to Deadline. Margot Robbie has reportedly been asked to play Tate, and Tom Cruise and Brad Pitt may have big roles in the undoubtedly gruesome film.
DiCaprio's role will be the first the actor has undertaken since his Oscar-winning performance in 2015's The Revenant. Robbie is in the Oscar conversation this year for her performance in I, Tonya and previously worked with DiCaprio in The Wolf of Wall Street.
Tarantino's most recent film, The Hateful Eight, was received well by critics, earning an Oscar and a Golden Globe award for its original score.
Tarantino's Manson movie was picked up by Sony in November, the same month that the cult leader died after spending 46 years in prison. Production is reportedly starting this year.
Sony declined to comment on the report.
Read more: http://mashable.com/2018/01/12/tarantino-charles-manson-leonardo-dicaprio/
Madonna to direct movie based on life of ballerina Michaela DePrince
MGM announces the singer will direct Taking Flight, the story of DePrinces journey from war orphan in Sierra Leone to world-class ballerina
Madonna is to return to the movies after a seven-year absence to direct Taking Flight, a feature film based on the life of Michaela DePrince, a war orphan from Sierra Leone who became a leading ballerina.
According to Deadline, Hollywood studio MGM has been developing the project since 2015 when it acquired the rights to DePrinces memoir, co-written with her adoptive mother, Elaine.
Michaelas journey resonated with me deeply as both an artist and an activist who understands adversity, Madonna said. We have a unique opportunity to shed light on Sierra Leone, and let Michaela be the voice for all the orphaned children she grew up beside. I am honoured to bring her story to life.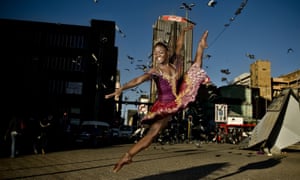 Read more: https://www.theguardian.com/film/2018/mar/14/madonna-to-direct-movie-based-on-life-of-ballerina-michaela-deprince
'Black Panther' Hits $1 Billion Mark In Worldwide Box Office Numbers
"Black Panther" has surpassed $1 billion at the worldwide box office, challenging industry norms about films with black casts.
The international success of "Black Panther" has challenged the myth that films with predominately black casts don't sell and it helps unravel "unwritten Hollywood rules," Jeff Bock, a senior analyst at entertainment research firm Exhibitor Relations, told The New York Times.
"I think about it like a wall crumbling," Bock said. "In terms of 'Black Panther,' no studio can say again, 'Oh, black movies don't travel, overseas interest will be minimal.'"
Stars of the film, including Chadwick Boseman, Lupita Nyong'o and Danai Gurira, have spoken out about the importance of representation in the movie. "Black Panther," which is set in the fictional country of Wakanda, shows the possibilities of an African society untouched by colonialism and gender inequity.
"I think there's a thirst for these images," Boseman told NBC. "There's a real thirst for black superheroes."
Marvel Studios President Kevin Feige confirmed this week that a "Black Panther" sequel is in the works. Feige told Entertainment Weekly that there was "nothing specific to reveal" about the next movie but added that "we absolutely will do that."
Read more: http://www.huffingtonpost.com/entry/black-panther-billion-dollars-top-domestic_us_5a9ef739e4b002df2c5e6fd7
Keegan-Michael Key's reaction to Jordan Peele's Oscar win will make you emotional
Find yourself a friend who loves you this much.
Jordan Peele had a historic moment last night when he won the Academy Award for Best Original Screenplay for his debut solo film, Get Out.
He became the first African-American screenwriter to win this category—and no one was prouder of him than his old Key and Peele partner, Keegan-Michael Key.
Key and Peele were the creators of the aptly titled sketch comedy series that ran on Comedy Central for five seasons, from 2012 to 2015.
Key was absolutely thrilled to see his "partner in laughs" snag his first Oscar.
Just look at that ecstatic jump!
Look how happy Keegan-Michael Key was when Jordan Peele won! #Oscars

(