Reese Witherspoon: I buy books and turn them into movies because…
When it comes to putting women at the forefront in TV and film, Reese Witherspoon is showing Hollywood how it's done. She tells Gemma Dunn why she decided to create her own opportunities.
When Reese Witherspoon and her Big Little Lies co-stars took to the stage at this year's Emmy Awards, they were met with rapturous applause.
Hand in hand, the five stars – an indomitable tribe made up of Nicole Kidman, Witherspoon, Laura Dern, Zoe Kravitz and Shailene Woodley, no less – were proof the tide is turning in Hollywood, as the 69th ceremony became historic for its celebration of women in front of and behind the camera.
The irresistible HBO show – based on the book by Australian author Liane Moriarty – had cleaned up, winning eight major awards including Outstanding Limited Series.
"It's been an incredible year for women in television," declared Witherspoon, (41), as she accepted the latter alongside her cast mate and co-producer Kidman.
"Can I just say, bring women to the front of their own stories, and make them the hero of their own stories."
Gripping the star's hand, Kidman, who also took home best actress, added: "This is a friendship that then created opportunities. It created opportunities out of our frustration because we weren't getting offered great roles, so now more great roles for women, please."
Delivering a message that's hard to ignore, I'm not at all surprised to find Witherspoon – an Academy Award winner in her own right – still processing the night's events four days later.
"It's been amazing. It's been a really interesting time," quips the Walk the Line actress, sipping tea from a dainty china cup in a London hotel. "I'd never gone to the Emmys before, so it was really fun. (There are) so many talented women: Susan Sarandon, Jessica Lange, Oprah …
"(We've been) getting so many well-wishes", continues the Louisiana-born star. "People are really responding to how many women won."
Is she seeing a change in the scripts she's being offered, then?
"Nope", she fires back, exasperated. "That's why I'm buying books and turning them into movies, because the scripts are dreadful", she reasons, having headed up such novel-to-screen adaptations as Cheryl Strayed's memoir Wild and Gillian Flynn's Gone Girl, under her production banner Pacific Standard.
"Honestly, the things that come at me normally are just dreadful and it's a huge industry."
She follows: "I think when you're trying to establish yourself, you take a lot of projects that maybe aren't, you know, expressive of who you are as an artist or what you want to accomplish, but certainly as you get older you think, 'Why am I doing this?'"
It goes without saying, then, Witherspoon's resume has done a 180 since her breakthrough role playing blonde sorority girl Elle Woods in the 2001 classic Legally Blonde.
But while her latest outing might look like it affords the same rom-com tropes – Home Again is, in fact, very different.
For starters, the movie boasts two brilliant filmmakers: legendary producer Nancy Meyers (The Holiday, It's Complicated) and her daughter, Hallie Meyers-Shyer, who will make her directorial debut.
Secondly, it's a contemporary title that challenges the standard definitions of family, as in between love, friendship and family, it offers a life lesson that starting over is not for beginners.
That teaching comes in the form of Alice Kinney (Witherspoon), a 40-year-old who has recently separated from her husband (Michael Sheen) and therefore decides to start over by moving back to her hometown of Los Angeles with her two young daughters. It's there she comes across three young filmmakers and, having agreed to a temporary living arrangement, finds her newfound life unfolding in unexpected ways.
For Witherspoon, it was refreshing to explore the truth of divorce, as opposed to a traditional love story.
"(To) have a woman separated in the very beginning of the film is a very modern concept", she says of Home Again, admitting she was keen to explore the notion that decisions you make at 25 don't necessarily suit your life further down the line.
"I loved the script. I think so many people can relate to the journey of getting divorced and not knowing what's next," she adds. "People are going through that more and more, so it's nice to see reality reflected on film."
Restating her support for 'dynamic' women steering the ship, she states: "It's great to have a female director and a female producer (too).
"They really see romance in a different kind of way and it's definitely through their lens that you see a romance between an older woman and a younger man …"
But she's quick to point out it goes far beyond mother-daughter bonding.
"It's been really fun to see Hallie and Nancy's dynamic and how they speak the same language," Witherspoon enthuses. "They think the same ways about comedy and character.
"It's nice for me to be around so many female filmmakers," she says. "It's important that we have female voices in film and I think Hallie is going to be a great new voice."
But ultimately, she insists, it's about updating the age-old rom com: "Audiences are ready for something a little more modern."
A mother to three children, Witherspoon – who shares a son and daughter with her ex-husband, actor Ryan Phillippe, and a young son with her second husband, talent agent Tim Roth – is ever conscious of setting a fine example to her brood. In particular, her lookalike daughter Ava, who she took as her plus-one to this year's Emmys.
"I look forward to the day when she gets to be the boss", Witherspoon says of the 18-year-old. "I will be like happy; I'm like 'Youuu take the responsibility'" she adds, her southern twang in full force.
"It's shifted definitely to, 'Wow, look at what my mother and these other women are accomplishing and I am so proud of them'", she concludes, smiling. "She is learning a lot from these incredible women that I get to spend time with – it's the dream."
Home Again is in cinemas province wide
Belfast Telegraph
Madonna to direct movie based on life of ballerina Michaela DePrince
MGM announces the singer will direct Taking Flight, the story of DePrinces journey from war orphan in Sierra Leone to world-class ballerina
Madonna is to return to the movies after a seven-year absence to direct Taking Flight, a feature film based on the life of Michaela DePrince, a war orphan from Sierra Leone who became a leading ballerina.
According to Deadline, Hollywood studio MGM has been developing the project since 2015 when it acquired the rights to DePrinces memoir, co-written with her adoptive mother, Elaine.
Michaelas journey resonated with me deeply as both an artist and an activist who understands adversity, Madonna said. We have a unique opportunity to shed light on Sierra Leone, and let Michaela be the voice for all the orphaned children she grew up beside. I am honoured to bring her story to life.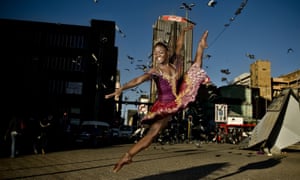 Read more: https://www.theguardian.com/film/2018/mar/14/madonna-to-direct-movie-based-on-life-of-ballerina-michaela-deprince
'Black Panther' Hits $1 Billion Mark In Worldwide Box Office Numbers
"Black Panther" has surpassed $1 billion at the worldwide box office, challenging industry norms about films with black casts.
The international success of "Black Panther" has challenged the myth that films with predominately black casts don't sell and it helps unravel "unwritten Hollywood rules," Jeff Bock, a senior analyst at entertainment research firm Exhibitor Relations, told The New York Times.
"I think about it like a wall crumbling," Bock said. "In terms of 'Black Panther,' no studio can say again, 'Oh, black movies don't travel, overseas interest will be minimal.'"
Stars of the film, including Chadwick Boseman, Lupita Nyong'o and Danai Gurira, have spoken out about the importance of representation in the movie. "Black Panther," which is set in the fictional country of Wakanda, shows the possibilities of an African society untouched by colonialism and gender inequity.
"I think there's a thirst for these images," Boseman told NBC. "There's a real thirst for black superheroes."
Marvel Studios President Kevin Feige confirmed this week that a "Black Panther" sequel is in the works. Feige told Entertainment Weekly that there was "nothing specific to reveal" about the next movie but added that "we absolutely will do that."
Read more: http://www.huffingtonpost.com/entry/black-panther-billion-dollars-top-domestic_us_5a9ef739e4b002df2c5e6fd7
Keegan-Michael Key's reaction to Jordan Peele's Oscar win will make you emotional
Find yourself a friend who loves you this much.
Jordan Peele had a historic moment last night when he won the Academy Award for Best Original Screenplay for his debut solo film, Get Out.
He became the first African-American screenwriter to win this category—and no one was prouder of him than his old Key and Peele partner, Keegan-Michael Key.
Key and Peele were the creators of the aptly titled sketch comedy series that ran on Comedy Central for five seasons, from 2012 to 2015.
Key was absolutely thrilled to see his "partner in laughs" snag his first Oscar.
Just look at that ecstatic jump!
Look how happy Keegan-Michael Key was when Jordan Peele won! #Oscars

(