Sandra Bullock Warns Sexist Trolls The 'Ocean's 8' Cast Will 'Fight Right Back'
But, of course, the all-female spinoff of the popular film franchise has also brought out the worst in internet trolls who have a problem with actresses like Anne Hathaway, Cate Blanchett, Mindy Kaling, Sarah Paulson, Rihanna and Bullock taking the reins from George Clooney and Brad Pitt.
Bullock, for one, promises the cast is ready for the seemingly inevitable backlash and has no qualms about going head-to-head with the haters.
"I'll tell you, we've got some feisty women that will fight right back," Bullock told Entertainment Weekly. "It's like, let's just take a breath and let's just see if we come up with something fun. There should be a moratorium. There should be a rule, you're not allowed to say anything nasty until after it comes out. Obviously that's never going to happen."
The actress cited the troubling reaction to 2016 reboot of "Ghostbusters" as an example of how the internet can put actresses cast in beloved properties "through hell."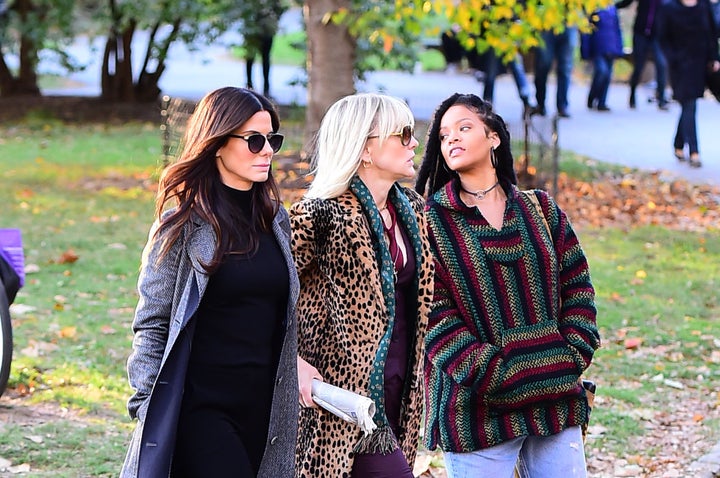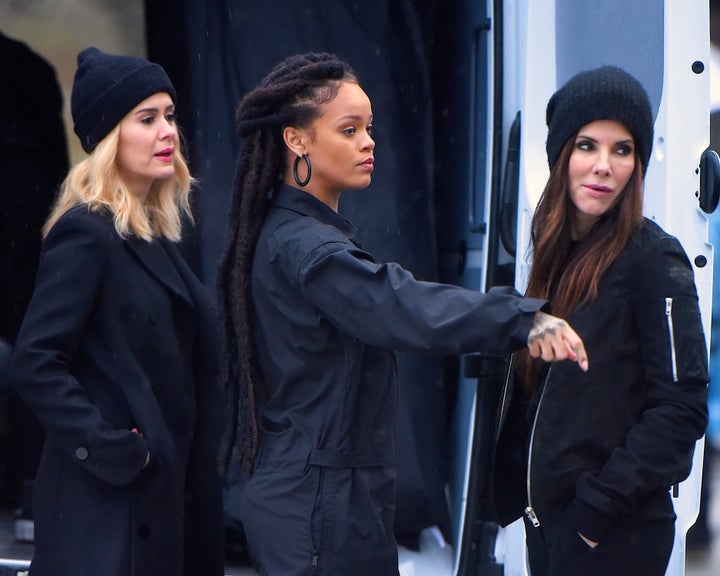 In "Ocean's 8," Bullock stars as Debbie Ocean, sister to Clooney's Danny, who recruits a team of thieves after being locked away in jail for five years. The heist apparently goes down at the annual Met Gala, which is why celebrities like Kim Kardashian and Kendall Jenner make cameos in the film.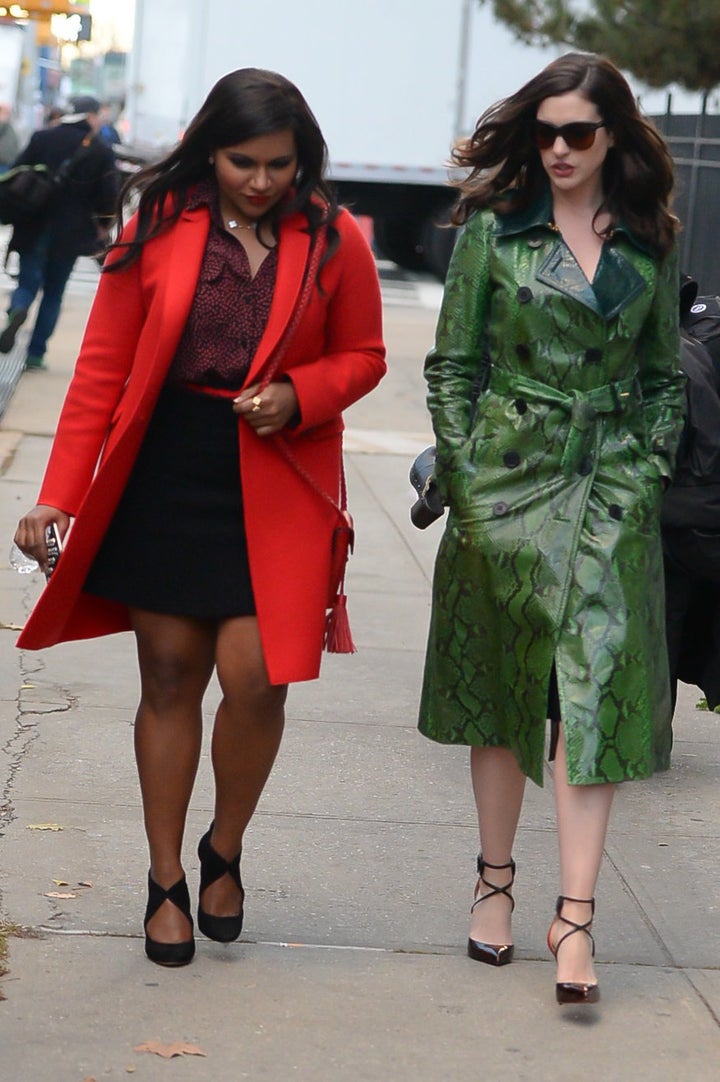 Bullock also teased that if all goes as planned, the film might spawn its own sequel but she's hesitant to get ahead of herself.
"Let's see if we can take the original and then make our own version, sort of pay homage to the 'Ocean'series," she said. "If something strikes a chord, an 'Ocean's 9'would be ideal."
"Ocean's 8" hits theaters on June 8.
Read more: http://www.huffingtonpost.com/entry/sandra-bullock-oceans-8-cast_us_5a2855dee4b03ece02ffe190
The movie Gotti Earns a 0% score from Rotten Tomatoes
Image: Brian Douglas/Lionsgate/Emmet/Furla Oasis Films/new york times
The reviews are in for the mobster movie Gotti which profiles the life of notorious crime boss John Gotti. Following the laundry list of excellent mob movies this should be an easy win, but Gotti's reviews are apparently the only entertaining thing about it.
The movie currently has a 0 percent Tomatometer score on Rotten Tomatoes. That's right, zero.
Tomatometer ratings are based on "the percentage of professional critic reviews that are positive for a given film or television show," provided there are at least five reviews. Personally, I didn't even know a 0 was possible.
Among the 18 approved "Tomato Critics," not one gave Gotti a positive, or "fresh," review, though we should note that the audience score is currently at 82 percent, with an average rating of 4.1 out of 5 from 6,678 reviews at the time this story was published
Regardless, here are some of the best snippets from the reviews.
1. "He may have been a murderer, but even Gotti deserved better than this."
– Brian Tallerico for RogerEgbert.com
2. "There's not really a story here. It's more a series of recognizable scenes from any number of gangster movies…"
-Mark Dujsik for MarkReviewsMovies.com
3."Gotti ends up feeling like a kitschy assemblage of other directors' ideas."
-Gary Thompson for Philly.com
3. There are 44 credited producers on the picture (good. lord.), and not one person had the nerve to question just what kind of derivative, borderline nonsensical film was being made.
-Brian Orndorf for Blue-Ray.com
4. You don't put the "Theme From 'Shaft'" in a movie that is not "Shaft." Come on.
– Glenn Kenny for the New York Times
5. "… the picture is a chaotic assemblage of short, disconnected scenes interrupted by snippets of archival footage, bits of narration and even moments when Travolta breaks the fourth wall by talking directly into the camera."
– Frank Swietek for One Guy's Opinion
6. "While Travolta has his moments, the woefully uneven film too often settles for mobster stereotypes rather than providing meaningful insight into its subject."
– Todd Jorgenson for Cinemalogue
7. "John Travolta and E from Entourage turn infamous mob boss Gotti into a scowling bore."
– Mike D'Angelo AVClub
(Writer's note: This is just the headline, but OMG what a headline.)
8. "… the vibrant, rap-infused score by Pitbull, which features three solo tracks by the popular artist, doesn't quite jibe with the movie's general style and tone."
– Gary Goldstein for the Los Angeles Times
9. "…Gotti is a connect-the-dots disaster — the don's greatest hits, so to speak — without discernible theme or cohesive narrative."
-Franke Lovece for Newsday
10."[Director Kevin] Connolly's in too much of a rush to get somewhere and doesn't seem to know what that destination is."
– Chris Nashawaty for Entertainment Weekly
Let's talk about the shocking ending of 'Hereditary'
"Let's pore over the details of Hereditary like it's an overdue art project based on our tragic lives.
Warning: Major spoilers ahead for Hereditary.
Hereditary is the kind of film you need to sit with.
It's not just that it has a lot of shocking twists, though it does, or that the scares linger in your psyche, though they do. It's also that Hereditary is dense with details that only reveal themselves upon closer examination and careful thought… or at least a deep dive into an explainer like this one.
Here's everything you missed in Hereditary.
1. Yes, King Paimon is real
And people really do worship him.
To be clear, Paimon is "real" in the sense that he was not invented by writer-director Ari Aster for this film. Whether you think he's actually, literally real depends on whether you believe demons and spirits are real. For what it's worth, mentions of Paimon go back centuries – he's even included in the 17th century grimoire Lesser Key of Solomon.
"I'm not tied in any way to the occult, so the research was disturbing, but I knew that I had to go there and I knew that I wanted the ritual elements of the film, which are held at a distance and you only get pieces of them, I knew I wanted them to be rooted in something real," he said to Thrillist. "I was lead to witchcraft manuals that are instructing people on how to cast spells and this and that."
2. Charlie has never really been Charlie
From the moment we meet her, it's obvious there's something off about Charlie. What exactly that is takes a while to reveal itself.
Early in the film, Annie (Toni Collette) explains that when her son Peter was born, she kept him away from her mother, Ellen. When her daughter Charlie was born, though, Annie relented and "gave" her to Ellen. Ellen….."
Read more: https://mashable.com/2018/06/14/hereditary-ending-explained-everything-you-missed/
Heart Rate Challenge for the Horror Movie Hereditary!
This is your face watching "Hereditary"
Image: A24
"People are losing their shit over Hereditary — and we mean that almost literally.
We knew we were in for a ride after the jaded film critics of Sundance called the A24 film the "." Now, people are even asking "can a movie be too scary?"
As horror lovers, we say never to that question. But A24 is known for bringing some of the most riveting and unique horror in recent memory to the screen, like 2016's much-adored The Witch.
So they tested this hypothesis on Hereditary by tracking the heart rates of 20 participants during promotional screenings of the movie at eleven different…."