Science friction: can Netflix figure out its blockbuster problem?
Costly sci-fi films have received poor reviews but the streaming giant still has an eager audience in its vast subscriber base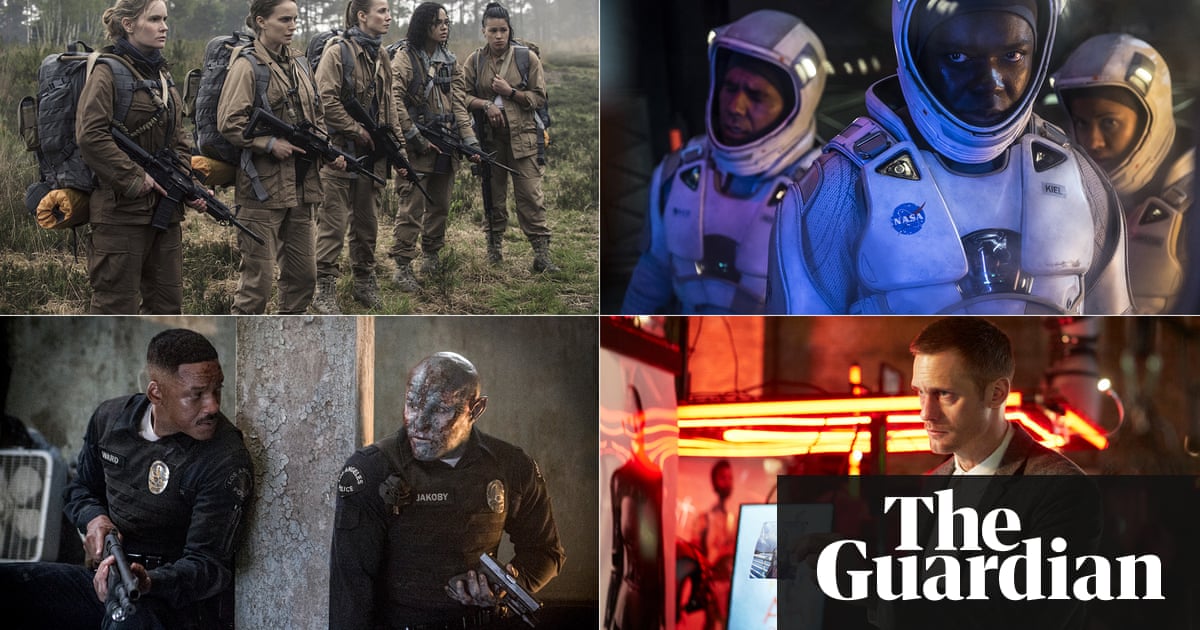 The future hasnt been kind to Netflix. In the last two months, its launched three science fiction blockbusters Will Smiths orc cop adventure Bright, the shock assault The Cloverfield Paradox, and the bizarre Berlin-set Blade Runner-riff Mute each of which critics reacted to as though a cockroach crawled out of their TV (not one film managed to score over 27% on Rotten Tomatoes). A fourth attempt, Alex Garlands Annihilation, about five female explorers in a technicolor hellscape, received better reviews but Netflix still couldnt win. It scooped up theinternational distribution rights from Paramount, who lost confidence in the Natalie Portman cerebral chiller and decided to release it theatrically only in the United States, Canada and China. Netflix rescued the film for foreign audiences … who grumbled that theyd be forced to squint at Garlands giant, surrealist visuals at home on Netflix.
If Netflix could see into its own future, would it green-light each film again? Probably. Its already given the go-ahead to Bright 2, and just awarded a first look deal to the heavyweight producer of Transformers and World War Z and snatched another major studio film from the trash bin when Universal dumped the planet invasion thriller Extinction. Plus, last Friday as Mute tested wary audiences already primed to ridicule Paul Rudds handlebar mustache, Netflix announced it had won an expensive nine-way bidding war to produce another costly sci-fi flick, Life Sentence, in which convicts have their brains wiped to prevent them from repeating their crimes. Directed by War for the Planet of the Apes Matt Reeves, Life Sentence repeats the same high-concept, name-brand fantasia thats made Netflix duck tomatoes. And yet, the timing of the news feels pointed: Netflix knows exactly what its doing.
Beamed Reeves, Netflix is at the forefront of a new age in how storytellers are reaching an audience. Frankly, Netflix knows more than anyone about how people watch movies. However, the industry still doesnt know much about it. Before Netflix, a films success or failure was gauged by three numbers: its budget, its opening weekend and its total global haul. But when Netflix launched its streaming service a decade ago, it began to horde more sophisticated information. Who exactly wants to watch a movie about an orc not just which broad demographic, but which specific people sitting on their couch on a Tuesday? What are the viewing patterns even subscribers dont recognize? The key words they search, the films that make them watch other films, the scenes that make them turn a movie off?
We know what people like to watch, said Netflixs chief communications officer Jonathan Friedland when the company began to produce its own original content in 2011. It wasnt an empty boast. Netflix knew that there was an audience for their first show, House of Cards, because it had studied the overlap between David Fincher fans who also liked British miniseries. Plus, it didnt have to spend a fortune blanketing the country with ads. It could directly reach specific viewers with ten different online promos tailored to whether the target was more likely to click play for a story about a powerful woman, or for Finchers camerawork.
Since that first triumph, Netflixs subscriptions have quadrupled. Today, more Americans pay for Netflix than for cable television, and after an intensive international push, over half of Netflixs users live abroad. Its rightly been called a disruptive force in entertainment, as though founder Reid Hastings legendary annoyance at being charged a $40 late rental fee for Apollo 13 had mutated into a vengeance to destroy not just video stores, but traditional Hollywood itself. Meanwhile, though we know that Apollo 13s opening weekend box office was $25.3m, Netflix rarely trumpets financial data about its releases. Doomsaying reports claim that only 5m viewers watched Cloverfield Paradox in its first week. But crunch the numbers, and thats actually about as many people who bought a ticket to Apollo 13.
Read more: https://www.theguardian.com/film/2018/feb/27/netflix-films-original-science-fiction-mute-blockbuster-problem
Elizabeth Debicki Brought her A-Game in 'Widows'
Article by Mark Olsen LA Times
"The heist thriller "Widows" has arguably the most impressively stacked ensemble cast of the year, including Viola Davis, Liam Neeson, Daniel Kaluuya, Michelle Rodriguez, Brian Tyree Henry, Carrie Coon, Robert Duvall, Jacki Weaver, Colin Farrell and Cynthia Erivo.
Which makes it all the more impressive that 28-year-old Australian actress Elizabeth Debicki has been singled out for her performance as Alice, a young woman who gets out from under the repression of her abusive husband and her exploitative mother to discover she has more to offer than anyone, including herself, had previously known.
"She resonated on many, many levels," Debicki said of the part during a recent interview in Los Angeles. "I mean, I've been looking and waiting for some time to play somebody like Alice, somebody who was very real and raw and multidimensional, had an arc that was quite an amazing sort of growth in that woman's life. So there was me as the actor looking at it and thinking, 'I just want to get my hands on that.'"
In the movie Davis plays Veronica, a woman who is suddenly in debt to a dangerous gangster when her husband, a career criminal, dies during………………………………….."
Read the rest of the article here: https://www.latimes.com/entertainment/movies/la-et-mn-elizabeth-debicki-widows-20181119-story.html
Everything you need to know about 'Mary Poppins Returns'
Emily Blunt is Mary Poppins and Lin-Manuel Miranda is Jack in Disneys Mary Poppins Returns.
Image: Jay Maidment
"It's been 54 years since Mary Poppins came into the world in movie form. And now, five decades on, we're getting a second helping in the form of Mary Poppins Returns — a sequel to the beloved classic.
Of course, we have many burning questions about this hotly anticipated film. But fear not: Mashable spoke to the film's producer Marc Platt during a set visit to Shepperton Studios, near London. Here's everything you need to know about the new Mary Poppins movie.
Is Mary Poppins Returns based on a book?
Marc Platt: We went right to the source. We went to P.L. Travers. And, it turns out that P.L. Travers wrote eight books, and the original film really capitalises on only one of the books. And what we found in her books was really a treasure trove of new characters and episodes. We realised that we could bring the sequel our own version and our own story. An original story of Mary Poppins all these years later in a very exciting way, but that we could draw upon the original source, P.L. Travers.
When is the sequel set?
MP: She wrote her books in 1934 and 1935. Our film, Mary Poppins Returns, is set in those years, which is the Depression Era in England. So, it takes place about 25 years after the original film took place. We went after David Magee who was an Academy Award winning screenwriter — he also notably wrote Life of Pi, Finding Neverland —  to work with us on the screenplay.
What is the plot?
MP: Our story is, as I said, set in the 1930s. Michael Banks — the young boy from the original film — is now a father of a family and he's living in Cherry Tree Lane in the house and he has children. There's been a loss in the family, and so there's a need for Mary Poppins to come back into their world and to the world of these new children, and to the world of Michael Banks and his sister Jane, to see if she can bring joy back into their lives.
How did they decide who to cast as the new Mary Poppins?
MP: When it came to casting, really, we could only think of one person to step into the shoes and to own the role of Mary Poppins and that was Emily Blunt, an actress who we've worked with on Into the Woods and most recently we did Girl on the Train with her.
She's not only a consummate actress, who possesses a tremendous craft as an actress, she sings beautifully. By the way, she dances magnificently, you'll see in the film………………………………………………………"
Read more: https://mashable.com/article/mary-poppins-returns-producer-marc-platt/
What to watch this Thanksgiving if you're with…
What to watch for every kind of crew.
Image: Getty Images
"The turkey's been destroyed, the pie's been reduced to crumbs, and the plates are in the dishwasher. Everyone's starting to get restless. Then someone suggests going out to see a movie, some others murmur in agreement, and you just know you're in for another two hours of indecision and cluelessness until it gets too late and everyone just decides to go home.
Except you're not. Not this year. Because this year, you've got us to help you.
Here's what to watch this Thanksgiving if you're with…
… your uncle who gets way too into his Oscar pool: The Favourite
This period piece is definitely one to know if you're invested in the acting categories, as Olivia Colman, Rachel Weisz, and Emma Stone all stand a good chance of getting in. Plus, it's just plain fun—think Thrones-level scheming, plus more oddly compelling camerawork and a healthy side of pitch-black humor. Did we also mention there are cute bunnies?
Darn it, that's not playing nearby: The racial dynamics Green Book are… problematic, to say the least, but it's bound to win over the same auds who previously rewarded films like The Help.
… your entire family, extended relatives included: Ralph Breaks the Internet
If you're looking for the crowdpleaser of crowdpleasers, it's hard to go wrong with Disney Animation. They're second to none when it comes to entertainment gentle enough to amuse the kiddies and smart enough to impress the grown-ups, and Ralph Breaks the Internet is no exception. Just be prepared to cover the youngest ones' eyes in that finale—things get pretty intense.
Oh no, that's sold out: Instant Family probably won't blow any minds, but it might warm some hearts. (Families with under-13 kids should proceed with caution, though.)
… your mother-in-law who really loves Christmas: The Grinch
It's an entire movie about how Christmas is not just great, but the absolute best, and will definitely, eventually soften of even hardest of cynics. Which is to say it is the perfect story for the loved one in your life who spends January through November waiting for December to come back around.
She thinks cartoons are just for kids: Well, it also doesn't get more classically Christmas than The Nutcracker and the Four Realms, even if this version puts a new spin on that old tale.
… your parents who keep asking for movie recs: Creed II
Creed II is an easy win, even if it's not quite as good as Creed 1………………………………………….."
See the rest of the list by clicking here: https://mashable.com/article/thanksgiving-2018-movie-recommendations/