Science friction: can Netflix figure out its blockbuster problem?
Costly sci-fi films have received poor reviews but the streaming giant still has an eager audience in its vast subscriber base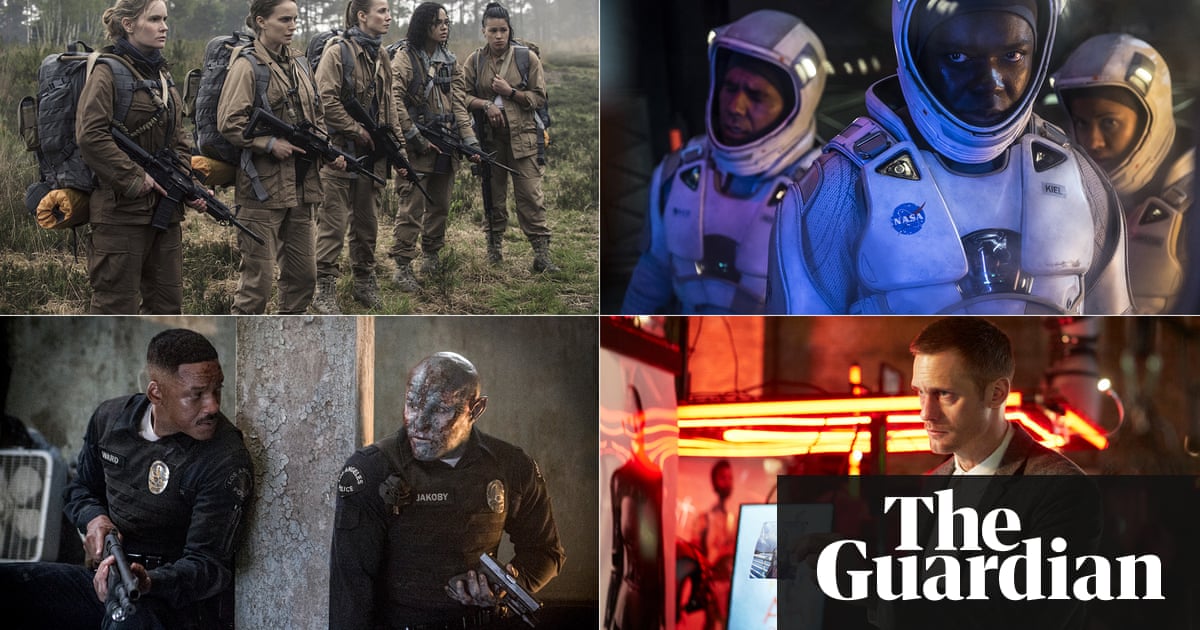 The future hasnt been kind to Netflix. In the last two months, its launched three science fiction blockbusters Will Smiths orc cop adventure Bright, the shock assault The Cloverfield Paradox, and the bizarre Berlin-set Blade Runner-riff Mute each of which critics reacted to as though a cockroach crawled out of their TV (not one film managed to score over 27% on Rotten Tomatoes). A fourth attempt, Alex Garlands Annihilation, about five female explorers in a technicolor hellscape, received better reviews but Netflix still couldnt win. It scooped up theinternational distribution rights from Paramount, who lost confidence in the Natalie Portman cerebral chiller and decided to release it theatrically only in the United States, Canada and China. Netflix rescued the film for foreign audiences … who grumbled that theyd be forced to squint at Garlands giant, surrealist visuals at home on Netflix.
If Netflix could see into its own future, would it green-light each film again? Probably. Its already given the go-ahead to Bright 2, and just awarded a first look deal to the heavyweight producer of Transformers and World War Z and snatched another major studio film from the trash bin when Universal dumped the planet invasion thriller Extinction. Plus, last Friday as Mute tested wary audiences already primed to ridicule Paul Rudds handlebar mustache, Netflix announced it had won an expensive nine-way bidding war to produce another costly sci-fi flick, Life Sentence, in which convicts have their brains wiped to prevent them from repeating their crimes. Directed by War for the Planet of the Apes Matt Reeves, Life Sentence repeats the same high-concept, name-brand fantasia thats made Netflix duck tomatoes. And yet, the timing of the news feels pointed: Netflix knows exactly what its doing.
Beamed Reeves, Netflix is at the forefront of a new age in how storytellers are reaching an audience. Frankly, Netflix knows more than anyone about how people watch movies. However, the industry still doesnt know much about it. Before Netflix, a films success or failure was gauged by three numbers: its budget, its opening weekend and its total global haul. But when Netflix launched its streaming service a decade ago, it began to horde more sophisticated information. Who exactly wants to watch a movie about an orc not just which broad demographic, but which specific people sitting on their couch on a Tuesday? What are the viewing patterns even subscribers dont recognize? The key words they search, the films that make them watch other films, the scenes that make them turn a movie off?
We know what people like to watch, said Netflixs chief communications officer Jonathan Friedland when the company began to produce its own original content in 2011. It wasnt an empty boast. Netflix knew that there was an audience for their first show, House of Cards, because it had studied the overlap between David Fincher fans who also liked British miniseries. Plus, it didnt have to spend a fortune blanketing the country with ads. It could directly reach specific viewers with ten different online promos tailored to whether the target was more likely to click play for a story about a powerful woman, or for Finchers camerawork.
Since that first triumph, Netflixs subscriptions have quadrupled. Today, more Americans pay for Netflix than for cable television, and after an intensive international push, over half of Netflixs users live abroad. Its rightly been called a disruptive force in entertainment, as though founder Reid Hastings legendary annoyance at being charged a $40 late rental fee for Apollo 13 had mutated into a vengeance to destroy not just video stores, but traditional Hollywood itself. Meanwhile, though we know that Apollo 13s opening weekend box office was $25.3m, Netflix rarely trumpets financial data about its releases. Doomsaying reports claim that only 5m viewers watched Cloverfield Paradox in its first week. But crunch the numbers, and thats actually about as many people who bought a ticket to Apollo 13.
Read more: https://www.theguardian.com/film/2018/feb/27/netflix-films-original-science-fiction-mute-blockbuster-problem
'A Star is Born,' 'First Man' And 'Widows' Are This Year's Early Oscar Front-Runners
The Coen Brothers Films Ranked!
"With the 20th anniversary re-release of The Big Lebowski, we rank the duos films (directing only), from their 1984 debut Blood Simple to this years The Ballad of Buster Spruggs
What on earth was this about? A remake of the Ealing crime-caper classic (with Tom Hanks in Alec Guinnesss crackpot mastermind role) at least proves, if proof were needed, that the Coens have excellent cinephile taste. But this was pointless and baffling. A case of No Coen Do.
What a dogs brunch of a film: a strained and unfunny black comic gang-show of big names, with one or two good gags and an admittedly intriguing turn from Brad Pitt as a dopey fitness freak.
16. The Hudsucker Proxy (1994)
This period Capraesque comedy about an ordinary guy a rather uncharismatic Tim Robbins who is elevated to corporate greatness as part of a share-price scam is an example of how the Coens comedy can sometimes lack focus: too quirky and spongy.
The Coens love of Preston Sturges resurfaced in this film that whimsically takes upon itself the title of the desperately serious social-realist movie being planned in Sturges 1941 Sullivans Travels. It is an appealing, likable film about three runaway chaingang convicts in depression America who pass themselves off as a bluegrass trio, their record somehow becoming a hit. Silly, amiable stuff that has faded with time.
More golden age Hollywood nostalgia with this cantering comedy about tinseltown: the boozers, the fixers, the divas, the hoofers, the scribblers. It features George Clooney as a none-too-bright ageing star in a cheesy toga-wearing Roman epic. The movie reminded the world what a great dancer Channing Tatum is.
Unprecedented commercial success was what the Coens found with this handsome remake of the 1969 John Wayne classic; or rather a new adaptation of the original novel by Charles Portis. Jeff Bridges was probably the only possible casting as the no-account Rooster Cogburn, with Hailee Steinfeld as his employer, the 14-year-old Mattie Ross. It is a good-natured, well-made movie, but perhaps without the strong taste of the original, or the Coens other films.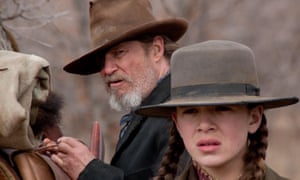 Burt Reynolds: the Easygoing Cannonball of Old-School Hollywood Manliness | Peter Bradshaw
In his heyday in movies like Smokey and the Bandit, Reynolds became a hugely popular star who embodied the twinkly-eyed mans man with a touch of the rebel
"At his peak, Burt Reynolds had the kind of face, the kind of body, the kind of masculinity and appeared in the kind of movie that hasnt been fashionable in Hollywood for decades. From 1978 to 1982, Burt Reynolds in all his easygoing ruggedness was the undisputed king: the industrys top grossing star every year in that time for increasingly unfashionable but lucrative pictures. It was a short but legendary reign, after which his awful career moves, calamitous personal investments and matrimonial woes put his star into the descendant. But, like Travolta, he enjoyed a hip and postmodern comeback in the 1990s as the porn movie mogul in Paul Thomas Andersons Boogie Nights (1997), a role with a streak of darkness which reconnected to him to the disturbing John Boorman picture that made his name in 1972, Deliverance, the story of four white salarymen who go on a trip to the Georgia wilderness, unwisely patronise the locals and encounter a situation which unlocks ruthless violence in Reynoldss character.
But Deliverance however sensational it was was a slightly atypical role for Reynolds. In his glorious, sunlit heyday, Burt Reynolds was an easygoing figure. He had a wide, handsome and very intelligent face: sometimes accessorised with a big moustache, he appeared in an outdoors-guy leather, denim, sometimes in lawmans uniform or sports kit the kind of rangy look that was later co-opted by the gay community. Reynolds had a fine singing voice and appeared opposite Dolly Parton in the musical The Best Little Whorehouse In Texas, and in 1973 released a country album called Ask Me What I Am………………….."
Read more: https://www.theguardian.com/film/2018/sep/07/burt-reynolds-the-easygoing-cannonball-of-old-school-hollywood-manliness