Science friction: can Netflix figure out its blockbuster problem?
Costly sci-fi films have received poor reviews but the streaming giant still has an eager audience in its vast subscriber base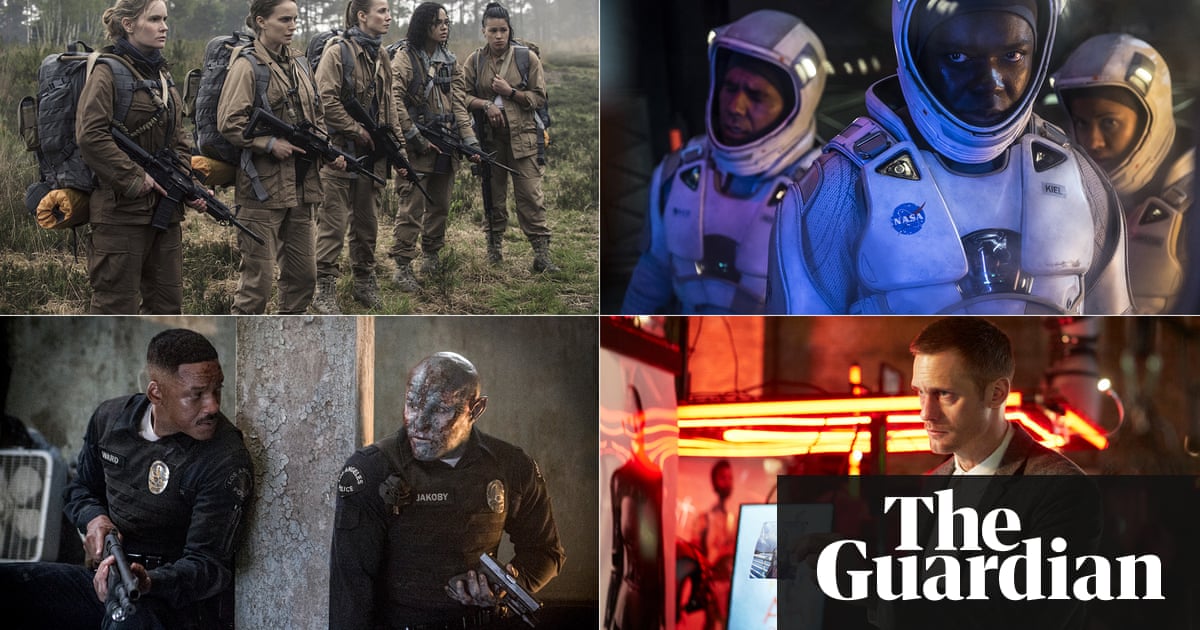 The future hasnt been kind to Netflix. In the last two months, its launched three science fiction blockbusters Will Smiths orc cop adventure Bright, the shock assault The Cloverfield Paradox, and the bizarre Berlin-set Blade Runner-riff Mute each of which critics reacted to as though a cockroach crawled out of their TV (not one film managed to score over 27% on Rotten Tomatoes). A fourth attempt, Alex Garlands Annihilation, about five female explorers in a technicolor hellscape, received better reviews but Netflix still couldnt win. It scooped up theinternational distribution rights from Paramount, who lost confidence in the Natalie Portman cerebral chiller and decided to release it theatrically only in the United States, Canada and China. Netflix rescued the film for foreign audiences … who grumbled that theyd be forced to squint at Garlands giant, surrealist visuals at home on Netflix.
If Netflix could see into its own future, would it green-light each film again? Probably. Its already given the go-ahead to Bright 2, and just awarded a first look deal to the heavyweight producer of Transformers and World War Z and snatched another major studio film from the trash bin when Universal dumped the planet invasion thriller Extinction. Plus, last Friday as Mute tested wary audiences already primed to ridicule Paul Rudds handlebar mustache, Netflix announced it had won an expensive nine-way bidding war to produce another costly sci-fi flick, Life Sentence, in which convicts have their brains wiped to prevent them from repeating their crimes. Directed by War for the Planet of the Apes Matt Reeves, Life Sentence repeats the same high-concept, name-brand fantasia thats made Netflix duck tomatoes. And yet, the timing of the news feels pointed: Netflix knows exactly what its doing.
Beamed Reeves, Netflix is at the forefront of a new age in how storytellers are reaching an audience. Frankly, Netflix knows more than anyone about how people watch movies. However, the industry still doesnt know much about it. Before Netflix, a films success or failure was gauged by three numbers: its budget, its opening weekend and its total global haul. But when Netflix launched its streaming service a decade ago, it began to horde more sophisticated information. Who exactly wants to watch a movie about an orc not just which broad demographic, but which specific people sitting on their couch on a Tuesday? What are the viewing patterns even subscribers dont recognize? The key words they search, the films that make them watch other films, the scenes that make them turn a movie off?
We know what people like to watch, said Netflixs chief communications officer Jonathan Friedland when the company began to produce its own original content in 2011. It wasnt an empty boast. Netflix knew that there was an audience for their first show, House of Cards, because it had studied the overlap between David Fincher fans who also liked British miniseries. Plus, it didnt have to spend a fortune blanketing the country with ads. It could directly reach specific viewers with ten different online promos tailored to whether the target was more likely to click play for a story about a powerful woman, or for Finchers camerawork.
Since that first triumph, Netflixs subscriptions have quadrupled. Today, more Americans pay for Netflix than for cable television, and after an intensive international push, over half of Netflixs users live abroad. Its rightly been called a disruptive force in entertainment, as though founder Reid Hastings legendary annoyance at being charged a $40 late rental fee for Apollo 13 had mutated into a vengeance to destroy not just video stores, but traditional Hollywood itself. Meanwhile, though we know that Apollo 13s opening weekend box office was $25.3m, Netflix rarely trumpets financial data about its releases. Doomsaying reports claim that only 5m viewers watched Cloverfield Paradox in its first week. But crunch the numbers, and thats actually about as many people who bought a ticket to Apollo 13.
Read more: https://www.theguardian.com/film/2018/feb/27/netflix-films-original-science-fiction-mute-blockbuster-problem
John Travolta keeps Brooklyn stayin' alive at event honoring actor
Hundreds of fans gathered outside pizzeria featured in Saturday Night Fever 41 years ago to catch glimpse of and dress like the actor
"Forty-one years after strutting down a Brooklyn street, merrily swinging a paint can to the sound of the Bee Gees Stayin Alive, an older, less lithe John Travolta returned on Tuesday, to be honored for his services to the now-trendy New York City borough.
Hundreds of people gathered outside Lennys Pizza in Bensonhurst, south Brooklyn, to glimpse Travolta, who brought the neighborhood to national and international consciousness in Saturday Night Fever.
The 1977 film saw his character Tony Manero disco dance, conduct troubling relationships with women and occasionally engage in punch-ups. In the opening scene, Travolta orders two slices of pizza at Lennys before combining them in a double decker-type situation. The pizzeria claims Saturday Night Fever fans regularly order the same.
This is a great day, New York state senator Martin Golden who represents the Bensonhurst neighborhood and has submitted a 1,070-word legislative resolution commending Travolta for putting Brooklyn both on the map and in Americas hearts told the crowd.
A great day for John Travolta, a great day for his family, and a great day for Brooklyn.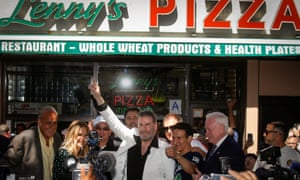 Watch these movies after you see 'Ocean's 8'
Image: mashable composite/universal/paramount
"After months of building anticipation, Ocean's 8finally hit theaters Friday. Yes, it featured the stunning, talented, female-led cast you've heard so much about. Glad you noticed.
But Ocean's 8 is more than the token "female remake" it has been boiled down to. Like many audience members this past weekend, I showed up for the all-star actresses, but stayed for the crime, glamor, comedy, celeb cameos, and general badassery.
So to get you through those days where you can't make it to the theater for a rewatch, here are fourteen films that show off groups of ladies getting together to kick ass — literally or metaphorically.
Chicago (2002)
Headed up by Catherine Zeta-Jones and Renee Zellweger, this jailhouse musical took home six Academy Awards, including Best Picture. It's tough to make Richard Gere look like a third wheel, but somehow the murderesses of Cook County Jail pull it off.
Where to watch: HBO
Thelma & Louise (1991)
This road trip classic follows two women as they attempt to outrun their darks pasts by any means necessary. While neither Susan Sarandon nor Geena Davis won Best Actress for their performances, the leads' double nomination cemented Thelma & Louise as a feminist classic.
Where to watch: Starz
Heathers (1988)
Plaid skirts, football players, and drain cleaner? Color me stoked. A dark high school comedy laced with visceral teen murders, this cult classic is the adolescent destruction fantasy you didn't know you needed. Starring Winona Ryder and the titular "Heathers."
Where to watch: Netflix
Mamma Mia! (2008)
Meryl Streep shines amongst a cast of notoriously fabulous character actors in this romantic comedy with a pop twist. The costumes, musical numbers, and female stars glisten in an ABBA-made universe. Stay tuned for the sequel hitting theaters July 20th.
Where to watch: Netflix
Beauty Shop (2005)
Nothing feels better than a comedy that celebrates inner and outer beauty equally. Queen Latifah and the rest of her salon crew (featuring Alicia Silverstone and Andie MacDowell among others) gave us one of the most styling girl-power movies to date in this Barbershop spin-off.
Where to watch: Vudu
First Wives Club (1996)
Goldie Hawn, Bette Midler, and Diane Keaton team up in this instant classic, reuniting as long lost friends and taking down the men who have wronged them – all while donning stunning coordinated power…."
Read more: https://mashable.com/2018/06/11/14-female-led-movies-oceans-8/
John Cusack likes what you have to say about 'Say Anything'
Image: Mills Entertainment
"If you liked Say Anything…, the 1989 coming-of-age film about a nervous-talking high school graduate winning over his crush in the summer before college, feel free to tell star John Cusack if you see him.
Cusack appreciates it when fans of the movie give him kudos for it, partly because they tend not to quote the film or, say, mime holding up an imaginary boombox in some sad attempt to replicate the movie's most memorable scene. They mostly just say how much they liked it.
"They seem to be very warm about it, that it means something to them, so that's nice," Cusack told Mashable in a phone interview to promote his upcoming Q&A about Say Anything… at the New Jersey Performing Arts Center. "For some movies, they'll have a line that they'll repeat to you a lot of times, but that one is more just a vibe. People seem to really still dig it."
That's kind of an understatement. Say Anything… didn't set box office records, but to many Gen Xers like myself, the movie perfectly captured the ennui that often follows high school graduation. And Cusack hit the bull's-eye in his portrayal of the quirky Lloyd Dobler, simultaneously giving him a coolness and vulnerability that appealed to both male and female audiences alike.
Cusack already had movies like Better Off Dead…, Sixteen Candles, and Eight Men Out under his belt when he made Say Anything…, but the film…"
Read more: https://mashable.com/2018/06/04/john-cusack-say-anything/