Science friction: can Netflix figure out its blockbuster problem?
Costly sci-fi films have received poor reviews but the streaming giant still has an eager audience in its vast subscriber base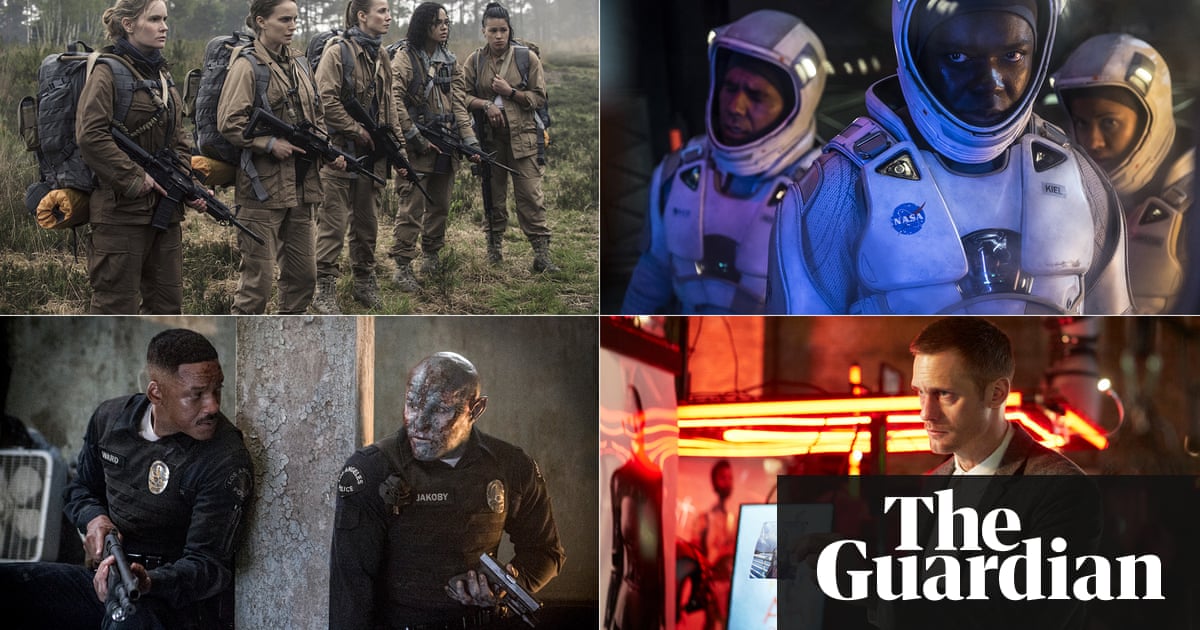 The future hasnt been kind to Netflix. In the last two months, its launched three science fiction blockbusters Will Smiths orc cop adventure Bright, the shock assault The Cloverfield Paradox, and the bizarre Berlin-set Blade Runner-riff Mute each of which critics reacted to as though a cockroach crawled out of their TV (not one film managed to score over 27% on Rotten Tomatoes). A fourth attempt, Alex Garlands Annihilation, about five female explorers in a technicolor hellscape, received better reviews but Netflix still couldnt win. It scooped up theinternational distribution rights from Paramount, who lost confidence in the Natalie Portman cerebral chiller and decided to release it theatrically only in the United States, Canada and China. Netflix rescued the film for foreign audiences … who grumbled that theyd be forced to squint at Garlands giant, surrealist visuals at home on Netflix.
If Netflix could see into its own future, would it green-light each film again? Probably. Its already given the go-ahead to Bright 2, and just awarded a first look deal to the heavyweight producer of Transformers and World War Z and snatched another major studio film from the trash bin when Universal dumped the planet invasion thriller Extinction. Plus, last Friday as Mute tested wary audiences already primed to ridicule Paul Rudds handlebar mustache, Netflix announced it had won an expensive nine-way bidding war to produce another costly sci-fi flick, Life Sentence, in which convicts have their brains wiped to prevent them from repeating their crimes. Directed by War for the Planet of the Apes Matt Reeves, Life Sentence repeats the same high-concept, name-brand fantasia thats made Netflix duck tomatoes. And yet, the timing of the news feels pointed: Netflix knows exactly what its doing.
Beamed Reeves, Netflix is at the forefront of a new age in how storytellers are reaching an audience. Frankly, Netflix knows more than anyone about how people watch movies. However, the industry still doesnt know much about it. Before Netflix, a films success or failure was gauged by three numbers: its budget, its opening weekend and its total global haul. But when Netflix launched its streaming service a decade ago, it began to horde more sophisticated information. Who exactly wants to watch a movie about an orc not just which broad demographic, but which specific people sitting on their couch on a Tuesday? What are the viewing patterns even subscribers dont recognize? The key words they search, the films that make them watch other films, the scenes that make them turn a movie off?
We know what people like to watch, said Netflixs chief communications officer Jonathan Friedland when the company began to produce its own original content in 2011. It wasnt an empty boast. Netflix knew that there was an audience for their first show, House of Cards, because it had studied the overlap between David Fincher fans who also liked British miniseries. Plus, it didnt have to spend a fortune blanketing the country with ads. It could directly reach specific viewers with ten different online promos tailored to whether the target was more likely to click play for a story about a powerful woman, or for Finchers camerawork.
Since that first triumph, Netflixs subscriptions have quadrupled. Today, more Americans pay for Netflix than for cable television, and after an intensive international push, over half of Netflixs users live abroad. Its rightly been called a disruptive force in entertainment, as though founder Reid Hastings legendary annoyance at being charged a $40 late rental fee for Apollo 13 had mutated into a vengeance to destroy not just video stores, but traditional Hollywood itself. Meanwhile, though we know that Apollo 13s opening weekend box office was $25.3m, Netflix rarely trumpets financial data about its releases. Doomsaying reports claim that only 5m viewers watched Cloverfield Paradox in its first week. But crunch the numbers, and thats actually about as many people who bought a ticket to Apollo 13.
Read more: https://www.theguardian.com/film/2018/feb/27/netflix-films-original-science-fiction-mute-blockbuster-problem
Taraji P Henson: 'Hollywood didn't grasp my talent'
Harvey Weinstein obstructed her rise now, with her new film What Men Want, she is calling the shots. But what does she make of her Empire co-star Jussie Smolletts hate-crime controversy?
"On a December morning in Los Angeles, the sun blazes down on a large and abundantly decorated Christmas tree in the parking lot at Paramount Pictures. It is upstaged, though, by the actor Taraji P Henson, who swans past wearing an ensemble that calls to mind the futuristic fashion of the 1970s: steampunk sunglasses, a black tracksuit under a puffy gilet and chunky grey, orange and lime sci-fi pumps, possibly with rocket boosters in the soles. Her hair is arranged in tight braids, some piled on her head, others swishing around her shoulders.
As we take our seats in a brightly lit office upstairs, she removes from her flowery backpack a tub of beige mush. What is that, mashed banana? Nuh-uh, she says between mouthfuls. Its an oatmeal alkaline thing. Its got quinoa in it. I gotta be careful because I dont digest a heavy grain. She takes a sniff and laughs. It smells like dirt, it really does. She went vegan last year after a doctor told her it could reduce the chances of getting stomach cancer. You can do it if you have a good chef, she says encouragingly. I make a mental note to have a chat with mine………………………………………………………………………."
Read more: https://www.theguardian.com/film/2019/mar/08/taraji-p-henson-hollywood-didnt-grasp-my-talent-what-men-want
Netflix vs. Steven Spielberg is a battle over the future of the movie experience
"New York (CNN Business)Netflix wants to change how you watch movies. Steven Spielberg wants to preserve the theatrical experience. Those two points of view are clashing, with Netflix pushing back against a plan that Spielberg reportedly has to create rules that could block the streaming giant from future Oscars contention.
Netflix on Sunday night responded to Spielberg's reported plans by tweeting from its film unit's
Twitter account
, "We love cinema."
The company said in its tweet that it "also loves…Access for people who can't always afford, or live in towns without, theaters; letting everyone, everywhere enjoy releases at the same time; giving filmmakers more ways to share art."
"These things are not mutually exclusive," Netflix Film tweeted.
Netflix did not mention Spielberg by name, but the tweet came after Hollywood trade publication
IndieWire
reported last week that the Oscar-winning director was "devoted to ensuring that the race never sees another 'Roma' — a Netflix film backed by massive sums, that didn't play by the same rules as its analog-studio competitors."
It's not clear what rule changes Spielberg might be planning to propose at the Academy's annual board of governors post-Oscar meeting. But a spokesperson for Spielberg's production company, Amblin, told IndieWire that "Steven feels strongly about the difference between the streaming and theatrical situation." A spokesperson for Amblin declined CNN Business' request for comment…………………………………………………."
Read more: https://www.cnn.com/2019/03/04/media/netflix-steven-spielberg/index.html
Luke Perry: forever the thrillingly cool teen pinup
Perry never quite escaped the shadow of Beverly Hills, 90210. But this was not a failing it was proof of how seminal the show, and Perrys handsome rebel Dylan McKay, was to a generation
"Teen pinups who free themselves of their TV origins can be counted on one hand with fingers to spare: Ron Howard. Michael J Fox. Zac Efron.
Luke Perry never quite made it to those ranks, but thats no discredit to him. Despite working pretty regularly until the day he died which is more than a lot of teen stars can say he always knew his obituaries would read Dylan McKay has died, referring to the bad(ish) boy he played in the original series of Beverly Hills, 90210 from 1990-1995, and then again in 1998-2000 when he gamely, if through somewhat gritted teeth, revived the character. And so it has proved to be the case.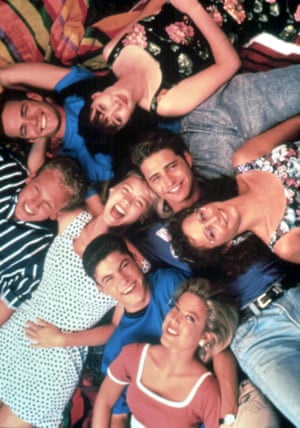 Read more: https://www.theguardian.com/tv-and-radio/2019/mar/04/luke-perry-beverly-hills-90210-dylan-mckay-forever-the-thrillingly-cool-teen-pinup