Sean Astin on possible 'Lord of the Rings' TV show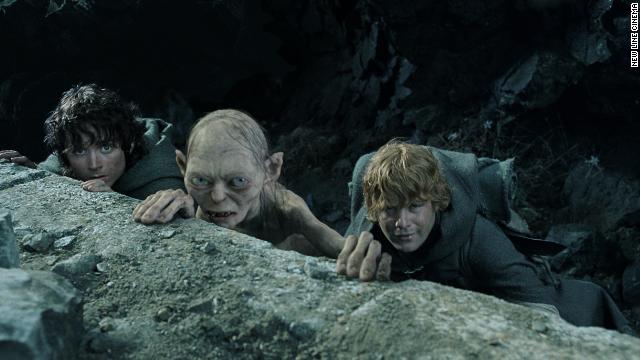 (CNN)When it came to a "Lord of the Rings" remake, star Sean Astin knew this day would be coming.
The actor, who portrayed Samwise Gamgee in the movie trilogy,
told Entertainment Weekly
he's been saying all along that the fantasy films based on the J.R.R. Tolkien novels were due for some type of revisit.
"I've been saying for 15 years that maybe like 12 years after 'Lord of the Rings' came out, that it would get remade," Astin said. "And people always said, 'Oh no, it'll never get remade! It's a classic! They could never top it!' And I'm like, 'No, it'll get remade.' "
Astin was responding to
a report from Variety
that Amazon is in talks with Warner Bros. to adapt "The Lord of the Rings" into a TV show. (Time Warner is the parent company of Warner Bros. and CNN.)
The actor, who is starring in the Netflix hit "Stranger Things," also discussed whether he'd be willing to participate in a TV adaptation.
"When I saw the Amazon thing, that didn't even occur to me," Astin told Entertainment Weekly. "I just sort of thought, 'What would it be like to see the next Sam there?' I think it's an intriguing idea (but) the devil's in the details. How would they do it? How? Who?'"
He told the magazine he hopes that if Amazon goes ahead it treats the project the way the movies were made, with director Peter Jackson being able to assert his vision.
"The challenge would be, could they find some team to do it that they could let (do) their thing, or are they going to squat on it?" he said. "It's hard to make a TV series like this by committee."
Read more: http://www.cnn.com/2017/11/08/entertainment/sean-astin-lord-of-the-rings-show/index.html
A new 'Walking Dead' series debuting with 10 episodes in 2020
Even more zombies.
Image: amc
"A new spin-off series based in The Walking Dead universe is coming to AMC in 2020.
Hot on the trail of the ninth season of The Walking Dead, AMC announced that a second spin-off will start production this summer and premiere sometime in 2020, IGN reported Monday. The new zombie show got a 10-episode order for its first season with Walking Dead writer Matt Negrete heading it up as a co-creator.
We don't know a whole lot about the new Walking Dead show, but AMC did provide a short description that gives us a hint of what it will look like, saying the series will "feature two young female protagonists and focus on the first generation to come-of-age in the apocalypse as we know it. Some will become heroes. Some will become villains. In the end, all of them will be changed forever. Grown-up and cemented in their identities, both good and bad."
While The Walking Dead kicked off right at the beginning of the apocalypse, it looks like this spin-off will start down the line from when zombies first started eating people in the U.S., long enough for its protagonists to have been teens or younger when it began.
Right now, it's not clear who the protagonists are or if they'll be connected to anyone in the main series or the other spin-off, Fear the Walking Dead. We do know that filming will be happening in Virginia, which is where the main series takes place now.
The Walking Dead has given us a glimpse at what youths in the zombie apocalypse look like throughout the series, although these kids and teens have never really been the focus."
Read more: https://mashable.com/article/walking-dead-spin-off-2020/
Kit Harington was 'shocked' by 'Game of Thrones' ending
Image: macall b. polay/hbo
"HBO has confirmed Game of Thrones' final supersized episodes, including three that hit the 80-minute mark. While the first two episodes will be around the average Game of Thrones hour, the series' final four episodes will be – as promised – roughly the same runtime as a short feature film.
The first two episode run times were already confirmed, but HBO released all six on Friday.
Episode 1: 54 minutes
Episode 2: 58 minutes
Episode 3: 1 hours, 22 minutes
Episode 4: 1 hour, 18 minutes
Episode 5: 1 hour, 20 minutes
Episode 6: 1 hour, 20 minutes
Resourceful fans have been sussing out the official episode lengths for months now. Winter is Coming approximated all of them as early as January, thanks to some French press for the show.
On Monday, an online commenter figured out that tinkering with some HBO URLs revealed the exact run times of all six episodes, which are almost exactly as HBO went on to confirm.
Game of Thrones returns April 14."
Read more: https://mashable.com/article/game-of-thrones-s8-episode-run-time/
Late Night – Official Trailer Amazon Studios
Katherine Newbury (Emma Thompson) is a pioneer and legendary host on the late-night talk-show circuit. When she's accused of being a "woman who hates women," she puts affirmative action on the to-do list, and—presto!—Molly (Mindy Kaling) is hired as the one woman in Katherine's all-male writers' room. But Molly might be too little too late, as the formidable Katherine also faces the reality of low ratings and a network that wants to replace her. Molly, wanting to prove she's not simply a diversity hire who's disrupting the comfort of the brotherhood, is determined to help Katherine by revitalizing her show and career—and possibly effect even bigger change at the same time. LATE NIGHT is in theaters June 7th.