See Dwayne 'The Rock' Johnson's Stuntman, His Lookalike Cousin
Dwayne 'The Rock' Johnson is everybody's favorite professional wrestler turned actor. While his most recent project was voicing a character in Disney's instant classic, Moana, he's usually associated with action-packed blockbusters like The Fast and The Furious and The Scorpion King.
Now, it's emerged that he's got a lookalike stunt double who's an extremely close relation!
Johnson's wrestling career came in handy when filming all those action movies. In fact, it was his impressive physique that led to landing his first acting gig in The Mummy Returns back in 2001. While he may have only been on screen for 15 minutes in that movie as Mathayus, it led to his first big role in The Scorpion King the following year. Johnson was paid $5.5 million for the part, which is a record for an actor in his first starring role.
Johnson's movies are usually action packed with explosions, high-speed car chases, and incredible stunts, which means he often requires a stunt double. However, Johnson has been using the same stunt double for his entire career, and it's someone he's known his entire life.
Johnson's stunt double is his cousin, Tanoai Reed, and they look almost exactly alike! The Hawaii-born, 6'2″ Reed is just two years younger than 45-year-old Johnson and both share the same incredibly muscular physique. In fact, the two men look so similar that they pull the same expressions while working out… They often take photos together on set and it can be very difficult to tell the pair apart. They even pose the same way or have similar facial expressions in many of their pictures. Reed and Johnson are pictured below working out, and it's almost impossible to tell them apart!
Reed has been working as a stuntman for over 20 years. He has previously been a professional American football player but got his Hollywood debut as a stuntman in 1995 in the science fiction movie Waterworld alongside Kevin Coster. He also worked on the TV series Baywatch Nights the same year, which is interesting considering Johnson just stared in the remake of Baywatch on the big screen.
The similarities between Reed and Johnson becomes all the more striking when they are pictured together.
Reed has been married to stuntwoman Suzanne Reed since 1999. She is known for her work on Iron Man 2 and Jurassic World, but the pair worked together on Johnson's movie, The Scorpion King.
Reed, however, said the job can take a toll on his health. "I'm jumping off buildings, I'm getting hit by cars, I'm crashing stuff," he told Scout.com. "My body – I'm 43 years old but I feel like I'm 83 sometimes." But he's also said that working with a man he's known his entire life makes things so much easier. That being said, Reed loves his job, and he has a blast working with his cousin on set every day. In May, Reed posted a birthday message to Johnson on his Instagram page. He expressed gratitude for working with the actor and called him his "brother from another mother".
"Thank you for being a great example not only to myself but to all of the Polynesian youth, as well as every youth, woman and grown ass man from all over the world," Reed wrote. The cousins are clearly best bros, and while working on Jumanji recently, they added comedian Kevin Hart into their circle of friends.
Johnson and Hart have been posting videos of each other from the set of the 90's family classic remake. Check out the hilarious video below of Johnson pranking Hart below. You won't be disappointed! Let's just hope Reed hasn't been left out of the action…
Read more: http://www.viralthread.com/dwayne-the-rock-johnsons-stuntman-is-his-lookalike-cousin-and-no-one-can-tell-them-apart/?all
Pamela Anderson Thought She Had A 'Special Power To Kill People' As A Child After Her Death Wish Came True
Pamela Anderson exudes magic every time she runs down the beach in slo-mo — but did you know she has real "special powers"?
At least she thought she did after an allegedly predatory babysitter was killed in a car accident one day after wishing her dead.
Related: Pamela Anderson Refuses To Apologize For Weinstein Comments
The Baywatch star made the admission on Piers Morgan's Life Stories that aired Saturday night on ITV. She remembered:
"I had a babysitter, and she molested me for I think a year. I was between the ages of 4 and 8, somewhere in there. I remember wishing her dead, and she ended up dying the next day in her graduation in a car accident."
Holy karma!
Naturally, young Pam thought she was behind the freak fatality and, if she wasn't careful, might cause another. She continued:
"I thought, 'Okay, now I've killed her. I'm magic. I can't tell my parents about this and I've killed her,' so I started believing that I had this special power to kill people."
The future actress was so terrified to oust herself as a magical being, she didn't tell her parents about the scary coincidence until "years later."
Of course, by that time, she realized she had magical abilities every time she squeezed into a red swimsuit.
[Image via Media Punch.]
Read more: http://perezhilton.com/2018-03-05-pamela-anderson-molestor-special-abilities-kill-people
Will Smith geeks out over the success of 'Black Panther' and its cast
Image: Jerod Harris/Getty Images
Excited for Black Panther? So are we. Which is why we're rolling out obsessive coverage with Black Panther Week.
Will Smith just showed the world that he's one of the biggest Black Panther fans around.
After the tremendous success of Black Panther's opening weekend, Will Smith took to Instagram to share an inspiring message he himself heard from Nelson Mandela along with a video of himself geeking out about Black Panther and praising everyone who worked on Marvel's latest film.
"What you have done is spectacular," Smith said in the video. "I watched the film a couple of days ago, and damn near got brought to tears. You guys have challenged and potentially even shattered a lot of long-time, long-held false Hollywood beliefs and paradigms. I just want to say congratulations to you, I'm proud and I'm excited, damn-near giddy. Congrats y'all, go get it."
He then crossed his arms over his chest — the Wakandan salute.
Along with the video, Smith quoted Mandela in his Instagram post, sharing a message everyone who worked on the film that spoke to what people can do with their fame and how they can reach out and inspire others.
"Go into the streets… Touch them… Let them know that you are real!" Smith wrote.
Black Panther has been heralded not only for its unmistakable quality but also its achievements in representation, not only with its predominantly black cast but also its range of diversity behind the scenes.
Read more: https://mashable.com/2018/02/21/will-smith-black-panther/
Amy Schumer Marries Boyfriend Chris Fischer After A Few Months Of Dating
Amy Schumer married chef Chris Fischer in a secret ceremony on Tuesday after just a few months of dating, People and Us Weekly reported.
The two were married at a house in Malibu, California, in front of 80 friends, including stars Larry David, Jennifer Aniston, Jennifer Lawrence, David Spade and Jake Gyllenhaal, according to the reports.
Schumer, 36, and her chef boyfriend made their relationship public (as in Instagram-official) this week after attending Ellen DeGeneres' star-studded birthday party. The two reportedly started dating around November after they were spotted having an intimate dinner in New York City.
They later attended a taping of "Saturday Night Live" together, though Schumer's rep wouldn't comment on the relationship.
Fisher once worked at Mario Batali's New York City restaurant, Babbo, after being introduced by his friend, Jake Gyllenhaal.
The chef later returned to Martha's Vineyard, Massachusetts, where he grew up, to work at the Beach Plum Inn (a favorite of the Obamas) and The Covington Restaurant.
Fisher  who penned the James Beard Award-winning cookbook, Beetlebung Farm Cookbook  recently opened Beetlebung Farm Market on Martha's Vineyard, and plans to turn part of it into a restaurant.
"After years of working for other people, my intuition is, 'I'm doing this on my own terms,'" Fisher told Boston magazine in July. "You can create a destination restaurant anywhere."
Prior to meeting Fischer, Schumer dated furniture designer Ben Hanisch. The two met on a dating app in 2015 and were together for a little over a year.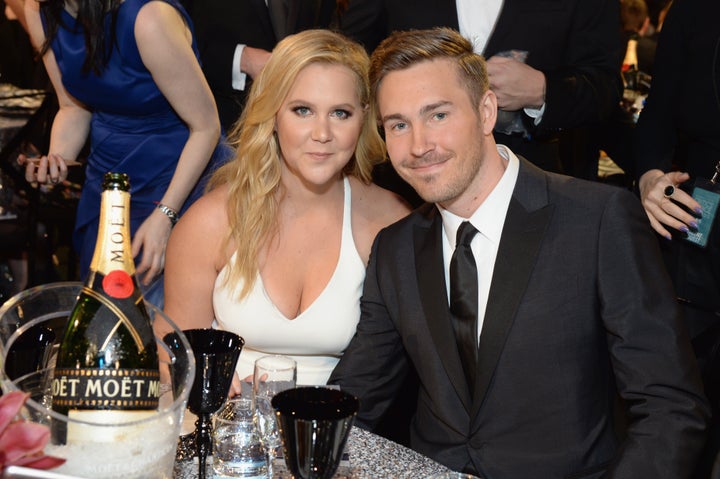 "I feel like Ben is the first guy who's really been my boyfriend," the "I Feel Pretty" actress and author told Marie Claire in July 2016. "There are guys who, if they heard me say that, would want to punch me in the face, but yeah, it's the truth."
A rep for Schumer confirmed that she and Hanisch split in 2017, but said the two remained friends. It certainly seems like things are amicable, as the comedian thanked her ex for some furniture he'd built for her in September.
Read more: http://www.huffingtonpost.com/entry/amy-schumer-marries-boyfriend-chris-fischer-after-a-few-months-of-dating_us_5a85a801e4b0774f31d2fe8d