See Dwayne 'The Rock' Johnson's Stuntman, His Lookalike Cousin
Dwayne 'The Rock' Johnson is everybody's favorite professional wrestler turned actor. While his most recent project was voicing a character in Disney's instant classic, Moana, he's usually associated with action-packed blockbusters like The Fast and The Furious and The Scorpion King.
Now, it's emerged that he's got a lookalike stunt double who's an extremely close relation!
Johnson's wrestling career came in handy when filming all those action movies. In fact, it was his impressive physique that led to landing his first acting gig in The Mummy Returns back in 2001. While he may have only been on screen for 15 minutes in that movie as Mathayus, it led to his first big role in The Scorpion King the following year. Johnson was paid $5.5 million for the part, which is a record for an actor in his first starring role.
Johnson's movies are usually action packed with explosions, high-speed car chases, and incredible stunts, which means he often requires a stunt double. However, Johnson has been using the same stunt double for his entire career, and it's someone he's known his entire life.
Johnson's stunt double is his cousin, Tanoai Reed, and they look almost exactly alike! The Hawaii-born, 6'2″ Reed is just two years younger than 45-year-old Johnson and both share the same incredibly muscular physique. In fact, the two men look so similar that they pull the same expressions while working out… They often take photos together on set and it can be very difficult to tell the pair apart. They even pose the same way or have similar facial expressions in many of their pictures. Reed and Johnson are pictured below working out, and it's almost impossible to tell them apart!
Reed has been working as a stuntman for over 20 years. He has previously been a professional American football player but got his Hollywood debut as a stuntman in 1995 in the science fiction movie Waterworld alongside Kevin Coster. He also worked on the TV series Baywatch Nights the same year, which is interesting considering Johnson just stared in the remake of Baywatch on the big screen.
The similarities between Reed and Johnson becomes all the more striking when they are pictured together.
Reed has been married to stuntwoman Suzanne Reed since 1999. She is known for her work on Iron Man 2 and Jurassic World, but the pair worked together on Johnson's movie, The Scorpion King.
Reed, however, said the job can take a toll on his health. "I'm jumping off buildings, I'm getting hit by cars, I'm crashing stuff," he told Scout.com. "My body – I'm 43 years old but I feel like I'm 83 sometimes." But he's also said that working with a man he's known his entire life makes things so much easier. That being said, Reed loves his job, and he has a blast working with his cousin on set every day. In May, Reed posted a birthday message to Johnson on his Instagram page. He expressed gratitude for working with the actor and called him his "brother from another mother".
"Thank you for being a great example not only to myself but to all of the Polynesian youth, as well as every youth, woman and grown ass man from all over the world," Reed wrote. The cousins are clearly best bros, and while working on Jumanji recently, they added comedian Kevin Hart into their circle of friends.
Johnson and Hart have been posting videos of each other from the set of the 90's family classic remake. Check out the hilarious video below of Johnson pranking Hart below. You won't be disappointed! Let's just hope Reed hasn't been left out of the action…
Read more: http://www.viralthread.com/dwayne-the-rock-johnsons-stuntman-is-his-lookalike-cousin-and-no-one-can-tell-them-apart/?all
Keanu Reeves: Grief and loss, those things dont ever go away
From Bill & Teds excellent dude to assassin John Wick, the actor has carved out a stellar career. But it hasnt come without personal tragedy
"Hey, Im Keanu, he introduces himself unnecessarily, of course, and yet very Keanu-ishly. Despite being so famous his surname has long been superfluous, Keanu Reeves has always given the impression of being utterly unaffected by his own celebrity. He is regularly described by his co-stars as kind (Winona Ryder) and humble (Laurence Fishburne) and it is easier to imagine him walking on the moon than knocking back champagne with other celebrities on a yacht in St Barts. After all, the most famous paparazzi photo ever taken of Reeves was of him sitting alone on a bench, eating a sandwich out of a plastic bag. Hard to imagine Leonardo DiCaprio doing that.
Ill sit anywhere you want me to. This OK? he says, taking a chair and offering me the sofa in the London hotel room where we meet. At just over 6ft, he is taller than I expected also unusual for an actor and dressed in a very Keanu outfit of dark shirt and trousers with sturdy boots. Despite being recently announced as the new face of the high fashion label Saint Laurent, Reeves has long been the patron saint of normcore, decades before it became a fashion statement. And I know this all too well because, from 199199, I had at least five posters of him on my bedroom walls modelling said look.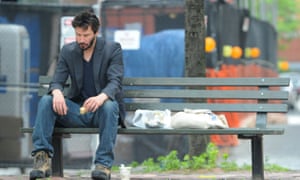 Read more: https://www.theguardian.com/film/2019/may/18/keanu-reeves-grief-loss–bill-ted-john-wick-actor-tragedy
George Clooney is done with 'dumbf**kery' in this PSA
"In light of the UN's dire warning about the Earth's accelerating extinction rate, George Clooney has stepped up for a PSA against people and their "dumbfuckery."
"Dumbfuckery is highly contagious, affecting the minds of even the most stable geniuses," the actor joked on Jimmy Kimmel Live! on Tuesday night.
Focusing his attention on climate change, vaccinations, and the dinosaurs, it's the kind of reminder that we shouldn't need — but unfortunately do."
Read more: https://mashable.com/video/george-clooney-psa-kimmel/
Barbra Streisand And Kris Kristofferson Have 'A Star Is Born' Reunion
They're evergreen in their own way, and they still rock.
Barbra Streisand and Kris Kristofferson, co-stars in the 1976 version of "A Star Is Born," reunited and Babs posted the photo evidence on Wednesday with a hint at something to come.
"It was so wonderful to see my friend Kris who stopped by yesterday. Stay tuned…" Streisand wrote.
It was so wonderful to see my friend Kris who stopped by yesterday. Stay tuned…😉 pic.twitter.com/2qUrgOikHk

— Barbra Streisand (@BarbraStreisand) April 3, 2019
Streisand, now 76, played aspiring singer Esther Hoffman, and Kristofferson, 82, was John Norman Howard, the has-been rocker who falls for her.
Like her 2018 "A Star Is Born" counterpart Lady Gaga, who took home the Oscar in February for best original song with "Shallow," Streisand won in the same category with "Evergreen."
Streisand and Kristofferson have reunited from time to time, E! News pointed out. They co-presented at the 2011 Grammy Awards, and they appeared together in 2013 at the Chaplin Award Gala honoring Streisand.
Like the song says, two lights that shine as one.