Thanksgiving Weekend Movies to See or Skip
Look, times are tough.
The world appears to be coming apart at the seams, as climate change continues to wreak havoc on the environment, and every morning youre stirred awake by the 280-character ravings (often targeting black people) of an orange, cotton candy-haired man-child. On top of all that, youre headed home for Thanksgiving, where a two-beers-deep confrontation with your not-so-tolerant relatives and/or in-laws looms.
In times like these, your local cinema offers a much-needed refuge: two whole hours to escape into a world of make-believe, while stuffing your face full of buttered popcorn.
Last years Thanksgiving weekend featured an embarrassment of riches, from eventual Best Picture winner Moonlight to the riveting rape-revenge thriller Elle, starring the inimitable Isabelle Huppert. And theres plenty to take in at the movies this year, too. Here are all the movies this holiday weekend to see (or skip).
SEE: Lady Bird
Marking the directorial debut of actress/writer Greta Gerwig (Frances Ha), this coming-of-age story features Saoirse Ronan as Christine Lady Bird McPherson, a wily and capricious youth navigating her senior year of high school in 2002 rural Sacramento. With her father (Tracy Letts) laid off and her mother (Laurie Metcalf, brilliant) working double shifts as a nurse, Lady Bird must traverse this treacherous terrain sans the social-boosting merch of her bourgeois classmates, leading to little white lies and clashes with her headstrong, seemingly unaffectionate mom. While Lady Bird crosses the familiar high-school mile markersthe first kiss, playing hooky the first timeit is never less than achingly honest and heartfelt thanks to its star and her director, upon whose life the film is based. Gerwigs film will make you feel both wistful for your lost adolescence, when little victories felt like triumphs and losses the depths of despair, and eternally indebted to your mother for putting up with you. It is also, without question, one of the best movies of the year.
SEE: Three Billboards Outside Ebbing, Missouri
The latest from playwright turned filmmaker Martin McDonagh (In Bruges) centers on Mildred Hayes, a divorced mother who, with seven months elapsed since her teenage daughters violent rape and murder and a grand total of zero leads or suspects in custody, rents three billboards on the outskirts of town calling out the local sheriff. Woody Harrelson is in top form as the noble sheriff and Sam Rockwell has never been better as a dirty cop hell-bent on protecting him, but really, this movie is mostly a monument to the greatness of Frances McDormand, whose Mildreddressed like Rosie the Riveter in blue coveralls and a bandanascours the countryside in pursuit of justice, laying waste to anyone that stands in her way. She is an absolute force of nature; a one-woman army waging war against the patriarchy.
SKIP: Daddys Home 2
Because fuck Mel Gibson.
SEE: Call Me By Your Name
I must confess that, of all the movies on this list, this gay love story from Italian filmmaker Luca Guadagnino (A Bigger Splash) is the only film I havent yet seen. But its received raved reviews across the boardincluding a standing ovation at Sundance, where it premieredand is said to feature mesmerizing turns from newcomer Timothe Chalamet, playing a 17-year-old summering on the Italian coast in 1983, and Armie Hammer as the 24-year-old object of his desire. Shot in Italy and benefitting from an almost preternatural connection between Hammer and Chalamet, its a film that is drenched with sunlight and hormones. The idyllic Italian setting and new-love raw intimacy emanates from the film like pheromones you are carnally drawn to. By the time Elio and Oliver start having sex, your own sex drive kick-starts as well. Its that primal, wrote our own Kevin Fallon in his rave review.
SKIP: Justice League
Though its gaze-reversal is commendableand, in this post-Weinstein climate, entirely necessaryand its not a tormentingly mirthless affair, like the abysmal Batman v Superman, this DC Comics superhero extravaganza is still possessed of the myriad problems plaguing these popcorn flicks: thinly-drawn villains, overcrowding, and tedious battle sequences. While Jason Momoas buff Aquaman and Ezra Millers quippy Flash inject some fun into the proceedings, and Gal Gadots Wonder Woman kicks a variety of evil ass, Justice League ultimately pales in comparison to The Avengers, or even the recent Thor: Ragnarok.
SEE: Darkest Hour
Mark my words: Gary Oldman is going to win the Academy Award for Best Actor. It will be his first Oscar, and richly deserved for his spellbinding portrayal of former British Prime Minister Winston Churchill, whose handling of the Dunkirk evacuation and his political foes in Parliament, as well as his steadfast leadership, helped Great Britain avoid the clutches of Adolf Hitler. Oldman completely disappears into the role. Beyond the obvious physical transformation4 hours of daily prosthetics application, fat suitOldman manages to make each and every rousing political speech soar to the heavens, while also providing sporadic glimpses of The British Bulldogs humanity: his doubts, fears, and splashes of humor. An absolute tour de force.
SEE: Mudbound
I think art breaks down otherness, Dee Rees told me at Sundance. Art makes you see people as individual, unique human beings. And her latest film, Mudbound, juxtaposing the trials and tribulations of two familiesone white, one blackon a flood-plagued farm in post-WWII rural Mississippi, is a haunting and elegiac work exploring Americas racist past, the bonds of servitude, and what it means to be an American. Mudboundis something else entirelya grand old Hollywood production brimming with scene after scene of chaos and lyrical splendor, which immediately places Rees in the upper echelon of directors, I wrote. The film is now streaming on Netflix and playing in select theaters nationwide. Do yourself a favor and check this one out on the big screen.
SEE: The Florida Project
Anyone whos seen Tangerine, shot on several modified iPhone 5ss, is aware of filmmaker Sean Bakers exceptional talent. Few are able to capture the agony and ecstasy of raw human emotion quite like him, and in The Florida Project, he focuses his lens on the struggling tenants of Magic Castle, a run-down motel a stones throw from Walt Disney World, as seen through the eyes of Moonee, a perspicacious (and mischief-making) six-year-old raised by Halley (Bria Vinaite), an unemployed single mother who dabbles in various side hustles to make ends meet. Bakers film is gorgeously shot, as Moonee wanders around strip malls and abandoned housing projects with her friends, blissfully unaware of the poverty surrounding her; it also captures ones childlike sense of wonder better than any film since Beasts of the Southern Wild. Willem Dafoe lends warmth and compassion to the role of Bobby Hicks, the manager of the Magic Castle, while newcomer Brooklynn Prince is a revelation as Moonee, and may, at seven years old, become the youngest Oscar nominee in Academy history.
SEE: Coco
Come on, man! Its a Pixar film not named Cars. Of course its a must-see.
Read more: https://www.thedailybeast.com/thanksgiving-weekend-movies-to-see-or-skip-lady-bird-justice-league-and-more
Keira Knightley to star in forgotten story of Iraq war whistleblower
Actress will take role of Katharine Gun, who leaked an email to the Observer about US spying plans, in new film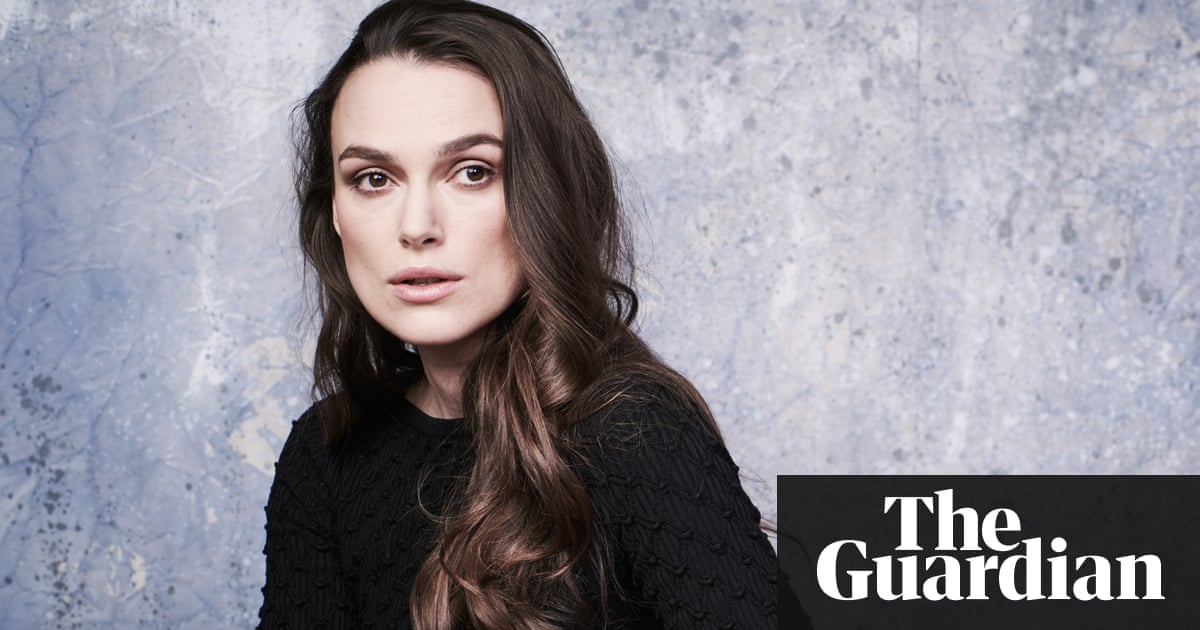 Keira Knightley to star in forgotten story of Iraq war whistleblower
Actress will take role of Katharine Gun, who leaked an email to the Observer about US spying plans, in new film
Read more: https://www.theguardian.com/film/2018/feb/18/keira-knightley-role-katharine-gun-gchq-official-secrets-film
Feast your hungry eyes on Chadwick Boseman's Rolling Stone cover
Just look at that smile.
Image: Leon Bennett/Getty Images
It's now been a week since Black Panther blasted its way onto our screens, and thirst levels are officially off the charts.
Winston Duke, the jaw-droppingly chiselled actor who plays M'Baku in the film, has already had his fair share of Twitter attention — and now it's Chadwick Boseman's turn.
On Sunday, Boseman tweeted out his new Rolling Stone front cover. Brace yourselves…
'Black Panther' posts a record-setting box office opening for Marvel
Image: disney
Excited for Black Panther? So are we. Which is why we're rolling out obsessive coverage with Black Panther Week.
We knew Black Panther would be a hit. And now, the box office figures are here to prove it.
The latest chapter in the Marvel Cinematic Universe opened with an estimated $218 million earned over the weekend, including Monday's holiday. That's enough to give King T'Challa's adventures in Wakanda a second-place finish among all other MCU movie openings.
Black Panther's Friday-Saturday-Sunday opening accounts for an estimated $192 million. That's just enough to secure an all time top-five finish among Friday-Saturday-Sunday opening weekends, behind Star Wars: The Force Awakens ($248 million), Star Wars: The Last Jedi ($220 million), Jurassic World ($208.8 million), and The Avengers ($207.4 million).
At least part of the sensational box office success is due to the fact that the movie dropped in February. The early months of the year are typically quiet ones for Hollywood, though risk-averse studios have more recently taken advantage of the period's empty release calendar to showcase unproven blockbusters.
In 2016, that was Deadpool. The R-rated superhero movie was in many ways a first for the genre, proving that an adults-only audience could carry a comic book adaptation to box office success. Until Black Panther came along, Deadpool's $132.4 million opening weekend made it the all time winner for February releases.
Black Panther was considered "risky" — from a studio exec's perspective, to be clear — for a different, and arguably more controversial, reason. Its predominantly black cast of stars and politicized themes fall outside the typical recipe of a successful Hollywood blockbuster, which tends to center around white male leads.
What's more, the Black Panther character is among Marvel's lesser-known heroes on the world stage. Any fan of Marvel comics would call foul on that, but stand, say, Spider-Man, or Wolverine, or Captain America up against Black Panther and there's really no contest: One is a household name, the other isn't.
This movie changes that. Buzz around Black Panther had been building for months. As the Feb. 16 release drew closer, all the usual background buzz about box office predictions grew on a weekly basis. At one point, Black Panther was on the road to a $150 million opening. Barely a day later, that number had climbed to $165 million.
To anyone paying attention, it was clear from not just the buzz but also the cultural movement building around the movie that it was going to be something special. Then, it screened for critics and reviews came out. That made things internet-official: Black Panther was a hit.
The numbers don't lie. An estimated $192 million in three days. $218 million in four. Another $169 million from releases in countries outside the U.S., with many first-place weekend finishes among them. Black Panther is fully owning its moment.
Read more: https://mashable.com/2018/02/18/black-panther-box-office-opening-weekend/