The 50 top films of 2017 in the US: No 3 Get Out
Jordan Peeles sleeper hit was a note-perfect dismantling of white American liberalism but it was also chilling, hilarious and relentlessly entertaining
It would be easy enough to make a case for Get Outs place among the years best movies simply by reeling off a list of stats and facts. To date, Jordan Peeles film has made over $175m at the US box office, a figure that puts it in the 15 highest-grossing films of 2017, ahead of the likes of Cars 3, War for the Planet of the Apes and the latest Transformers and Pirates of the Caribbean films. Globally it has earned back around 56 times its production budget (as a point of comparison, Beauty and the Beast, the years runaway hit, has earned around 10 times its budget), and has become the highest-grossing film of all time made by a black director.
Get Out currently holds a 99% rating on critical aggregation site Rotten Tomatoes, making it the best reviewed film of the year. (Much has been made of Lady Birds 100% rating, but Get Outs greater number of reviews means that it is still ahead in the end-of-year rankings.) To cap it all, the film looks likely to join a very select list of horror movies to earn a best picture nomination at the Oscars, with some predicting it could nay, should take home the top prize.
Yet Get Outs real impact was far more profound than that which showed up on balance sheets and end-of-year polls. This was the rare mainstream movie that mattered, a mass-market horror that forced its many viewers to confront head-on the most pressing topic in American life today. That it did so while offering up a thrillingly effective horror movie seems doubly sensational.
Daniel Kaluuya plays Chris, the black boyfriend taking the plunge of a first visit to the home of his white girlfriend Roses (Allison Williams) parents. They are on the face of it, well-meaning, if slightly embarrassing, in their desire to be seen as good progressives, boasting about voting for Obama, engaging in fist-bumps. Yet theres the occasional ringing of alarm bells: the comments by Roses brother about Chriss genetic makeup, the desire of Roses mother to hypnotise Chris, and the presence of black employees at the house, all of whose faces are frozen in a rictus grin of strained enthusiasm. Things inevitably go south from there, and soon were into territory situated somewhere between The Stepford Wives, Guess Whos Coming to Dinner and the malice of modern horror films such as It Follows.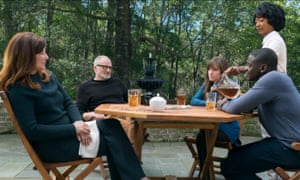 Read more: https://www.theguardian.com/film/2017/dec/20/the-50-top-films-of-2017-in-the-us-no-3-get-out
Judy Garland lives again, in the form of Rene Zellweger in 'Judy': Photo
Rene Zellweger in 2017
Image: Jason Laveris / FilmMagic
Renée Zellweger is practically unrecognizable in her latest film role… but she does bear a striking resemblance to somebody else.
Pathé UK has released the first official photo from Judy, which stars Zellweger as silver screen legend Judy Garland.
(For comparison, here's a photo of Garland in 1960, via Vanity Fair.)
The film takes place in the late 1960s, as Garland arrives in London for a series of concerts. By this point, Garland is well into her 40s and her memorable turn in The Wizard of Oz is nearly thirty years behind her.
But even as she prepares to face crowds of adoring fans, she's still battling the demons left behind by her troubled childhood in Hollywood.
Judy, which started shooting Monday, also stars Jessie Buckley, Finn Wittrock, and Michael Gambon. Rupert Goold (True Story) directs from a script by Tom Edge (Lovesick). Some of Garland's most beloved songs will be featured in the movie, including "Over the Rainbow."
Read more: https://mashable.com/2018/03/19/renee-zellweger-judy-garland-biopic/
Madonna to direct movie based on life of ballerina Michaela DePrince
MGM announces the singer will direct Taking Flight, the story of DePrinces journey from war orphan in Sierra Leone to world-class ballerina
Madonna is to return to the movies after a seven-year absence to direct Taking Flight, a feature film based on the life of Michaela DePrince, a war orphan from Sierra Leone who became a leading ballerina.
According to Deadline, Hollywood studio MGM has been developing the project since 2015 when it acquired the rights to DePrinces memoir, co-written with her adoptive mother, Elaine.
Michaelas journey resonated with me deeply as both an artist and an activist who understands adversity, Madonna said. We have a unique opportunity to shed light on Sierra Leone, and let Michaela be the voice for all the orphaned children she grew up beside. I am honoured to bring her story to life.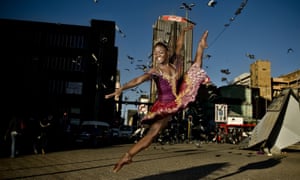 Read more: https://www.theguardian.com/film/2018/mar/14/madonna-to-direct-movie-based-on-life-of-ballerina-michaela-deprince
'Black Panther' Hits $1 Billion Mark In Worldwide Box Office Numbers
"Black Panther" has surpassed $1 billion at the worldwide box office, challenging industry norms about films with black casts.
The international success of "Black Panther" has challenged the myth that films with predominately black casts don't sell and it helps unravel "unwritten Hollywood rules," Jeff Bock, a senior analyst at entertainment research firm Exhibitor Relations, told The New York Times.
"I think about it like a wall crumbling," Bock said. "In terms of 'Black Panther,' no studio can say again, 'Oh, black movies don't travel, overseas interest will be minimal.'"
Stars of the film, including Chadwick Boseman, Lupita Nyong'o and Danai Gurira, have spoken out about the importance of representation in the movie. "Black Panther," which is set in the fictional country of Wakanda, shows the possibilities of an African society untouched by colonialism and gender inequity.
"I think there's a thirst for these images," Boseman told NBC. "There's a real thirst for black superheroes."
Marvel Studios President Kevin Feige confirmed this week that a "Black Panther" sequel is in the works. Feige told Entertainment Weekly that there was "nothing specific to reveal" about the next movie but added that "we absolutely will do that."
Read more: http://www.huffingtonpost.com/entry/black-panther-billion-dollars-top-domestic_us_5a9ef739e4b002df2c5e6fd7