The 50 top films of 2017 in the US: No 3 Get Out
Jordan Peeles sleeper hit was a note-perfect dismantling of white American liberalism but it was also chilling, hilarious and relentlessly entertaining
It would be easy enough to make a case for Get Outs place among the years best movies simply by reeling off a list of stats and facts. To date, Jordan Peeles film has made over $175m at the US box office, a figure that puts it in the 15 highest-grossing films of 2017, ahead of the likes of Cars 3, War for the Planet of the Apes and the latest Transformers and Pirates of the Caribbean films. Globally it has earned back around 56 times its production budget (as a point of comparison, Beauty and the Beast, the years runaway hit, has earned around 10 times its budget), and has become the highest-grossing film of all time made by a black director.
Get Out currently holds a 99% rating on critical aggregation site Rotten Tomatoes, making it the best reviewed film of the year. (Much has been made of Lady Birds 100% rating, but Get Outs greater number of reviews means that it is still ahead in the end-of-year rankings.) To cap it all, the film looks likely to join a very select list of horror movies to earn a best picture nomination at the Oscars, with some predicting it could nay, should take home the top prize.
Yet Get Outs real impact was far more profound than that which showed up on balance sheets and end-of-year polls. This was the rare mainstream movie that mattered, a mass-market horror that forced its many viewers to confront head-on the most pressing topic in American life today. That it did so while offering up a thrillingly effective horror movie seems doubly sensational.
Daniel Kaluuya plays Chris, the black boyfriend taking the plunge of a first visit to the home of his white girlfriend Roses (Allison Williams) parents. They are on the face of it, well-meaning, if slightly embarrassing, in their desire to be seen as good progressives, boasting about voting for Obama, engaging in fist-bumps. Yet theres the occasional ringing of alarm bells: the comments by Roses brother about Chriss genetic makeup, the desire of Roses mother to hypnotise Chris, and the presence of black employees at the house, all of whose faces are frozen in a rictus grin of strained enthusiasm. Things inevitably go south from there, and soon were into territory situated somewhere between The Stepford Wives, Guess Whos Coming to Dinner and the malice of modern horror films such as It Follows.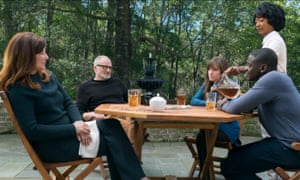 Read more: https://www.theguardian.com/film/2017/dec/20/the-50-top-films-of-2017-in-the-us-no-3-get-out
Brad Pitt's Sci-Fi Epic 'Ad Astra' Gets Bumped to May 2019
"Quentin Tarantino's "Once Upon a Time in Hollywood" is the upcoming Brad Pitt release everyone can't stop talking about right now, but the actor has another project set to open before "Hollywood" that ought to be on everyone's radar. At least, that is if it actually opens in 2019 at all. Pitt is the lead in James Gray's science-fiction epic "Ad Astra," and the director recently cast doubt on meeting the film's deadline while speaking with The Film Stage.
"It's exciting, but it's far from finished," Gray said when asked for "Ad Astra" updates. "I'm here [at the Marrakech Film Festival], a little bit on vacation. I'm really tired because the previous movie ["The Lost City of Z"] was physically very difficult. It was both Europe and the jungle and this one I thought would be easier. Not easier like an easy movie to make but, like, physically easier and it was not. So I needed to come here. I have to go home. I have over 600 shots to review."
"Ad Astra" stars Pitt as an Army Corps engineer who decides to go on an ambitious space mission to find out what happened to his father, an astronaut who never returned from a one-way mission to Neptune looking for signs of extra-terrestrial intelligence. The supporting cast includes Tommy Lee Jones, Ruth Negga, Donald Sutherland, and Jamie Kennedy.
20th Century Fox is behind "Ad Astra" and had originally set a January 11, 2019 opening date. The date had some thinking…………………………………….."
Read More Here: https://www.indiewire.com/2018/12/brad-pitt-ad-astra-release-2019-far-from-finished-1202026702/
Robert De Niro Says 'The Irishman' Set for the Big Screen
"The Irishman is set for the big screen next year when it is released by Netflix, star Robert De Niro said Sunday while speaking at the Marrakech Film Festival.
The pic is the actor's latest collaboration with Goodfellas director Martin Scorsese, which also stars Al Pacino, Joe Pesci and Harvey Keitel, and is set in the crime world.
"We've talked about it with Netflix. They are going to do a presentation of our film the way it should be, in a theater, in certain venues, the best theatrical venues there can be," De Niro said, hinting that there have been ongoing discussions with the streaming platform surrounding the release.
"How they resolve it is, in the beginning, they will show it on the big screen — we're talking about big venues where it would play, where it should play — and what happens after that, I'm not sure," he said, guessing that it would be released online at a later date.
It marks the second big film Netflix will release, following in the footsteps of Alfonso Curaon's Oscar contender Roma in a limited theatrical run for awards season. Netflix has also taken on Guillermo del Toro's dark Pinocchio, which is another potential awards contender and the next project after his Oscar wins for The Shape of Water………………………………………….."
Read More Here: https://www.hollywoodreporter.com/news/marrakech-robert-de-niro-says-irishman-set-big-screen-1165651
Golden Globe nominations to kick off Hollywood's award season
(CNN)
"Nominations for the Hollywood Foreign Press Association's annual ceremony, which honors achievement in film and television, were announced Thursday. Big film hits "Black Panther," "Bohemian Rhapsody" and "A Star Is Born" will compete for best drama against the critically acclaimed "BlacKkKlansman" and "If Beale Street Could Talk," directed by Spike Lee and Barry Jenkins, respectively, who directed the Oscar-winning "Moonlight."
Below is the full list of nominees.
Movies
Best Motion Picture – Drama
"Black Panther"
"BlackKklansman"
"Bohemian Rhapsody"
"If Beale Street Could Talk"
"A Star Is Born"
Best Motion Picture – Musical or Comedy
"Crazy Rich Asians"
"The Favourite"
"Green Book"
"Mary Poppins Returns"
"Vice"
Best Performance by an Actress in a Motion Picture – Drama
Glenn Close ("The Wife")
Lady Gaga ("A Star Is Born")
Nicole Kidman ("Destroyer")
Melissa McCarthy ("Can You Ever Forgive Me?")
Rosamund Pike ("A Private War")
Best Performance by an Actor in a Motion Picture – Drama
Bradley Cooper ("A Star Is Born")
Willem Dafoe ("At Eternity's Gate")
Lucas Hedges ("Boy Erased")
Rami Malek ("Bohemian Rhapsody")
John David Washington ("BlackKklansman")………………………………………………"
See the rest of the nominations here: https://www.cnn.com/2018/12/06/entertainment/golden-globe-nominations/index.html