The 7 Most Overlooked Movies of 2017: Ghosts, Architecture, and Ass-Kicking Galore
Last year, 718 feature films were released in U.S. theatersor about 14 a week. And, as much as we all enjoy a two-hour respite from the attention-grabbing antics of our commander-in-chief, a man the USA Today editorial board recently branded unfit to clean toilets in Obamas presidential library, even the most vigilant of moviegoer couldnt possibly catch em all.
Among the many gems that fell through the cracks last year was A Bigger Splash, a sexy, sun-soaked tale of jealousy and deceit by Italian filmmaker Luca Guadagnino, helmer of the buzzy Call Me by Your Name; newcomer Anna Rose Holmers visually entrancing coming-of-age saga The Fits; and Green Room, a punks vs. Nazis grindhouse thriller by Jeremy Saulnier.
And, buried between towering blockbusters like Star Wars: The Last Jedi and our annual Marvel-superhero rations were some truly outstandingand criminally overlookedfilms this year, too.
PERSONAL SHOPPER (March 10)
People forget that, before those terribly popular emo-vampire films, Kristen Stewart was a character actress par excellence; a performer whose aching vulnerability, paired with a mlange of striking close-ups, stirs the soul. Her creative partnership with French auteur Olivier Assayas, which began with the 2014 film Clouds of Sils Maria, continues with Stewart portraying a damaged young woman who, when shes not acquiring high-end dresses and jewelry for her celebrity-boss, is attempting to contact her recently deceased brother in the spirit world. And Stewart, all raw nerves and twitchiness, proves the perfect vessel for Assayas paranoid journey.
THE LOST CITY OF Z (April 14)
I suspect that, if this film had landed its intended star Brad Pitt, youd be seeing it on a lot more top ten lists. It tells the story of Percy Fawcett, a British explorer who becomes fixated on finding an ancient lost city deep in the Amazon. Though Charlie Hunnam is a bit of a blank as Fawcett, Robert Pattinson, behind a bushy beard, completely disappears into the role of his right-hand man, and Sienna Miller turns in one of the best performances of the year as Fawcetts tormented, endlessly devoted wife. Also, nobody not named Michael Haneke composes a final shot better than James Gray (Two Lovers, The Immigrant), and he doesnt disappoint here. It will leave you breathless.
OKJA (June 28)
Theres a lot going on. A young Korean farm girl who travels to Seoul in search of her beloved genetically-engineered super pig. A goofy corporate CEO, played by Tilda Swinton, who hopes to profit from the cutting-edge creature. Paul Dano as the leader of a militant band of animal-rights activists hell-bent on exposing the food corporation. Jake Gyllenhaals batshit-crazy TV zoologist, who is in way over his head. And at the helm of it all is Bong Joon-ho, the acclaimed South Korean filmmaker behind Snowpiercer, whos crafted a playfully mischievous fantasy-epic bursting with imagination.
A GHOST STORY (July 7)
Lets first address the elephant in the room: Casey Affleck stars in this film. Some will find that a problem. He plays a man who, after perishing in a car accident, awakens in the morgue as a ghost with a sheet over his head and proceeds to haunt first his grieving wife (Rooney Mara), and then the succeeding residents of his Texas home. What sounds silly on paperan Oscar winner under a sheet, framed by a 1.33:1 aspect ratio, in search of closure before passing onproves to be a bold, poetic meditation on love, loss, and mankinds pursuit of serenity. And Rooney Mara is dynamite. Youll never look at a chocolate cream pie the same way again.
COLUMBUS (Aug. 4)
If there were any justice in Hollywood, this stunningly rendered film would be up for a slew of Academy Awards. Marking the feature directorial debut of video essayist Kogonada, it stands as a monument to the architectural beauty of the Midwest, as two lost soulsa morose forty-something (John Cho) whose architect-father is in a coma, and a whip-smart 19-year-old (Haley Lu Richardson) putting her life on hold to care for her recovering-addict mothernavigate the Saarinen-designed structures of Columbus, Indiana, as well as their pasts. It never hits a false note thanks largely to Richardson, whose performance is nothing short of profound. A star is born.
THE VILLAINESS (Aug. 25)
The plot to this South Korean action flick is more convoluted than the first Mission: Impossible film. There are double- and- triple crosses, sleeper agents, and a female assassin-protagonist who gets plastic surgery to completely alter her appearance. But holy shit, the action sequences in this movie put even The Raid to shame. Theres a highway chase on motorbikes, with our aforementioned hero dodging a flurry of samurai swords while weaving between lanes, that is so jaw-dropping youll want to race home to Google how they did it. Filmmaker Jung Byung-gil has immediately catapulted himself to the top of the action-movie food chain, and star Kim Ok-bin is, without question, the most badass action-hero on film this year.
BRAWL IN CELL BLOCK 99 (Oct. 6)
Nearly twenty years after his finest film performance in Clay Pigeons, Vince Vaughn has returned with his second-best: as a tattooed ex-boxer who, after falling in deep with mob, must fight his way through the prison system in order to kill a man housed in a hellish maximum-security facility, thereby freeing his kidnapped pregnant wife (Jennifer Carpenter) on the outside. The film is skull-crushingly violent, and yet, Vaughn proves to be both physically imposing and incredibly charming, breaking bones and mangling faces with a wink and a smile. And the man at the helm, filmmaker S. Craig Zahler (Bone Tomahawk), is like a cross between Tarantino and Robert Rodriguez: he knows how to keep you firmly on the edge of your seat.
Read more: https://www.thedailybeast.com/the-7-most-overlooked-movies-of-2017-ghosts-architecture-and-ass-kicking-galore
Madonna to direct movie based on life of ballerina Michaela DePrince
MGM announces the singer will direct Taking Flight, the story of DePrinces journey from war orphan in Sierra Leone to world-class ballerina
Madonna is to return to the movies after a seven-year absence to direct Taking Flight, a feature film based on the life of Michaela DePrince, a war orphan from Sierra Leone who became a leading ballerina.
According to Deadline, Hollywood studio MGM has been developing the project since 2015 when it acquired the rights to DePrinces memoir, co-written with her adoptive mother, Elaine.
Michaelas journey resonated with me deeply as both an artist and an activist who understands adversity, Madonna said. We have a unique opportunity to shed light on Sierra Leone, and let Michaela be the voice for all the orphaned children she grew up beside. I am honoured to bring her story to life.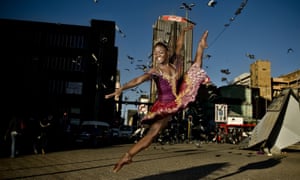 Read more: https://www.theguardian.com/film/2018/mar/14/madonna-to-direct-movie-based-on-life-of-ballerina-michaela-deprince
'Black Panther' Hits $1 Billion Mark In Worldwide Box Office Numbers
"Black Panther" has surpassed $1 billion at the worldwide box office, challenging industry norms about films with black casts.
The international success of "Black Panther" has challenged the myth that films with predominately black casts don't sell and it helps unravel "unwritten Hollywood rules," Jeff Bock, a senior analyst at entertainment research firm Exhibitor Relations, told The New York Times.
"I think about it like a wall crumbling," Bock said. "In terms of 'Black Panther,' no studio can say again, 'Oh, black movies don't travel, overseas interest will be minimal.'"
Stars of the film, including Chadwick Boseman, Lupita Nyong'o and Danai Gurira, have spoken out about the importance of representation in the movie. "Black Panther," which is set in the fictional country of Wakanda, shows the possibilities of an African society untouched by colonialism and gender inequity.
"I think there's a thirst for these images," Boseman told NBC. "There's a real thirst for black superheroes."
Marvel Studios President Kevin Feige confirmed this week that a "Black Panther" sequel is in the works. Feige told Entertainment Weekly that there was "nothing specific to reveal" about the next movie but added that "we absolutely will do that."
Read more: http://www.huffingtonpost.com/entry/black-panther-billion-dollars-top-domestic_us_5a9ef739e4b002df2c5e6fd7
Keegan-Michael Key's reaction to Jordan Peele's Oscar win will make you emotional
Find yourself a friend who loves you this much.
Jordan Peele had a historic moment last night when he won the Academy Award for Best Original Screenplay for his debut solo film, Get Out.
He became the first African-American screenwriter to win this category—and no one was prouder of him than his old Key and Peele partner, Keegan-Michael Key.
Key and Peele were the creators of the aptly titled sketch comedy series that ran on Comedy Central for five seasons, from 2012 to 2015.
Key was absolutely thrilled to see his "partner in laughs" snag his first Oscar.
Just look at that ecstatic jump!
Look how happy Keegan-Michael Key was when Jordan Peele won! #Oscars

(