The Globes Celebrated Strong Female Characters Written and Directed by Men
The best moment of Sundays Golden Globes wasnt Oprahs speech, although that was very good. It wasnt The Rooms Tommy Wiseau trying to steal the mic from James Franco, who won a Best Actor statue for playing Tommy Wiseau, although that ruled. It was when Natalie Portman brought the room down by pointing out that all of the Best Director nominees were male, followed by the flickers of shame across the faces of all of the nominees as cameras cut from disheveled genius to disheveled genius. Natalie Portman just whipped it out, right there, in front of everybody.
Its more pleasant to feel uplifted than it is to feel guilty. The truth is not uplifting.
Attendees of the 75th annual award ceremony wore black either in protest of sexism in Hollywood, in solidarity with those who were protesting sexism in Hollywood, or on the advice of their stylists who warned them that not wearing black might be some bad optics at this particular moment in history. Some actresses ditched their traditional dates and brought activists with them instead. During red-carpet interviews, these actresses steered discussions in the direction of the work that their activist companions were doing. A few called out E! for paying its female hosts less than its male hosts. It felt like a revolt.
But inside the Beverly Hilton ballroom, it read a little more like window dressing.
The Globes seemed eager to reward depictions of female strength, but after a few awards, it was clear that Hollywoods version of Female Strength () is mostly written, shot, produced, and directed by men.
Three Billboards Outside Ebbing Missouri, the Crash of 2017, is a great example of this. The film won Best Picture in the Drama category last night, and its star Frances McDormand won Best Actress.
Critics tout the film as a great example of a strong female character, a great female role, for a female woman to play. Its director Martin McDonaghs third film, the first that doesnt star Colin Farrell. Thats nice. But McDormands tough yet unlikable Mildred Hayes is the sort of character that reads like she was drawn from memory by a man who had only half paid attention to women for his entire life. Slates Inkoo Kang rightfully compares her outfitcoveralls and a bandanato Rosie the Riveter and notes that she wears it on a first date. She also wears it to work at a gift shop, which makes utterly no sense. Does Mildred spend her days sweating in the knickknack mines below the floorboards, or is she a half-assed Hollywood penance for decades of the same sin?
Not one male award winner recognized the #MeToo movement or their female counterparts work in creating more visibility for victims of harassment and abuse across industries. Not one.
Smart people dont need to remind others that they are smart; movies about strong women shouldnt have to remind the viewers, over and over again, that the women are strong. The movie that brought us Mildred Hayes firebombing a police station was conceived by a man, directed by a man, scored by a man, with cinematography by a man, and produced by nine people, eight of whom are men.
But congratulations to Frances McDormand.
Im not picking on Three Billboards, although it is the worst movie this writer has seen this year. Many of the strong women Hollywood is so yen to thrust forward of examples of how far its already come are mens idea of what strong women look like.
And men have made some great entertainment starring women this year. The world would be worse off without David E. Kellys adaptation of Big Little Lies, a novel by a woman, into a miniseries that gave its female stars a literal murderers row of roles befitting their talents. Mollys Game, which is excellent, stars a virtuoso Jessica Chastain commanding a great script written and directed by a man. Eighteen of 20 episodes of The Crown, a showcase for a cast led by Claire Foy, were directed by men. The 2017 box office champ Star Wars is helmed by a female character conceived, written, and directed by a man. The Handmaids Tales grim depiction of a dystopia where womens bodies are controlled by religious zealots was created by a man, and 10 of its 15 episodes were directed by men. Men are perfectly capable of making good art about women; they just shouldnt be called upon so often to speak in their place. How many movies about the lives of men are created and shaped by women?
When women are given a chance to tell the stories of women, what they create resonates with an authenticity that all but the best of Hollywood lacks. Greta Gerwigs Ladybird (full disclosure: a company owned The Daily Beasts parent company produced the film) is one of the most tender, funny, and true depictions of teenage girlhood Ive ever seen. Wonder Woman was a solid film that cleaned up at the box office, written and directed by a woman. SMILF, despite going home empty-handed last night, is sharp, funny, and real.
Host Seth Meyers did his best to self-flagellate during his opening monologue. But not one male award winner recognized the #MeToo movement or their female counterparts work in creating more visibility for victims of harassment and abuse across industries. Not one.
Aziz Ansari, who won an Emmy for writing alongside Lena Waithe, did not thank her in his acceptance speech for Best Actor last night, although he did thank three men who worked on the show with him and the country of Italy. Justin Timberlake dutifully walked the red carpet in a Times Up! pin, like viewers would have forgotten that he has yet to apologize to Janet Jackson for ripping part of her top off during the Super Bowl halftime show 14 years ago, as though audiences cant look at IMDB.com and see that he just worked with Woody Allen. Alexander Skarsgrd, who played the abusive husband of Nicole Kidmans character in Big Little Lies, came closest to expressing gratitude or regret when he thanked Kidman for the best experience of his career.
But overall, the men who took to the stage last night seemed to understand themselves as good guys in their world, instead of beneficiaries of a system where those complicit get credit when they finally stand up to injustice but no consequences for perpetuating it. It seems that it hasnt quite sunk in that to sate the publics demand for more women on film, more women on TV, more womens voices, more women will have to be involved in making that entertainment, both on and offscreen. Making more room for women will eventually mean less room for men.
All of the men wearing their Times Up! pins and black dress shirts beneath black tuxedo jackets (truly brave) carried themselves with the air of diplomats who caught the last helicopter flight out of Saigon. Theyd weathered the purge; the bad guys are out and the door is shut and they are aboard. And they carried on as though the women who were making noise were celebrating a job well done instead of firing themselves up for a long, hard slog. As though one or more of them wont be in the room next year, as though his chair wont one day be filled by a talented and, until now, overlooked woman.
Read more: https://www.thedailybeast.com/the-globes-celebrated-strong-female-characterswritten-and-directed-by-men
'A Star is Born,' 'First Man' And 'Widows' Are This Year's Early Oscar Front-Runners
The Coen Brothers Films Ranked!
"With the 20th anniversary re-release of The Big Lebowski, we rank the duos films (directing only), from their 1984 debut Blood Simple to this years The Ballad of Buster Spruggs
What on earth was this about? A remake of the Ealing crime-caper classic (with Tom Hanks in Alec Guinnesss crackpot mastermind role) at least proves, if proof were needed, that the Coens have excellent cinephile taste. But this was pointless and baffling. A case of No Coen Do.
What a dogs brunch of a film: a strained and unfunny black comic gang-show of big names, with one or two good gags and an admittedly intriguing turn from Brad Pitt as a dopey fitness freak.
16. The Hudsucker Proxy (1994)
This period Capraesque comedy about an ordinary guy a rather uncharismatic Tim Robbins who is elevated to corporate greatness as part of a share-price scam is an example of how the Coens comedy can sometimes lack focus: too quirky and spongy.
The Coens love of Preston Sturges resurfaced in this film that whimsically takes upon itself the title of the desperately serious social-realist movie being planned in Sturges 1941 Sullivans Travels. It is an appealing, likable film about three runaway chaingang convicts in depression America who pass themselves off as a bluegrass trio, their record somehow becoming a hit. Silly, amiable stuff that has faded with time.
More golden age Hollywood nostalgia with this cantering comedy about tinseltown: the boozers, the fixers, the divas, the hoofers, the scribblers. It features George Clooney as a none-too-bright ageing star in a cheesy toga-wearing Roman epic. The movie reminded the world what a great dancer Channing Tatum is.
Unprecedented commercial success was what the Coens found with this handsome remake of the 1969 John Wayne classic; or rather a new adaptation of the original novel by Charles Portis. Jeff Bridges was probably the only possible casting as the no-account Rooster Cogburn, with Hailee Steinfeld as his employer, the 14-year-old Mattie Ross. It is a good-natured, well-made movie, but perhaps without the strong taste of the original, or the Coens other films.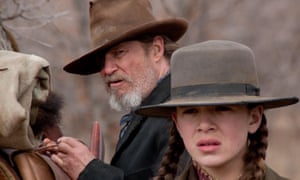 Burt Reynolds: the Easygoing Cannonball of Old-School Hollywood Manliness | Peter Bradshaw
In his heyday in movies like Smokey and the Bandit, Reynolds became a hugely popular star who embodied the twinkly-eyed mans man with a touch of the rebel
"At his peak, Burt Reynolds had the kind of face, the kind of body, the kind of masculinity and appeared in the kind of movie that hasnt been fashionable in Hollywood for decades. From 1978 to 1982, Burt Reynolds in all his easygoing ruggedness was the undisputed king: the industrys top grossing star every year in that time for increasingly unfashionable but lucrative pictures. It was a short but legendary reign, after which his awful career moves, calamitous personal investments and matrimonial woes put his star into the descendant. But, like Travolta, he enjoyed a hip and postmodern comeback in the 1990s as the porn movie mogul in Paul Thomas Andersons Boogie Nights (1997), a role with a streak of darkness which reconnected to him to the disturbing John Boorman picture that made his name in 1972, Deliverance, the story of four white salarymen who go on a trip to the Georgia wilderness, unwisely patronise the locals and encounter a situation which unlocks ruthless violence in Reynoldss character.
But Deliverance however sensational it was was a slightly atypical role for Reynolds. In his glorious, sunlit heyday, Burt Reynolds was an easygoing figure. He had a wide, handsome and very intelligent face: sometimes accessorised with a big moustache, he appeared in an outdoors-guy leather, denim, sometimes in lawmans uniform or sports kit the kind of rangy look that was later co-opted by the gay community. Reynolds had a fine singing voice and appeared opposite Dolly Parton in the musical The Best Little Whorehouse In Texas, and in 1973 released a country album called Ask Me What I Am………………….."
Read more: https://www.theguardian.com/film/2018/sep/07/burt-reynolds-the-easygoing-cannonball-of-old-school-hollywood-manliness