The (incomplete) list of powerful men accused of sexual harassment after Harvey Weinstein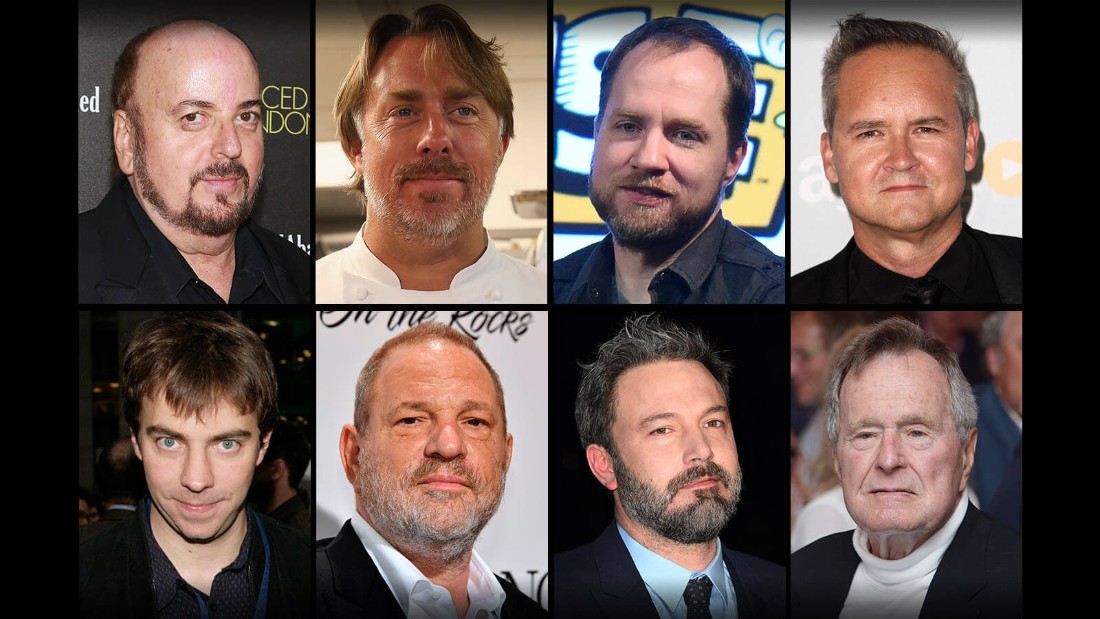 (CNN)It's been 21 days since the sexual assault allegations against media mogul Harvey Weinstein exploded into public view. Since then there have been new allegations made against other powerful men in various industries seemingly almost every day.
From companies taking a second look at their sexual harassment policies to the tide of #MeToo stories flooding social media, the controversy has sparked the biggest national conversation on sexual harassment since the Anita Hill-Clarence Thomas battle in the early '90s.
This look at nine men who've been accused of sexual harassment focuses just on allegations that CNN has reported on. There are accusations against other powerful men out there. As the days and weeks go on, this list will undoubtedly keep growing. This list also doesn't include powerful men like Bill Cosby, Roger Ailes or Donald Trump; allegations against them came before Weinstein.
Movies
Harvey Weinstein
Number of accusers: More than 40
Weinstein's world began to crumble a little over a month ago, after
The New York Times
published a story detailing numerous accusations of sexual harassment against the powerful movie producer, whose films have won a number of Academy Awards. The Times story detailed
three decades' worth of sexual harassment and unwanted physical contact accusations
made against Weinstein by a number of women, including actress Ashley Judd. The piece also mentioned at least eight settlements Weinstein had reached with his accusers through the years.
It started a flood of new accusations from dozens of other women, including some who said Weinstein had raped them. Weinstein has denied any claims of nonconsensual sex. He was later fired from his own film company and his wife left him.
Rumors and stories about Weinstein had been circulating through Hollywood's grapevine for years, leading many to ask how such alleged behavior could go on for so long.
James Toback
Number of accusers: More than 200
The Hollywood screenwriter and director behind films like "The Pick-up Artist," "The Gambler" and "Bugsy" was
accused by multiple women
of sexual harassment throughout the years in a piece from
the Los Angeles Times
. The women said Toback would lure them to hotel rooms, movie trailers and other places for what was billed as interviews or auditions. But the women say these meetings would quickly turn sexual in nature.
Toback told the newspaper he had never met any of the women — or if he did meet them, it "was for five minutes and (he had) no recollection."
Ben Affleck
Number of accusers: 1
The Oscar-winning actor and director was one of the first to come out and denounce Weinstein's alleged behavior. But then he found himself the
target of a sex harassment accusation
after old videos began to surface of Affleck on "MTV's Total Request Live" with actress Hilarie Burton. She said Affleck groped her during an appearance on the show, which she co-hosted at the time.
"I acted inappropriately toward Ms. Burton and I sincerely apologize," Affleck later wrote on Twitter.
Politics
George H.W. Bush
Number of accusers: 1
The 41st president of the United States
apologized to an actress
after she wrote in a now-deleted Instagram post that Bush sexually assaulted her while she posed for a picture with him. Heather Lind said Bush touched her inappropriately from behind twice and told her "a dirty joke."
"President Bush would never — under any circumstance — intentionally cause anyone distress, and he most sincerely apologizes if his attempt at humor offended Ms. Lind," the former President's spokesman said.
Television
Chris Savino
Number of accusers: At least 12
Nickelodeon fired the creator of "The Loud House" animated show after
a dozen women accused him
, in a story from the Hollywood Reporter, of "sexual harassment, unwanted advances and inappropriate behavior."
The accusers also said Savino would threaten to blacklist women he was no longer involved with.
"I am deeply sorry and I am ashamed," Savino wrote in a letter posted on his Facebook account. "Although it was never my intention, I now understand that the impact of my actions and my communications created an uncomfortable environment."
Roy Price
Number of accusers: 1
Price, the head of Amazon Studios,
quit five days
after being put on leave after a producer accused him of sexual harassment.
Price was suspended after a story from
The Hollywood Reporter
detailing harassment allegations against him made by Isa Hackett, a producer of the Amazon series "The Man in the High Castle."
The harassment accusations stemmed from an incident in 2015 at Comic-Con. Hackett alleged that Price repeatedly made lewd comments to her, despite her rebuffs.
Hackett told The Hollywood Reporter that she reported the improper behavior to Amazon at the time.
Media
Lockhart Steele
Number of accusers: 1
Lockhart Steele, the editorial director for Vox Media,
was fired
, the company said, after he admitted to "engaging in conduct that is inconsistent with our core values." Vox is also investigating claims made in a blog post by former employee Eden Rohatensky in which she accuses multiple co-workers of sexual misconduct, and detailed one particular incident involving "one of the company's VPs" while riding in the backseat of a cab with other co-workers. Rohatensky did not mention Vox or any co-workers by name in the post.
After getting fired a month later "due to lack of productivity," Rohatensky reported what happened with the unnamed VP, but later learned that "his punishment was being told he could not drink at corporate events any longer."
Vox has hired a law firm to look into the accusations, and Rohatensky told CNN she has met with the investigators.
Dining
John Besh
Number of accusers: At least 25
They described a hostile corporate culture where sexual harassment flourished. The accounts included inappropriate touching and comments from male employees and managers, some of whom tried to leverage their power for sex. Those who complained were berated, ostracized or ignored.
One former employee filed a complaint with the Equal Employment Opportunity Commission, claiming that Besh "attempted to coerce" her during a "monthslong sexual relationship."
Besh, who has not responded directly to the allegations, enjoyed celebrity status in a city whose identity is tied to its food. His restaurant group employs more than 1,000 people in New Orleans, San Antonio and Baltimore in top-rated restaurants such as August, Lüke, Domenica and Shaya. Harrah's New Orleans Casino said it is terminating its relationship with the restaurant group.
Journalism
Mark Halperin
Number of accusers: 5
Journalist Mark Halperin was
accused of sexually harassing five women
when he worked as political director at ABC News. The women accused Halperin of propositioning employees for sex, kissing and grabbing one woman's breasts against her will and other forms of inappropriate touching.
Halperin apologized in a statement, saying he "did pursue relationships with women" that he worked with but that he now understands "that my behavior was inappropriate and caused others pain." He did, however, deny grabbing a woman's breasts and pressing his genitals against the bodies of three other women.
Widely considered to be one of the preeminent political journalists, Halperin, 52, also co-authored the bestselling book "Game Change," which was made into an HBO movie starring Julianne Moore as Sarah Palin; and anchored a television show on Bloomberg TV. He currently serves as an analyst for NBC News, making frequent appearances on MSNBC's "Morning Joe."
Read more: http://www.cnn.com/2017/10/25/us/list-of-accused-after-weinstein-scandal-trnd/index.html
Robert Zemeckis Returns To Science Fiction With 'Project Blue Book' & 'Bios'
This story is by Geoff Boucher published in Deadline.
"Now this has a familiar ring to it: Robert Zemeckis is revisiting the 1950s to rewrite history with one new project and then he's going back to the future to prove the power of love with a second project.
No, Zemeckis isn't revving up the DeLorean for more Marty McFly sequels — however, the director of the Back to the Future trilogy (1985-1990) and Contact(1997) is making a relatively rare return to science fiction with the two projects. This time around, however, his foray into the genre is in a producing role. On Monday, Zemeckis talked about the two projects: Bios, the upcoming feature film; and Project Blue Book, a television series that premieres in January on History.
Bios, scheduled to start filming early next year, reunites Zemeckis with one of his most celebrated collaborators. "We're producing a really magnificent science fiction project called Bios with Tom Hanks," Zemeckis said. "It's a really cool science-fiction story. It's set in a post-apocalytptic world and Tom Hanks may or may not be the last human survivor on the planet."
Steven Spielberg's Amblin Entertainment picked Bios up in October. The script is by Craig Luck (Solo: A Star Wars Movie) and Ivor Powell (Blade Runner).
Spielberg described the movie in an October statement as "an original, emotionally stirring tale that at its core is very much an Amblin movie" and added that he could think of "no one more perfect to embody this story about the meaning of being human than Tom Hanks."
Hanks will portray Finch, the last man on earth, who………………………………………"
Click here to read the rest of the article: https://deadline.com/2018/11/robert-zemeckis-returns-to-science-fiction-with-project-blue-book-bios-1202501178/
James Cameron Says the 'Avatar' Sequels Have Wrapped Production
This just in from Pandora: James Cameron says the Avatar sequels have reached a major milestone with the completion of all principal photography involving main cast members.
In a video message, the director of the two highest-grossing films of all time (Avatarand Titanic) praised the ensemble of actors who have been filming Avatar 2 and Avatar 3 since September 2017.
James Cameron took a (very rare) break from filming on the performance capture stage to record a message to Avatar fans!

Watch for a progress update on the sequels and a brand new trailer for his long-time passion project, Alita: Battle Angel. #AvatarFamily @AlitaMovie pic.twitter.com/Vz6bqp73DA

— Avatar (@officialavatar) November 13, 2018
Upcoming 'Willy Wonka' Movie Is a Prequel
"The untold origin story behind one of the most iconic fictional characters in history is due to be revealed. We learned earlier this year that Warner Bros. was developing aWilly Wonka movie with Paddington and Paddington 2 director Paul King in talks to take the helm. At the time, plot details were unclear but we did know that Simon Rich (Man Seeking Woman) was writing the script and David Heyman (Harry Potterand Fantastic Beasts franchises) was producing.
A further curiosity arrived this summer when Collider broke the news that actors like Donald Glover and Ryan Gosling were on the studio's shortlist to play Willy Wonka in………………………………………."
Read More: http://collider.com/willy-wonka-movie-prequel/#images