The most anticipated movies of 2017
Image: ladd company
Blade Runner 2049 is almost upon us — and the early reviews suggest that director Denis Villeneuve has done an excellent job adding to the world of Ridley Scott's 1982 cult favorite, Blade Runner.
Naturally, as a geek who wants to be prepared and fully hyped for such cultural events, you are considering watching (or rewatching) Scott's original Blade Runner before 2049 is released next week. And then you run straight into the brick wall of a question that has smacked many a sci-fi nerd over the years: Which original Blade Runner?
As detailed in the comprehensive and recently updated book Future Noir: The Making of Blade Runner, a total of seven versions of this seminal movie were made. Two drastically different cuts were screened for test audiences pre-release; then the release version was altered for international audiences in 1982 and for TV in 1986.
After that we got the misnamed Blade Runner Director's Cut in 1992 and the Final Cut in 2007 — which is so optimistically titled, one suspects that somewhere on Ridley Scott's hard drive there exists BLADE_RUNNER_FINAL_FINAL_FINAL_CUT.MOV.
In terms of what you can easily watch, you basically have three options. You can't get any of them on Netflix, Hulu or Amazon Prime. You can buy or rent the 1982 release, which is available on Amazon Video (the one simply titled Blade Runner) and the download service Vudu.
Then the Director's Cut is on Amazon for $6 more than the Final Cut, also on Amazon and Vudu and YouTube Movies, and as a $27 Blu-Ray. The Final Cut is also on FandangoNOW for a special rental price of $1.99, and $5.99 to buy.
Confused yet? No wonder the co-writer of Blade Runner 2049, Michael Green, threw up his hands at the question and told io9 the best version is "whichever you can watch tonight."
But in the age of digital delivery, when you can watch three versions tonight, this is a glib, unsatisfying answer. You're going to drop two hours of your precious time on this film; why not take a few minutes to figure out which one is best for you?
The internet isn't much help. Amazon's reviews lump all three versions together. Same with Rotten Tomatoes, which unhelpfully gives the movie just one score — 91% — and in turn powers Apple's reviews. So if you've hit the Blade Runner wall, here's what you need to know.
1. Original flavor Blade Runner
What's different: Narration and a happy ending.
When it comes to Star Wars, our culture's consensus says the 1977 version was better than the 1997 Special Edition which added too much George Lucas tinkering. With Blade Runner, the reverse is true: according to an informal poll in Future Noir, some 70% of viewers prefer the later versions.
The main reason? The studio insisted on two additions to the 1982 release: Harrison Ford narrating some lines of Rick Deckard's thoughts in classic film noir style; the first is "they don't advertise for killers in the newspapers." Ford had to be dragged kicking and screaming to the voiceover studio, and some of us can really hear his reluctance. Secondly, a happy ending to the story that seemed tacked on — it's not much of a spoiler alert that Scott intended the famously dark movie to have a dark, ambiguous ending.
However, as Future Noir author Paul Sammon points out, Scott was actually in favor of the voiceover back in 1982; it gave the movie the old-time feel he was looking for. Some Deckard narration had shown up in early scripts by revered screenwriter Hampton Fancher, who fell out with Scott. And some audiences actually liked the happy ending after two hours of unrelenting grimness.
If you're among the 30% who prefers Ford's narration and a lovely green final scene to contrast all that rain, there's no shame in that.
2. The Director's Cut
What's different: The unicorn with wobbling horn.
The 1992 Director's Cut is literally and figuratively the middle child of the various Blade Runners. Despite its title, Scott did not supervise the cut, which was one of two (!) put together by editors for local art-house screenings, mostly without Scott's knowledge while he directed the movie 1492: Conquest of Paradise.
The fact that Scott signed off on calling it a "director's" cut is down to two things: firstly, it removed the "happy ending" scene. The movie now ended with the discovery of an origami unicorn.
Secondly, it inserted a scene that was supposed to come earlier in the movie, where Deckard falls asleep at his piano dreaming of an actual unicorn. Naturally, these two things become significant when you piece them together, and they change everything you know about Deckard. (Again, I'm trying not to spoil things for the newbies.)
For the Director's Cut, however, the unicorn scene from 1982 could not be found; just trimmed bits from the cutting room floor. These show the white stallion's polystyrene horn wobbling. Other amateur filmmaking moments also went unfixed, like a scene with out-of-sync dialogue and the wires on the police "spinner" or flying car.
In short, you should avoid the Director's Cut — unless you really don't like the changes in the Final Cut.
3. The Final Cut
What's different:The resolution, the lighting, the lip sync and one less swear.
The 25th anniversary version from 2007 is, according to Ridley Scott, the definitive Blade Runner. We tend to agree, but not without some concerns.
Scott, you see, is of the George Lucas school. He believes directors should be allowed to return to their movies and retrofit them the way a painter might touch up a painting. He's never done anything as outrageous as when Lucas made Greedo shoot before Han, but The Final Cut walks that line.
The Final Cut is certainly the highest resolution version; you can now get it in all the glory of 4K. But seeing it in HD made Ridley Scott decide to bring up the lighting in more than a few scenes to bring out details previous audiences had missed. In doing so, he made this version literally less "noir" than its predecessors.
The dialogue sync problem in one scene was solved by the most elaborate means you can imagine — Harrison Ford's son Ben was brought in to literally lip sync his dad's lines. His mouth was digitally stitched onto Ford senior's. For purists, this is a fix too far.
But to many minds, the most egregious tweak is in the movie's dialogue itself. In most previous versions, replicant Roy Batty (Rutger Hauer) screams at his creator "I want more life, fucker." The Final Cut changed this to "I want more life, father" — just as it was changed for the TV version in 1986.
Scott tried to laugh off the swear removal: "Must mean I'm getting older," he said at a press roundtable quoted in Future Noir. Some fans liked it — it is metaphorically apt for the scene — while some fans saw it as as the equivalent of Greedo shooting first.
So now you have all the spoiler-free information you need to chose between the three versions. We recommend The Final Cut, which is certainly the best bargain on Amazon. But no Blade Runner is entirely free of its problems.
In any case, we're sorry if a simple decision about which version to watch has turned into a total father.
Read more: http://mashable.com/2017/09/29/blade-runner-which-version-watch/
'Star Wars' movies to take hiatus after episode IX
Peter Mayhew, with co-stars Harrison Ford at Mark Hamill, celebrates the 40th anniversary of Star Wars in 2017.
Image: Getty Images for Disney
Days before his 75th birthday, and mere weeks before the 42nd anniversary of Star Wars, one of its leading lights has gone out of the world.
Peter Mayhew, the 7-foot-2-inch British actor whose name is forever synonymous with Chewbacca the Wookiee, died this week at the age of 74. He passed away at his home in Boyd, Texas.
Mayhew's family, including his wife Angie and three children, announced his passing via the actor's popular Twitter account, @theWookieeRoars.
'Avengers Endgame' Crosses $2 Billion At Global Box Office In Record Time
LOS ANGELES (AP) — "Avengers: Endgame has crossed the $2 billion mark at the global box office in record time and is leaving newcomers in its dust.
The Walt Disney Co. estimates Sunday that the Marvel blockbuster has added $145.8 million from North American theaters and $282.2 million internationally in its second weekend in theaters bringing its global total to $2.2 billion.
"Endgame" is one of 5 movies to ever reach that mark and, not accounting for inflation, is now the second biggest film of all time worldwide behind "Avatar's" $2.8 billion. "Avatar" reached $2 billion in 47 days of release compared with 11 for "Endgame."
New films picked up scraps at the domestic box office, including "The Intruder," with $11 million, "Long Shot," with $10 million, and 'Uglydolls' with $8.5 million."
Read more: https://www.huffpost.com/entry/avengers-endgame-2-billion-record-box-office_n_5ccf1213e4b0548b735bbe8d
John Singleton: Boyz N the Hood director dies
Boyz N the Hood sent audiences reeling and marked the start of an uneven career for a writer-director whose films were rooted in lived experience
"Hollywood wasnt ready for John Singleton when he exploded on to the movie scene at the age of 23 and maybe its been unready ever since. When Singleton was nominated for the best director Oscar for his sensational 1991 debut Boyz N the Hood (for which he also wrote the original screenplay), he was the first African American film-maker to have been entered for the category and the youngest person ever.
He didnt win. But as Singleton sent audiences reeling out of theatres with Ice Cubes How to Survive in South Central over the closing credits, it seemed to many that here was a young master, with a compelling film about young men growing up in South Central Los Angeles, something to be compared to Scorseses Mean Streets or Fellinis I Vitelloni. Yet despite the respect and affection for him, despite a strong professional work rate, despite continued creativity and focus resulting most recently in a new TV crime series Snowfall Singleton arguably did not have the fully realized directorial career that others had.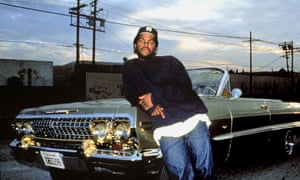 Read more: https://www.theguardian.com/film/2019/apr/29/john-singleton-maverick-director-with-a-radical-edge