The most anticipated movies of 2017
Image: ladd company
Blade Runner 2049 is almost upon us — and the early reviews suggest that director Denis Villeneuve has done an excellent job adding to the world of Ridley Scott's 1982 cult favorite, Blade Runner.
Naturally, as a geek who wants to be prepared and fully hyped for such cultural events, you are considering watching (or rewatching) Scott's original Blade Runner before 2049 is released next week. And then you run straight into the brick wall of a question that has smacked many a sci-fi nerd over the years: Which original Blade Runner?
As detailed in the comprehensive and recently updated book Future Noir: The Making of Blade Runner, a total of seven versions of this seminal movie were made. Two drastically different cuts were screened for test audiences pre-release; then the release version was altered for international audiences in 1982 and for TV in 1986.
After that we got the misnamed Blade Runner Director's Cut in 1992 and the Final Cut in 2007 — which is so optimistically titled, one suspects that somewhere on Ridley Scott's hard drive there exists BLADE_RUNNER_FINAL_FINAL_FINAL_CUT.MOV.
In terms of what you can easily watch, you basically have three options. You can't get any of them on Netflix, Hulu or Amazon Prime. You can buy or rent the 1982 release, which is available on Amazon Video (the one simply titled Blade Runner) and the download service Vudu.
Then the Director's Cut is on Amazon for $6 more than the Final Cut, also on Amazon and Vudu and YouTube Movies, and as a $27 Blu-Ray. The Final Cut is also on FandangoNOW for a special rental price of $1.99, and $5.99 to buy.
Confused yet? No wonder the co-writer of Blade Runner 2049, Michael Green, threw up his hands at the question and told io9 the best version is "whichever you can watch tonight."
But in the age of digital delivery, when you can watch three versions tonight, this is a glib, unsatisfying answer. You're going to drop two hours of your precious time on this film; why not take a few minutes to figure out which one is best for you?
The internet isn't much help. Amazon's reviews lump all three versions together. Same with Rotten Tomatoes, which unhelpfully gives the movie just one score — 91% — and in turn powers Apple's reviews. So if you've hit the Blade Runner wall, here's what you need to know.
1. Original flavor Blade Runner
What's different: Narration and a happy ending.
When it comes to Star Wars, our culture's consensus says the 1977 version was better than the 1997 Special Edition which added too much George Lucas tinkering. With Blade Runner, the reverse is true: according to an informal poll in Future Noir, some 70% of viewers prefer the later versions.
The main reason? The studio insisted on two additions to the 1982 release: Harrison Ford narrating some lines of Rick Deckard's thoughts in classic film noir style; the first is "they don't advertise for killers in the newspapers." Ford had to be dragged kicking and screaming to the voiceover studio, and some of us can really hear his reluctance. Secondly, a happy ending to the story that seemed tacked on — it's not much of a spoiler alert that Scott intended the famously dark movie to have a dark, ambiguous ending.
However, as Future Noir author Paul Sammon points out, Scott was actually in favor of the voiceover back in 1982; it gave the movie the old-time feel he was looking for. Some Deckard narration had shown up in early scripts by revered screenwriter Hampton Fancher, who fell out with Scott. And some audiences actually liked the happy ending after two hours of unrelenting grimness.
If you're among the 30% who prefers Ford's narration and a lovely green final scene to contrast all that rain, there's no shame in that.
2. The Director's Cut
What's different: The unicorn with wobbling horn.
The 1992 Director's Cut is literally and figuratively the middle child of the various Blade Runners. Despite its title, Scott did not supervise the cut, which was one of two (!) put together by editors for local art-house screenings, mostly without Scott's knowledge while he directed the movie 1492: Conquest of Paradise.
The fact that Scott signed off on calling it a "director's" cut is down to two things: firstly, it removed the "happy ending" scene. The movie now ended with the discovery of an origami unicorn.
Secondly, it inserted a scene that was supposed to come earlier in the movie, where Deckard falls asleep at his piano dreaming of an actual unicorn. Naturally, these two things become significant when you piece them together, and they change everything you know about Deckard. (Again, I'm trying not to spoil things for the newbies.)
For the Director's Cut, however, the unicorn scene from 1982 could not be found; just trimmed bits from the cutting room floor. These show the white stallion's polystyrene horn wobbling. Other amateur filmmaking moments also went unfixed, like a scene with out-of-sync dialogue and the wires on the police "spinner" or flying car.
In short, you should avoid the Director's Cut — unless you really don't like the changes in the Final Cut.
3. The Final Cut
What's different:The resolution, the lighting, the lip sync and one less swear.
The 25th anniversary version from 2007 is, according to Ridley Scott, the definitive Blade Runner. We tend to agree, but not without some concerns.
Scott, you see, is of the George Lucas school. He believes directors should be allowed to return to their movies and retrofit them the way a painter might touch up a painting. He's never done anything as outrageous as when Lucas made Greedo shoot before Han, but The Final Cut walks that line.
The Final Cut is certainly the highest resolution version; you can now get it in all the glory of 4K. But seeing it in HD made Ridley Scott decide to bring up the lighting in more than a few scenes to bring out details previous audiences had missed. In doing so, he made this version literally less "noir" than its predecessors.
The dialogue sync problem in one scene was solved by the most elaborate means you can imagine — Harrison Ford's son Ben was brought in to literally lip sync his dad's lines. His mouth was digitally stitched onto Ford senior's. For purists, this is a fix too far.
But to many minds, the most egregious tweak is in the movie's dialogue itself. In most previous versions, replicant Roy Batty (Rutger Hauer) screams at his creator "I want more life, fucker." The Final Cut changed this to "I want more life, father" — just as it was changed for the TV version in 1986.
Scott tried to laugh off the swear removal: "Must mean I'm getting older," he said at a press roundtable quoted in Future Noir. Some fans liked it — it is metaphorically apt for the scene — while some fans saw it as as the equivalent of Greedo shooting first.
So now you have all the spoiler-free information you need to chose between the three versions. We recommend The Final Cut, which is certainly the best bargain on Amazon. But no Blade Runner is entirely free of its problems.
In any case, we're sorry if a simple decision about which version to watch has turned into a total father.
Read more: http://mashable.com/2017/09/29/blade-runner-which-version-watch/
Madonna to direct movie based on life of ballerina Michaela DePrince
MGM announces the singer will direct Taking Flight, the story of DePrinces journey from war orphan in Sierra Leone to world-class ballerina
Madonna is to return to the movies after a seven-year absence to direct Taking Flight, a feature film based on the life of Michaela DePrince, a war orphan from Sierra Leone who became a leading ballerina.
According to Deadline, Hollywood studio MGM has been developing the project since 2015 when it acquired the rights to DePrinces memoir, co-written with her adoptive mother, Elaine.
Michaelas journey resonated with me deeply as both an artist and an activist who understands adversity, Madonna said. We have a unique opportunity to shed light on Sierra Leone, and let Michaela be the voice for all the orphaned children she grew up beside. I am honoured to bring her story to life.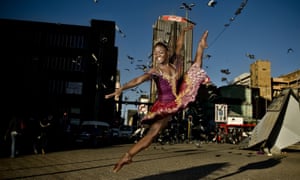 Read more: https://www.theguardian.com/film/2018/mar/14/madonna-to-direct-movie-based-on-life-of-ballerina-michaela-deprince
'Black Panther' Hits $1 Billion Mark In Worldwide Box Office Numbers
"Black Panther" has surpassed $1 billion at the worldwide box office, challenging industry norms about films with black casts.
The international success of "Black Panther" has challenged the myth that films with predominately black casts don't sell and it helps unravel "unwritten Hollywood rules," Jeff Bock, a senior analyst at entertainment research firm Exhibitor Relations, told The New York Times.
"I think about it like a wall crumbling," Bock said. "In terms of 'Black Panther,' no studio can say again, 'Oh, black movies don't travel, overseas interest will be minimal.'"
Stars of the film, including Chadwick Boseman, Lupita Nyong'o and Danai Gurira, have spoken out about the importance of representation in the movie. "Black Panther," which is set in the fictional country of Wakanda, shows the possibilities of an African society untouched by colonialism and gender inequity.
"I think there's a thirst for these images," Boseman told NBC. "There's a real thirst for black superheroes."
Marvel Studios President Kevin Feige confirmed this week that a "Black Panther" sequel is in the works. Feige told Entertainment Weekly that there was "nothing specific to reveal" about the next movie but added that "we absolutely will do that."
Read more: http://www.huffingtonpost.com/entry/black-panther-billion-dollars-top-domestic_us_5a9ef739e4b002df2c5e6fd7
Keegan-Michael Key's reaction to Jordan Peele's Oscar win will make you emotional
Find yourself a friend who loves you this much.
Jordan Peele had a historic moment last night when he won the Academy Award for Best Original Screenplay for his debut solo film, Get Out.
He became the first African-American screenwriter to win this category—and no one was prouder of him than his old Key and Peele partner, Keegan-Michael Key.
Key and Peele were the creators of the aptly titled sketch comedy series that ran on Comedy Central for five seasons, from 2012 to 2015.
Key was absolutely thrilled to see his "partner in laughs" snag his first Oscar.
Just look at that ecstatic jump!
Look how happy Keegan-Michael Key was when Jordan Peele won! #Oscars

(