'The voice of the voiceless': how Viola Davis and Julius Tennon are changing the face of Hollywood
The wife-and-husband team set up their own production company to tackle Hollywoods persistent diversity problem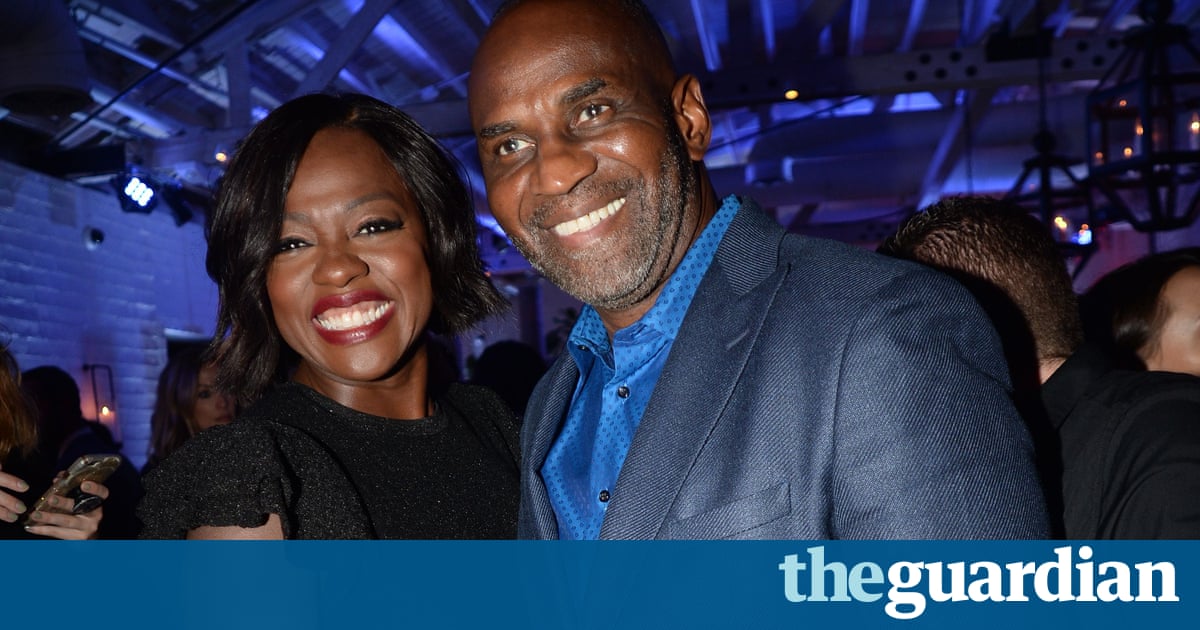 The actor Julius Tennon is thrilled to be appearing alongside his Oscar-winning wife, Viola Davis, in the new season of her hit show, How to Get Away with Murder, later this month. It is rare they work together onscreen.
Offscreen, however, the power couple spend much of their time working together for they have a joint mission: to change the face of Hollywood by increasing diversity across the industry.
A recent study showed that despite the huge success of recent films such as Fences, starring Davis and Denzel Washington; Moonlight; and Hidden Figures, Hollywood remained as white and male dominated as ever. Representation of race, gender, LGBT people and disability had barely changed in the past 10 years, according to the research by academics at the University of Southern California (USC).
Tennon said: That study was important because its highlighting what the state of Hollywood really is.
He added: Obviously there are pipeline issues at the top with people of color. Some networks were doing a good job, he said, but slow she goes. Its a brick by brick situation.
When I go to meetings, its generally not African Americans that Im talking to about getting something greenlit. Folks at the top are going to have to make decisions about trying to make systemic change. Thats the only way its going to happen by creating a pipeline of opportunities for folk to get in there, go through it and get out and start being a part of it at the top.
He and Davis, who married 14 years ago and have a seven-year-old daughter, Genesis, set up their multimedia company, JuVee Productions, in 2011 to tackle the problem from the grassroots. They wanted to create more suitable roles for Daviss talent.
Tennon, 63, said: We started it out of a need for her career, for Viola to be more than this woman who turns a piece of baloney into a filet mignon. She was getting one or two scenes in a movie and some guest star TV work, but after Antwone Fisher [a 2002 film starring and directed by Denzel Washington], there were a lot of eyes on her.
They quickly decided to expand their goal and try to create opportunities for a diverse range of people on and off the screen.
While we had this elevation in the industry, we felt it was a chance to give opportunities to others, whether that be actors or below-the-line people, Tennon said. We consider ourselves the voice of the voiceless.
The USC study looked at the 100 top grossing films at the US box office in 2016. It found that 5.8% of directors were black and 3.3% Asian. Just 4.2% of directors, 20.7% of producers, 13.2% of writers and 1.7% of composers were female; while only 31% of the speaking roles went to women. LGBT characters filled 1.1% of all speaking parts and people with disabilities 2.7%.
No black women appeared in 47 of the films and there were no black female directors.
Viola Davis said via email: The reason diversity is still an issue is that everyone is not put to task.
She said it was a much bigger issue than casting and stories, agreeing with Tennon that it was a pipeline problem. If a writer, director, cinematographer, actor of color is out there, they have the talent but havent had the opportunities. So, when the studios start putting together their movies, they go for who they know, who theyve worked with the hottest, buzziest, the one with the rsum and most of them are white.
She added: No one says anything, because why would you? To change is to risk losing money, changing your vision, being exposed. Its a problem that needs to be tackled from the studio heads who give the green light vote to film-makers who simply can envision a role differently, to producers who can give a budding gifted cinematographer, grip, writer of color a chance, and finally to audiences to plop down money to see a film character differently. It requires being awoke.
These days, Tennon, who has appeared in more than 50 films and TV series, concentrates mostly on running JuVee and producing. The company takes on everything from virtual reality and digital content to television and film.
Their first film, Lila & Eve, with Davis and Jennifer Lopez, was released in 2015. Custody, featuring Davis, followed in 2016. Next spring, they start shooting the Personal History of Rachel Dupree, the story of an African American woman struggling to farm the Badlands in South Dakota in 1917. A biopic of Barbara Jordan, the first southern black woman to be elected to the House of Representatives, is in the development stage. Both will star 52-year-old Davis.
They are also working on the movie adaptation of Rachel Lloyds critically acclaimed book Girls Like Us, a true story about sex trafficking.
Tennon said Davis, who won an Oscar for Fences this year and was nominated for Oscars in 2012 for The Help and 2009 for Doubt, touches people across the globe. He added: Were using the platform to push things forward.
The first three seasons of How to Get Away with Murder are on Netflix. Its exploded her star. Shes sitting in all these different living rooms where a black woman wasnt sitting, and its powerful. As a company, we feel like we have to make sure that the content going out is above and beyond. When we create narratives, we want them to be whole and full and rich, and non-stereotypical.
He continued: Were in a market now thats accelerated by technology. Diversity is what were bringing to the digital space. We want content for everyone and content that people of color will consume.
Mentioning the global success of Moonlight, Hidden Figures and Fences, he said: Were in a space now where diversity is good business and people should see it like that.
Organizations should be hiring people of color in executive positions, he believes, and thinking how to include these people to help shape things so they have a complete slate, that has a little bit of everything. Those organizations that are thinking that way, big and expansive, will be the winners, he said.
Tennons first public performance was at 14, when he performed the I Have a Dream speech by Martin Luther King Jr in a school assembly. Encouraged by his English teacher, who thought he had a beautiful voice, he became the first African American in the drama department at the University of Tulsa which he attended on an American football scholarship and went on to pursue his dream of becoming an actor.
Now he, along with the woman he describes as one of a handful of great actresses of our time, hopes to give others the chance to achieve their dreams, too.
Read more: https://www.theguardian.com/film/2017/sep/24/the-voice-of-the-voiceless-how-viola-davis-and-julius-tennon-are-changing-the-face-of-hollywood
Netflix is begging people to stop doing the 'Bird Box' challenge
Always look where you're driving, no matter what they do in 'Bird Box.'
Image:  Netflix
"Despite warnings from Netflix and just general common sense, it looks like people are still participating in that stupid Bird Box Challenge. Now, it has reportedly caused a car crash.
On Friday morning, the Layton Police Department of Layton, Utah shared the images showing the aftermath of a car crash in which one of the drivers was allegedly trying to drive with their eyes covered. They reportedly called out the Bird Box Challenge specifically.
Bird Box Challenge while driving…predictable result. This happened on Monday as a result of the driver covering her eyes while driving on Layton Parkway. Luckily no injuries. pic.twitter.com/4DvYzrmDA2

— Layton Police (@laytonpolice) January 11, 2019
Police told KSL that the driver, a 17-year-old girl, was driving the pickup truck seen in the photos above on Monday when the incident occurred. Additionally, Layton Police Lt. Travis Lyman said of the 17-year-old driver:
"Apparently, as a part of this 'Bird Box Challenge,' (the driver) used her beanie to pull over her eyes as she was driving on Layton Parkway, and she ended up losing control of her car and skidded into the westbound lanes of Layton Parkway and hit another car and ended up hitting a light pole as well."
Of course, if you've seen Bird Box, you know there's a scene in which several characters make a white-knuckle drive in a car with the windows covered, and it's hardly a smooth ride.
It's also — and I can't believe we're at the point where this actually has to be said — an incredibly dangerous stunt to pull off the in real world.
Luckily, no one was hurt as a result of the crash. But whatever punishment the driver faces, authorities should also consider revoking their Netflix account if this is how they're gonna behave."
Read more: https://mashable.com/article/bird-box-challenge-car-accident/
Two ties and more surprises at the Critics' Choice Awards
(CNN)Hollywood's award season festivities continued Sunday with the Critics' Choice Awards.
"She went on to tie for best actress in a motion picture with Glenn Close, who won for "The Wife."
That wasn't the only category with a double win. Amy Adams and Patricia Arquette tied for best actress in a movie made for TV or limited series and they gave a joint impromptu speech.
The historical comedy-drama "The Favourite," starring Olivia Colman, Emma Stone and Rachel Weisz, took the lead with 14 nominations and took home the award for best acting ensemble.
Mahershala Ali and Regina King, who each won Golden Globe awards one week ago, were acknowledged again for their respective performances in "Green Book" and "If Beale Street Could Talk."
It was a big night for "The Assassination of Gianni Versace: American Crime Story." Darren Criss won the best actor in a movie made for TV or limited series for his role as Andrew Cunanan and the show took home the award for best limited series.
The big prize of the night went to the Netflix drama "Roma" for best picture.
See below for the complete list of nominees and winners."
Best Picture
"Black Panther"
"BlacKkKlansman"
"The Favourite"
"First Man"
"Green Book"
"If Beale Street Could Talk"
"Mary Poppins Returns"
"Roma" *WINNER
"A Star Is Born"
"Vice"
Best Actor
Christian Bale, "Vice" *WINNER
Bradley Cooper, "A Star Is Born"
Willem Dafoe, "At Eternity's Gate"
Ryan Gosling, "First Man"
Ethan Hawke, "First Reformed"
Rami Malek, "Bohemian Rhapsody"
Viggo Mortensen, "Green Book"
Best Actress
Yalitza Aparicio, "ROMA"
Emily Blunt, "Mary Poppins Returns"
Glenn Close, "The Wife" *WINNER
Toni Collette, "Hereditary"
Olivia Colman, "The Favourite"
Lady Gaga, "A Star Is Born" *WINNER
Melissa McCarthy, "Can You Ever Forgive Me?"
Read more: https://www.cnn.com/2019/01/13/entertainment/critics-choice-awards-winners/index.html
Coming To America 2 with Eddie Murphy is Coming!
"Paramount Pictures is setting Craig Brewer to direct Coming To America 2, finally bringing to the starting gate the sequel to the 1988 blockbuster comedy. Eddie Murphy is poised to reprise his role as Akeem, the pampered African prince who became bored of potential marriage partners in the kingdom too in awe of him, and who traveled to Queens to go undercover and find a woman with a strong will that he could respect.
Brewer just directed Murphy in Dolemite Is My Name, and the star was eager to work with him again. The female empowerment theme of the original seems timely in today's climate.
Kenya Barris is rewriting a script by original Coming to America writers Barry Blaustein and David Sheffield. Murphy is producing with Kevin Misher and Barris is exec producer.
In the sequel, Akeem learns about a long lost son, and must return to America to meet his unlikely heir to the throne of Zamunda. The intention is to bring back the original cast which includes Arsenio Hall, who played the prince's aide Semmi; Shari Headley, who was courted by the prince when he went undercover as a fast food worker; John Amos, who played her father; and James Earl Jones, who played the king.
There is no start date, but……………………………………………"
Read More: https://deadline.com/2019/01/coming-to-america-sequel-eddie-murphy-craig-brewer-directing-dolemite-is-my-name-1202533726/