Time's Up: Hollywood women launch campaign to fight sexual harassment
The initiative, supported by stars such as Natalie Portman and Emma Stone, includes $13m legal defense fund for women in less privileged professions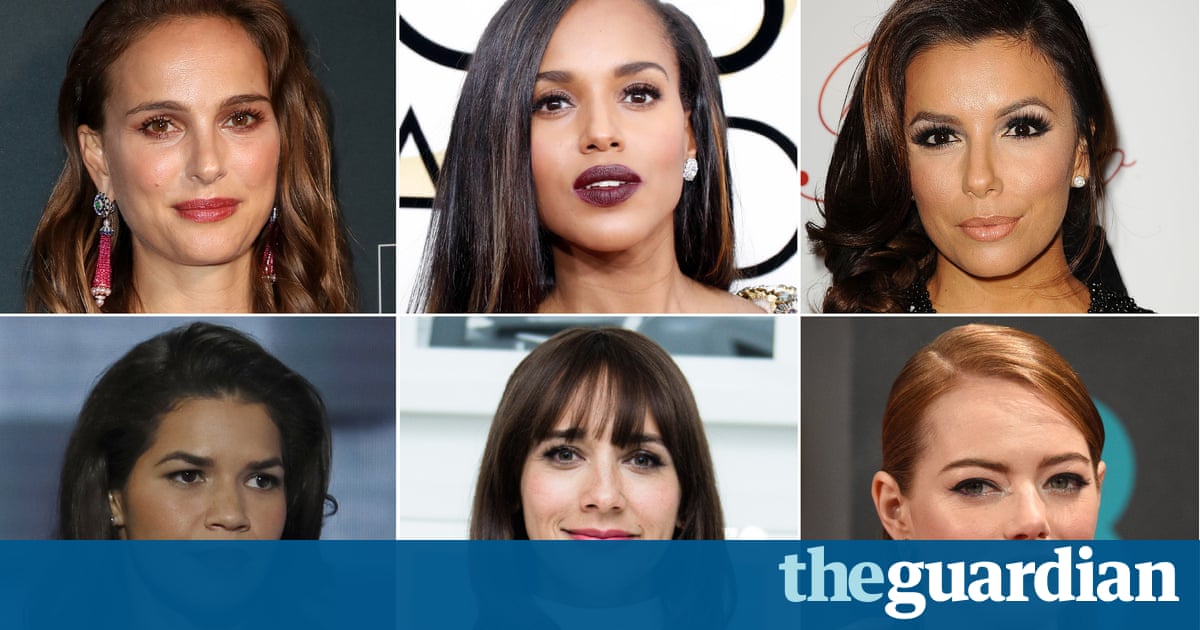 Three hundred female Hollywood actors, agents, writers, directors, producers and entertainment executives including Natalie Portman, Emma Stone and Reese Witherspoon are kicking off the new year with a coordinated effort to counter systemic sexual harassment in the entertainment business and workplaces nationwide.
The initiative, announced with a full-page ad in the New York Times, includes a $13m legal defense fund to help women in less privileged professions protect themselves from sexual misconduct and the consequences that may arise from reporting it.
Entitled Times Up, the programme was launched with an open letter signed by hundreds of women in show business, including Ashley Judd, Eva Longoria, America Ferrera, Rashida Jones and Kerry Washington, as well as powerful backroom Hollywood figures, including producer Shonda Rhimes, whose credits include Greys Anatomy and Scandal.
The struggle for women to break in, to rise up the ranks and to simply be heard and acknowledged in male-dominated workplaces must end; times up on this impenetrable monopoly, part of the letter reads.
If this group of women cant fight for a model for other women who dont have as much power and privilege, then who can? Rhimes told the New York Times.
In a sense, Times Up is being launched as a companion to the #MeToo movement that grew out of the spontaneous response to revelations about Hollywoods casting-couch system of sexual predation and enduring gender-pay disparities.
While attention has largely focused on show business and the media, Times Up seeks to include the plight of working-class women.
The organization arose from informal gatherings of female talent agents in Los Angeles who starting meeting after the issue of sexual harassment landed like a bombshell on the entertainment industry in October. The group rapidly expanded and now includes meetings and workshops for participants in New York and London.
Organizers said they were moved to broaden the effort after receiving an open letter on behalf of 700,000 female farmworkers in November.
The initiatives goals also include promoting legislation to penalize companies that tolerate persistent harassment, and to fight against the use of non-disclosure agreements to shield sexual abusers.
Organizers also plan to ask women walking the red carpet at the Golden Globes this year to wear black. This is a moment of solidarity, not a fashion moment, actor Eva Longoria, who rose to fame in Desperate Housewives, told the paper.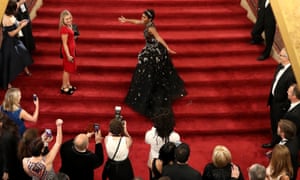 Read more: https://www.theguardian.com/world/2018/jan/01/times-up-hollywood-women-launch-campaign-to-fight-sexual-harassment
Dennis Rodman Bombs Harder Than Ann Coulter at Bruce Willis Roast
HOLLYWOOD, California What on Earth was Dennis Rodman thinking?
"On Saturday night at the Hollywood Palladium, the man who helped bring Donald Trump and Kim Jong Un together became the latest in a long line of punching bags at The Comedy Central Roast of Bruce Willis. Willis may have been in the hot seat, but Rodmana last-minute addition to the daistook a lot of the heat.
Like Mike The Situation Sorrentino and Ann Coulter before him, Rodman was the latest non-comedian to experience what its like to not only bomb on a big stage but then get utterly destroyed by pros like Roastmaster General Jeff Ross, seasoned stand-ups Nikki Glaser and Lil Rel Howery and wildcards like perennial favorite Martha Stewart.
The nights roastmaster Joseph Gordon-Levitt, who played a younger version of Willis in Looper, got things started when he introduced peacemaker Rodman at the top of the show. Dennis may be the only person on the planet who can prevent a nuclear war, he remarked. So I guess this is goodbye.
Dennis is the only person who can wear a MAGA hat and have it be the least upsetting part of his wardrobe, Glaser joked during her hilarious set, adding that its fun to meet someone with whatever illness Roseanne has but in a giant black man.
When I look at Dennis, I immediately think of the N-word: nuclear war, Martha Stewart said when she took the podium. She went on to say that had someone told her in the 90s that in 2018 Rodman would be Americas last best hope to prevent nuclear war between the U.S. and North Korea, she would have said, Dennis Rodman is alive in 2018?
When the NBA champion finally took the podium near the end of the show, things got off to a rough start when he was apparently too tall for the mica stage manager had lower it and ask him to start over. He began by commenting on all the jokes throughout the night about who was the worst actor on the stage. You all are, he said. That was the punchline.
Rodman told Martha Stewart that the next time she goes to prison, she should call him. I will secure your release. Get it? Because he sort of helped get American detainees released from North Korea. Im fucking drunk, he added, out of nowhere, at one point.
Every time he failed to get a laugh for a joke, he would chuckle to himself and say, OK, on with the show. When he had to repeat a joke for the third time, he reminded the audience that hes never done this kind of thing before, saying, Let me get through this. It wasnt easy.
And then there was this joke directed at Willis, probably his best of the night: You keep making these bomb movies. But guess what? So does Kim Jong Un. But at least Kim is smart enough not to release his. Unfortunately, it seems as though Rodman was not smart enough to hire a competent comedian to write jokes for him.
Give it up for our next secretary of state, Dennis Rodman! Jeff Ross, who walked the red carpet as Kim Jong Un flanked by sexy female guards, said, following the man he referred to as Kim Jong Unintelligible. Marveling at the bizarre relationship between the two men, he added, You think Kim Jong Un is a nice guy and he thinks youre Scottie Pippen.
Of course, most of the nights jokes were directed at Willis. When I spoke to Ross at Comedy Centrals Clusterfest in San Francisco last month, he said that Willis told him I just want you to know, and tell everyone else, not to hold back. I want you guys to throw rocks, because Im going to throw them right back….."
Read more: https://www.thedailybeast.com/dennis-rodman-bombs-harder-than-ann-coulter-at-bruce-willis-roast
Alison Brie's Epic Fight to Star in GLOW and Speak Her Mind
"Alison Brie's first big fight on GLOW, the Netflix series about an 80s womens wrestling TV show, was to just get in the ring.
To anyone who has seen GLOW, which returns Friday for its second season, its baffling that Brie initially couldnt land an audition for Ruth, the relentlessly optimistic aspiring actress whose signature wrestling move might be pure gumption. Brie's bright-eyed work on shows like Community or Mad Men should have made her a shoo-in contender for the role.
I guess the character was described as being an unconventional woman, and perhaps the roles Ive played have been somewhat conventional: a conventional 60s housewife, a type A student at a community college, Brie tells The Daily Beast. So I get them not seeing me as this right away. And I kind of loved that they didnt, because that to me signaled that I was on the right track to doing something different.
Bries pursuit of the role would play out as a bit of life imitating art.
The first season of GLOW centers around Ruths sometimes cringe-worthy desperation to be a part of the wrestling show, showily jumping through every hoop director Sam (played by Marc Maron) lays out for her. This is a girl who thinks that showing off a niche impression of Audrey Hepburn winning an Oscar for Roman Holiday or reciting a monologue from Cat on a Hot Tin Roof would impress a cantankerous burnt-out director.
Brie got her. She understood her. She needed to play her.
She cried in her car after each audition, she tells me when we meet in the East Village on a hot June afternoon, scared that she might not land the role. But by channeling Ruths desperation, she was in turn blowing show co-creators Liz Flahive and Carly Mensch away.
Theres something about her feeling underestimated as an actress and shes not getting to stretch her wings as wide as she knows she can, Brie says about Ruth. I certainly did have more….."
Read more: https://www.thedailybeast.com/alison-bries-epic-fight-to-star-in-glow-and-speak-her-mind-how-do-i-protect-myself
Julia Roberts Daughter Is An Adorable Mini-Me Of The Oscar Winner
"Sometimes we hear about children who look like their parents and we may see somewhat of a family resemblance. Every once in a while, however, the resemblance is so striking that it actually takes us by surprise. That is the case with Julia Roberts, who used to enjoy being one of the most popular movie stars on the planet. She won awards for her acting and she played in some of the biggest blockbusters that were out during the time.
Like many actors who were very famous at one time, she has now practically disappeared off the scene. We rarely ever hear anything about her or what she has been doing. She has played in a few movies recently but they don't rival what she did in the height of her career.
We do hear from her because of her social media profile. It is a rather unique opportunity to interact with celebrities and to follow them through their lives and their career. Roberts doesn't necessarily post on social media like many of the other celebrities.
For example, she may or may not own the Twitter page with her name and it does have over 500,000 followers. Up until this time, however, she has not posted anything to it."
Read more: http://www.viralnova.com/julia-roberts-daughter-grown-up/