Time's Up: Hollywood women launch campaign to fight sexual harassment
The initiative, supported by stars such as Natalie Portman and Emma Stone, includes $13m legal defense fund for women in less privileged professions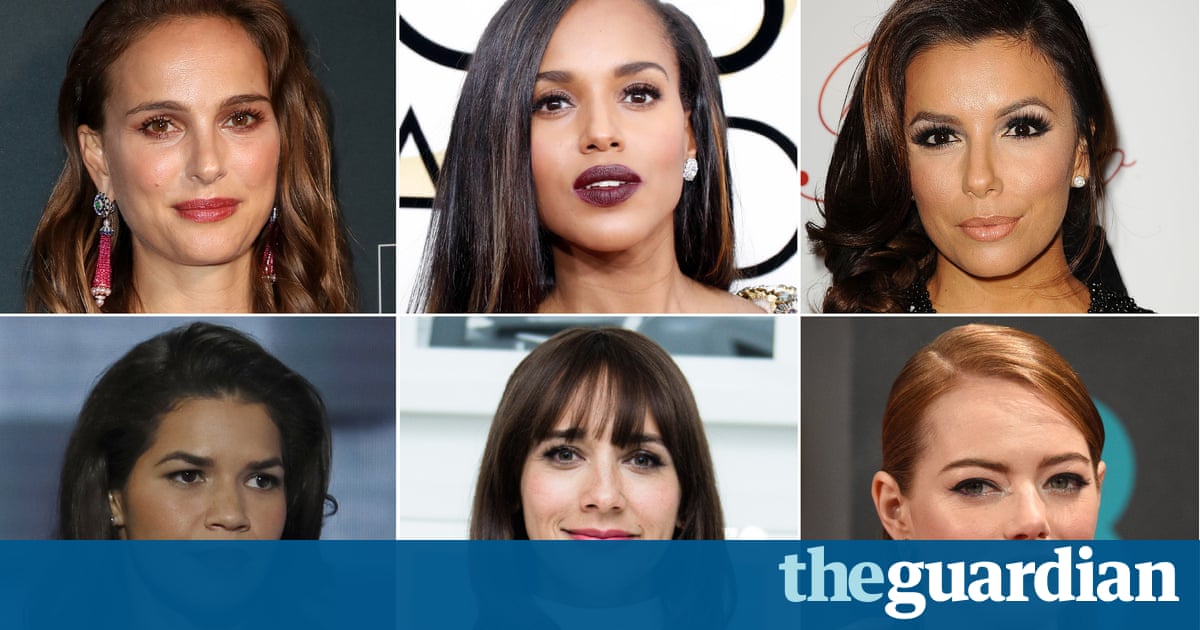 Three hundred female Hollywood actors, agents, writers, directors, producers and entertainment executives including Natalie Portman, Emma Stone and Reese Witherspoon are kicking off the new year with a coordinated effort to counter systemic sexual harassment in the entertainment business and workplaces nationwide.
The initiative, announced with a full-page ad in the New York Times, includes a $13m legal defense fund to help women in less privileged professions protect themselves from sexual misconduct and the consequences that may arise from reporting it.
Entitled Times Up, the programme was launched with an open letter signed by hundreds of women in show business, including Ashley Judd, Eva Longoria, America Ferrera, Rashida Jones and Kerry Washington, as well as powerful backroom Hollywood figures, including producer Shonda Rhimes, whose credits include Greys Anatomy and Scandal.
The struggle for women to break in, to rise up the ranks and to simply be heard and acknowledged in male-dominated workplaces must end; times up on this impenetrable monopoly, part of the letter reads.
If this group of women cant fight for a model for other women who dont have as much power and privilege, then who can? Rhimes told the New York Times.
In a sense, Times Up is being launched as a companion to the #MeToo movement that grew out of the spontaneous response to revelations about Hollywoods casting-couch system of sexual predation and enduring gender-pay disparities.
While attention has largely focused on show business and the media, Times Up seeks to include the plight of working-class women.
The organization arose from informal gatherings of female talent agents in Los Angeles who starting meeting after the issue of sexual harassment landed like a bombshell on the entertainment industry in October. The group rapidly expanded and now includes meetings and workshops for participants in New York and London.
Organizers said they were moved to broaden the effort after receiving an open letter on behalf of 700,000 female farmworkers in November.
The initiatives goals also include promoting legislation to penalize companies that tolerate persistent harassment, and to fight against the use of non-disclosure agreements to shield sexual abusers.
Organizers also plan to ask women walking the red carpet at the Golden Globes this year to wear black. This is a moment of solidarity, not a fashion moment, actor Eva Longoria, who rose to fame in Desperate Housewives, told the paper.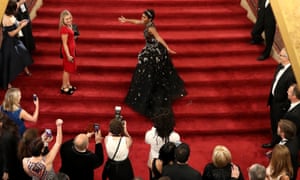 Read more: https://www.theguardian.com/world/2018/jan/01/times-up-hollywood-women-launch-campaign-to-fight-sexual-harassment
Check Out Thandie Newton's dress she wore to Cannes' 'Solo' premiere
I, for one, welcome our new amazing sci-fi overlord, Thandie Newton
Image: ALBERTO PIZZOLI/AFP/Getty Images
It is a truth universally acknowledged that Thandie Newton is amazing and her unique dress at the Cannes Film Festival screening of Solo only further cements it.
On Tuesday night, Newton and the rest of the cast and crew of the upcoming Solo: A Star Wars Story were on hand for the film's screening at Cannes and Newton's dress paid special tribute to her Star Wars fandom (via io9).
While the dress is, according to Red Carpet Fashion Awards, a Vivienne Westwood Couture gown (for all you red carpet fashion nerds), what takes the dress to the next level would be the print overlays of other black characters from the Star Wars universe taken from Newton's personal action figure collection.
As seen above, the dress includes Mace Windu, Finn, Captain Panaka, and a deep cut: Lando Calrissian in his Jabba's Palace disguise from Return of the Jedi.
Check out this close-up for another view of how the figures are included in the dress' pattern.
That is stellar fandom.
Of course, maybe Newton can add her own action figure to the dress as her Solo character, Val, is added to that all-too-small demographic (something that didn't escape Donald Glover's notice as noted in that excellent sketch from his recent Saturday Night Live appearance).
And, finally, just because it's amazing and awesome, here is a photo of Newton standing with Glover, the young Lando himself.
One has to wonder what we did to deserve such an amazing pair together in one place, in one movie.
Want more clever culture writing beamed directly to your inbox? Sign up here for the twice-weekly Click Click Click newsletter. It's fun – we promise.
Read more: https://mashable.com/2018/05/16/thandie-newton-dress-black-star-wars/
Interview with Alden Ehrenreich interrupted by Harrison Ford
Alden Ehrenreich, the new Han Solo, was visited by the original Han Solo during an interview.
Image: Jonathan Olley/Lucasfilm
The original Han Solo gets to crash whatever interview he wants.
Alden Ehrenreich, the titular star of Solo: A Star Wars Story, was in the middle of an interview with Entertainment Tonight when a door opened behind Ehrenreich and in walked the OG Solo himself, Harrison Ford, along with Solo director Ron Howard.
"You're shitting me," Ehrenreich said after he saw Ford, in a clip ET shared on Twitter.
Scarlett Johansson Wore A Very Controversial Dress To The Met Gala And People Were Divided
For Scarlett Johansson, it seems as though life is pretty perfect right now. Two weeks ago, the 33-year-old actress debuted her new beau, SNL star Colin Jost, on the red carpet of her latest film, Avengers: Infinity War – which took an epic $641 million during its opening weekend, making it the highest grossing film opening of all time.
Her kick-ass portrayal of Black Widow earned her rave reviews (yet again) from critics, leaving it in no question that the New York-born star is an international treasure.
So it's easy to see why all eyes were on the brunette beauty as she graced the red carpet at this year's Met Gala.
Watch her strut her stuff on the iconic Met Gala red carpet…
The star-studded event is known for causing controversy given its focus on fashion, however, this year the scandal was at an all-time high thanks to the questionable theme which has left a bad taste in the mouth of many who deem it inappropriate.
The theme, 'Heavenly Bodies: Fashion and the Catholic Imagination', saw A-list stars strut down the red carpet in religious-inspired garments, usually worn exclusively by the Pope. Understandably, this vision caused a stir with devout Catholics who took issue with celebrities using their religion as the theme for a glorified fancy dress party.
But whilst the Met Gala's theme is certainly controversial, it was nowhere near as gossip-inducing as Scarlett Johansson's dress.
The mother-of-one wore the flowing red gown with confidence and a full awareness of the message that it sent.
You may be wondering what all the fuss is about, because in all honesty, the dress is pretty basic when compared to the outfits worn by stars such as Rihanna, Katy Perry and Sarah Jessica-Parker. Well, here's the thing… her gown was made by Marchesa, a designer brand best known for its links to disgraced movie mogul, Harvey Weinstein.
Marchesa is the label created by Weinstein's now ex-wife, Georgina Chapman. The luxury label, which was founded in 2004 – coincidentally, the same year Chapman began dating Weinstein – has long been a favorite with A-list stars.
Over the years the label has been repeatedly supported by industry icons such as Anne Hathaway, Cate Blanchett, Jennifer Lopez and Penélope Cruz. Johannson was also a big fan of the fashion house, choosing to wear their lavish gowns on more than one occasion.
However, when Weinstein was exposed as a serial sexual harasser in October 2017, practically every loyal customer turned their back on the brand after it was alleged that the movie mogul forced stars of his movies to wear the label on the red carpet.
Since then, Marchesa has been noticeably absent from any formal Hollywood gathering. That was until ScarJo breathed some life back into the brand by proudly posing in a pink Marchesa gown on the Met Gala red carpet.
Naturally, her statement divided opinion. Especially on Twitter where the users were quick to comment on the award-winning actress' decision.
Read some of their reactions here… 
But Scarlett Johansson was not deterred, and in a statement to People magazine, she revealed why she chose to wear the dress:
"I wore Marchesa because their clothes make women feel confident and beautiful and it is my pleasure to support a brand created by two incredibly talented and important female designers."
However, this isn't the first time that ScarJo has been called out for making some questionable choices within the film industry.
The celebrated actress has previously come under fire for working with controversial film director Woody Allen on multiple projects, despite allegations against him for inappropriate conduct with underage girls.
This, combined with her Marchesa statement at the Met Gala, has prompted many to call out the actress for her apparent disregard for the #MeToo movement – a campaign she has passionately supported.
Or, by wearing Marchesa, is she doing more for #MeToo than most by supporting a woman who was victimized for her husband's inappropriate behavior?
Read more: http://www.viralthread.com/scarlett-johansson-wore-a-very-controversial-dress-to-the-met-gala-and-people-were-divided/?all