Why Is Sony Burying Proud Mary and Taraji P. Henson?
Proud Mary might not be that proud after all.
The Taraji P. Henson-starrer was one of the years most anticipated films when the trailer dropped last year. Hensons turn as Mary, a hitwoman working for an organized crime family in Boston, seemed like the black response to Atomic Blondethat is until this year rolled around, where it seems like Sony and Screen Gems have completely dropped the ball on promoting it.
Proud Mary is out this Friday, and social media has been flooded not with excitement for the film but confusion as to why its not being pushed harder. Is it a case of a studio underselling a black film, as is customary in Hollywood? Or does Sony want to hide the fact that the film might not be very good?
Its not screening for critics this week, so dont expect any advance reviews of Proud Mary. Furthermore, critics attending the films press junket werent allowed to screen the film first, so interviews with Taraji will have to remain vague as its a little hard to discuss a film that you havent seen yet with an actress.
Henson herself has even voiced frustration with the promotion of the film.
In a pre-Christmas interview with The Hollywood Reporter, Henson said shes been begging and pleading my connections and doing whatever I can to make this movie the best it can be. I dont just put my name on stuff just to say it; I get down and dirty. [Studios] never expect [black films] to do well overseas. Meanwhile, you go overseas and what do you see? People trying to look like African-Americans with Afros and dressing in hip-hop fashions. To say that black culture doesnt sell well overseas, thats a lie. Somebody just doesnt want to do their job and promote the film overseas. Do you not have people streaming my Christmas specials in Australia? Come on, yall! I dont understand the thinking. Send me over there, and if it fails, then we dont do it again, but why not try? If I knew this movie was gonna make money domestically, I would try to get more money overseas. Its business!
Traditionally, Hollywood has blamed lack of interest in black films overseas as the reason why they dont promote them there. But just last year, Get Out raked in big money overseasas did Hidden Figures the year beforeand historically, films like Coming to America, Beverly Hills Cop 2, Independence Day, and Bad Boys 2 have, too. If anything, its a systemic problem of assuming black films undersell in America and in turn, fail overseas. Henson starred in Hidden Figures and her television drama Empire screens internationally, so why not develop her into a burgeoning international box-office star?
As Octavia Spencer, Hensons Hidden Figures co-star, said, [Will Smith] was told the same thingthat he wasnt going to be taken to promote his film. Had he not paid for himself to fly all over the world that very first time, he would not be an international box-office star. So they have to start investing and taking black actresses and actors across the world just like they do with unknown white actors. They need to do the same thing for black actors. If you dont know em, why would you go support the film?
Speaking of Smith, even his critically panned film Bright managed to be a success for Netflix (a sequel has already been greenlit) and trust me, Proud Mary would have to do some heavy lifting to be worse than that trash.
Henson has been a star for decades and its a shame that there isnt a bigger push for Proud Mary. This week, I accidentally stumbled upon a Facebook Live interview with the actress that lasted less than 10 minutes and had her scrolling through an iPad to find fans questions to answer in real time. It looked like a thrown-together operation from a flailing media company that has decided to pivot to video.
Ive been rooting for Henson for years. Fans are excited to see the movie and want to support it and help studios realize that black filmsand films starring womenhave a hungry audience that craves more than a few tweets and TV commercials. As Henson told THR, If a man can do it, why cant we? I feel like women get better as we age. Give us the same chances as you give men.
Read more: https://www.thedailybeast.com/why-isnt-sony-doing-more-to-promote-proud-mary-and-taraji-p-henson
Every Star Wars film ranked!
"From the sagas debut in 1977 to this months Solo and (almost) everything in between, we rank 14 of the Star Wars films and spin-offs
14. Star Wars: Episode I The Phantom Menace (1999)
What a disaster. Never was so much anticipation and excitement loaded into a single movie, which shortly after its release in 1999 became known as A New Crushing of Hope. This monumentally obtuse and dull prequel episode utterly failed to answer 15 years worth of what-happened-next? (or is that what-happened-before?) excitement, and featured the intensely annoying and borderline offensive character Jar Jar Binks.
13. Caravan of Courage: An Ewok Adventure (1984)
Warwick Davis plays Wicket the Ewok on his home turf, the forest moon of Endor, in this TV movie. He helps two orphaned human siblings, Mace and Cindel, find their abducted parents. Burl Ives narrates.
12. Ewoks: The Battle for Endor (1985)
A classy cast, including Sin Phillips, arguably gives this movie the creative edge over the first Ewok-centred film. Cindel, the orphaned girl from that film, reappears to help the Ewoks against marauders.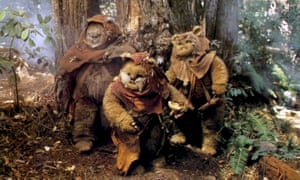 How we made The Blair Witch Project
We were listed as deceased on IMDb. Our parents started getting condolence calls
Daniel Myrick, co-director
Margot Kidder Beyond Lois Lane
Margot Kidder flanked by fans at WonderCon in Anaheim, 2015
Image: Araya Diaz/WireImage
"It is no small legacy for an actor to become so entwined with a character in the popular imagination that no one can ever replace them. Such was the fate of Margot Kidder, who passed away in Montana on Monday at the still-too-young age of 69.
Many brilliant actors have taken on the role of Daily Planet reporter Lois Lane, whom Kidder portrayed in Superman I, II and III. Teri Hatcher played her for years in Lois and Clark; Amy Adams is the current Lois of record in DC movies.
Neither could hold a candle to Kidder, who became the essential, irreplaceable Lois just as her co-star Christopher Reeve became the archetypal Clark Kent/Superman.
Her Lois was effortlessly empowered and brooked no nonsense in or out of the newsroom. She fizzed and crackled with intelligence and energy; she was devoted to getting the story even in the midst of a date with an alien superbeing.
It's no exaggeration to say that she inspired a generation of women and men to enter journalism as much as her real-world counterparts Woodward and Bernstein.
Even as Kidder portrayed a strong feminist icon in an otherwise…"
Read more: https://mashable.com/2018/05/14/margot-kidder-lois-lane/