Yippee ki-yay, How Die Hard became a classic Christmas movie
Its not about Christmas, seldom shown at Christmas, and Bruce Williss vest isnt red with fur trim but this action blast is as essential as tinsel and telly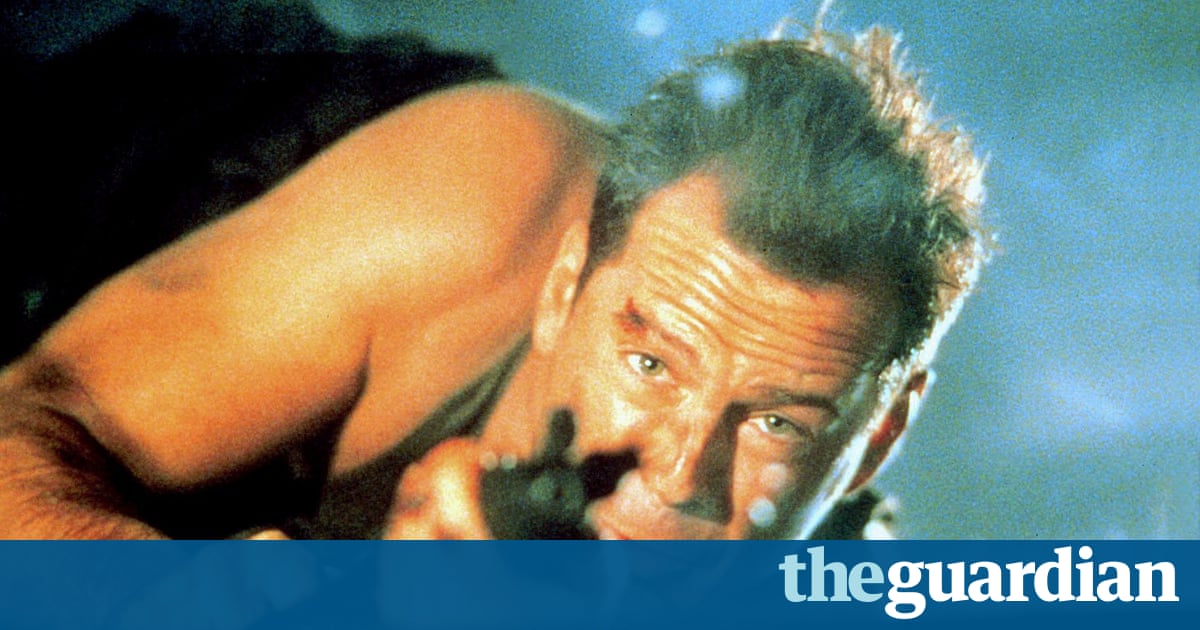 Twas the night before Christmas, and all through the Nakatomi Plaza, not a creature was stirring well, except for those crazed Euroterrorists led by Alan Rickman and the loose-cannon New York cop played by Bruce Willis. There is nothing terribly seasonal about Die Hard, despite its Christmas Eve setting. It takes places in Los Angeles, so theres no snow. Theres a tree in the building, and a few items of Christmas clothing allowing McClane, when he knocks off his first terrorist, to put him in a Santa hat, write the words Now I have a machine gun. Ho-ho-ho on his top and send him in the lift to Rickman.
There is nothing terribly seasonal because Christmas doesnt matter in Die Hard: its just a McGuffin, a convenient reason for McClane to be travelling across the country. It was such a good McGuffin that it was recycled for Die Hard 2, the one set in the airport on Christmas Eve. Yet Die Hard 2 is just the second movie in the Die Hard series, while Die Hard has become a Christmas movie. That doesnt necessarily mean you watch it at Christmas, or that its on prominently in the Christmas TV schedules.
But Die Hard most certainly is indelibly associated with Christmas. It crops up in polls of peoples favourite Christmas films: earlier this year, the readers of Empire magazine rated it the greatest Christmas movie ever. The internet is awash with thinkpieces explaining why exactly it is a Christmas movie. If thats not enough the Canadian prime minister, Justin Trudeau, appeared on breakfast TV in Toronto last Friday, where he asserted: Yes, Die Hard is absolutely a Christmas movie. Theres no doubt about it.
So lets take that for granted, whether or not we really agree with the proposition: Die Hard is a Christmas movie. And it is one because so many people passionately believe it is. Whats more interesting, though, is why it has become regarded as a Christmas movie, because it certainly wasnt made as one.
Die Hard was released in the US in July 1988, and reviewers made only passing reference to its Christmas element why would they, given they were writing in the heat of midsummer? It came out in the UK the following February, and only received a December release in Argentina, Portugal, El Salvador, Uruguay and Denmark.
Nor was it one of the movies selected by the UKs terrestrial broadcasters in the days when viewers only had the choice of four channels and no internet to be a tentpole of their Christmas schedules.
So theres nothing in Die Hards history to make it into a Christmas movie. Yet a Christmas movie it has become, but not to everyone. Earlier this month, YouGov released a poll about the movie surely the founders of psephology did not foresee the day that pollsters would be earning a crust assessing the seasonal status of old action films which found that only 30% of people thought it was a Christmas film, while 52% didnt.
The age breakdown, though, was more telling . The only age group in which more people thought of Die Hard as a Christmas movie than didnt was 25- to 34-year-olds (44% against 37%), while 35- to 44-year-olds were narrowly against the idea (42% said it was a Christmas film, 47% said it wasnt). So Die Hard is most likely to be seen as a Christmas film by those who were too young to see it at the cinema (where it received an 18 certificate).
Interestingly, 18- to 24-year-olds, the first generation for whom the box in the corner is not the main provider of visual entertainment, were overwhelmingly against the idea of it being a Christmas film (52% to 28%).
If you add in some data, you can see when the association of Die Hard with Christmas begins or at least make an educated guess. Google Trends goes back to 2004, but when you look at its search trends for Die Hard, you can see the first noticeable spike is in December 2006, with small spikes every December since (the two massive spikes are tied in to the release of sequels, and nothing to do with the original film).
Something else was happening around the time of that first spike, too: Facebook launched in 2004, and Twitter launched in 2006. Suddenly, social media gave people a chance to share their own perspectives, and while some people communicated about politics or society, others really wanted to tell their friends that Die Hard was a Christmas movie.
This ties into an observation the film historian Matthew Sweet makes about how the context of films changes when people share a single observation, or a single image. Films now have this other afterlife in tiny clips and gifs, he says, so a particular image from a film like the dead terrorist in the Santa hat in Die Hard can break free from the film and have this other life online that might be its most vigorous form of life.
Die Hard is really only a Christmas film to a narrow band of people, and YouGov knows exactly which ones: the ones between young adulthood and early middle age for whom Die Hard has been a constant presence. They think of it the same way as I think of Where Eagles Dare: I know I have seen Where Eagles Dare at Christmas I have a vivid memory of Isla St Clair from the Generation Game making it her Christmas pick in the Radio Times but Ive also seen it lots of other times. Yet its associated with school holidays in my mind, and so it became a Christmas film.
Thats a point Sweet makes, too, suggesting that films associated with some special childhood event get associated with Christmas, because Christmas is the most special time: You might find some Christmas films were really Easter films, you just saw them when you were off school, he says.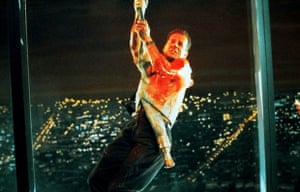 Read more: https://www.theguardian.com/film/filmblog/2017/dec/21/die-hard-christmas-movie-bruce-willis
John Travolta keeps Brooklyn stayin' alive at event honoring actor
Hundreds of fans gathered outside pizzeria featured in Saturday Night Fever 41 years ago to catch glimpse of and dress like the actor
"Forty-one years after strutting down a Brooklyn street, merrily swinging a paint can to the sound of the Bee Gees Stayin Alive, an older, less lithe John Travolta returned on Tuesday, to be honored for his services to the now-trendy New York City borough.
Hundreds of people gathered outside Lennys Pizza in Bensonhurst, south Brooklyn, to glimpse Travolta, who brought the neighborhood to national and international consciousness in Saturday Night Fever.
The 1977 film saw his character Tony Manero disco dance, conduct troubling relationships with women and occasionally engage in punch-ups. In the opening scene, Travolta orders two slices of pizza at Lennys before combining them in a double decker-type situation. The pizzeria claims Saturday Night Fever fans regularly order the same.
This is a great day, New York state senator Martin Golden who represents the Bensonhurst neighborhood and has submitted a 1,070-word legislative resolution commending Travolta for putting Brooklyn both on the map and in Americas hearts told the crowd.
A great day for John Travolta, a great day for his family, and a great day for Brooklyn.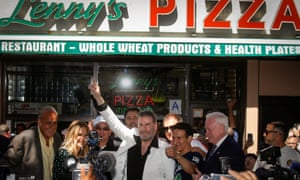 Watch these movies after you see 'Ocean's 8'
Image: mashable composite/universal/paramount
"After months of building anticipation, Ocean's 8finally hit theaters Friday. Yes, it featured the stunning, talented, female-led cast you've heard so much about. Glad you noticed.
But Ocean's 8 is more than the token "female remake" it has been boiled down to. Like many audience members this past weekend, I showed up for the all-star actresses, but stayed for the crime, glamor, comedy, celeb cameos, and general badassery.
So to get you through those days where you can't make it to the theater for a rewatch, here are fourteen films that show off groups of ladies getting together to kick ass — literally or metaphorically.
Chicago (2002)
Headed up by Catherine Zeta-Jones and Renee Zellweger, this jailhouse musical took home six Academy Awards, including Best Picture. It's tough to make Richard Gere look like a third wheel, but somehow the murderesses of Cook County Jail pull it off.
Where to watch: HBO
Thelma & Louise (1991)
This road trip classic follows two women as they attempt to outrun their darks pasts by any means necessary. While neither Susan Sarandon nor Geena Davis won Best Actress for their performances, the leads' double nomination cemented Thelma & Louise as a feminist classic.
Where to watch: Starz
Heathers (1988)
Plaid skirts, football players, and drain cleaner? Color me stoked. A dark high school comedy laced with visceral teen murders, this cult classic is the adolescent destruction fantasy you didn't know you needed. Starring Winona Ryder and the titular "Heathers."
Where to watch: Netflix
Mamma Mia! (2008)
Meryl Streep shines amongst a cast of notoriously fabulous character actors in this romantic comedy with a pop twist. The costumes, musical numbers, and female stars glisten in an ABBA-made universe. Stay tuned for the sequel hitting theaters July 20th.
Where to watch: Netflix
Beauty Shop (2005)
Nothing feels better than a comedy that celebrates inner and outer beauty equally. Queen Latifah and the rest of her salon crew (featuring Alicia Silverstone and Andie MacDowell among others) gave us one of the most styling girl-power movies to date in this Barbershop spin-off.
Where to watch: Vudu
First Wives Club (1996)
Goldie Hawn, Bette Midler, and Diane Keaton team up in this instant classic, reuniting as long lost friends and taking down the men who have wronged them – all while donning stunning coordinated power…."
Read more: https://mashable.com/2018/06/11/14-female-led-movies-oceans-8/
John Cusack likes what you have to say about 'Say Anything'
Image: Mills Entertainment
"If you liked Say Anything…, the 1989 coming-of-age film about a nervous-talking high school graduate winning over his crush in the summer before college, feel free to tell star John Cusack if you see him.
Cusack appreciates it when fans of the movie give him kudos for it, partly because they tend not to quote the film or, say, mime holding up an imaginary boombox in some sad attempt to replicate the movie's most memorable scene. They mostly just say how much they liked it.
"They seem to be very warm about it, that it means something to them, so that's nice," Cusack told Mashable in a phone interview to promote his upcoming Q&A about Say Anything… at the New Jersey Performing Arts Center. "For some movies, they'll have a line that they'll repeat to you a lot of times, but that one is more just a vibe. People seem to really still dig it."
That's kind of an understatement. Say Anything… didn't set box office records, but to many Gen Xers like myself, the movie perfectly captured the ennui that often follows high school graduation. And Cusack hit the bull's-eye in his portrayal of the quirky Lloyd Dobler, simultaneously giving him a coolness and vulnerability that appealed to both male and female audiences alike.
Cusack already had movies like Better Off Dead…, Sixteen Candles, and Eight Men Out under his belt when he made Say Anything…, but the film…"
Read more: https://mashable.com/2018/06/04/john-cusack-say-anything/