Yippee ki-yay, How Die Hard became a classic Christmas movie
Its not about Christmas, seldom shown at Christmas, and Bruce Williss vest isnt red with fur trim but this action blast is as essential as tinsel and telly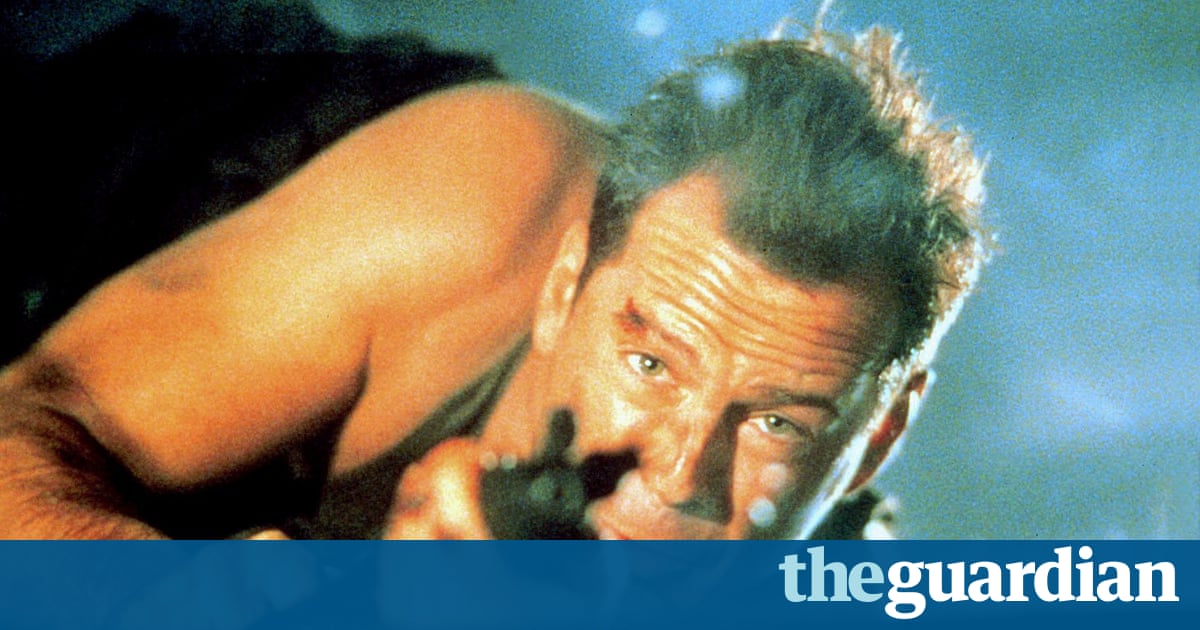 Twas the night before Christmas, and all through the Nakatomi Plaza, not a creature was stirring well, except for those crazed Euroterrorists led by Alan Rickman and the loose-cannon New York cop played by Bruce Willis. There is nothing terribly seasonal about Die Hard, despite its Christmas Eve setting. It takes places in Los Angeles, so theres no snow. Theres a tree in the building, and a few items of Christmas clothing allowing McClane, when he knocks off his first terrorist, to put him in a Santa hat, write the words Now I have a machine gun. Ho-ho-ho on his top and send him in the lift to Rickman.
There is nothing terribly seasonal because Christmas doesnt matter in Die Hard: its just a McGuffin, a convenient reason for McClane to be travelling across the country. It was such a good McGuffin that it was recycled for Die Hard 2, the one set in the airport on Christmas Eve. Yet Die Hard 2 is just the second movie in the Die Hard series, while Die Hard has become a Christmas movie. That doesnt necessarily mean you watch it at Christmas, or that its on prominently in the Christmas TV schedules.
But Die Hard most certainly is indelibly associated with Christmas. It crops up in polls of peoples favourite Christmas films: earlier this year, the readers of Empire magazine rated it the greatest Christmas movie ever. The internet is awash with thinkpieces explaining why exactly it is a Christmas movie. If thats not enough the Canadian prime minister, Justin Trudeau, appeared on breakfast TV in Toronto last Friday, where he asserted: Yes, Die Hard is absolutely a Christmas movie. Theres no doubt about it.
So lets take that for granted, whether or not we really agree with the proposition: Die Hard is a Christmas movie. And it is one because so many people passionately believe it is. Whats more interesting, though, is why it has become regarded as a Christmas movie, because it certainly wasnt made as one.
Die Hard was released in the US in July 1988, and reviewers made only passing reference to its Christmas element why would they, given they were writing in the heat of midsummer? It came out in the UK the following February, and only received a December release in Argentina, Portugal, El Salvador, Uruguay and Denmark.
Nor was it one of the movies selected by the UKs terrestrial broadcasters in the days when viewers only had the choice of four channels and no internet to be a tentpole of their Christmas schedules.
So theres nothing in Die Hards history to make it into a Christmas movie. Yet a Christmas movie it has become, but not to everyone. Earlier this month, YouGov released a poll about the movie surely the founders of psephology did not foresee the day that pollsters would be earning a crust assessing the seasonal status of old action films which found that only 30% of people thought it was a Christmas film, while 52% didnt.
The age breakdown, though, was more telling . The only age group in which more people thought of Die Hard as a Christmas movie than didnt was 25- to 34-year-olds (44% against 37%), while 35- to 44-year-olds were narrowly against the idea (42% said it was a Christmas film, 47% said it wasnt). So Die Hard is most likely to be seen as a Christmas film by those who were too young to see it at the cinema (where it received an 18 certificate).
Interestingly, 18- to 24-year-olds, the first generation for whom the box in the corner is not the main provider of visual entertainment, were overwhelmingly against the idea of it being a Christmas film (52% to 28%).
If you add in some data, you can see when the association of Die Hard with Christmas begins or at least make an educated guess. Google Trends goes back to 2004, but when you look at its search trends for Die Hard, you can see the first noticeable spike is in December 2006, with small spikes every December since (the two massive spikes are tied in to the release of sequels, and nothing to do with the original film).
Something else was happening around the time of that first spike, too: Facebook launched in 2004, and Twitter launched in 2006. Suddenly, social media gave people a chance to share their own perspectives, and while some people communicated about politics or society, others really wanted to tell their friends that Die Hard was a Christmas movie.
This ties into an observation the film historian Matthew Sweet makes about how the context of films changes when people share a single observation, or a single image. Films now have this other afterlife in tiny clips and gifs, he says, so a particular image from a film like the dead terrorist in the Santa hat in Die Hard can break free from the film and have this other life online that might be its most vigorous form of life.
Die Hard is really only a Christmas film to a narrow band of people, and YouGov knows exactly which ones: the ones between young adulthood and early middle age for whom Die Hard has been a constant presence. They think of it the same way as I think of Where Eagles Dare: I know I have seen Where Eagles Dare at Christmas I have a vivid memory of Isla St Clair from the Generation Game making it her Christmas pick in the Radio Times but Ive also seen it lots of other times. Yet its associated with school holidays in my mind, and so it became a Christmas film.
Thats a point Sweet makes, too, suggesting that films associated with some special childhood event get associated with Christmas, because Christmas is the most special time: You might find some Christmas films were really Easter films, you just saw them when you were off school, he says.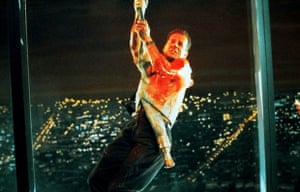 Read more: https://www.theguardian.com/film/filmblog/2017/dec/21/die-hard-christmas-movie-bruce-willis
Elizabeth Debicki Brought her A-Game in 'Widows'
Article by Mark Olsen LA Times
"The heist thriller "Widows" has arguably the most impressively stacked ensemble cast of the year, including Viola Davis, Liam Neeson, Daniel Kaluuya, Michelle Rodriguez, Brian Tyree Henry, Carrie Coon, Robert Duvall, Jacki Weaver, Colin Farrell and Cynthia Erivo.
Which makes it all the more impressive that 28-year-old Australian actress Elizabeth Debicki has been singled out for her performance as Alice, a young woman who gets out from under the repression of her abusive husband and her exploitative mother to discover she has more to offer than anyone, including herself, had previously known.
"She resonated on many, many levels," Debicki said of the part during a recent interview in Los Angeles. "I mean, I've been looking and waiting for some time to play somebody like Alice, somebody who was very real and raw and multidimensional, had an arc that was quite an amazing sort of growth in that woman's life. So there was me as the actor looking at it and thinking, 'I just want to get my hands on that.'"
In the movie Davis plays Veronica, a woman who is suddenly in debt to a dangerous gangster when her husband, a career criminal, dies during………………………………….."
Read the rest of the article here: https://www.latimes.com/entertainment/movies/la-et-mn-elizabeth-debicki-widows-20181119-story.html
Everything you need to know about 'Mary Poppins Returns'
Emily Blunt is Mary Poppins and Lin-Manuel Miranda is Jack in Disneys Mary Poppins Returns.
Image: Jay Maidment
"It's been 54 years since Mary Poppins came into the world in movie form. And now, five decades on, we're getting a second helping in the form of Mary Poppins Returns — a sequel to the beloved classic.
Of course, we have many burning questions about this hotly anticipated film. But fear not: Mashable spoke to the film's producer Marc Platt during a set visit to Shepperton Studios, near London. Here's everything you need to know about the new Mary Poppins movie.
Is Mary Poppins Returns based on a book?
Marc Platt: We went right to the source. We went to P.L. Travers. And, it turns out that P.L. Travers wrote eight books, and the original film really capitalises on only one of the books. And what we found in her books was really a treasure trove of new characters and episodes. We realised that we could bring the sequel our own version and our own story. An original story of Mary Poppins all these years later in a very exciting way, but that we could draw upon the original source, P.L. Travers.
When is the sequel set?
MP: She wrote her books in 1934 and 1935. Our film, Mary Poppins Returns, is set in those years, which is the Depression Era in England. So, it takes place about 25 years after the original film took place. We went after David Magee who was an Academy Award winning screenwriter — he also notably wrote Life of Pi, Finding Neverland —  to work with us on the screenplay.
What is the plot?
MP: Our story is, as I said, set in the 1930s. Michael Banks — the young boy from the original film — is now a father of a family and he's living in Cherry Tree Lane in the house and he has children. There's been a loss in the family, and so there's a need for Mary Poppins to come back into their world and to the world of these new children, and to the world of Michael Banks and his sister Jane, to see if she can bring joy back into their lives.
How did they decide who to cast as the new Mary Poppins?
MP: When it came to casting, really, we could only think of one person to step into the shoes and to own the role of Mary Poppins and that was Emily Blunt, an actress who we've worked with on Into the Woods and most recently we did Girl on the Train with her.
She's not only a consummate actress, who possesses a tremendous craft as an actress, she sings beautifully. By the way, she dances magnificently, you'll see in the film………………………………………………………"
Read more: https://mashable.com/article/mary-poppins-returns-producer-marc-platt/
What to watch this Thanksgiving if you're with…
What to watch for every kind of crew.
Image: Getty Images
"The turkey's been destroyed, the pie's been reduced to crumbs, and the plates are in the dishwasher. Everyone's starting to get restless. Then someone suggests going out to see a movie, some others murmur in agreement, and you just know you're in for another two hours of indecision and cluelessness until it gets too late and everyone just decides to go home.
Except you're not. Not this year. Because this year, you've got us to help you.
Here's what to watch this Thanksgiving if you're with…
… your uncle who gets way too into his Oscar pool: The Favourite
This period piece is definitely one to know if you're invested in the acting categories, as Olivia Colman, Rachel Weisz, and Emma Stone all stand a good chance of getting in. Plus, it's just plain fun—think Thrones-level scheming, plus more oddly compelling camerawork and a healthy side of pitch-black humor. Did we also mention there are cute bunnies?
Darn it, that's not playing nearby: The racial dynamics Green Book are… problematic, to say the least, but it's bound to win over the same auds who previously rewarded films like The Help.
… your entire family, extended relatives included: Ralph Breaks the Internet
If you're looking for the crowdpleaser of crowdpleasers, it's hard to go wrong with Disney Animation. They're second to none when it comes to entertainment gentle enough to amuse the kiddies and smart enough to impress the grown-ups, and Ralph Breaks the Internet is no exception. Just be prepared to cover the youngest ones' eyes in that finale—things get pretty intense.
Oh no, that's sold out: Instant Family probably won't blow any minds, but it might warm some hearts. (Families with under-13 kids should proceed with caution, though.)
… your mother-in-law who really loves Christmas: The Grinch
It's an entire movie about how Christmas is not just great, but the absolute best, and will definitely, eventually soften of even hardest of cynics. Which is to say it is the perfect story for the loved one in your life who spends January through November waiting for December to come back around.
She thinks cartoons are just for kids: Well, it also doesn't get more classically Christmas than The Nutcracker and the Four Realms, even if this version puts a new spin on that old tale.
… your parents who keep asking for movie recs: Creed II
Creed II is an easy win, even if it's not quite as good as Creed 1………………………………………….."
See the rest of the list by clicking here: https://mashable.com/article/thanksgiving-2018-movie-recommendations/